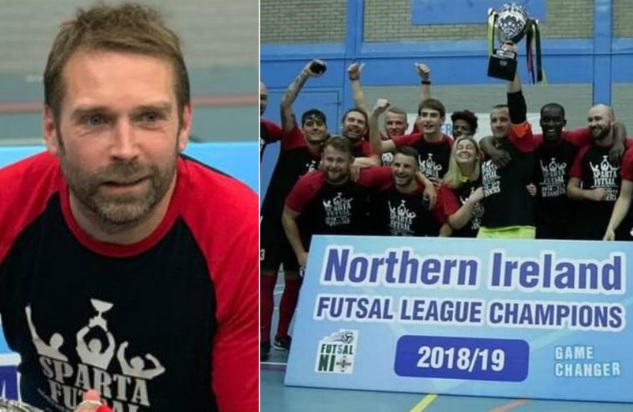 Estimated reading time:3 minutes, 53 seconds
Chris Morgan: "There are real benefits for young players.. we should be promoting it more vigorously"
Former Irish League striker Chris Morgan believes senior football in Northern Ireland would benefit if more children were introduced to Futsal at an early age.
Morgan, who won league titles and numerous other trophies with Linfield, Crusaders and Glentoran, helped Belfast Sparta win the NI Futsal league for the first time last month.
The 43-year-old was talked out of retirement earlier in the season to help the club win the domestic double and make history by qualifying for the UEFA Champions League.
And Morgan, now an Irish League pundit with BBC NI, believes the Irish FA should promote the five-a-side sport more vigorously for the betterment of the game here.
"There are real benefits for introducing younger players to Futsal and I do believe the powers that be should be pursuing it more aggressively," he said.
"If we can create young players who are technically more adept on the ball in tight situations, that has to be a benefit to them as they progress into larger sized games and outdoor football.
"Can Futsal help youngsters become better players in the future? In my opinion, 100 percent yes – it can definitely develop young players.
"I've played Irish League football and I'm a big supporter of grassroots coaching, but I also believe we should be looking at different ways of developing players here."
While differences exist in how you control the ball in Futsal, Morgan believes they are "minor details" in the grand scheme of youngsters developing a broader skill set.
"People will argue Futsal is slightly different and there are differences in terms of controlling the ball with the sole of your foot," he said.
"Football here can be 100 miles an hour and contested second balls, whereas futsal is about being technical, protecting the ball and being good in one-v-one situations.
"It's very much a passing game and specializing in situations where you need to be creative with the ball and pick a clever pass to open up the opposition.
"People think it's all about tricks and so on, mainly because you'll see clips on social media of players putting a goalkeeper on his backside, but it's not, it's very technical and tactical.
"Futsal should be taken more seriously and there are definite benefits of playing it from an early age. If we take it more seriously, I do believe it can have a really positive long term impact."
Morgan, who believes his own son Alfie has grown in confidence as a player after being introduced to Futsal, points to Spurs winger Lucas Moura who played Futsal as a youngster in Brazil.
Lionel Messi, Cristiano Ronaldo, and Xavi also learned valuable skills playing the sport while growing up in Argentina, Portugal and Spain.
"Cynics treat Futsal almost like a gimmick, but it's a lot more than that," said Morgan
"When Lucas Moura scored his second goal against Ajax in the Champions League – when he beat three players in a telephone box – he attributed it to playing Futsal when he was younger.
"That goal – thinking quickly and having quick feet and close control in tight spaces – was a direct result of him learning those skills playing the sport.
"Futsal is very popular in the likes of Spain, Portugal, and Brazil and those are technically adept football nations. I don't think we're good enough to say 'well, we don't need that'.
"I've no doubt Futsal can help us improve as a football nation."
If you would like to introduce your children to Futsal, Sparta Belfast's youth training programme details are as follows…
MONDAYS (for kids born 2010 to 2011)
Shaftesbury Leisure Centre (5-6pm)
TUESDAYS (2007 to 2009)
Shaftesbury Leisure Centre (8-9pm)
WEDNESDAYS (2004 to 2006)
Belfast Girls Model School (6-7pm)
WEDNESDAYS (2010 to 2011)
Shaftesbury Leisure Centre (6-7pm)
THURSDAYS (2012 to 2013)
Shaftesbury Leisure Centre (5-6pm)
FRIDAYS (2010-2012)
Belfast Boys Model School (7-8pm)
FOR FURTHER DETAILS, CONTACT
Artur Kopyt (Head Coach) at arturkopyt@yahoo.co.uk
https://www.facebook.com/Artur-Kopyt-509879589169770/
Source of the article: Belfast Live
If you like the information provided, you can read more articles grassroots and coaching by going to the top bar navigation or click here
If you like this article and would like to keep updated on Futsal news, developments, etc then please submit your email below in the Newsletter section or by clicking on the Subscribe to Futsal Focus option on the header.
Follow Futsal Focus by clicking on Facebook, Twitter or Instagram or on the social media buttons on the right sidebar.