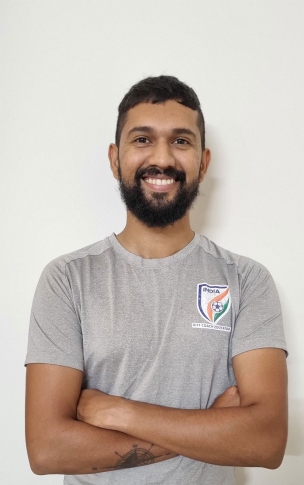 Estimated reading time:6 minutes, 35 seconds
Joshua Stan Vaz from Goa (situated in the southwestern part of the country, bordering the Arabian Sea) has recently assumed the position of Head Coach for the Indian National Futsal Team for the 2023 AFC Futsal Asian Cup Qualifiers. Hailing from Margao, Joshua makes history as the country's first national futsal team head coach and will take charge of various responsibilities including player training and development, performance evaluation, and playing a crucial role in the team selection process during the training camp.
2023 AFC Futsal Asian Cup qualifiers
In April, All India Football Federation named a list of 31 players for the pre-camp to be organised for the AFC Futsal Asian Cup qualifiers which will be held in October from the 7th to 11th this year. India was drawn in Group E with Tajikistan (group host), Myanmar, and Palestine.
This is the first time India will take part in the AFC Futsal Asian Cup. The final select hopefuls from the pre-camp were selected from the Hero Futsal Club Championship, which was organised in Delhi in February earlier this year.
Federation Secretary General Dr. Shaji Prabhakaran said: "In line with our Vision 2047, developing Futsal in India is also an important element and by creating the National Futsal Team we will be able to boost the development of Futsal in a big way.
"These scouted players for the national camp will make history as this is the first time we will have a National camp for Futsal and participate in the AFC Futsal Asian Cup. We are confident that we will be able to create an encouraging prospect for the development of Futsal in India, and with the National Team, we will see significant involvement of our stakeholders in Futsal," the Secretary General added.
The players hoping to be a part of the selected squad are:
Goalkeepers: Mohammed Ibadullah Khan, Augustin Savio D'Mello and Jagdish.
Outfield players: Ibrahim Ali, Shakir Umair, Zubair Bin Sultan, Mohammed Jawaad Hussain, Lalrinsanga Khawlhring, Lalsangkima, Raisen Tudu, Isac Zomuanpuia, David Laltlansanga, Lalpekhlua, Kashinath Subhash Rathod, Nikhil Mali, Jayesh Sutar, Abhay Gurung, Shamsad Ali, Sachin Patil, Sandeep Oraw, Rajanbir Singh, Felixson Conny Fernandes, Rajnish Rana, Bijoy Gusai, Aman Shah, Shibu Sunny, Tapi Hakhe, Nabam Peri, Techi Tatra, Renedy Meitei Yumnam and Priyanshu.
The new head coach and the first-ever appointed coach of an Indian national futsal team
Joshua holds the distinction of being the sole Indian AFC-accredited Futsal Coach in the entire nation. His involvement in the world of futsal spans over 12 years, during which he has established his own Youth Futsal Academy in Margao. His unwavering dedication and unwavering commitment to futsal have been truly commendable. Additionally, Joshua has garnered further experience as the coach of the Mohamedan Sporting team from Kolkata, where he successfully guided a group of Goan futsal players to two consecutive runners-up positions at the Hero national futsal championships. Here are highlights of the team's semi-final this year against Delhi FC:
Furthermore, Joshua has actively organized numerous national workshops for coaches under the aegis of the All India Football Federation (AIFF) in Margao. These workshops have served as platforms for fostering knowledge exchange and skills enhancement among coaches to further elevate the standards of futsal in the country. Joshua's contributions in this regard have been invaluable, solidifying his reputation as a respected figure in the Indian futsal community.
As he assumes his new role as Head Coach of the Indian National Futsal Team, Joshua Stan Vaz must be looking ahead to October, wondering what impact he can have on the team's performance and help shape the future of futsal in India. Here is an interview with Joshua discussing Futsal last year:
The challenge ahead 
The AIFF decision to choose Joshua Vaz as the head coach of India's national futsal team comes with risk. The coach has no experience at the international level. Other developing futsal nations have taken a similar path by appointing inexperienced local coaches but progress has been made at a sluggish pace. Of course, we hope Joshua can be an exception by possessing and demonstrating a wide range of skills to effectively guide and develop his team such as:
Communication: Excellent communication skills to effectively convey instructions, strategies, and feedback to his players. Clear and concise communication helps to ensure that players understand their roles and responsibilities.
Leadership: Strong leadership skills are crucial to inspire and motivate his team. A coach should be able to set a positive example, foster a supportive environment, and guide players towards their goals.
Knowledge of the sport: He has been involved in Futsal for 12 years, maybe he will surprise his opposition with a deep understanding of futsal. This includes knowledge of rules, tactics, techniques, and current trends. A strong knowledge base allows a coach to make informed decisions and provide valuable guidance.
Teaching ability: He may be a skilled educator, capable of breaking down complex concepts into easily understandable components. They should be able to assess individual player needs and provide tailored instruction to facilitate skill development.
Adaptability: The ability to adapt to different situations and adjust coaching strategies accordingly is essential. A coach should be flexible in their approach, able to modify tactics and training methods to suit the team's strengths, weaknesses, and changing circumstances.
Organization and planning: Coaches need strong organizational skills to manage practices, games, and schedules effectively. They should be able to plan training sessions, set goals, and track progress over time.
Emotional intelligence: Possess emotional intelligence to understand and connect with their players on an individual level. This involves empathy, recognizing and managing emotions, and fostering positive relationships within the team.
Decision-making: Coaches are often required to make quick decisions during games or training sessions. He should possess good judgment and the ability to analyze situations effectively to make sound decisions under pressure.
Collaboration: We have yet to see who his staff will be but coaches should be able to work collaboratively with assistant coaches, support staff, and team management. Building a cohesive team environment and fostering effective communication among all stakeholders is essential.
Continuous learning: Joshua does hold the distinction of being the sole Indian AFC-accredited Futsal Coach so he is clearly seeking to expand his knowledge and improve his coaching abilities. Let's see how he continues to stay updated on the latest trends, techniques, and strategies in their sport through professional development and learning opportunities.
It will be intriguing to observe if Joshua plans to leverage the expertise of Vic Hermans, who is presently serving as a futsal consultant for the Federation in India. Hermans, a seasoned consultant, has guided three different national teams to the Futsal World Cup as head coach and possesses extensive coaching experience in Asia. We eagerly await the AFC Futsal Asian Cup to witness how Joshua and his players perform in what will undoubtably be a challenging group.
Author of article
Stephen McGettigan was born in the Republic of Ireland but grew up in Belfast. He is the founder of Futsal Focus, a Football Industries MBA graduate from the University of Liverpool Management School, and he has worked in the Football and Futsal industries for 15 years.
Organ Donation
Futsal Focus is a supporter of Dáithí Mac Gabhann and his family's campaign to raise awareness of Organ Donation. We encourage our readers to learn more about Organ Donation: https://www.organdonation.nhs.uk/
Futsal Focus
You can read more articles about international futsal by going to the top navigation bar or by clicking here
If you like this article and would like to keep updated on Futsal news, developments, etc then you can now follow Futsal Focus via Google News by following our page which will send you an alert as soon as we publish an article so please click here and follow us on Google.
You can also keep updated on Futsal news, developments, etc then please submit your email below in the Subscribe to Futsal Focus option.