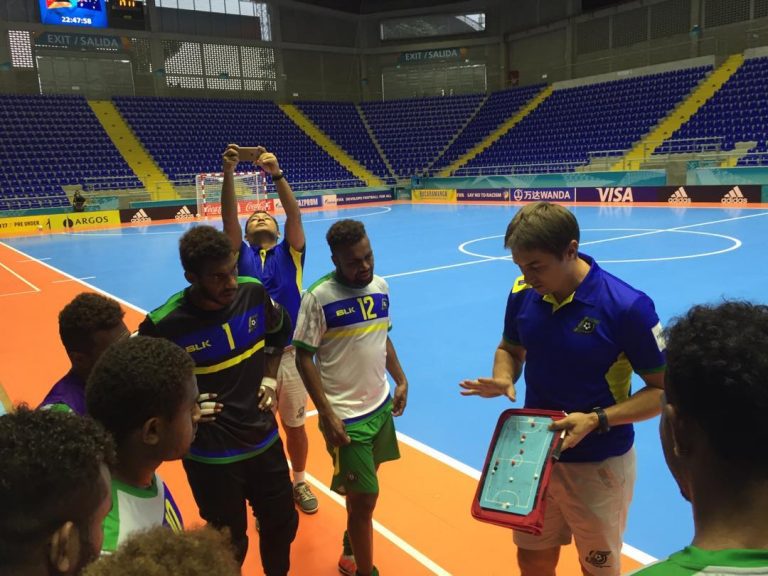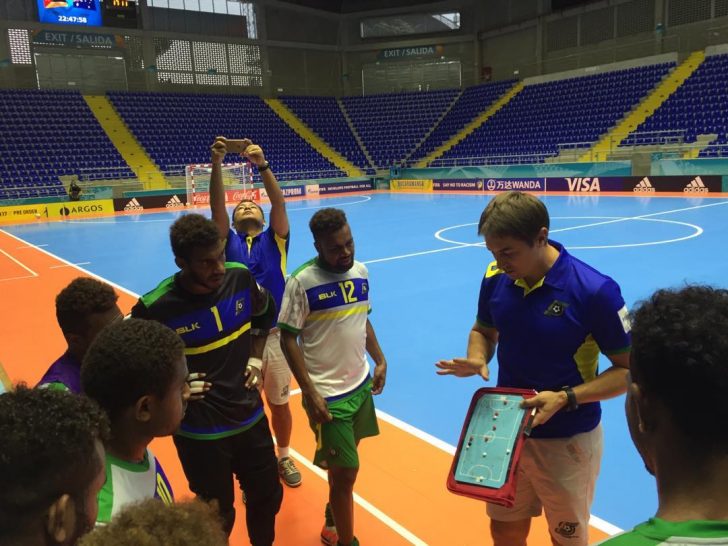 Estimated reading time:8 minutes, 27 seconds
To get an update on developments happening in the Oceania region, Futsal Focus reached out to former Solomon Islands national futsal head coach Juliano Antonio Schmeling. Juliano has been in the region for 9 years and he is currently working in New Zealand in futsal development. Since 2014, he has also been an Oceania Football Confederation (OFC) and FIFA Futsal Instructor delivering futsal coaching courses to the member associations. Recently, the OFC launched its first C-License for futsal which Juliano is helping to deliver online.
"Promotors of futsal in developing nations who try to use Brazil as a benchmark for the rest of the world, it is not as straight forward as you might try to present it. Brazil has had a unique blend of futsal and football for decades because futsal developed in South America alongside football."
Juliano's career started in Brazil but took him to the Oceania region and for a period in China as well where he coached in their Premier Division for Zhuhai FC. Working for the Solomon Islands, he was a part of two world cup campaigns, firstly in Thailand in 2012 as a Technical Adviser then in Colombia in 2016 as a Head Coach. He sat with Elliot Ragamo, the captain of the national team when he gave his passionate and emotional speech to the media concerning how important their participation at the world cup was for him, his players, and their people.
FF: Juliano, to start this interview, can you please tell Futsal Focus readers more about your background in futsal in Brazil, your education in the sport, and why you decide to leave Brazil to come to New Zealand?
Juliano: In Brazil, I grew up playing futsal and football. When I reached the age to be a professional player, I got accept to university and I decided to build my life in an academic way. I did my degree and my Post-Degree specialized in football and futsal development. While I was studying at night I was working for 3 years at a professional futsal club and 7 years at a professional football club. In total, I was studying and working with great futsal and football coaches for almost 11 years, I had an amazing experience in Brazil for my professional career.
In 2011, I received a proposal from a friend that was living in Auckland, New Zealand to come and work in futsal development. Therefore, I decided to take the challenge and from that opportunity, I  built a strong relationship with all island nations in the Oceania region and I am very happy that accept the opportunity when it came my way. I have spent some years living in the Solomon Islands, Australia, China, and New Caledonia.
FF: You have been in New Zealand for 4 years, can you tell us about the sport's development there what successes is it enjoying and what barriers does it still have to overcome?
Juliano: Futsal is growing in New Zealand especially at young age groups. Definitely, they are playing the sport more compared with 10 years ago but we have a lot of challenges here to develop futsal for example financial – there is not much money to develop the sport, culture – we have so many different sports in front of futsal here like rugby union, rugby league, cricket, basketball, netball, football and much more. What makes me happy, however, is that I know people here that love futsal and due to their love and passion for this sport, I have no doubts that futsal will continue to grow and thrive
FF: The Solomon Islands in comparison to its neighbours lacks the same facilities and conditions when it comes to training and preparation for a world cup. What do you think gives them an edge over the competing nations resulting in their dominance in the Oceania region in recent years?
Juliano: I believed that I could help them to be more organised on the court and off the court. I brought some tactical aspects that they understood very well, and I tried to maintain the most experienced players in the country to develop them and the rest of the squad. We sent 2 players to Brazil to train with a professional club for few months, we took the national team to do preparations in a different country because they don't have even a single international court yet (Thankfully, in the process of being built now), so we tried to give them more experience and I am happy that worked very well.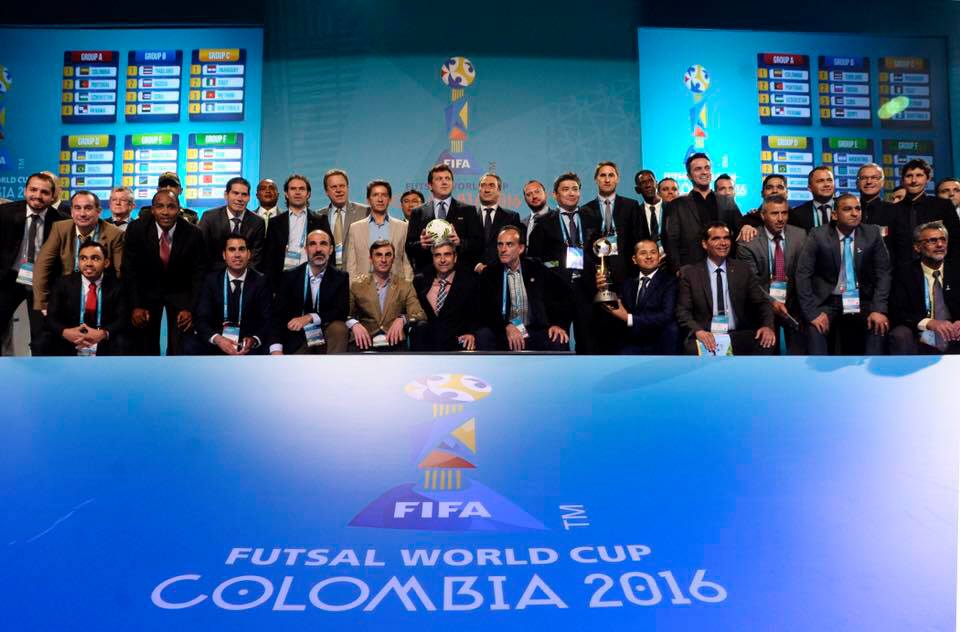 FF: Over the next 5 years, what futsal developments would you like to see in the region to see the sport prosper?
Juliano: What I would like to see in the near future would be more competitions and I know this will happen because the federations in the region are investing more and recognising that futsal can help them a lot in the pacific where they have less money to develop the sport. With an indoor court you can play in any weather, fewer people to organise a competition, etc, after that I would like to see investment in the grassroots because the kids are the future of all the countries' reality.
FF: You took the Solomon Islands to two world cups, how was it for you when you set beside Elliot Ragomo when he gave his famous emotional speech?
Juliano: The Solomon Islands will always be in my heart, I see them as the Brazilians of the Oceania region, the country is very similar to parts of Brazil. It is like a mix of Bahia and the Amazon regions of Brazil, by how it looks and the way the people live. It was emotional for me to listen to Elliot and a privilege to be there beside him. I knew exactly what he was saying; I could relate to every word, it is now a part of futsal history and I am delighted and humbled to have been there.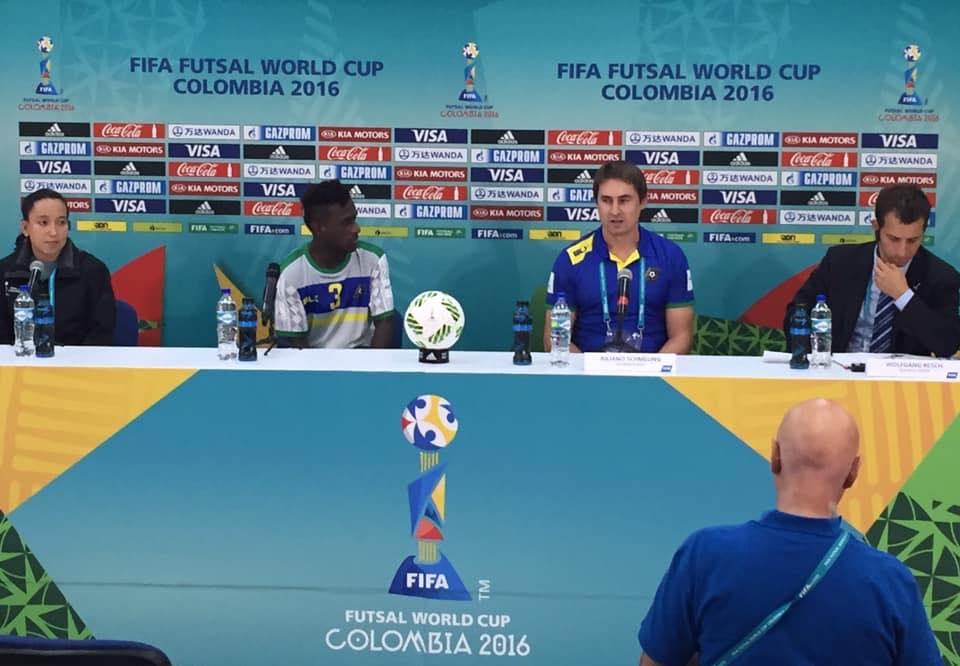 If you have never seen Elliot's passionate words, you can watch it here:
FF: Italy's national futsal head coach Maximiliano Bellarte in a recent interview with Futsal Focus argued that futsal should not be promoting futsal as a development tool for football. What are your thoughts on this?
Juliano: I agree with him but it is a difficult topic because both football and futsal are very connected. In my opinion, at a grassroots level in terms of playing, I have no problem with children playing both futsal and football as the sport's complement each other, and I don't think Maximiliano would have a problem with this either. Children should compete in a range of sports as it helps to make them more agile and better players and I keep telling people that FOOTBALL IS BECOMING MORE AND MORE A FUTSAL GAME.
Promotors of futsal in developing nations who try to use Brazil as a benchmark for the rest of the world, it is not as straight forward as you might try to present it. Brazil has had a unique blend of futsal and football for decades because futsal developed in South America alongside football. Furthermore, due to cultural and class reasons most people in Brazil never play on grass pitches, they will play on futsal courts and the football industry will scout these courts for talented players. Futsal and football have a history of co-existence so we are used to the crossover of players and the promotion of both sports. However, for developing futsal nations where grass pitches are more accessible and all they have ever known is football, the environment for the sport's development is different.
If a nation is a developing futsal country then at the beginning saying futsal is a development tool for football can be seen as a logical marketing tool to attract people to the sport quickly, I understand that. However, what we think is going to create a strong foundation may actually weaken it later because when a country steps out of the development phase and into the professional level continuing this kind of promotion becomes more complicated. As more countries develop professional futsal and there is more money in the sport, player's salaries will start to raise then the relationship between futsal and football will become more political. How futsal is perceived and valued by the business sectors also becomes a concern for the professional clubs as this will determine the level of interest and investment there will be. Therefore, you can understand why the futsal industry would want to protect the image of their sport and not be seen as an option b to football.
FF: When it comes to Brazilian player's development, do you think music and those with the ability to dance has played a part in what sets star players apart from other players?
Juliano: 100%, I think all variations of dance will help a player including all variations of martial arts. I would encourage young players to get involved in dance and martial arts like Capoeira for example.  The word is freedom, self-confidence, and the ability to manage one's own body better. What I mean is I believe the ability to dance sets a person free and if they can feel free, happy, and relaxed in their own body/ skin then they can move in different directions with ease, this will certainly improve their footballing technical abilities and set them apart from other players.
You can read more articles about global futsal by going to the top navigation bar or click here
If you like this article and would like to keep updated on Futsal news, developments, etc then you can now follow Futsal Focus via Google News by following our page which will send you an alert as soon as we publish an article so please click here and follow us on Google.
You can also keep updated on Futsal news, developments, etc then please submit your email below in the Subscribe to Futsal Focus option.
Follow Futsal Focus by clicking on Facebook, Twitter, or Instagram or on the social media buttons on the website.