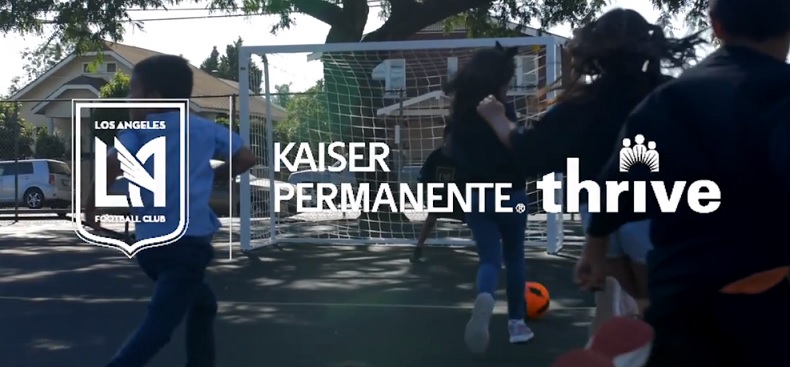 Estimated reading time:3 minutes, 27 seconds
The Los Angeles Football Club, LAFC Foundation, and Kaiser Permanente are working together to empower students across Los Angeles to be active and thrive through the refurbishment of futsal courts throughout the city of Los Angeles. As of today, six futsal courts have been completed which is part of an ongoing, multi-court commitment to the youth of LA.
The most recent project was celebrated on Tuesday, September 17, when children from the Belvedere Elementary school had the opportunity to play on their brand-new futsal court. The event also included a ceremony that commemorated the full futsal court refurbishment initiative and celebrated a successful partnership that brought safe spaces to play throughout the city. The ceremony, which included LAUSD officials and representatives from LAFC, Kaiser Permanente, adidas, and the U.S. Soccer Foundation, stressed the importance of being active and staying heathy through exercise.
"We are proud to have completed another important project with Kaiser Permanente," said LAFC President and Co-Owner Tom Penn. "We are committed to being a force for good in the community. Through this project, we've successfully provided safe and accessible areas for children to play throughout the Los Angeles community."
LAFC and Kaiser Permanente kicked off the year with a double court refurbishment at Lennox Middle School, followed by single court builds at Hoover Street Elementary, 54th Street Elementary, and Belvedere Elementary. The futsal initiative with Kaiser Permanente kicked off in October 2018, at Bethune Middle School. Moving into the 2020 season, LAFC and Kaiser Permanente plan to build five additional courts throughout the Southern California area.
"Play is an essential part of health. At Kaiser Permanente, we know that the health care we provide must go beyond our clinical spaces – which is why we are investing in programs such as these amazing futsal courts. Programs that bring opportunities for children to exercise through play have many positive aspects and are an essential part of improving the health of our communities," said Julie Miller-Phipps, president, Kaiser Permanente Southern California, Health Plan and Hospitals. "Having strong community partners like LAFC, with a shared mission, makes this all possible."
Kaiser Permanente's roots run deep throughout Southern California. They have a long history of expanding access to health along with collaborating with partners to ensure youth have a healthy future. The collaboration with LAFC falls in line with its mission to improve the total health of its members as well as the communities it serves.
The U.S. Soccer Foundation, adidas and the Los Angeles Unified School District (LAUSD) have also joined with Kaiser Permanente as partners for three of this year's refurbishments, including the final court at Belvedere Elementary. In total, the U.S. Soccer Foundation and adidas have partnered with LAFC to build five courts in schools and recreation centers around LA, dating back to 2018.
"Thanks to the generosity of the Los Angeles Football Club Foundation, U.S. Soccer Foundation, adidas, and Kaiser Permanente, nearly 3,200 students at five schools now have new, safe spaces to play," said Los Angeles Unified Superintendent Austin Beutner. "Healthy bodies and healthy minds work together to help our students succeed."
Since the Club's inaugural season in 2018, LAFC and the LAFC Foundation have refurbished a total of 10 courts and pitches, continuing their goal to unite the world's city through the world's game.
"Thank you to our fabulous teams involved within Los Angeles Unified, and our partners at Los Angeles Football Club, U.S. Soccer Foundation, Kaiser Permanente, and adidas, for supporting the wellness of our students," said Los Angeles Unified Board Member Mónica García. "We are committed to addressing the needs of the whole child for their success. The new futsal courts provides fun and healthy opportunities for our students!"
If you like the information provided, you can read more articles about global futsal by going to the top navigation bar or click here
If you like this article and would like to keep updated on Futsal news, developments, etc then please submit your email below in the Subscribe to Futsal Focus option.
Follow Futsal Focus by clicking on Facebook, Twitter or Instagram or on the social media buttons on the website.