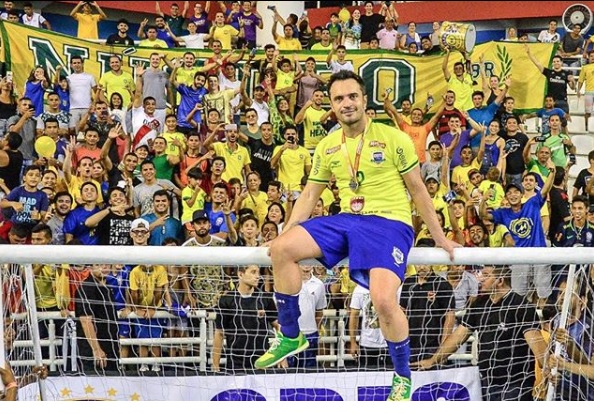 Estimated reading time:2 minutes, 5 seconds
Two-time world champion and best futsal player of all time will play his last official match against Paraguay, today; star promises another farewell in Sao Paulo.
Brazilian futsal is about to see the biggest name of the sport of all time officially leave the courts. At the age of 41, Falcão through a social network announced that the official friendly against Paraguay, today, in Jaraguá do Sul, will be his last for the national team. Promised in 2019 a match in São Paulo, ending the cycle of 20 years defending and making history for Brazil.
"The time has come that I never wanted to come, the hour of farewell. I will sing the anthem for the 258th time and I will try to reach the 400th goal with the team! I finish with the certainty that I did my best during those 20 years … I was very happy with the many victories, I cried and I suffered a lot with the few defeats, but I know I did and I left my best – said the player in the post.
Falcão adds 257 games for the Brazilian national team and 399 goals scored, twice world champion (2008 and 2012), besides having won 11 Grand Prix and five Copa America titles.
Career
Falcão began playing futsal professionally in 1994 at Corinthians. In his 24-year career, there were 10 different clubs and 73 titles won. In 2018, Falcão completes 20 years defending the Brazilian national team, with 29 cups in the curriculum. In addition to the titles in futsal, Falcão was Paulista's 2005 champion, while defending Sao Paulo in field football.
Throughout his career, Falcão accumulates more than 100 titles and is in the gallery of the most successful athletes in collective sports. Below are some of the main player titles.
Main titles for the national team:
World Cup: 2
Grand Prix: 11
Copa America: 5
Main titles by clubs:
State: 13
Nationals: 9
South American: 7
About Me
Club World Cup: 2
If you like this video and the information provided, you can read more articles about global futsal by going to the top bar navigation or click here
If you like this article and would like to keep updated on Futsal news, developments etc then please submit your email below in the Newsletter section or by clicking on the Subscribe to Futsal Focus option on the header.
Follow Futsal Focus by clicking on Facebook, Twitter or Instagram or on the social media buttons on the right sidebar.