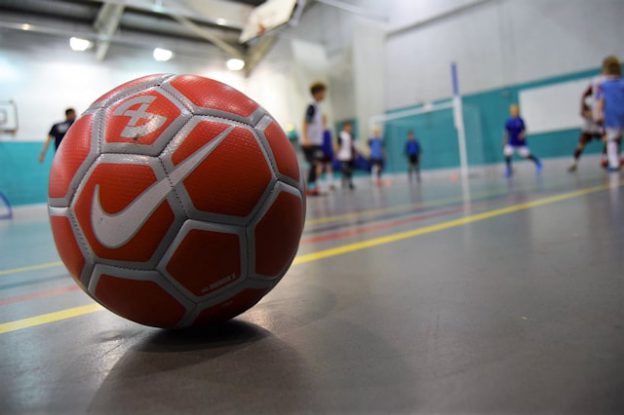 Estimated reading time:5 minutes, 46 seconds
"In futsal, you see whether a player is really talented. You notice the small details in quality, class and technical understanding." –
Xavi Hernandez, ex-FC Barcelona midfielder and Spanish international footballer.
Almost each and every week across Merseyside and beyond, youth football matches are postponed due to waterlogged pitches, training sessions are called off because of frozen turf, and hundreds of children are left feeling frustrated as the highlight of their week is taken away from them through no fault of their own.
All across the UK from around November to February, the same story is played out year upon year. In this country, unlike many others, football is a sport that spans the winter months; with that comes the risk that the weather will take its toll, and in Merseyside and across the UK, it very often does.
Even when games are on, the wind and the cold are not conditions that are conducive to attractive, attacking football with the ball on the floor that is as enjoyable to produce on the pitch as it is to watch from the sidelines.
An increasing number of artificial pitches are popping up – there are 31 FA or FIFA-approved 3G pitches available for hire in the Liverpool city region – so the number of matches postponed due to poor weather is decreasing, but that doesn't take away from the wind, the cold and the rain.
In fact, a study in 2017 found that 13% of school-age children in the UK are put off from playing football altogether because of the weather. Tough conditions have been an issue for connoisseurs of fine play for decades, but the Football Association, at long last, believe they have found a solution.
At St. George's Park, the national football centre, England boss Gareth Southgate and his bosses – the likes of the influential chairman Greg Clarke – are obsessed with a phenomenon that remains relatively new on northern European soil.
Futsal has been played in South America for nearly a century and English football's decisionmakers are only recent converts, but the small-sided game is now playing a central role in creating the next big things.
With more focus now placed on producing technically astute and tactically capable players, it should come as no surprise that the likes of Jadon Sancho, James Maddison, and Phil Foden, who have come through the English system since the focus shifted, are now playing at the elite level in the Premier League, and plenty more will follow suit.
Nathan Linley, a freelance futsal reporter, explains: "Futsal is a smaller sided game with handball sized goals, with the emphasis of the game focused on skill and technique.
"Because of the brisk nature of the sport, there are many elements of one's game that can be improved with the introduction of futsal at a young age. It can make players much more intelligent in terms of adaptability, creativity, and speed.
"High pressing is encouraged in futsal. Players will not have much time on the ball and therefore need to decide what to do in an instant and faster decision-making means better skill and ball control."
Futsal is far from a replacement for football: it is firmly viewed as being an addition designed to complement, rather than take over from, it.
Taking the basic principles of football, but with a smaller goal (three metres by two metres) and only 10 players on the court at any one time, futsal champions technique over physique, and brains over brawn, leading to development opportunities for younger players in particular.
Speed of thought (you only get four seconds to return the ball to the court when it goes out of bounds, and with a smaller playing area than football, high pressing in open play is even more commonplace), tactical understanding and deft footwork are rewarded over strength and physical development that in football can often paper over the cracks for aspiring footballers who are growing up at a faster rate than their peers.
At the Football Association, there is a belief that England's national football team will not succeed at a major tournament until futsal is properly and thoroughly integrated into schools and embraced by youth teams across the nation.
An increasing amount of attention and funding has been put towards futsal, and Sport Liverpool are set to push that further across Merseyside.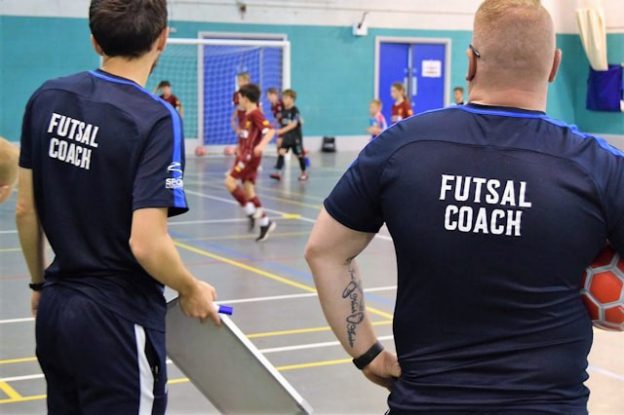 Project Futsal
Under a new scheme, Project Futsal, a charter standard futsal club, have partnered with the University of Liverpool's sports department to provide high-quality futsal opportunities across Merseyside through schools across the region.
Project Futsal will deliver regular coaching for children aged between four and 16 with the view to developing the University of Liverpool youth teams, creating a long-term futsal pathway through to BUCS and national level futsal in England.
The project will also support the development of coaches through mentoring and professional development events, ensuring the very best people are in place to help the young stars across the region flourish.
Project Futsal's long-term aims are to be the pinnacle of futsal delivery across Liverpool and the North West and to develop a long-term pathway not only for young players to play futsal at grassroots level, but also to one day represent England at international level.
University sport development officer Ryan Swinney said: "We see futsal as an exciting alternative or a great addition to the traditional football game and with the FA investing heavily at the moment through their new strategy, we feel it will only gain in popularity.
"We want this fast, exciting format of the sport to become the indoor game of choice for young players and drive participation across Merseyside. The benefit of being indoors also means there's no need to worry about waterlogged or frozen pitches – games are played all year round."
Joe Ryan, the University's futsal head coach added: "Coaching this fast-paced and tactical game provides kids with the opportunity to develop their technical skills in a fun and friendly environment. Futsal complements football and vice versa due to the skills acquired."
Project Futsal run a development centre every Tuesday at Liverpool College in Mossley Hill (L18 8BG).
A session between 5-6pm takes place every week for those aged between five and eight; the session between 6-7pm is for those aged between nine and 12; and teenagers between 13 and 16 can attend between 7-8pm.
For more information on Project Futsal please contact: info.projectfutsal@gmail.com
If you like the information provided, you can read more articles about grassroots and coaching by going to the top navigation bar or click here
If you like this article and would like to keep updated on Futsal news, developments etc then please submit your email below in the Newsletter section or by clicking on the Subscribe to Futsal Focus option on the header.
Follow Futsal Focus by clicking on Facebook, Twitter or Instagram or on the social media buttons on the right sidebar.