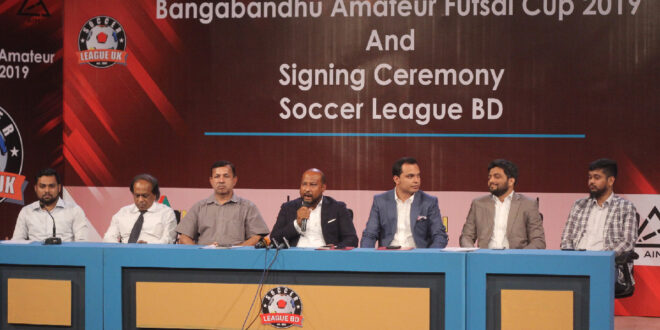 Estimated reading time:1 minute, 48 seconds
"Signs of futsal life in Bangladesh?
With the 8th largest population in the world (5th in Asia), Bangladesh has incredible potential. They sent a team to the AFC Women's Championship." Steve Harris Futsal Japan
The first Bangabandhu Amateur Futsal Cup' 2019, organised by Soccer League UK's Bangladeshi Franchise Soccer League BD, under the initiatives of ATN Events Ltd and AIM Sports, will be held in November in the capital.
The qualifying round of the first-ever meet in Bangladesh will be held on November 21, 22 and 23 at the National Handball Stadium in the city.
The final round with 16 qualified teams will be held on November 27 and 28 at the same venue. The Amateur Futsal Cup champion team will receive prize money of Tk 1,00,000 and an opportunity to train at Bradford City Football Club in the UK for two months reported by  greenwatchbd.com though dhakatribune.com that they would train with Bradford City Futsal Club
Soccer League UK signed a contract with Soccer League BD for the tournament on the occasion. The intake for team registration started on Sunday and will continue until October 30.
The Soccer League BD will be arranged at district level from the next year and the final will be held in Dhaka. Director of ATN Events Ltd Masudur Rahman disclosed the details of the meet at a press conference at the ATN Bangla Floor of FDC on Sunday afternoon.
Adviser (chairman and marketing) of ATN Bangla Meer Motahar Hasan, Managing Director of Soccer League UK Mohammad Kabir, Managing Partner of Soocer League UK and AIM Sports Mirza Faiyas Hossain and Co-founder of Soccer League BD and AIM Sports Mohamamd Islam also spoke on the occasion.UNB
If you like the information provided, you can read more articles about global futsal by going to the top navigation bar or click here
If you like this article and would like to keep updated on Futsal news, developments etc then please submit your email below in the Newsletter section or by clicking on the Subscribe to Futsal Focus option on the header.
Follow Futsal Focus by clicking on Facebook, Twitter or Instagram or on the social media buttons on the right sidebar.