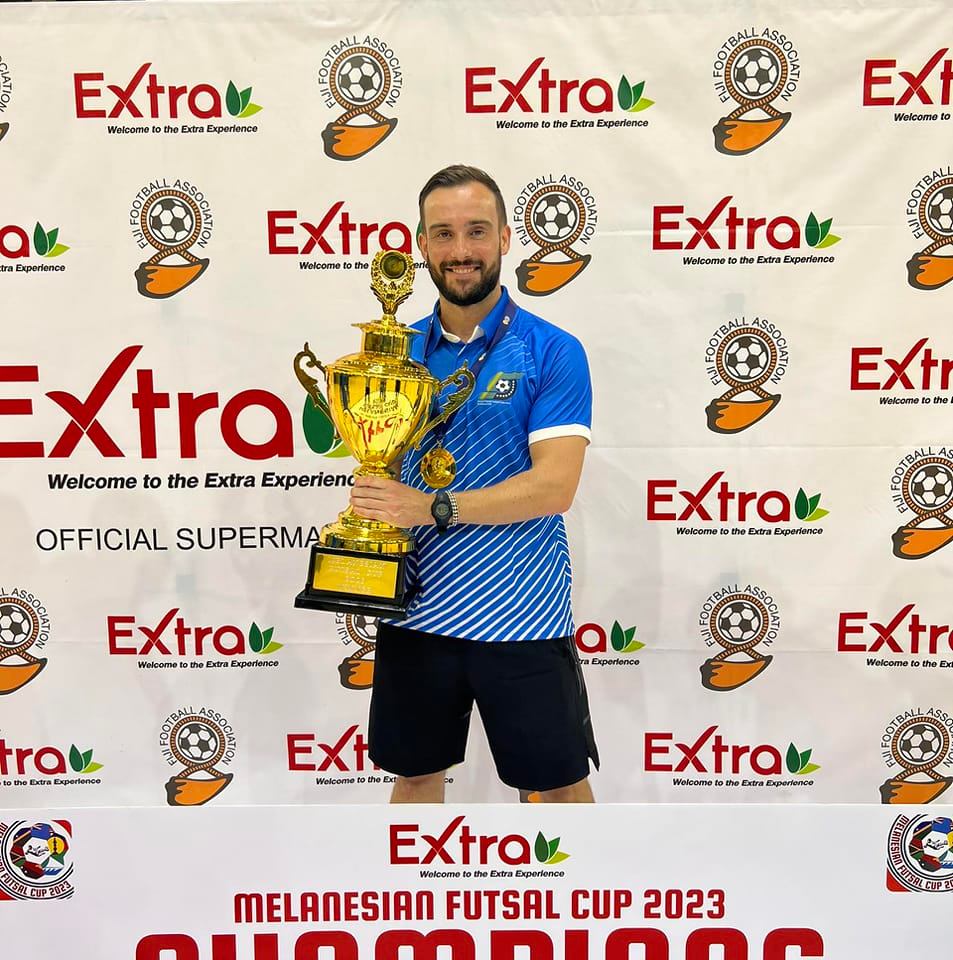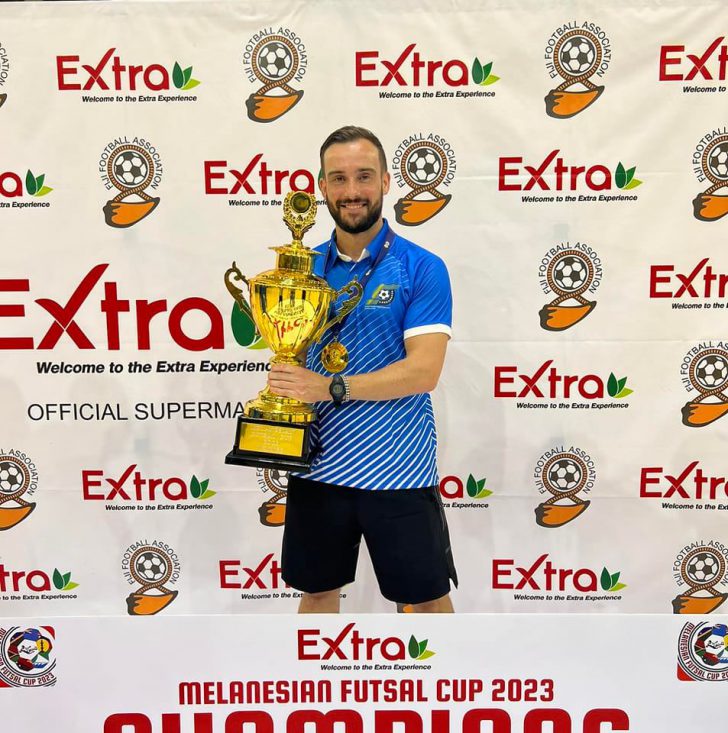 Estimated reading time:20 minutes, 47 seconds
Damon Shaw's career and what is discussed in this interview is broken down as follows:
Establishment of Successful Futsal Clubs
Transformation in Spain
Challenging Experiences
Return to England and Beyond
Head Coach of the Solomon Islands National Futsal Team
Preparing for the Future
Damon's coaching journey
Damon has had a remarkable journey as a futsal coach. His life in futsal commenced with the establishment of Teesside University's futsal club. A venture that gave rise to Middlesbrough Futsal Club. With unwavering dedication, he led both clubs simultaneously, achieving remarkable success. Over the course of six years, Damon secured three British University & College Sport (BUCS) Championship titles. His team also made two semi-final appearances, along with triumphing in a second-tier competition.
"BUCS is special for me. It is where I started my futsal coaching career with Teeside University. The competition itself, I set up in 2007. It is now one of the most important competitions in England. The winners go on to play in Europe and more universities are participating in the competition. It is a great contributor to English futsal."
Middlesbrough Futsal Club grew to become one of England's top clubs. The club consistently reached the final play-offs and clinched the FA Futsal League North title in 2009.
Driven by a hunger for knowledge and excellence, Damon embarked on a transformative Spanish adventure. He moved to Spain to immerse himself in the world of futsal. Undergoing extensive training and earning his "monitor" and UEFA 'B' licenses. His passion and expertise earned him coaching roles with prestigious clubs. Clubs such as Hospitalet Bellsport and Industrias Garcia, where he worked diligently with talented young players.
Fueled by a desire to continuously improve. Damon pursued the pinnacle of futsal coaching qualifications, completing the rigorous top coaching license course in Spain. Achieving the highest level of Spanish futsal coaching qualifications. A qualification that would be considered a UEFA A License equivalent if they had one. Following this accomplishment, he ventured into the highly competitive environment of a club in the Spanish National Futsal League. Further enhancing his skills and expertise.
With a wealth of experience under his belt, Damon Shaw returned to England. Tranmere Rovers recognized his potential and appointed him to head their futsal project in 2016. During his tenure, he successfully established a thriving futsal academy. In addition to assisting Futsal Focus organise the World's First Futsal Business Conference. And led the club in a competitive season with limited resources.
Always open to new challenges Damon accepted an opportunity in Malta as the technical director at Swieqi United. His passion and dedication led to a promotion as the head coach, although the season started with challenges. Nevertheless, his journey took an unexpected turn. He soon found himself coaching in Malaysia for the 2020 season. A season which regrettably faced cancellation due to the global COVID-19 outbreak.
He would later travel to Poland to coach WKS Śląsk Futsal. Damon Shaw signed a promising three-year contract with the Polish futsal club. Sold on the project which aimed to elevate the team to the Ekstraklasa. The club wanted to establish itself as a prominent club in Polish futsal. However, red flags started to show. After signing the deal, the club struggled financially. They failed to secure the main sponsor and were unable to pay Damon. Accommodation and promised food were also lacking, creating a tumultuous environment. Despite these challenges, Damon remained committed to the players and persevered.
Amidst the difficult experience in Poland, he found solace in being part of the Solomon Islands national futsal team. At the 2012 FIFA Futsal World Cup in Lithuania, he worked as their technical analyst. He cherished the opportunity to help the nation compete against prominent national futsal teams. The experience reignited his passion for the sport.
After a period of soul-searching and considering other job options. Damon decided to not give up on his passion for futsal. After attending the Copa de España and running a Futsal Camp in the UK, he received offers from various countries. However, he sought a place that offered both competitiveness and sustained progression.
Out of all the options, Skoftebyn in Sweden stood out the most. He valued its well-organized league, serious clubs, and dedicated players. Despite turning down potentially higher-paying offers, he believed he made the right choice for his long-term future. And was excited about the team's potential and prospects in the league. He focused on creating a happy and enjoyable environment for the players to succeed, which they did. The club was in second place in the league. But, an opportunity presented itself that he couldn't turn down.
Damon's life is a compelling exploration of futsal's transformative power and the unwavering spirit that fuels dreams on and off the court
Futsal Focus set down with Damon in this exclusive interview, to talk about his new opportunity. He is now the head coach of the Solomon Islands national futsal team. Damon has had a remarkable coaching journey. His transition from technical analyst to now leading the team is nothing short of inspiring.
Beyond the thrilling competitive opportunities he has had already as the nation's head coach, Damon shares his vision for the future of futsal in the Solomon Islands. With a focus on nurturing women's and youth futsal, he outlines a comprehensive strategy to build a strong foundation for long-term success.
As the OFC Futsal Cup World Cup qualifiers draw near, he discusses his team's preparation to take on formidable opponents in their quest for qualification. With dreams of participating in future FIFA Futsal World Cups and even the 2026 Youth Olympics, his dedication to nurturing young talents and empowering players is evident.
Damon takes us beyond the futsal court. He shares his experiences of embracing a vibrant island life in the Solomon Islands. How he navigates unique challenges. Immersing himself in the beauty of nature, while keeping his sights firmly set on shaping the future of futsal in this captivating nation.
Interview Section 1 – 2021 FIFA Futsal World Cup Experience:
Damon talks about his experience at the 2021 FIFA Futsal World Cup in Lithuania and its impact on his coaching development.
Hello Damon! It's a pleasure to speak with you today. Let's start by talking about your experience at the 2021 FIFA Futsal World Cup in Lithuania. Can you tell us about this experience and how it benefited your coaching development as well?
DS: I joined the team for the 2021 World Cup when they came to do a training camp in Poland where I was working at the time. Ever since meeting the team, I wanted to visit the Solomon Islands due to all the things they told me about the place. It's a place with so many challenges, but the people still manage to smile and be happy. Such good people and an interesting place and fortunately now I have the opportunity to live and work here.
Going to the World Cup was the highlight of my career so far and as with every experience, it was amazing to work under a top coach such as Vinicius Leite (Vinny). You can learn from everyone, and Vinny had a different approach to what I've seen in Europe and had such a good relationship with the boys, something that I am working hard to continue.
Vinny used a lot of metaphors and quotes to get his message across and was an exceptional motivator. The boys would run through walls for us – we just lacked fitness at the World Cup against teams that had played professionally through covid, while the Solomon Islands had paused for 2 years and came into the World Cup cold.
I felt like I was able to contribute with my tactical knowledge and analysis really well, complimenting Vinny's style. We had similar ideas about the game, so I was able to go into depth with the players about how we wanted to play.
I worked a lot of late nights preparing videos of our games and scouting videos of the opponents to give the players a little bit of extra info when playing against the likes of Zicky Te and Pany Varela – never an easy task. Competing against the champions of Europe, Africa, and one of Asia's powerhouses, Thailand was surreal. We had a group of death, with very little chance of getting a point.
The two-week camp during the World Cup was an extraordinary experience. Everything, from the food to the transportation and infrastructure, was of the highest standards, as one would expect from a FIFA event. I absolutely loved it. Such experiences fuel your desire to return to that level of competition again and again.
Interview Section 2 – Head Coach of the Solomon Islands National Team:
Damon discusses the interviewing process and what made him stand out for the role.
He shares his settling-in experience in the Solomon Islands and life outside his coaching role.
FF: What was the interviewing process like for the national team, and what did you present that you feel made you stand out from the rest?
DS: It was a smooth process in fairness with Vinny recommending me for the role and being familiar with the president of SIFF from the work I did in Lithuania. However, I still presented my vision for the long-term development of futsal in the Solomon Islands and I believe that was key to me being hired over anyone else.
I first met with the CEO and Technical Director one night in January, 11 pm UK time due to the time difference. It wasn't easy with the internet in the Solomon Islands being quite erratic. The time difference also made the subsequent visa applications and negotiations a bit difficult. Everything had to be ratified at an executive meeting, so one small change to the contract cost around 2 weeks.
I was in constant contact with people there and I was pretty confident all would work out so I went to Spain and Portugal to see the Taca da liga and Copa de España while waiting and it was on a drive home to my hotel from the final in Porto that I got a call from Elliot Ragomo saying it was all set and the contract would be signed the next day. I woke up by the beach in Aveiro and that day everything felt so peaceful. I'd just received a dream job and was about to start a new adventure.
It still then took a few weeks to get the visas through but as I was in Portugal so I travelled to Lisbon and spent a week with Pulpis at SL Benfica – one of the best clubs in the world and up close with arguably one of the top squads – players like romulo, Bruno Coelho, Rocha, Afonso – All competing as if each training session was a world cup final. A incredible experience and one that helped me get my mind ready for the challenge in the Pacific.
Futsal here needs a real plan rather than just focussing on World Cup years so 80% of the role is preparing the Kurukuru for the OFC Nations Cup in October, while the other 20% is developing a long-term strategy for the game. That includes Youth and Women and of course, working with the development officer to identify pathways ensuring we have a conveyor belt of talent. I would love to see this through into 2024 and beyond, but I am under no illusions that if we don't qualify for the World Cup then I might not get an extension so most of the focus has to be on preparing the team for the OFC Nations Cup in October in New Zealand.
FF: After you were announced as the Head Coach of the Solomon Islands, what was your settling-in experience like? How has life been outside of your role in the Solomon Islands?
DS: Everyone was so welcoming and helpful. I've lived in a lot of places now and this is by far the most different, but everything was in place for me to hit the ground running. There is also a great group of people around me outside of work, from locals to expats and I'm continuing my own training. It's a great place, with challenges of course, but something I am very excited to be part of.
For example, electricity is the most expensive in the world and you can probably imagine, salaries are among the lowest – people sometimes have to choose between charging a phone and eating. I live in serviced apartments, which made it a very smooth transition because of course, I didn't travel with pots and pans! Life here revolves around daylight hours mostly and that gets me into a good routine of sleeping early and waking up early, but there are also plenty of expat events.
I didn't expect it to be such a lively place but there is no shortage of things to do. The nature here is spectacular, the islands and snorkeling are some of the best in the World, dolphins swim by the beach and the waterfalls are amazing.
You have to be careful of mosquitos for malaria and dengue, crocodiles are often sighted and there are 400 unexploded World War 2 explosives found every month, so you can imagine that it's a pretty challenging place to live. Not to mention regular earthquakes and we have an active volcano just on the horizon.
Interview Section 3 – ExtraSuper Market Melanesian Futsal Cup:
Damon reflects on the experience of winning the competition and the lessons learned.
FF: Not long after your announcement, you flew to Fiji to take part in the ExtraSuper Market Melanesian Futsal Cup, and won the competition. How was this experience for you and what did you identify from the competition which you feel reassured you heading into the OFC Futsal Cup World Cup qualifier and what do you feel needs addressed going forward?
DS: It was a great opportunity to see the players in competitive games and get to know them better so early in my tenure and it also gave us a good foundation to build on. I'm very happy with what I saw and how we grew in the last two matches, particularly relating to managing the games.
The other nations in the region are catching up – it's a natural occurrence in sport – Spain and Brazil used to dominate but now we see the next level of team competing at the very top – so we're aware we need to stay in front because that gap will always get smaller. Vanuatu in particular gave us a really good game and we can't go into the qualifiers in October thinking that any game will be easy.
There's lots of work to be done and we'll keep on preparing, making sure we are confident in what we need to do in each moment of the game.
Vietnam was also a great lesson for us too, playing at a much higher level and while we wish we could have scored one or two goals, we are pleased with the intensity at which we worked. We've now got plenty of minutes under our belts that we can use to analyse and improve.
Recently, we had the opportunity to participate in the PacificAus Sports International Futsal Series in Australia, and we faced our hosts in a highly challenging competition. It was a great test for our players, exposing them to a different style of play and pushing them to their limits. In the first game, we achieved a historic draw, showcasing the team's capabilities. However, despite facing defeats in the subsequent two games, I was pleased to witness the players implementing the strategies I had instructed them to follow
These matches served as valuable learning experiences for the team. The players are showing promising signs of understanding my expectations and adapting to new tactics. These tests allow them to analyze their performance, identify areas for improvement, and apply the lessons learned in the upcoming games.
I must credit Australian futsal for their impressive performance, considering the lack of activity within their national team program. It speaks volumes about the dedication and development provided by their clubs, leagues, and providers.
Looking ahead, we are gearing up for the Continental Futsal Championships in Thailand, where we have been drawn into a challenging group against our hosts and Myanmar. Group B comprises formidable opponents, including the Czech Republic, Mozambique, and Afghanistan. This tournament presents another excellent opportunity for our players to prepare for the upcoming OFC Futsal Cup. We will explore different tactics and strategies to gauge how our players react against tough and highly competitive opposition.
Overall, these international competitions are instrumental in honing our team's skills and building their resilience for future challenges. We are enthusiastic about the growth and development of futsal in our nation and are eager to make our mark on the international stage.
FF: Now, back in the Solomon Islands, what support do you have to build on your plans for the team and how are the new facilities at Friendship Hall benefiting you, your team, and futsal development there?
DS: We've got some top-class facilities and excellent coaches to work with, but I've said from the start, just because we have a full-time coach and a futsal hall, it doesn't alone mean we'll qualify. We still have to have the work rate and dedication to be the best and if all those things align, we will give ourselves a good chance. The fact we now have three courts in the Friendship Hall plus the older venues too, means more futsal can be played. We still need more, especially in the provinces, but we have to be happy that children are playing regularly now and with competitive weekly games and good coaching. There is so much potential in this country and I really hope I can see it through for a couple of World Cups at least.
Interview Section 4 – OFC Futsal Cup World Cup Qualifiers and Future Plans:
Damon talks about the challenges New Zealand presents to his team in the qualifiers.
He outlines plans for youth and women's futsal development and the importance of building a strong foundation.
FF: Looking ahead, what excites you about the OFC Futsal Cup World Cup qualifiers and the prospect of qualifying for another FIFA Futsal World Cup?
DS: It will be a fantastic event in New Zealand. They wanted to host the last World Cup. No doubt they will be showing their credentials to be considered in the future. I think it will be very fitting for a continental championship and of course, qualifying will be a big achievement for me. But I'm mostly excited for my players. They will be ready and raring to go. It's more than just a place in the World Cup at stake. It's life-changing for the players and I owe it to them to work super hard to give them the best chance to qualify and in turn, continue into 2024.
FF: You have yet to compete against New Zealand, the current holders of the OFC Futsal Cup, what type of challenge do you think they present your team?
DS: They will be desperate to qualify for the World Cup. Being at home will certainly help them. They are going to be motivated and will not leave anything to chance. The mental side of the game is going to be vital to manage. That's why playing teams higher up the rankings is key for us to learn how to deal with added pressure. Hence why I am looking forward to the Continental Futsal Cup in Thailand. They will be well-trained and fit. While we will be prepared. The boys will have to know how to deal with things out of our control. It will be a fun tournament though and if we continue this path, we'll be confident.
FF: Beyond, the world cup, there is the 2026 Youth Olympics. The Solomon Islands participated in the previous competition. Have you plans to compete in the competition again and create a women's team as well?
DS: As soon as we get any notification about the qualifying event we will be entering it. It is a part of the long-term plan for futsal here. We are planning for it. Especially, as it fits with the ages of players that I am looking at for the future, with one eye on the 2028 and 2032 World Cups.
FF: The SIFF Super Futsal League has kicked off. What have been your impressions so far? What plans are there to help the clubs develop, coach education, and improve the league?
DS: It's a growing league. The fact that it's now up and running is a huge benefit to the national team. It gives players exposure to regular games and helps keep them fit. The level overall needs to improve. Part of my role will be to upskill the coaches, which in turn will help to develop the players. There are just 9 teams this season but with a second tier, I hope next year will see 12 or 16 teams play with a more competitive format. I'll be helping to advise on that for next year. It's only Honiara based at the moment – with travel between provinces not so affordable. It isn't likely that the league will become fully national. However, it would be good to run a provincial championship once a year. The championship would give exposure to clubs and players from the other islands.
FF: What are the Solomon Islands' plans for women's and youth futsal going forward?
DS: I could write pages on this. Safe to say that we will start a women's team and u16s boys/girls in the next 12 months. Though this will depend on the tournaments available to us. We are also investigating a student team to participate in the World University Championship. All fit into the long-term plan of reaching the latter stages of the 2032 World Cup.
Damon Shaw's coaching journey and passion for futsal demonstrate the transformative power of the sport. As head coach of the Solomon Islands national futsal team, he aspires to lead his team to success. Success in the upcoming OFC Futsal Cup World Cup qualifiers and beyond. With a focus on nurturing talent and creating a thriving futsal environment, Damon's dedication to the sport is evident. He continues to inspire both on and off the court. Should he lead the Solomon Islands to the 2024 FIFA Futsal World Cup, he will make history. Damon has the opportunity to be the first English Futsal coach/ British Futsal coach to ever lead a futsal nation to the pinnacle of world futsal.
Author of interview
Stephen McGettigan was born in the Republic of Ireland but grew up in Belfast. He is the founder of Futsal Focus and a Football Industries MBA graduate from the University of Liverpool Management School. Stephen has worked in the Football and Futsal industries for 15 years.
Organ Donation
Futsal Focus is a supporter of Dáithí Mac Gabhann and his family's campaign to raise awareness of Organ Donation. We encourage our readers to learn more about Organ Donation: https://www.organdonation.nhs.uk/
Futsal Focus
You can read more articles about international futsal by going to the top navigation bar or by clicking here
If you like this article and would like to keep updated on Futsal news. You can now follow Futsal Focus via Google News. Follow our page which will send you an alert as soon as we publish an article. Please click here and follow us on Google.
You can also keep updated on Futsal news by submitting your email below in the Subscribe to Futsal Focus option.