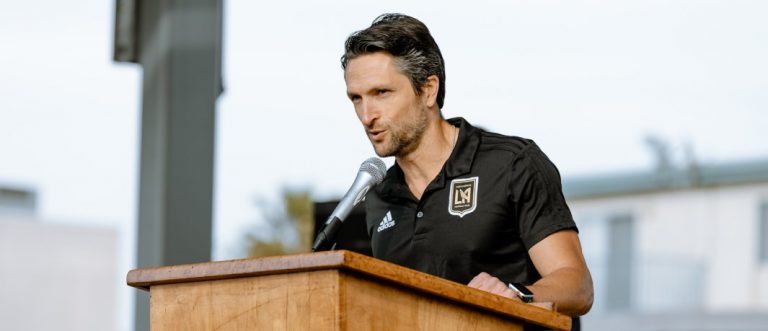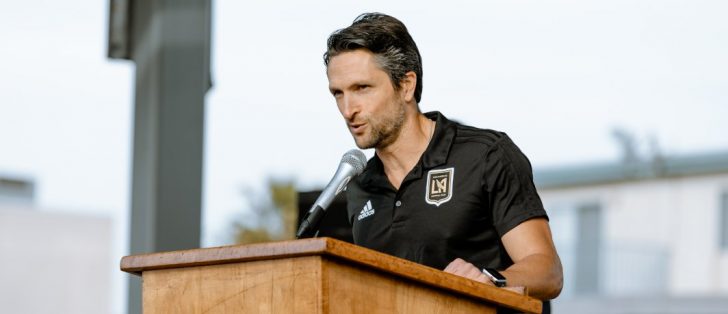 Estimated reading time:2 minutes, 31 seconds
LAFC & Chevron Unveil New Futsal Court In The Bakersfield Community 9/4/19
Los Angeles Football Club (LAFC) and Chevron U.S.A. Inc. (Chevron), today announced the dedication of a new futsal court at Bakersfield Police Activities League. The refurbished facility will revitalize the nonprofit's after-school youth soccer programming. As LAFC's official energy partner, this serves as the second soccer facility refurbishment Chevron has completed in partnership with LAFC, highlighting Chevron's commitment to local communities throughout the Southern California region.
"We are excited to bring the Black & Gold to Bakersfield," LAFC President and Co-Owner Tom Penn said. "This project demonstrates both LAFC's and Chevron's collective mission to empower youth and communities across Southern California by expanding access to the world's game."
The court refurbishment is another key example of how the partnership is delivering on its promise to provide community engagement and access to updated spaces for youth to play the game of soccer throughout the multi-year term. The first refurbishment was completed in March at Bud Carson Middle School in the Hawthorne School District with a full-sized grass field.
Through this collaboration, LAFC and Chevron actively support Bakersfield Police Activities Leagues mission to utilize sports to display visible pathways of success on and off the field for at-risk youth. In addition to the outdoor futsal court, updated soccer equipment will be provided to enrich a sustainable program at the facility for years to come.
"We are proud to unveil the new futsal court in Bakersfield" said Patty Canessa, Public Affairs Manager of Chevron's San Joaquin Valley Business Unit. "Our partnership with LAFC gives local youth a safe and revitalized place to play soccer, practice sportsmanship, and build character. Through investments like this, we hope to make our community an even better place to live."
Chevron has also worked with LAFC to provide access to the World's Game through the Chevron Soccer Academy earlier this year, which brought professional soccer training to youth at LAFC facilities and at California State University, Bakersfield.
Chevron and LAFC will continue to be a force for good together in Southern California, providing youth opportunities to participate in the sport they love.
Menlo Ave Elementary School Futsal court opening with LAFC 
More ⚽️ in the Heart of Los Angeles.

Thank you to everyone who helped build a brand new futsal court at Menlo Avenue Elementary School. pic.twitter.com/PjqXlLIFpE

— LAFC (@LAFC) May 8, 2018
Painting for Adidas, U.S. Soccer Foundation and LAFC in Watts
If you like the videos and the information provided, you can read more articles grassroots and coaching by going to the top navigation bar or click here
If you like this article and would like to keep updated on Futsal news, developments etc then please submit your email below in the Newsletter section or by clicking on the Subscribe to Futsal Focus option on the header.
Follow Futsal Focus by clicking on Facebook, Twitter or Instagram or on the social media buttons on the right sidebar.