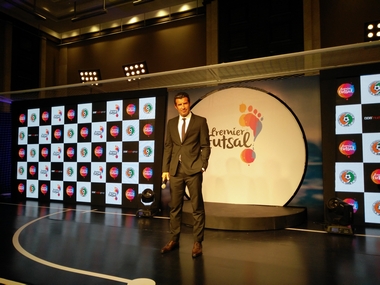 Estimated reading time:2 minutes, 5 seconds
An irate Luis Figo has parted ways with Premier Futsal, calling the five-a-side tournament a 'complete failure' while slamming the organisers for "continuous breach of obligations" towards the legendary Portuguese footballer and other players involved in the project.
As president of Premier Futsal, Luis Figo has been involved with the multi-city tournament since its first edition in 2016.
"I would like to announce that I am no longer the Honourary President of Premier Futsal, having ceased my relationship with Premier Futsal Management (P) Limited," legendary former Portugal skipper said in a statement.
"After two years of intense collaboration, I have decided to leave the project having in mind the complete failure of their representatives and officers to fulfill the agreement and, most important, for their continuous breach of their obligations towards me and other players involved in the project," he added.
Luis Figo, the former Real Madrid 'galactico', who was part of the famed Galcticos, said Premier Futsal has lost its way.
"Premier Futsal has completely lost its path to move forward and to fulfill its obligations towards those who worked and delivered on the project," Figo said.
"Nevertheless, I wish to reaffirm my continuing support for the long-term development of the game of the futsal."
On its part, Premier Futsal sought to put up a defense, saying they were faced with many obstacles.
"We had a few financial issues due to the hostile environment that was created for us to operate under and monetization became difficult because of the various hurdles," Premier Futsal MD Dinesh Raj said in a statement.
"Figo is aware of all of the above and the reasons behind it, and he's been kept informed completely. He's been engaged for over two years as president and we've honoured all obligations including his quarterly salaries during this period except the final payment delay."
It added, "We respect his decision and thank him for the support over the 2+ years where he stood by 3 young entrepreneurs with a dream to do big things and contribute to the Indian sports ecosystem.
This article was taken via FirstPost
If you like the information provided, you can read more articles about global futsal by going to the top navigation bar or click here
If you like this article and would like to keep updated on Futsal news, developments, etc then please submit your email below in the Subscribe to Futsal Focus option.
Follow Futsal Focus by clicking on Facebook, Twitter or Instagram or on the social media buttons on the website.