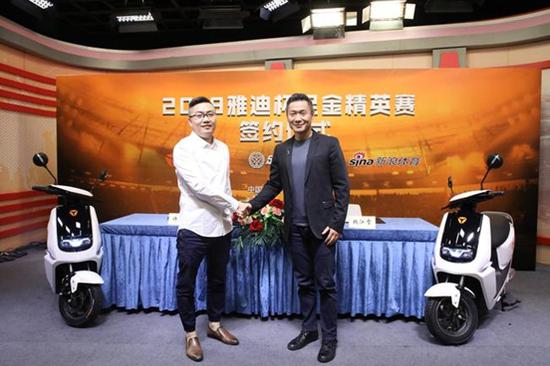 Estimated reading time:3 minutes, 9 seconds
Sina Sports announce Yadea as the title sponsor of the 2018 edition of its 5X5 Golden Futsal league. Yadea, which recently became a regional supporter of the 2018 FIFA World Cup, is a high-end brand for electric-powered motorcycles, bicycles and scooters. Founded in 2001, Yadea is a market leader in China and currently export to 66 countries around the world.
Through the partnership with Sina 5×5 Golden Futsal League, Yadea will integrate its marketing platforms with Sina 5×5 Golden Futsal League's online and offline resources, bringing more exposure to Yadea's brand and Yadea's low-carbon and eco-friendly lifestyle of high-end electric motorcycles.
The newly-renamed 2018 Yadea Cup Sina 5X5 Golden Futsal League, with the theme of "Rise of Legends, Unparalleled Futsal", encourages grassroots participation from the Chinese audience. After the first stop kicks off in Nanning, Guangxi on May 5th, the tournament will cover 17 Chinese cities including Beijing, Shanghai, Guangzhou, Haikou, Taiyuan, Changsha, Nanjing, Fuzhou, Wuxi, Hefei, Jinan, Xuzhou, Nanchang, Xi'an, Handan and Zhengzhou. It is estimated that the number of participating teams will reach 1,088, with more than 1,000 matches, and over 10,000 footballers. Finally, MVP players from each city will be competing with an all-star team composed of famous football players on the national team and legends during the 2018 World Cup finals.
The 2018 Yadea Cup Sina 5X5 Golden Futsal League has official opened up registration channels, enabling players of each city to sign up on the official website of Sina Sports. The event will closely match the schedule and theme of 2018 World Cup, attracting not only football fans in grassroots, but also many players from Chinese Football Association Futsal Super League, Futsal China League and China College Futsal League.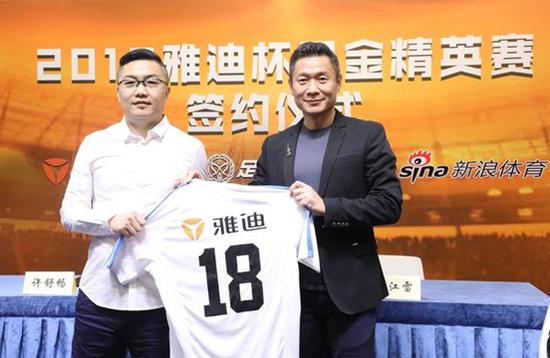 Arthur Wei, Senior Vice President of Sina and General Manager of Sina Sports, said, "We are delighted to announce Yadea as the title sponsor of the Sina 5×5 Golden Futsal League. Our League will play an important role in Yadea's World Cup marketing activations. The wide coverage of the event allows Yadea to have a good opportunity to attract users. Given Sina Sports strong media resources and dominant social network influence, Yadea together with the event will create more opportunities and possibilities to grow the fan bases of Sina 5×5 Golden Futsal League and the World Cup."
About Sina Sports
Sina Sports is the #1 destination for sports fans in China. Established in 1998, Sina Sports was the first ever online sports platform in China, offering fans a diversified platform to access the sports news and games they care about, including a website (sports.sina.com.cn), via mobile, and on the Sina Sports mobile app.
Sina Sports as a broadcaster licenses and partners with over 90 sports properties, including the European Champions League, Bundesliga, MUTV, the Masters, PGA Tour, LPGA, Wimbledon, UFC, and the National Basketball League of Australia. In conjunction with its sister company Weibo, Sina Sports also operates its own and third party social media accounts with more than 100 million followers.
Since 2015, Sina Sports has expanded its business to creating its own offline sporting events including Asia's largest FIBA-certified Sina 3X3 Golden League basketball tournament, and Sina 5X5 Golden League, the leading futsal tournament in China. The growing portfolio of events also include Sina Cup Junior Ice Hockey Competition, Sina Future Star Equestrian Competition, Sina Cup Alpine Skiing, and Sina China Bodybuilding and Fitness Competition.
This article was taken via Sina.com
If you like the information provided, you can read more articles about global futsal by going to the top navigation bar or click here
If you like this article and would like to keep updated on Futsal news, developments, etc then please submit your email below in the Subscribe to Futsal Focus option.
Follow Futsal Focus by clicking on Facebook, Twitter or Instagram or on the social media buttons on the website.