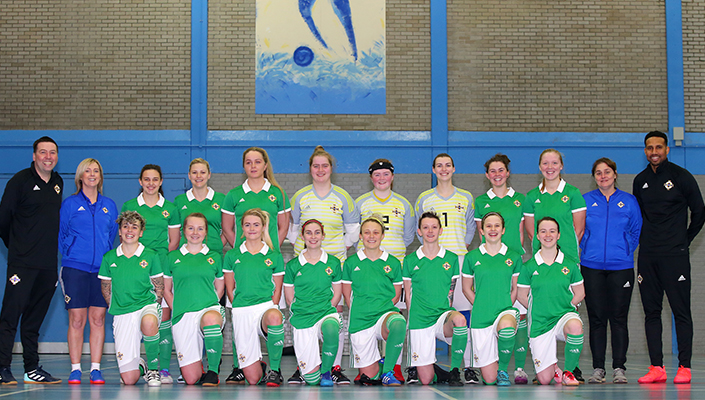 Estimated reading time:2 minutes, 14 seconds
Northern Ireland has just finished its second season in the Men's National league and its first season for the Women's National league which were won by Belfast United FC (Men's) and Linfield Ladies won the women's league. In the same year that the women's league was announced the Irish FA announced that the Women's National team would also start training and be taking part in friendly matches in preparation for the UEFA Women's Futsal EUROs.
The ladies kicked off their preparations with a strong performance against Men's National League team Banbridge Town who finished second in the Men's League. Their next development steps took them to Scotland where they played the University of Stirling Women's Futsal team.
In a short time of 3 years, Jonathan Michael and his team have been driving Futsal from the grassroots (Primary school national competitions) to the senior level and taking steps continuously to increase awareness of the sport. And, the ladies journey into the first ever edition of the UEFA Women's EURO competition will no doubt get national recognition especially as they are the only national women's team representing the U.K in the qualifiers. Scotland, England, and Wales have yet to develop national women's teams but we look forward to seeing them participate in the near future.
Taking part in the competition are the following countries:
A total of 23 nations have entered the first UEFA Women's Futsal EURO and all will be involved in the qualifying draw at 13:30CET on 5 July.
Last year UEFA announced the launch of its first women's futsal competition for national teams, to be held every two years with initially a four-team knockout final tournament. That will be held in mid-February 2019, to be hosted by one of the four eventual qualifiers.
The entrants include Northern Ireland, taking part in their first international futsal tournament for men or women. The exact format for qualifying, which will consist of preliminary and main rounds, will be confirmed ahead of the draw.
The entrants
Armenia
Belgium
Belarus
Croatia
Czech Republic
Finland
Hungary
Italy
Kazakhstan
Lithuania
Moldova
Netherlands
Northern Ireland
Poland
Portugal
Romania
Russia
Serbia
Slovakia
Slovenia
Spain
Sweden
Ukraine
The calendar
Qualifying draw: 5 July, Nyon
Preliminary round: 21–26 August
Main round 11–16 September
Finals draw: tbc
Final tournament: 14 or 15 & 16 or 17 February
If you like the information provided, you can read more articles about global futsal by going to the top navigation bar or click here
If you like this article and would like to keep updated on Futsal news, developments, etc then please submit your email below in the Subscribe to Futsal Focus option.
Follow Futsal Focus by clicking on Facebook, Twitter or Instagram or on the social media buttons on the website.