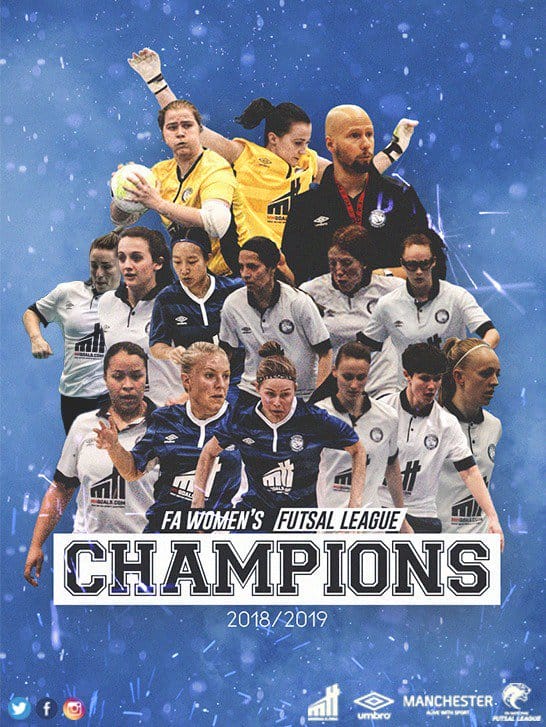 Estimated reading time:5 minutes, 16 seconds
Manchester Futsal Club is over 13 years established from March of 2006 and was founded by two futsal pioneers, Simon Wright, and Ilya Ovechkin. The club has been one of the most prominent and established clubs in Great Britain and won the FA Futsal Cup in 2012. Manchester has traveled to other countries, held events and been recognized many times at award ceremonies for the work they do in their community to promote and develop futsal and this trend has continued into 2019. Before we discuss this, here is some information to give you an insight into the club and their achievements:
• FA National Futsal League North: Winners 2011/12, 2013/14, 2014/15
• FA Futsal Grand Finals: Finalists 2013/14
• FA Futsal Cup: Winners 2011/12, Finalists 2013/14, 2014/15
• Tiger Beer Street Football Asia: Winners (Mongolia 2013/14) Grand Finalists (Vietnam 2013/14)
Manchester Futsal Club are members of the FA National Futsal Super League and were the first FA Charter Standard Futsal Club in England. The club has put in place a solid foundation for future growth and success as the popularity of Futsal in England gathers pace especially competing at a perfect venue for the sport, Manchester Velodrome which has a capacity for 3,500 people.
Manchester Futsal Club is a model for good practice for other futsal clubs in the UK and in 2014 the club were awarded 'Community Sports Club of the Year' by Manchester City Council and became a Community Interest Company in the same year. The club is proud to be community facing, with a growing membership base of over 200 members across its men's, women's and youth programmes.
As mentioned in the article, the club has continued its progress and development trend, winning titles, award nomination and delivering successful futsal development projects to provide more opportunities for young people to enjoy Futsal. This year, the Men's team finished in fourth place in the FA National Futsal Super League and the Development Team in second place in North Division 2. However, 2019 was to be the year for their Women's team to shine, not only winning the FA Women's National Futsal League, the ladies secured the domestic double, winning the FA Women's Futsal Cup as well. Due to this success, the women's team has been shortlisted for the 'Grassroots Futsal Team of the Year 2019.'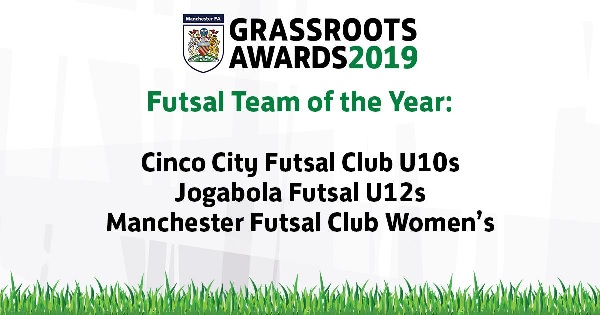 The success of the season on all fronts has been duly recognized as their Head Coach Sergi Saldana has been nominated for 'Coach of the Year' by Manchester FA for their annual awards programme for 'Making a difference by inspiring players and coaches' for his outstanding contribution due to the fantastic work he has done with Manchester Futsal Club's Men's, Women's and Youth programme. Plus, for the work, he has done leading the coaching of the Manchester Metropolitan University Futsal Club.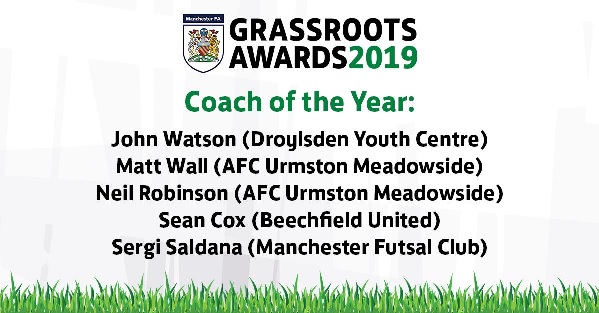 When it comes to club development, Manchester have always been a leading example for other clubs in terms of what is possible. This year, the club has announced a wonderful partnership which deserves congratulations and credit for the great experiences this will no doubt offer to children and teenagers from across the UK with their 3 year partnership with Inspiresport. The organization take schools and sport club groups to train with the world's top professional clubs. Combining learning and traveling with children's love for sport which makes this the perfect partnership as Manchester strives to do the same.
Steve Butchard, CEO at Inspiresport said:
"We are absolutely delighted with our new partnership with Manchester Futsal Club. Many of the world's best footballers credit Futsal as key to their skill development in the 11-a-side game. Thanks to our relationship with Manchester Futsal Club, we are thrilled to be offering youth and school teams the opportunity to play and train at yet another location! Futsal is often played as part of a balanced football training programme, but the rise in popularity of Futsal as a sport in its own right is really exciting and we're thrilled to add it to our existing product portfolio. "
Simon Wright, CEO at Manchester Futsal Club said:
"This is a truly exciting partnership that we're launching with Inspiresport – the first of it's kind for a futsal club in the UK. Manchester is a renowned global sporting capital and now we will be able to offer an exciting futsal opportunity to teams, schools, colleges, and universities. We are working alongside a leader in the field of delivering high-quality sports tours and we cannot wait to get started. Futsal is growing in popularity in the UK and we're delighted to share this bright future with the Inspiresport team."
Futsal Focus reached out to Simon Wright to hear his views on this season and the success they have enjoyed:
"This season has been another opportunity to focus on all areas of the club's development. We have made significant strides with some excellent partnerships with Umbro, MH Goals, Manchester Metropolitan University, Manchester FA and now with Inspiresport."
"We continue to build the club's infrastructure and reach by ensuring we have excellent staff with the required skills and passion to drive the club forward. On the court, we have seen significant growth of our youth programme which is now delivering players to the Development team and beyond into the Seniors. This bodes well for the future, given we have a new generation of players connected and representing the club."
"The Women's success has been the icing on the cake, a deserved outcome having invested time and energy into this project. We look forward to what next season will bring, our determination to push the club to the highest level remains a constant."
If your futsal team are interested in finding out more about a futsal experience in Manchester with Manchester Futsal Club take a look here: http://bit.ly/2VSaSWB
If you like the information provided, you can read more articles about domestic futsal by going to the top bar navigation or click here
If you like this article and would like to keep updated on Futsal news, developments, etc then please submit your email below in the Newsletter section or by clicking on the Subscribe to Futsal Focus option on the header.
Follow Futsal Focus by clicking on Facebook, Twitter or Instagram or on the social media buttons on the right sidebar.