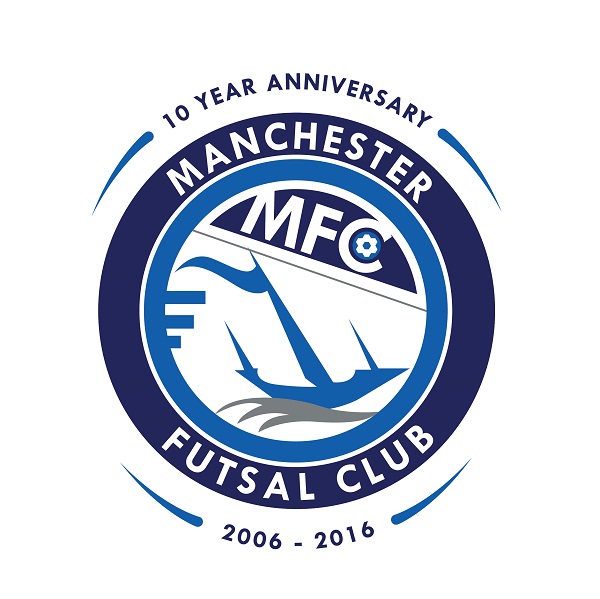 Estimated reading time:8 minutes, 32 seconds
Manchester Futsal Club proud to have reached this important milestone for the club. It's not been easy that is for sure. We've had to be strategic, patient, adaptable and persistent in equal measure to arrive at this point. But I fully believe you need this grounding to develop a solid base to build upon.
Before we start the interview Simon, I would like to congratulate you on all the wonderful work that you and your colleagues have done to keep Manchester Futsal Club going for 10 years and all the achievements that you have had within this decade long journey especially during a period were Futsal is still not getting the support it deserves in England.
Thanks Stephen. Manchester Futsal Club certainly proud to have reached this important milestone for the club. It's not been easy that is for sure. We've had to be strategic, patient, adaptable and persistent in equal measure to arrive at this point. But I fully believe you need this grounding to develop a solid base to build upon. We've faced our biggest challenges already, making the club viable and delivering a consistent level of success. The future is about growth on and off the court now.
Why was your club set-up?
At the very beginning, Manchester Futsal Club was established amongst friends to just be a social team. I and Ilya Ovechkin had met doing a part-time job together and something clearly clicked. We wanted to set-up a futsal club and didn't let the obvious challenges at the time phase us.  I had just finished university and was motivated to do something different. We had done our research, found a local league being delivered by Manchester FA (albeit an outdoor league played on 3G turf) and soon after forming the basis of the club the competitive drive took over. We wanted to go to the highest level of English futsal. At the time clubs such as Tranmere Victoria and White Bear were leading the way and we wanted to compete against them so when the FA took the step to form the FA National Futsal League we made sure we were ready. We were inexperienced but we had some talented players who we knew could take the club forward on the court. We also knew we lived in a city that because of the culture and Mancunian spirit that anything was possible. We also knew that being different to United and City and the huge football culture that exists could work in our favour if we were smart enough.
Even in our formative years the club developed quickly. We set out to lead the development of the sport in Manchester. At the time this was an ambitious target given every step we took was a something new for the sport let alone the club. But we had to get out there and get the club known. We went into schools, colleges and universities in Manchester and told people what we were about. We needed to be the educators and lead people to the club through providing opportunities to play futsal. We ran leagues, delivered engagement projects alongside football clubs, and really put in the hours to make it happen and push the boundaries. We also set about influencing decision makers in the city – Manchester FA, Manchester City Council etc. in order to prove we could deliver projects successfully and negotiate more exposure for futsal and the club. We took a serious approach to development and made it clear we were going to be a valuable sports club for the city. Some people listened, others less so.
For a number of years we've survived with minimal external investment but achieved considerable output. We have secured funding to deliver outreach programmes but for the best part we funded the club ourselves and sought to collaborate with people that could add value to our journey – something which we continue to do to this day.
Fast forward to the present day and I feel the hard work in the early years of developing the club are beginning to pay off. We may still be an amateur club but our outlook and operations are as professional as we can make them – we continue to lead from the front but are doing all we can to ensure that we don't stop learning and educating ourselves. The club has grown significantly and alongside the Senior Team we operate an U21's Team, a Women's team, a youth programme covering over 100 kids from ages 6-16 years. Our Youth Academy and Development Centres are recruiting new players on a weekly basis and we are now providing high quality coaching in a fantastic environment at Belle Vue Sports Village and the National Cycling Centre.
Across the club we are delivering futsal pretty much 7 days a week which is a remarkable position to be in.  In order to do that you need passionate and committed staff that shares the vision of making Manchester Futsal Club the best futsal club in England. We are very fortunate to have good people supporting and driving our plans forward.
What are your proudest achievements with the club over the past 10 years?
Personally I think winning the FA Futsal Cup in 2011/12 was a significant turning point for the club. We had a very good squad that season but during the finals it was depleted due to injuries. We beat Helvecia and FC Baltic to deservedly take the title. I think it gave the club the belief it needed to demonstrate it could win major honours. The period that followed was one of the most successful for the club so it certainly created a catalyst. Winning the Community Club of the Year award at the Manchester Sports Awards was again another achievement that really brought home the impact that we were having on the sporting landscape of the city. I am always very proud of our players that have gone on to represent England. Doug Reed, Stuart Cook, Sam Richardson, Ross Bond, Jordan Parker to name a few along with the current group of Richard Ward and young talents such as Jordan Edge, Giles Collier, Danny Stapleton, Ben Seoul and Yussef Abdullah. It is very rewarding to know that you are supporting the development of players and people who can go on and achieve great things personally.
What advice would you give to anyone reading this who is considering to develop a Futsal club in England?
I think anyone that is coming into futsal now will benefit from the work that clubs like ourselves have done to push through the real challenges we faced 10 years ago when the sport was in its real infancy in England. Clearly many more people are playing futsal and are aware of the sport today so that is always going to help new clubs to establish. Building on that though I think significant challenges still exist and should not be underestimated. You need a clear strategic plan, a workforce that can deliver club development goals and a revenue stream to support this. As we are all aware many clubs have tried and failed – the list of clubs that have folded or are experiencing challenges continues to grow unfortunately. You need to be mindful that it is very challenging to run a Futsal club. The current status of English Futsal is uncertain and we await to see what the FA is planning to do following its current review process. All clubs must be united and be prepared to challenge the FA at this point to ensure the right decisions are made as this will ultimately affect new clubs and players joining the sport.
What does Manchester Futsal Club plan to do to contribute to the sports continued development in England?
We're passionate about developing futsal at every level of the game so I don't see this changing in the slightest. We'll always be out there bringing new people and ideas together so that we don't stand still and fail to progress. We want to ensure our young players have greater opportunities in the future so educating them so that they fall in love with the sport and have fun playing for Manchester is a top priority going forward. More England players will be developed by Manchester Futsal Club I have no doubt about that and we want to bring talented players to the club who fit our profile.
How do you see your club and Futsal in England progressing in the next 5 to 10 years?
Manchester Futsal Club has come a long way over the last 10 years. We want to expand our reach internationally and bring a higher level of investment into the club to support our development plans. We have a fantastic infrastructure in place already with excellent staff and facilities to ensure our players have the best environment to work in. If we are to see a move towards an improved FA National Super League or a new entirely new league programme then we want to be at the forefront of that. Manchester Futsal Club are focussed on the club competing in the UEFA Futsal Cup in the coming years and want to make that a reality. It's hard to tell at this moment in time which direction English futsal under the FA is heading – some would say the wrong way. Let's see if they are willing to fully commit to a brighter future as we certainly don't want to see English futsal falling further behind other nations and destruction of the good work that has been achieved in recent years.
Watch the clubs celebrations and further thoughts by those involved their players and fans below:
If you like this video and the information provided, you can read more articles on Domestic Futsal by going to the top bar navigation or click here
If you like this article and would like to keep updated on Futsal news, developments etc then please submit your email below in the newsletter section or by clicking on the Subscribe to Futsal Focus option on the header.
Follow Futsal Focus on Facebook, Twitter or Instagram or on the social media buttons on the right sidebar.