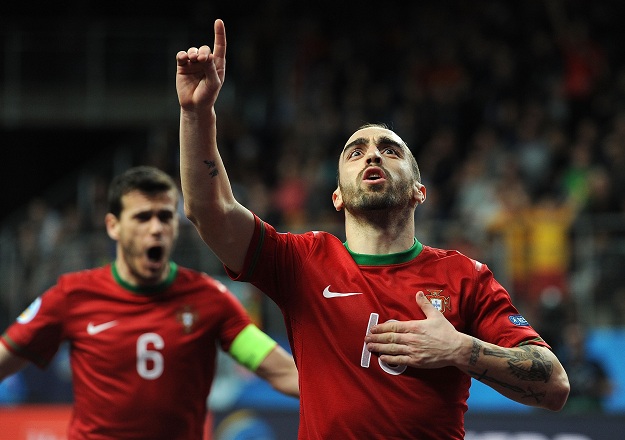 Estimated reading time:2 minutes, 18 seconds
ONE of the greatest players in the history of futsal, the Portuguese maestro Ricardinho is potentially on the verge of moving to Nacional Zagreb FC.
The truth of this information was confirmed when the club shared the various reports published across their social media channels. The club is offering Ricardinho two million Euros for four years, and a million Euros compensation to his club Inter Movistar in Spain.
To confirm the seriousness of their offer Nacional are prepared to increase the compensation offer should the Spanish club refuse their original terms and the Zagreb club have sent them a bank guarantee. This is a huge offer, a business deal that you would normally only see in Football but this also reflects the increased commercial interest that a player such as Ricardinho brings to a club/ league and for this sport now that his profile has increased in global awareness since his out of this world performances in the last UEFA EUROs. Furthermore, the increased interest in Futsal is also shown by the record number of FIFA nations that applied to host the FIFA Futsal World Cup in 2020 which was 13 members the only continent to not apply was South America as Columbia is hosting the event this year in September.
A Croatian news source got the following translation of the club's offer from Nacional.
"Dear Sports Friends,
This offer is to show our interest in signing your player Ricardo Filipe da Silva Braga aka Ricardinho. Nacional Zagreb is ready to pay you the amount of 1,000,000.00 euros compensation for the above player, and offer the player a four-year contract worth 2,000,000.00 Euros under which the player will recieve 500,000.00 Euros per year for a period of four years.
Management Nacional Zagreb is ready to travel to Madrid to negotiate this offer in the next 14 days.
Due to the seriousness of our offer before the negotiations take place we are ready to present a letter of credit or bank guarantee from the Swiss Bank Kramer for the amount of 3,000,000.00 Euros on behalf of our club for this purpose.
Best regards "
Ricardinho currently earns 300,000 Euros a year but should he move to Zagreb he would get half a million which would make him the highest paid Futsal player in the history of this sport.
If you like the information provided, you can read more articles on Domestic Futsal by going to the top bar navigation or click here
If you like this article and would like to keep updated on Futsal news, developments etc then please submit your email below in the Newsletter section or by clicking on the Subscribe to Futsal Focus option on the header.
Follow Futsal Focus on Facebook, Twitter or Instagram or on the social media buttons on the right sidebar.