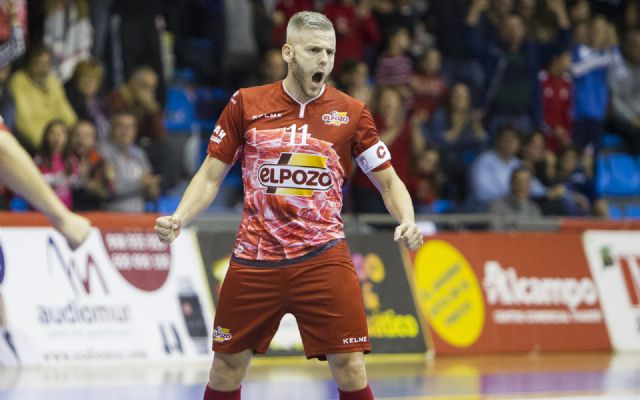 Estimated reading time:10 minutes, 41 seconds
Undisputedly one of the finest players to grace Spanish futsal over the past decade, Miguelín
ElPozo Murcia captain Miguel Sayago Martí – better known as Miguelín – has tasted every emotion the sport has to offer, from the highs of winning two EUROs with Spain and multiple cup competitions with his beloved ElPozo, to the lows of defeat in the World Cup final and in no fewer than five LNFS Play-off finals.
A joy to watch in full flow, thanks to his speed, skill and laser-guided left foot, Miguelín – set to turn 35 on 9th May – caught up with Futsal Focus' guest reporter Nick Aitken to talk Thailand 2012, the Champions League Final Four, Diego Giustozzi and Spain's chances at the next World Cup in Lithuania.
Futsal Focus: Miguelín, it's now been around nine months since your knee surgery. How's the recovery going and how far are you from 100%?
Miguelín: [Before the COVID-19 break] I had been back training with the team for a couple of weeks and was starting to get closer to full-match tempo. On the positive side, my routine over the last six months or so has involved working on my own, doing rehab at home and doing very specific knee exercises, so this confinement period hasn't been too much of an adjustment. The major difference has been that, unlike before, I've not been able to visit the club physio every day, but it has given me more time for the injury to heal.
FF: This past weekend [24-26 April] would have been the Champions League Final Four. Is European success your priority for the season, if the competition is played?
Miguelín: Totally! We want to win every competition that's played, as we've not won a trophy for several years now, and I personally really want to win something big with this club. We've won three [Spanish] Supercopas and two Copas del Rey and reached a lot of other finals too, but what motivates me is taking this club to the very top. So if we can all pull together and win the Champions League, a trophy ElPozo don't yet have in their cabinet, it would be incredible!
For me personally, the date that I've had marked in red on the calendar during all these months of rehab has been the Final Four – wanting to recover in time to help my team. It's the first time we've got into the Final Four for 12 years and what my club-mates achieved by getting through two very difficult group phases was really impressive, particularly the Elite Round given where it was held and the teams that were involved [Kairat, Benfica and Pesaro C/5].
Do we want the Final Four to be played? Yes, we do, but we understand that we're in the middle of a global health situation that's much bigger than all of this. If it is held, will we give everything we've got to win it? Yes, of course. For me, this feels like a unique opportunity and one we'll go all-out to take.
FF: I saw you recently at the Spanish Cup in Málaga, where ElPozo were beaten by eventual winners Barcelona, for whom keeper Juanjo was exceptional. If the rumours are true and he signs for you next season, what will he bring to the club?
Miguelín: He's always exceptional! [Laughs] There's been a lot of talk and speculation about it, but we don't really know what's going to happen just yet. In my humble opinion he's the best goalkeeper in the world right now by a distance, having him behind you is like having a life-insurance policy.
For Barcelona, as well having the best pivot in the world in Ferrão and a superb team all-round, the fact they've got the world's best keeper too clearly makes everything go that bit smoother. For the past two seasons [Editor's note: since his predecessor Paco Sedano retired] he's been virtually unbeatable. You get a chance, you think you're going to score but then he somehow finds a way to stop you!
FF: Staying on cup competitions, you mentioned the three Supercopas [2012, 2014 & 2016] and two Copas del Rey [2016 & 2017] that you've won with Los Charcuteros. Which was the sweetest victory?
Miguelín: I'm very demanding and want to win as much as possible, which unfortunately hasn't happened, but if I had to choose I'd go for the Supercopa we won in 2016 in Antequera [Editor's note: 3-1 versus Inter Movistar – Miguelín scoring twice]. That's because of the form I was in, the contribution I was able to make, and the fact we had a great team that season.
At the start of the [2016/17] season we'd been written off, as is so often the case, but we won the Supercopa, the Copa del Rey and only lost the Copa de España after a marathon penalty shoot-out – we took something like 17 or 18 penalties [Editor's note: ElPozo lost 9-8 to Inter on pens after a 4-4 draw]. We also lost in the title play-offs on penalties against Barça when Andresito slipped when taking his kick, something none of us in futsal had ever seen before. We had a team that was ready to win things, with Cardinal a real warrior in the pivot role – bringing us an extra competitive edge and driving our standards up.
We felt a very strong bond as a team, similar to last season after the new coach [Diego Giustozzi] came in. We didn't win a trophy but we came close in every competition, plus we were the top of the league for pretty much the whole regular season. We were feeling very confident going into games, but we just didn't manage to tip the finals we reached in our favour [Editor's note: ElPozo were beaten by Barça in the 2018/19 LNFS play-off final, the Spanish Cup final and in the 2019/20 Supercopa].
So, while all the titles I've won with ElPozo have tasted sweet, for the reasons I mentioned I'd stick with the one from Antequera – with a special mention for the Copa Del Rey final versus Osasuna Magna [in 2016/17]. We went 2-0 down in that game but came back to win it with two late goals [Editor's note: Miguelín assisting Dário Marinović then scoring the winner himself].
FF: Can you tell us more about the impact coach Giustozzi has had since joining in summer 2018?
Miguelín: It's clear to everybody that Duda's a great coach and he made history at this club. Strategically he's extremely intelligent and he was particularly good at working out how to control the opposition's attack and how to get at their defence, but after so many years [Editor's note: from 2001-2018] I think that the impetus that Diego brought with him when he joined – having recently won the World Cup with Argentina – was something we needed.
He sat us down and asked us to our faces why we hadn't won more titles than we had? He made it clear he wanted us to be a team of winners, of competitors, a team that needed to be regularly reaching finals and trying to win them. I think he's a born motivator, he's honest, he's direct and he'd lay down his life for any of his players. I think that transparency, that clarity, is what made last year so special and different. He always had his players' backs, despite the fact that before the season nobody expected us to be up there challenging. That turnaround is down to him.
FF: When you watch ElPozo games on TV and see how he motivates the players during the time-outs, for example, it's inspiring stuff…
Miguelín: Yeah, we all know how passionate Argentinians are! He shows a great deal of intensity in every situation and it's that passion that's helped make him a World Cup-winning coach. Before that competition [at Colombia 2016] nobody had Argentina among the favourites, most people predicted they'd come 5th or 6th, but they showed that thanks to hard work and, more than anything, team spirit, you can win a World Cup – and win it well and completely deservedly.
FF: Staying on international futsal and your decorated history with La Selección, which includes two Futsal EURO titles and a silver medal at the Futsal World Cup. There's still uncertainty about when the World Cup in Lithuania will be held, but you'd love to be involved, right?
Miguelín: I'm one of the veterans now, but I feel very privileged to have experienced everything I have with the national team. I've won two EUROs with my country and came second at a World Cup which, like is so often the case with me, was a very close-run thing. I always seem to miss out on titles by very small margins! I've also got a silver medal from another EURO and a bronze from another, so I've had some very significant experiences with La Selección.
There's nothing bigger than a World Cup though and in Thailand in 2012 we came so close to winning it. It was a very tight, very even final which at the end was decided by a moment of brilliance from Neto, the kind which you have to take your hat off to.
FF: When I interviewed Carlos Ortiz recently [https://www.futsalfocus.net/carlos-ortiz-movistar-inter/], he also mentioned just how close Spain came to winning that final. He felt that, while Brazil deserved to win the 2008 final, La Roja were the better team in 2012…
Miguelín: I totally agree. I think we played a very complete final – we had an all-conquering Brazil team on the ropes. But when we were most in control and looked likely to take a 3-1 lead, Falcão popped up and stuck one in the top corner. It doesn't hurt so much anymore, but there have been times when I've looked back and thought "we were just moments away from being world champions", but sport's like that. Brazil played a great game too: they're so competitive and they kept going until the end, which is why they've been world champions so many times.
Then at the last World Cup in Colombia, nothing seemed to go our way. Just when we were playing our best, Sergio Lozano, who was in exceptional form, got injured, then Aicardo got injured, then José Ruiz too. In the quarter-finals against Russia we fought back to lead 2-1, but after that it all went downhill [in a 6-2 defeat]. So, we were pretty unlucky, especially with injuries, but even if we'd got through I think Argentina would have still won the title – they played better and deserved it more than anyone.
We've got another chance now though and we've got a good enough team to win it. If we stick together and make sure we go into the competition in the best form possible, then we can challenge for that world title – something that all of us, particularly those of us for whom it'll be their last World Cup, are yearning for.
FF: To round things off, do you have a message of support for Futsal Focus readers and the futsal community as a whole during this difficult period?
Miguelín: To all futsal fans, to all those people who are always supporting us and who 'live' futsal in a special way, let's hope that we can be back playing soon and all start enjoying again what I think is the most spectacular sport around. Let's stay patient, keep behaving responsibly and we'll get through this, ¡un abrazo a todos!
Interview translated by Onuba Comms, experts in futsal and only using native-language translators or content writers. Email info@onuba-comms.com to receive their free guide to "Dos and Don'ts of Social Media" – specifically written for players and clubs!
If you like the information provided, you can read more articles about domestic futsal by going to the top navigation bar or click here
If you like this article and would like to keep updated on Futsal news, developments, etc then please submit your email below in the Subscribe to Futsal Focus option.
Follow Futsal Focus by clicking on Facebook, Twitter or Instagram or on the social media buttons on the website.