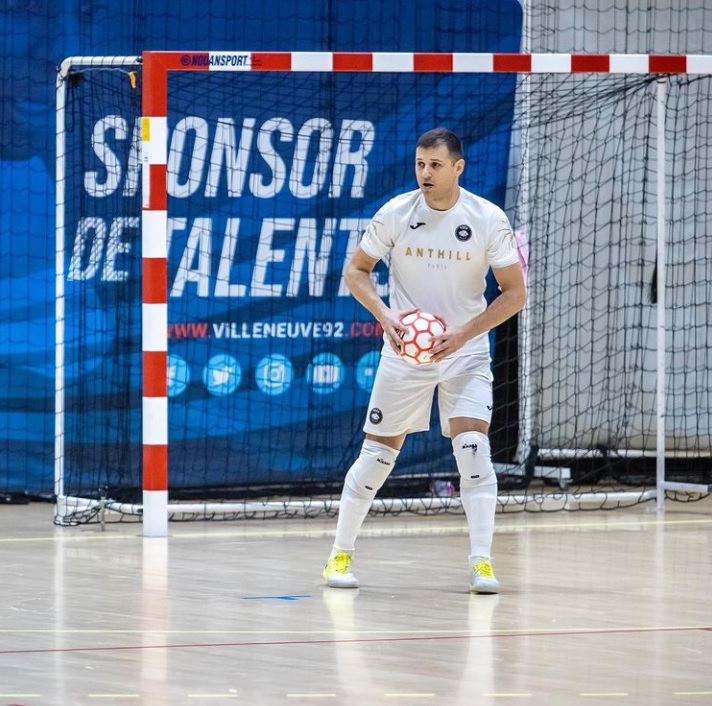 Estimated reading time:7 minutes, 17 seconds
Futsal goalkeeper Miodrag Aksentijevic has decided to leave ACCS Futsal Club, which the club announced today after confirming they will be relegated, yet in their statement they said their players were staying with them.
Related: French champions ACCS Futsal Club relegated to D2 division
With a squad filled with quality players, and one of the World's best players – Ricardinho, this announcement will no doubt, not be the last, based on their demotion even though they are still representing France in the UEFA Futsal Champions League. Hopefully, this is not the case, and the club can retain most of their best players, and fight for promotion to the D1 again, but the next few weeks will be telling indeed.
The question now is 'what is the future for this club?', when ACCS announced last season, they were signing players like Ricardinho, Carlos Ortiz (Now with Barcelona), and former head coach Jesús Velasco (Also with Barcelona), the news didn't go down as positively as you would have expected. When speaking with figures within the industry, of course, there were developing nations hoping this development could be successful and be an example to the other French clubs and developing nations, that such investments in futsal will reap rewards. Others felt they were running before they had learned to walk, and predicted that this would be another failed club, which wouldn't look good for the sport or to businessmen/ women contemplating investing in futsal. Many were asking where their money was coming from, and hoping this wasn't another London Baku United project which shocked many when they learned where the club had been receiving their investments from.
To be fair to ACCS, the 2020-21 season, and how it would unfold due to COVID could not have been foreseen by the club, who made their contractual agreements with many of their new star players in 2019. Lockdowns, and fans banned from attending matches had a huge impact on ACCS hopes of getting a return on their investment. Attendance at games would have been their biggest forecasted revenue return stream, because clubs can't negotiate tv contracts individually, in France, clubs have to do it collectively as part of their league. Even with these star players, the French Football Federation decided to broadcast their games via FFF.tv which would have brought minimal returns to the clubs if anything at all. Furthermore, the revenue returns from their UEFA Futsal Champions League campaign would not have covered their costs either. To be frank, this announcement has not come as a shock, but one, we expected could happen. However, even if there had been no pandemic, and no lockdowns, ACCS still couldn't have guaranteed this season would have been a success, and relegation could still have happened. Signing such players and a coach with global recognition within the futsal industry is not cheap. Though they are known within Futsal, these players would still have had limited awareness, if any, in France. Even Ricardinho as a futsal player would have limited awareness, many kids in developing futsal nations do know him, but they know him as the player who does the great skills from YouTube videos, but as a futsal player, knowing anything about the sport or about his career, and what he has won in his career, etc, etc would be limited for many kids and adults, if not non-existent. Therefore, driving interest and attracting a large audience would have been a huge task. In a normal season, maybe it would have been possible but not definite, as their YouTube show and online activity had small numbers of viewers even with Ricardinho in the videos. Futsal is not at a global awareness level that football enjoyed when Pelé, Franz Beckenbauer, Carlos Alberto, George Best etc decided to help increase awareness in America in the 1970s, thinking futsal players can have the same impact is a high risk.
These are the risks that developing Futsal nations have to take into consideration. Is signing these stars from developed futsal nations to a developing amateur nation worth it? In our opinion, we would say no, developing nations should focus on developing local talent, developing their clubs, and increasing awareness of their own club and the sport via local community engagement. If you were to invest in a recognised individual from Futsal, we would be encouraging you to try and get the best coach you can get for your money so he or she can share their knowledge and help develop the game. Once your futsal league/ clubs, collectively, have reached the semi-pro level then you would look to bring paid players across so they can transfer their knowledge and experience as well.
Many people get involved in Futsal because it is under FIFA, and they see the returns available in Football, and think these returns will surely come from Futsal. The reality is you are trying to run before you can walk. These people have little understanding of the sport's domestic and global commercial reality, if any knowledge at all, do your market research, passion and drive alone is not enough.
Only a few nations have turned their futsal league into a commercial return, and they are still fighting to maintain them. Why do you think we still haven't seen the Professional Futsal League launched in the United States of America? When they announced their league it was at a time when they could have brought Falcao, and Ricardinho at the height of his career but their tester events didn't draw the media attention they had hoped. Plus, because there is no market in the U.S, and there is no commercial environment. CONCACAF has no Futsal Champions League either as an additional revenue return as well. The sport globally doesn't generate the type of revenue at a club level for investors to forecast a healthy return in many developing nations.
The biggest TV deal currently known is the 5 million euros secured by the LNFS in Spain, and from a Futsal perspective, that is a fantastic… achievement, but from a holistic sport view, this is a very small sum.
There is so much work that must be done, the development steps for clubs and leagues are:
Amateurism
Professional Amateurism
Semi-professional
Professional
Unless you have millionaires willing to start a franchise league in a country that is still considered a developing nation but has decades of futsal participation then the above doesn't need to be stuck with because you have a market to promote to (An example being Angola who plan to launch a franchise league). However, if you don't have this then clubs need to stick to these development steps and leagues need to enforce these development steps as well. What we don't want is more clubs making headlines globally within the industry then disappearing. Failed clubs look bad for futsal, and any sport at the top level. What now for ACCS? They have been relegated to the D2, and if they don't achieve immediate promotion, and if their UEFA Futsal Champions League campaign ends at the first hurdle, will this club disappear too? Did they reach too far? We will have to wait and see, but the fact is, the futsal industry in developing nations needs to slowdown, build with rational goals and key performance indicators. Futsal in Brazil and Spain didn't happen overnight, they had decades of development. Every nation's futsal experience is different, be careful when choosing a nation as a realistic development benchmark.
Futsal Focus supports the Donate4Dáithí campaign
To follow the Donate4Dáithí campaign, you can visit their website here: www.donate4daithi.org  or on Facebook at: https://www.facebook.com/Donate4Daithi you can also donate money to their campaign at: https://www.justgiving.com/crowdfunding/donate4daithi
You can learn more about the Donate4Dáithí campaign by going to our article here
To learn more about organ donation or to sign up, you can visit https://www.organdonation.nhs.uk/ and to sign up: https://www.organdonation.nhs.uk/register-your-decision/donate/
You can read more articles about domestic futsal by going to the top navigation bar or click here
If you like this article and would like to keep updated on Futsal news, developments, etc then you can now follow Futsal Focus via Google News by following our page which will send you an alert as soon as we publish an article so please click here and follow us on Google.
You can also keep updated on Futsal news, developments, etc then please submit your email below in the Subscribe to Futsal Focus option.
Follow Futsal Focus by clicking on Facebook, Twitter, or Instagram or on the social media buttons on the website.