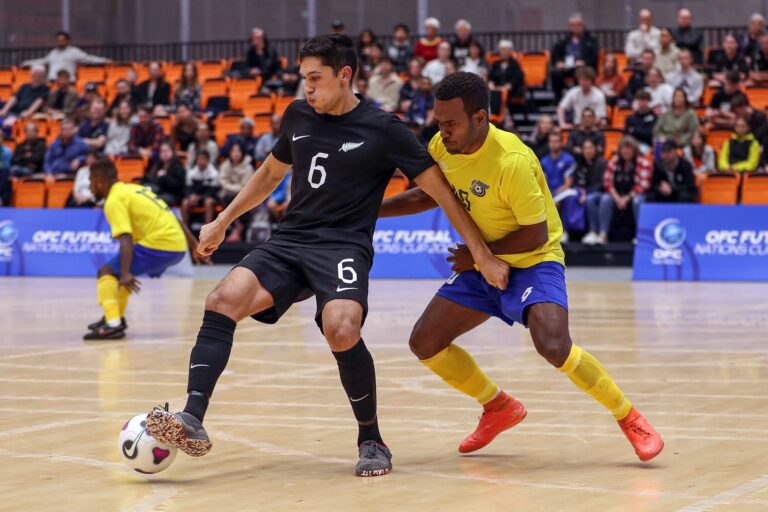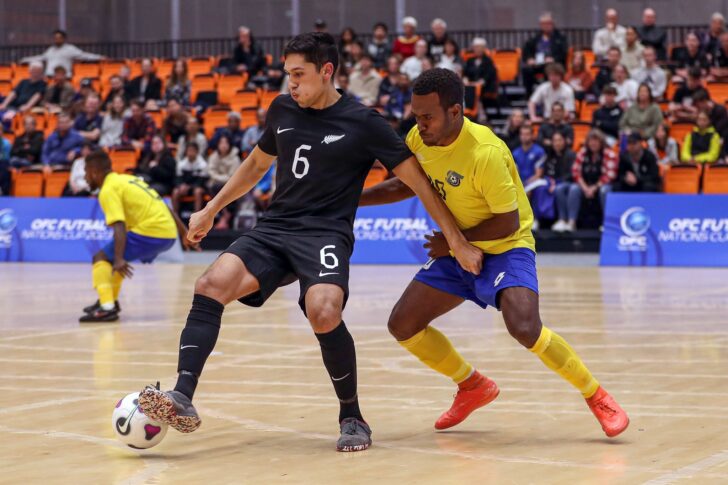 Estimated reading time:3 minutes, 17 seconds
New Zealand and Tahiti emerged victorious in their respective semi-final matches, earning their places in the much-anticipated final of the OFC Futsal Nations Cup 2023.
New Zealand faced a formidable challenge from the Solomon Islands in a closely contested match. The Kiwis displayed clinical precision, capitalizing on their opportunities to secure a hard-fought victory. Logan Wisnewski fired an early goal within the first five minutes, setting the tone for the match. Micah Lea'alafa of the Solomon Islands attempted to level the score, but his shot missed the mark. Stephen Ashby-Peckham added a crucial second goal for New Zealand just before halftime. Although the Solomon Islands managed to pull one back, the Kiwis remained resilient, eventually sealing the win.
(Main picture source: OFC Facebook page)
With this historic triumph, a new era dawns for Oceania in futsal as a country other than Australia, now part of the AFC, or the long-standing dominators, the Solomon Islands, will represent the region at the FIFA Futsal World Cup. Reaction from fans was diverse; Solomon Islands supporters expressed discontent with their team's first-half performance and questioned the officiating quality. Despite this, many acknowledged their team's stronger second-half display and extended congratulations to New Zealand. The consensus leaned towards the belief that the teams were evenly matched, suggesting the Solomon Islands could mount a comeback and pose a challenge once more. Notably, Kiwi futsal has made remarkable progress, with players gaining increased opportunities abroad, significantly contributing to their development. Before the competition kicked off, New Zealand Head Coach Marvin Eakins emphasized the competition's unpredictable nature, cautioning against underestimating any team, therefore ahead of this final, he will no doubt reiterate this belief to his players and the challenge posed by Tahiti.
Tahiti and Fiji engaged in a ten-goal thriller. The match showcased an exhilarating back-and-forth battle, with Tahiti emerging victorious with a 7-3 scoreline. Captain Akareva Riaria led Tahiti's charge, netting a hat-trick and guiding his team to the final. Despite a valiant effort from Fiji, they couldn't match Tahiti's firepower, ultimately falling short in this high-octane encounter. Tahiti will have to regroup and learn from their match against the Solomon Islands which finished 5-5 with an emphasis on performing better in defense. The team has the talent to attack New Zealand but if they have any hope of progressing to the World Cup, they will have to improve on their ability to close down their opponents and react better to set plays.
The stage is now set for an epic final showdown between New Zealand and Tahiti. Both teams have showcased exceptional talent and determination throughout the tournament, and fans can expect an intense clash to determine the champion of the OFC Futsal Nations Cup 2023. Whoever wins will make history for their country.
Author of the Interview 
Stephen McGettigan was born in the Republic of Ireland but grew up in Belfast. He is the founder of Futsal Focus and a Football Industries MBA graduate from the University of Liverpool Management School. Stephen has worked in the Football and Futsal industries for 15 years.
Organ Donation
Futsal Focus is a supporter of Dáithí Mac Gabhann and his family's campaign to raise awareness of Organ Donation. We encourage our readers to learn more about Organ Donation: https://www.organdonation.nhs.uk/
Futsal Focus
You can read more articles about international futsal by going to the top navigation bar or by clicking here
If you like this article and would like to keep updated on Futsal news. You can now follow Futsal Focus via Google News. Follow our page which will send you an alert as soon as we publish an article. Please click here and follow us on Google.
You can also keep updated on Futsal news by submitting your email below in the Subscribe to Futsal Focus option