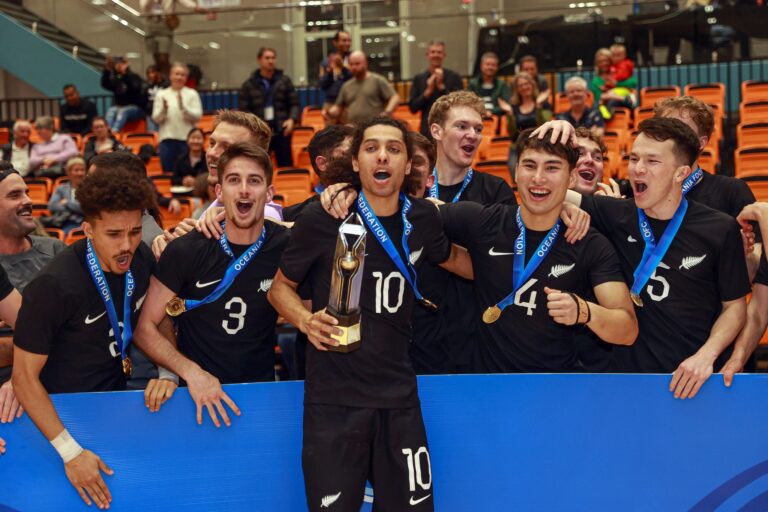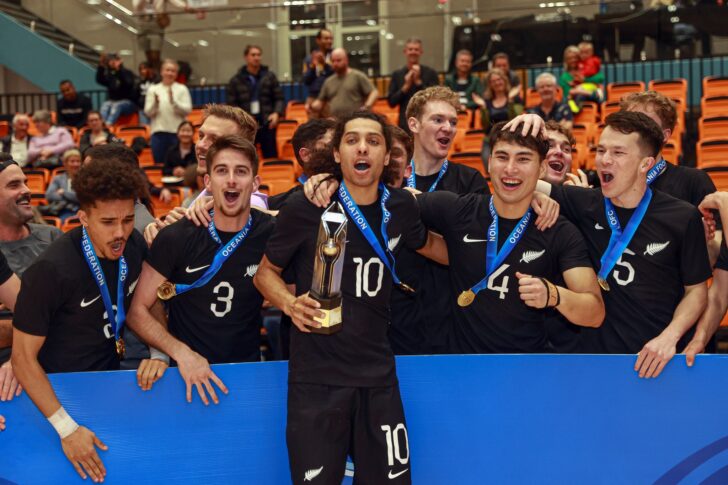 Estimated reading time:3 minutes, 47 seconds
Victory Paves Way for 2024 FIFA Futsal World Cup Participation; Ragomo Bids Farewell on a High Note
New Zealand emerged victorious in the Oceania Football Confederations (OFC) Futsal Nations Cup 2023, earning the historic opportunity to represent Oceania, for the very first time, at the 2024 FIFA Futsal World Cup in Uzbekistan. Their hard-fought win against Tahiti was a significant triumph, marking a pioneering moment for New Zealand in the realm of futsal. The Kiwi futsal community will eagerly anticipate how New Zealand Football will strategically utilize this victory and the World Cup to drive the growth of the sport's development further domestically. The journey forward includes preparing their national team to face formidable opponents from the world's top futsal nations on the grandest international stage.
(Pictures source: OFC Facebook page)
In the initial stages of the match, both teams displayed high intensity but struggled to create clear scoring opportunities. Rahan Ali of New Zealand had a chance to secure an early advantage but narrowly missed connecting with the ball, and the opportunity slipped away.
However, three minutes later, New Zealand seized an opportunity to break the deadlock. Stephen Ashby-Peckham struck a powerful shot into the top corner after a quick kick-in, capitalizing on a momentary lapse in Tahitian concentration.
Tahiti fought back vigorously, attempting to equalize. Oliver Hirihiri and Akareva Riaria came close, but New Zealand's goalkeeper, Mike Antamanov, thwarted their attempts. Keanu Maihuri also had a near miss for Tahiti.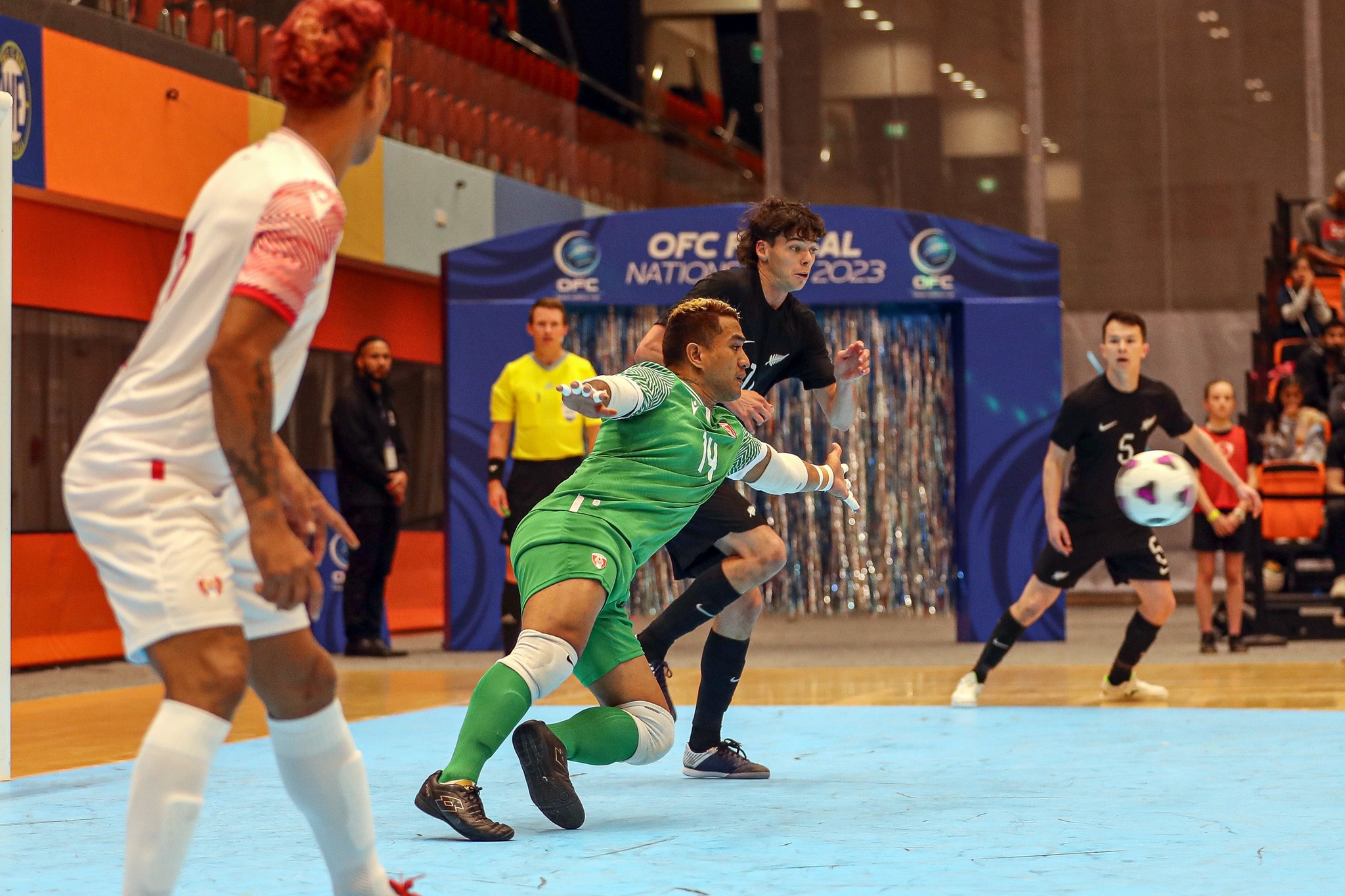 New Zealand nearly extended their lead early in the second period, with Rahan Ali hitting both posts with a low effort. Despite this scare, New Zealand managed to secure a second goal when Jordan Ditfort capitalized on a rebound from Dylan Manickum's shot.
Moments later, Thomas Picken added another goal, bringing New Zealand's lead to 3-0. As Tahiti pressed forward in search of a foothold in the game, New Zealand took advantage of the situation. Dylan Manickum, the team's captain, scored a fourth goal, confirming their victory and securing a spot in the World Cup.
Tahiti, however, struggled to find a consolation goal, with Vincent Tinomoe's effort cleared off the line. Hamish Grey added another goal for New Zealand, sealing their victory and capping off the match.
In the third/fourth place play-off, Solomon Islands' captain Elliott Ragomo bid farewell to his futsal career on a high note as his team secured the bronze medal in the OFC Futsal Nations Cup final against Fiji. Despite Fiji's efforts, Solomon Islands emerged victorious with a 5-3 scoreline.
Fiji had early opportunities to take the lead, but Solomon Islands' goalkeeper, Cliff Sasau, made crucial saves. The Solomon Islands, against the run of play, took the lead through Charlie Otainao. Elis Mana's stunning shot doubled Fiji's lead, but Solomon Islands fought back, securing the bronze medal with a 5-3 victory.
Ragomo, a decorated futsal player, announced that this match would mark his last for the Kurukuru. He has had an illustrious career, participating in four World Cups since his debut in 2008. Ragomo holds the distinction of being the only Pacific Islander to play futsal in Brazil's elite club competition.
Elliot Ragomo will always be remembered for his emotional speech at the 2016 FIFA Futsal World Cup after the Solomon Islands played Argentina in the competition:
Author of the Interview 
Stephen McGettigan was born in the Republic of Ireland but grew up in Belfast. He is the founder of Futsal Focus and a Football Industries MBA graduate from the University of Liverpool Management School. Stephen has worked in the Football and Futsal industries for 15 years.
Organ Donation
Futsal Focus is a supporter of Dáithí Mac Gabhann and his family's campaign to raise awareness of Organ Donation. We encourage our readers to learn more about Organ Donation: https://www.organdonation.nhs.uk/
Futsal Focus
You can read more articles about international futsal by going to the top navigation bar or by clicking here
If you like this article and would like to keep updated on Futsal news. You can now follow Futsal Focus via Google News. Follow our page which will send you an alert as soon as we publish an article. Please click here and follow us on Google.
You can also keep updated on Futsal news by submitting your email below in the Subscribe to Futsal Focus option