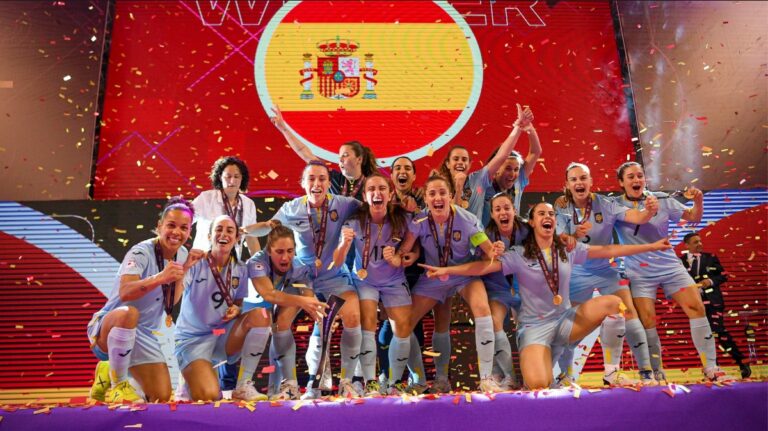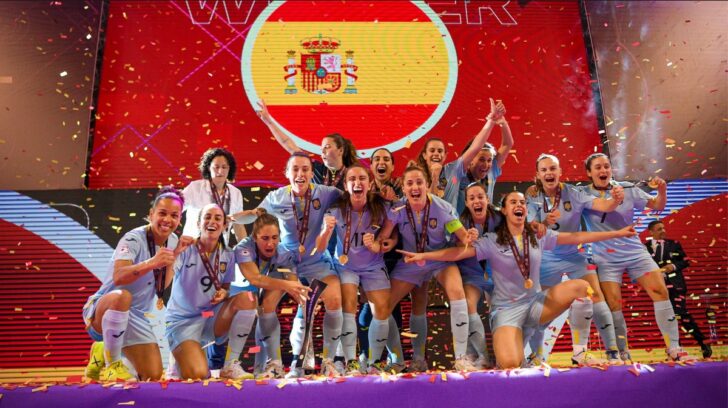 Estimated reading time:4 minutes, 8 seconds
In a significant move for the world of futsal, FIFA has officially confirmed the launch of the Futsal Women's World Cup, slated for its inaugural edition in 2025. The announcement comes after the global governing body faced substantial criticism for not adequately supporting futsal.
(Main picture source: UEFA website – UEFA Women's Futsal EURO)
The criticism primarily stemmed from FIFA's historical neglect of futsal, despite the success and popularity of the Men's Futsal World Cup, which debuted in The Netherlands in 1989 and has since become a regular fixture.
FIFA had initially declared their intentions to stage a Futsal Women's World Cup during a Council meeting in December of the previous year. However, the recent revelation sheds more light on the tournament, although a host country is yet to be named.
This announcement comes on the heels of a campaign video launched by the International Women's Futsal Players Association (AJFSF) the month before the December meeting. The video featured players expressing their dissatisfaction with FIFA's perceived public neglect toward women futsal players, urging for a genuine commitment to equality within the small-sided game.
The forthcoming Futsal Women's World Cup is set to feature 16 countries, with representation as follows: four teams from Europe, three each from Asia and South America, two from Africa and North, Central America, and the Caribbean, and one from Oceania. A spot will also be reserved for the host nation.
Anticipation for the inaugural Futsal Women's World Cup is growing within the global futsal community, awaiting further developments, notably the announcement of the host nation. In order to ensure robust audience attendance and support for the Women's Futsal World Cup, it would be prudent for FIFA to strategically select host countries. Discussions should take place with nations such as Brazil, Argentina, Spain, Italy, and Portugal who stand out as ideal platforms for the initial editions, given their strong futsal culture and enthusiastic fanbase.
A significant consideration should be addressing past criticisms of the Men's World Cups, often revolving around sparse attendance during group-stage matches, though this tends to change as the tournament progresses to the knockout stages. By selecting host nations with a well-established futsal following, FIFA can mitigate these attendance concerns and enhance the overall event experience.
In light of the prolonged conflict between the Royal Spanish Football Federation (RFEF) and the Liga Nacional de Futbol Sala (LNFS) concerning futsal in Spain, commencing the first edition in Spain could hold symbolic significance. This conflict has persisted for years and has impacted the growth and development of futsal in the country. Using the Women's Futsal World Cup as a platform for reconciliation and unity could foster a more positive environment for the sport. It would also provide the RFEF an opportunity to demonstrate its commitment to Spanish futsal fans and showcase a united front in supporting the growth of futsal within the nation.
Recently, however, Argentina hosted the Copa America Femenina de Futsal 2023, the final between Argentina and Brazil had a packed-out venue as did a number of games throughout the competition. The success of this competition would also place them as a hopeful contender by fans to place a bid for the competition. Before yesterday's announcement by FIFA, Argentines and Brazilians united asking FIFA for the World Cup. For example, Argentina's Karina Núñez declared: "Today the people made the difference, we are proud of this historic final. It is time for FIFA to open its eyes because of the public there." And the Brazilian star Amandinha stated, "There is nothing more to say, FIFA can look at all these people who love futsal."
Yesterday's announcement was undoubtedly music to the ears of these players and women's futsal across the world. Like all of us, they will be eagerly anticipating finding out who will have the honour of being the first to host this historic event, becoming an integral part of women's futsal history.
Author of the Interview 
Stephen McGettigan was born in the Republic of Ireland but grew up in Belfast. He is the founder of Futsal Focus and a Football Industries MBA graduate from the University of Liverpool Management School. Stephen has worked in the Football and Futsal industries for 15 years.
Organ Donation
Futsal Focus is a supporter of Dáithí Mac Gabhann and his family's campaign to raise awareness of Organ Donation. We encourage our readers to learn more about Organ Donation: https://www.organdonation.nhs.uk/
Futsal Focus
You can read more articles about international futsal by going to the top navigation bar or by clicking here
If you like this article and would like to keep updated on Futsal news. You can now follow Futsal Focus via Google News. Follow our page which will send you an alert as soon as we publish an article. Please click here and follow us on Google.
You can also keep updated on Futsal news by submitting your email below in the Subscribe to Futsal Focus option