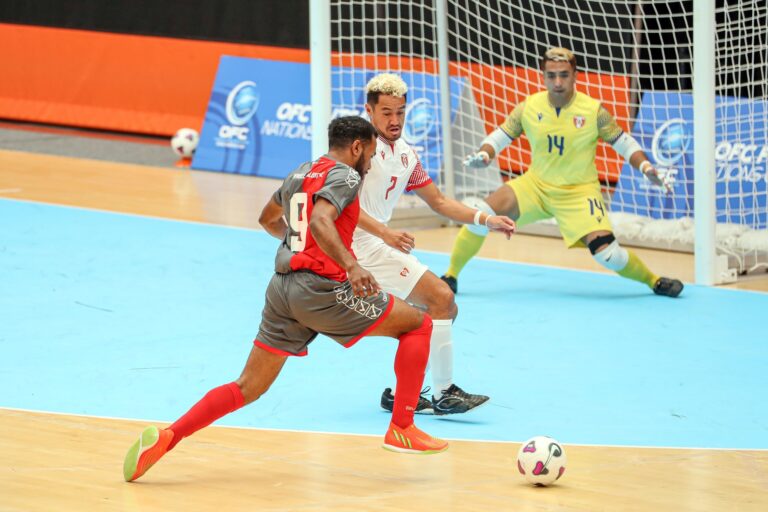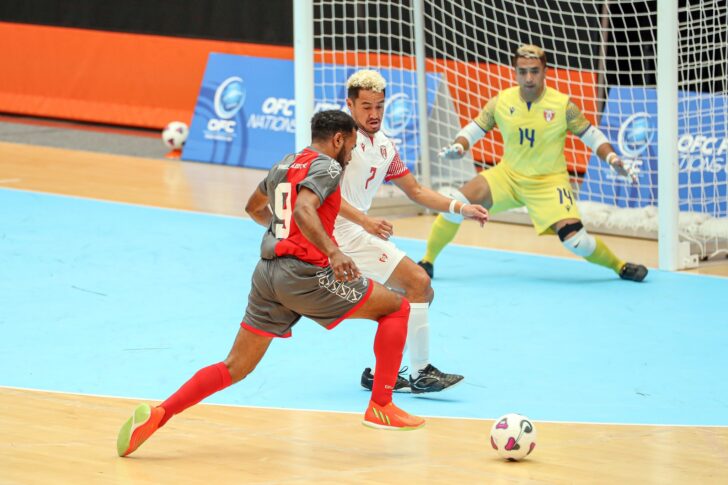 Estimated reading time:4 minutes, 54 seconds
A Glimpse into the OFC Futsal Nations Cup 2023 Semifinals: Powerhouses and Underdogs Set for Showdowns
The OFC Futsal Nations Cup 2023 continued its intense action as the Solomon Islands, Tahiti, New Zealand, and Fiji emerged victorious, securing their places in the semifinals with electrifying performances.
Solomon Islands Set the Pace with Early Goals
In a display of skill and determination, the Solomon Islands wasted no time in asserting their dominance over Samoa. Racing ahead with three goals within the opening five minutes of the first half, George Stevenson and Micah Lea'alafa showcased their talent, instrumental in building a substantial lead for Damon Shaw's side. An unfortunate own goal from Samoa added to the tally, further solidifying the Solomon Islands' position. Despite Samoa's efforts, they struggled to challenge Solomon's goalkeeper Cliff Sasau, culminating in a 2-13 victory for the Kurukuru and a well-deserved spot in the semi-finals. However, finishing second in their group to Tahiti, they now face a formidable challenge against New Zealand in the semi-final. This encounter, although earlier than expected, will be a significant test for Shaw's side, particularly in addressing their defensive frailties against tough opposition for a shot at the finals.
The Solomon Islands were expected to win this group, hence why questions are being asked if they can continue to progress. However, in the Melanesia Futsal Cup, they showed an ability to step up, adapt, and dominate against a team that tested them in the group stage. This semi-final is definitely the biggest game of Damon Shaw's career, up to this point.
(Main picture source – OFC Facebook page – Tahiti v New Caledonia)
Tahiti Triumphs over New Caledonia in a Nail-Biting Encounter
In a thrilling Group B match in Auckland, Tahiti showcased their resilience, outlasting New Caledonia and securing a coveted spot in the semifinals. Vincent Tinomoe's two crucial goals turned the tide, propelling Tahiti to victory in a match that swung back and forth. Nicolas Foubert gave New Caledonia an early lead, only to see it equalized by Vincent Tinomoe. As the contest wore on, Tetuanui Tinomoe and Michel Mauhuri further fueled Tahiti's triumph, with Akareva Riaria sealing the deal in the closing minutes. Tahiti held on despite a late surge from New Caledonia, securing a semifinal berth. In the next match, they will face Fiji and are considered favourites, and should they progress,  a victory in the final would be an incredible achievement. Tahiti was initially not considered a major threat until their impressive performance in the group stage against the Solomon Islands whom they were very close to defeating.
New Zealand Dominates Group Stage, Sets up Thrilling Semifinal Clash
The New Zealand Futsal Whites demonstrated their determination in a commanding unbeaten run through the Group Stages at the OFC Futsal Nations Cup 2023. Overpowering Tonga with a resounding 14-0 victory, New Zealand now faces a highly anticipated semifinal clash with the Solomon Islands. Dylan Manickum's early goal set the tone, and Stephen Ashby-Peckham's strike further extended the lead. Despite Tonga's resilient defense, New Zealand showcased their offensive abilities, paving the way for a spectacular showdown in the semifinals. The Kiwis are currently the favorites in the competition, exuding confidence and enjoying the home advantage, making them a formidable force to reckon with.
Like Damon, the semi-final is the biggest challenge of Head Coach Marvin Eakins's career so far as the nation's head coach due to what the result could mean. New Zealand has never reached the World Cup, though victory in the semis obviously doesn't secure that just yet, the Solomon Islands are seen as their challengers to the coveted spot. A victory in this encounter for many Kiwi fans would be seen as basically securing their place unless Tahiti or Fiji can produce a performance level that shocks New Zealand, should they progress.
Fiji's Determination Earns Them a Semifinal Spot
Fiji exhibited their determination and skill, clinching victory over Vanuatu in the Group A fixture and securing a place in the semifinals. With two critical goals in the first half, Tevita Waranaivalu and Setareki Hughes propelled Fiji to a hard-fought win. The match, marked by intense play and limited chances, saw goalkeeper Emori Ragata's stellar performance crucial in preserving Fiji's lead. Though Vanuatu fought back with a late goal, Fiji held on, setting the stage for a fierce semifinal battle against Tahiti.  This achievement is historic for Fiji, marking their first time progressing to this stage in a knockout format. The team is primarily comprised of players with more football experience than futsal, but they showcased resilience and emphasized the growth of futsal development in the nation as the Fiji FA has invested more in the sport's development. Surpassing Tahiti would be a remarkable feat, but such an achievement would underline the unpredictable nature of sports and the possibility of achieving the unthinkable.
Author of the Interview 
Stephen McGettigan was born in the Republic of Ireland but grew up in Belfast. He is the founder of Futsal Focus and a Football Industries MBA graduate from the University of Liverpool Management School. Stephen has worked in the Football and Futsal industries for 15 years.
Organ Donation
Futsal Focus is a supporter of Dáithí Mac Gabhann and his family's campaign to raise awareness of Organ Donation. We encourage our readers to learn more about Organ Donation: https://www.organdonation.nhs.uk/
Futsal Focus
You can read more articles about international futsal by going to the top navigation bar or by clicking here
If you like this article and would like to keep updated on Futsal news. You can now follow Futsal Focus via Google News. Follow our page which will send you an alert as soon as we publish an article. Please click here and follow us on Google.
You can also keep updated on Futsal news by submitting your email below in the Subscribe to Futsal Focus option