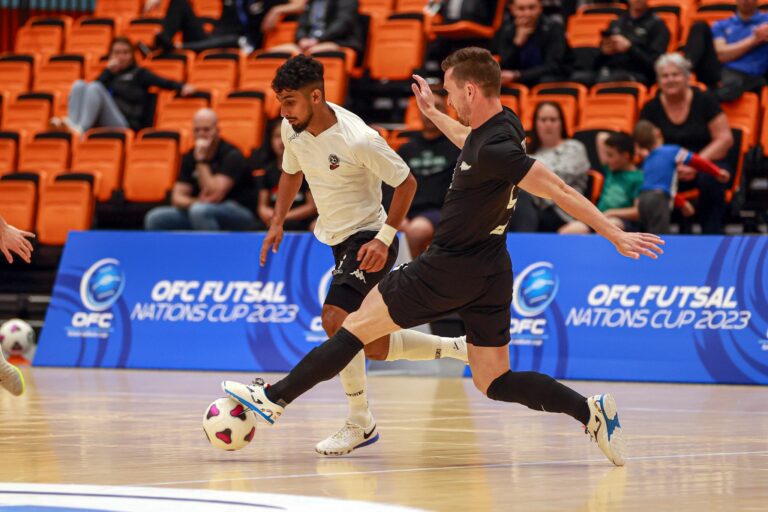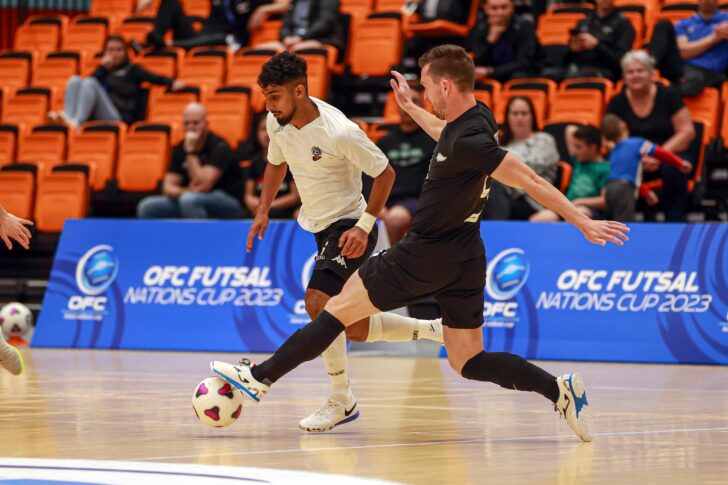 Estimated reading time:3 minutes, 13 seconds
The OFC Futsal Nations Cup 2023 Unfolds in Thrilling Battles and Record-breaking Feats
In a historical feat, Dylan Manickum propelled New Zealand into the semi-finals of the OFC Futsal Nations Cup 2023, marking his 60th appearance for the national team. The Kiwis exhibited sheer dominance, overwhelming Fiji 7-2 in an electrifying match at the Bruce Pulman Arena in Takanini. A defining moment came when Logan Wiesnewski unleashed a daring strike from halfway into Fiji's net, etching a lasting memory in the game. The hosts, setting their sights on the 2024 FIFA Futsal World Cup, will face Tonga in their final group match, seeking to leave an indelible mark on the group stage. New Zealand is on the cusp of advancing to the final, harbouring dreams of reaching the final tournament for the very first time.
(Main picture source: OFC Facebook page)
In the same group, Vanuatu bounced back from their previous defeat to New Zealand, orchestrating an impressive 20-2 victory over Tonga in Group A. Kevin Donald's early goal set the tone, and Vanuatu's relentless performance underscored their determination to make a resounding statement in the tournament.
Over in Group B, a fierce 5-5 draw unfolded between the Solomon Islands and Tahiti at the Bruce Pulman Arena, showcasing a thrilling display of competition. Tahiti exhibited courage, edging close to securing a spot in the semi-finals, while the Solomon Islands showcased their resilience, crafting a match for the ages. As the group stage unfolds, the battle for the semi-finals intensifies, with teams fiercely contending to secure crucial victories.
Tahiti is set to face New Caledonia in their final group fixture—a match where victory is paramount for both teams to clinch a spot in the semi-finals. Simultaneously, the Solomon Islands will conclude their group stage against Samoa, who have conceded 12 goals in the competition thus far. The Solomon Islands' objective is clear: to end this game on a high note and fortify their defense to avoid conceding any more goals. Across various tournaments and friendlies leading up to this event, defensive frailties have haunted them, conceding a total of 57 goals in 14 games (an average of 4 goals per game) while scoring 30. Addressing these defensive challenges is now a priority. If the Solomon Islands struggle again to convincingly defeat Samoa in their final group match, New Zealand will undoubtedly solidify their status as the frontrunners, a position they already hold in the eyes of many.
Meanwhile, New Caledonia celebrated their inaugural victory at the OFC Futsal Nations Cup 2023, triumphing over Samoa in an enthralling Group B encounter. Despite Samoa's spirited efforts, New Caledonia's unwavering composure in front of goal proved decisive, securing a convincing 7-2 victory. As the tournament unfolds, promising more drama and intensity, the stage is set for a riveting journey as teams strive to advance in the OFC Futsal Nations Cup 2023.
Author of the Interview 
Stephen McGettigan was born in the Republic of Ireland but grew up in Belfast. He is the founder of Futsal Focus and a Football Industries MBA graduate from the University of Liverpool Management School. Stephen has worked in the Football and Futsal industries for 15 years.
Organ Donation
Futsal Focus is a supporter of Dáithí Mac Gabhann and his family's campaign to raise awareness of Organ Donation. We encourage our readers to learn more about Organ Donation: https://www.organdonation.nhs.uk/
Futsal Focus
You can read more articles about international futsal by going to the top navigation bar or by clicking here
If you like this article and would like to keep updated on Futsal news. You can now follow Futsal Focus via Google News. Follow our page which will send you an alert as soon as we publish an article. Please click here and follow us on Google.
You can also keep updated on Futsal news by submitting your email below in the Subscribe to Futsal Focus option