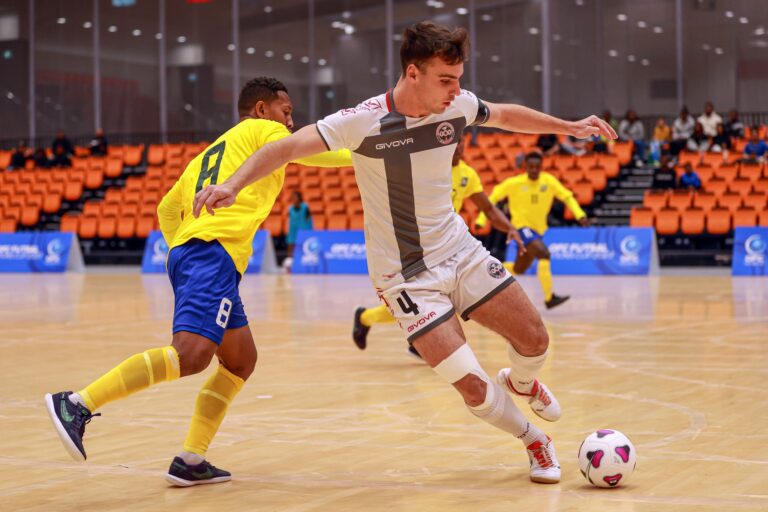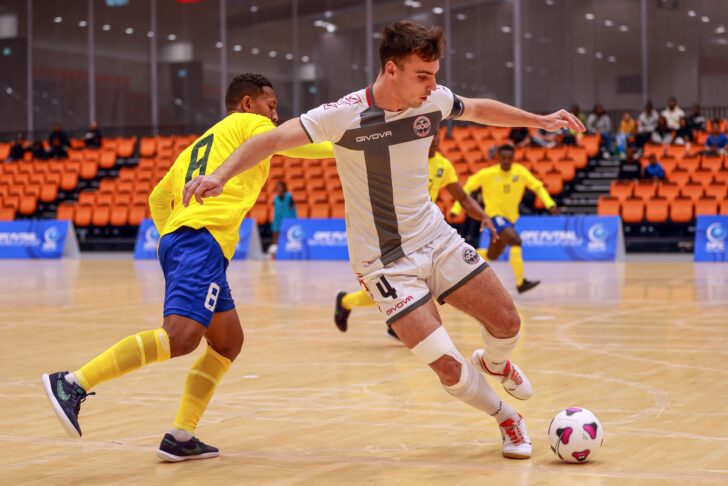 Estimated reading time:6 minutes, 6 seconds
A tale of two halves: Solomon Islands, New Caledonia, New Zealand, and Vanuatu spark excitement, while Fiji braces for a psychological duel against New Zealand.
In the opening clashes of the OFC Futsal Nations Cup 2023 held in Auckland, a fascinating theme of two distinct halves emerged in the matches featuring Solomon Islands against New Caledonia, and New Zealand against Vanuatu, showcasing the dynamic nature of futsal.
(Main picture source: OFC Facebook page)
In the Solomon Islands vs. New Caledonia encounter, the contest swung dramatically in momentum across the two halves. New Caledonia surged ahead in the first half, displaying their talent with a 2-0 lead. Their goalkeeper, Matthieu Wassin, delivered an exceptional performance, denying the Solomon Islands' relentless attacks and earning the well-deserved player of the match accolade. However, the Solomon Islands exhibited adaptability and resilience in the second half, staging a spirited comeback. Micah Lea'alafa's impressive brace salvaged a point for the 'Kurukuru,' showcasing Head Coach Damon Shaw's ability to readjust the team's tactics. Despite narrowly missing out on a victory due to Wassin's remarkable saves, the Solomon Islands demonstrated potential and determination, leaving the tournament wide open for surprises.
On the other hand, the New Zealand vs. Vanuatu clash highlighted a dominant first-half performance by the Futsal Whites. New Zealand showcased their class, surging ahead with a commanding 5-0 lead, leaving Vanuatu struggling to counter their relentless attack. Dylan Manickum, New Zealand's skipper, led from the front, setting the tone with a blistering early goal. However, the narrative shifted in the second half as Vanuatu displayed resilience and fought back valiantly. Despite trailing, they managed to secure a 3-1 win in the second half, underscoring their potential and determination to compete against formidable opponents.
New Zealand, as the defending champions, commenced their campaign with a resounding victory, gaining confidence and momentum for the challenges that lie ahead. Playing in front of their home fans further bolstered their performance, setting the stage for an exciting journey through the qualifiers. Conversely, the Solomon Islands, despite facing initial challenges, exhibited resilience and a capacity to learn from their performance resembling their victory in the Melanesian Cup. Their ability to adapt their game will be instrumental as they strive to elevate their performance and secure their spot in the FIFA Futsal World Cup. The looming question remains: can New Zealand maintain their performance and handle the weight of expectations in front of the home crowd; while the Solomon Islands continue to evolve and raise their game in this fiercely contested tournament, can they too shoulder the weight of expectation of fans at home expecting them to qualify for another world cup? Only time will tell as the tournament unfolds, promising more thrilling futsal action in the days to come.
Adding to the rich tapestry of the OFC Futsal Nations Cup 2023 is Fiji's remarkable journey. Before this competition, Fiji had a formidable run in the Extra SuperMarket Melanesian Futsal Cup, despite finishing last in fourth place, their performances spoke volumes about their potential. They held Vanuatu to a 2-2 draw and triumphed over New Caledonia with a stellar 6-3 victory during the group stage. Only narrowly missing out on the second spot due to a goal difference with Vanuatu due to a 1-4 defeat to the Solomon Islands. Fiji faced New Caledonia again in the 3rd/4th place match while Vanuatu and the Solomon Islands advanced to the final. Unfortunately, Fiji fell short, losing 2-0 to New Caledonia, who capitalized on a strong first-half performance and a quality display by their goalkeeper.
These performances raised intriguing questions about the psychological dynamics at play. Did the psychological aspect of the game influence their encounter against the Solomon Islands following two robust initial performances? Did this trend continue into their match against New Caledonia? It is evident that the Fijian team boasts a talented squad as showcased in their strong starts in both competitions and notably the resounding victory against Tonga in the opening day match in the OFC Futsal Nations Cup.
Looking ahead, Fiji faces the formidable challenge of confronting New Zealand, a team with a rich history and recent success in the competition as the current trophy holders and serving as hosts of the World Cup qualifiers. The looming question now arises: can Fiji overcome the psychological barrier that often accompanies facing teams with a strong track record, such as the Solomon Islands and now New Zealand? The Fijian players will need to dig deep, finding the fire within to express themselves fearlessly as a team and as individuals to conquer their next opponents. A draw or a victory against New Zealand would mark a historic achievement for a nation that has diligently worked in recent times to advance their domestic futsal development.
In this unpredictable tournament, the story of Fiji adds an exciting layer of anticipation, as the players strive to surmount challenges, embrace the pressure, and script their own legacy in the vibrant world of Oceania futsal.
In the last fixture, Tahiti showcased a remarkable display in the second half, propelling them to victory against Samoa and clinching a well-deserved three points in their inaugural Group B encounter.
A crucial goal by Michel Maihuri just before the end of the first half granted Tahiti a valuable lead, countering Samoa's earlier dominance in the opening twenty minutes.
Samoa's Samuelu Malo threatened the Tahitian defense twice, with one striking effort rebounding off the post, leaving Samoa unfortunate not to have scored in the initial period.
Tahiti emerged in the second half with renewed determination and purpose, swiftly scoring two pivotal goals within a mere sixty seconds. Vincent Tinomoe and Keanu Maihuri both capitalized on exceptional passing sequences, firmly establishing Tahiti's control over the game and effectively dashing any hopes of a Samoan comeback.
Maihuri secured his second goal, marking Tahiti's fourth, in the 34th minute. The performance reached its pinnacle two minutes later, as Michel Maihuri secured his brace with a skillful finish through the goalkeeper's legs, sealing a resounding victory.
Both nations face a challenging path ahead in the competition. However, just like Fiji, if they can summon the courage to play fearlessly it could potentially lead to more surprises in this highly unpredictable tournament and the subsequent qualifiers for the 2024 FIFA Futsal World Cup in Uzbekistan.
Author of the Interview 
Stephen McGettigan was born in the Republic of Ireland but grew up in Belfast. He is the founder of Futsal Focus and a Football Industries MBA graduate from the University of Liverpool Management School. Stephen has worked in the Football and Futsal industries for 15 years.
Organ Donation
Futsal Focus is a supporter of Dáithí Mac Gabhann and his family's campaign to raise awareness of Organ Donation. We encourage our readers to learn more about Organ Donation: https://www.organdonation.nhs.uk/
Futsal Focus
You can read more articles about international futsal by going to the top navigation bar or by clicking here
If you like this article and would like to keep updated on Futsal news. You can now follow Futsal Focus via Google News. Follow our page which will send you an alert as soon as we publish an article. Please click here and follow us on Google.
You can also keep updated on Futsal news by submitting your email below in the Subscribe to Futsal Focus option.