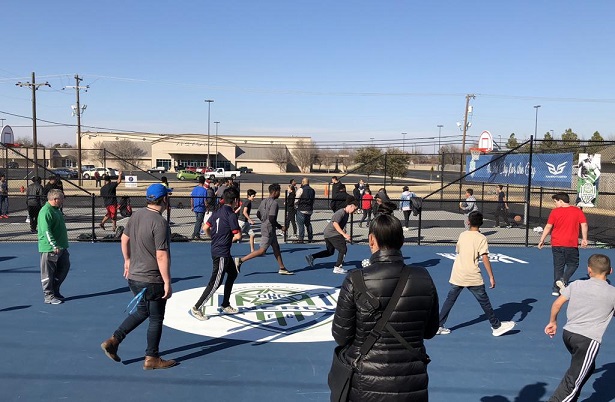 Estimated reading time:2 minutes, 21 seconds
Futsal Focus has regularly reported on the growth of Futsal in the United States of America. Across the Nation, Futsal courts are being developed by MLS and USL clubs, Cities, community groups, investors, clubs involved in Major League Futsal and more.  Recently, we reported on the New York Mayor's Office announcing plans with New York City FC to develop 50 Futsal courts across the city. Now, OKC Energy FC became the latest USL club to launch its own futsal court last week, with the new development near Central High School in inner-city Oklahoma City the first of what is expected to be at least 10 such courts introduced around the city for public play.
Energy FC worked with local basketball organization Team Griffin and City Center to help build the first futsal court, and dedicated the new court on Thursday. Unsurprisingly the blut court has plenty of green trimming, and the kids of Oklahoma City were more than happy to be the first to play a game on the new court, the first public futsal court in the city.
"This is bigger than just this court, I think the vision is to do this all over the city, wherever we see the need," said Taylor Griffin of Team Griffin. "This is a wonderful alternative to other things kids could be doing, they can come out here and work on their skills."
The development follows similar projects established by other USL clubs to establish futsal as a year-round playing option in the city, including the opening of FC Cincinnati's first futsal court last November. Energy FC players and staff were on hand to inaugurate the court with a quick game, which will add to the club's efforts to work alongside the local soccer community to generate interest and opportunity to play away from regular practice fields. More courts will be built in the city in the future, with Team Griffin continuing as a partner to grow active lifestyles in Oklahoma City.
Energy FC Co-Owner Tim McLauglin was excited for the mission ahead, promising to build more throughout the city and joking with Griffin "Let's go throughout the city, you've got the energy for it," ready to start on the next court straight away.
The club also has a Futsal program as part of their community outreach programme:
Sources: www.uslsoccer.com
If you like the information provided, you can read more articles about global futsal by going to the top navigation bar or click here
If you like this article and would like to keep updated on Futsal news, developments, etc then please submit your email below in the Subscribe to Futsal Focus option.
Follow Futsal Focus by clicking on Facebook, Twitter or Instagram or on the social media buttons on the website.