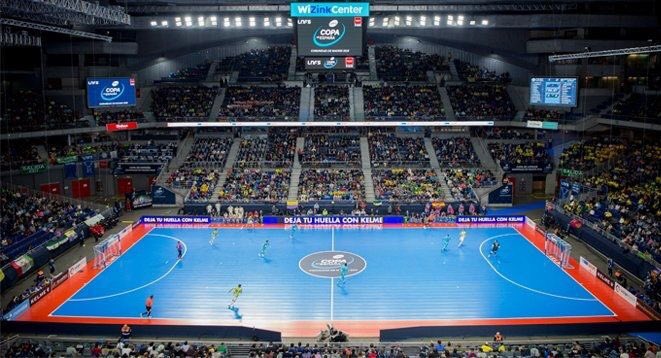 Estimated reading time:2 minutes, 2 seconds
Last weekend, Jaén Paraíso Interior exceeded itself, leveled a 3-1 aggregate in the final five minutes against the powerful Inter Movistar which led to extra time which seemed unthinkable. The club was proclaimed champions of the Spanish Futsal Cup for the second time in their history.
In front of 12,632 people in a packed WiZink Center in Madrid (record of attendance of the tournament), the Jaen people remembered their feat of 2015, when they also proclaimed themselves champions by beating Barça in the final.
The LNFS Director of Communications María Rodrigo Sagastizábal posted on Linkedin:
"The Spanish Cup 2018 has more than achieved the goal set by the National Futsal League since the beginning of this dream, to be recognized as the best edition in the history of this spectacular competition. The WiZink Center served as the perfect setting to host the best club tournament on the planet, which, one more year, exceeded their expectations and managed to raise Futsal to the top."
Vietnam Head Coach Miguel Rodrigo Tweeted: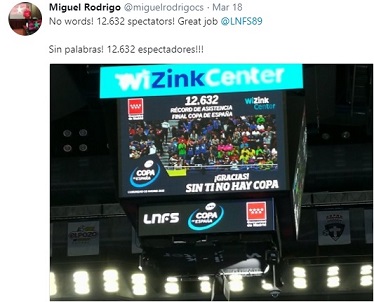 The success of this final is a statement for the LNFS to the rest of the world, that Futsal is here and growing in popularity especially after the success of the UEFA Futsal EUROs in Slovenia which saw over 101,000 people attended the matches. 2018 is a year that is going to live in history as a major step for the sport with further development happening in other parts of the world. The Argentinian National League was announced in February with 120 participating clubs and clubs in the first division paying salaries close to third division football in Argentina which is a great stepping stone for the league and its aims to be fully professional. Argentina is also the current world champions and will host the Youth Olympics which will feature Futsal for the first time, replacing Football.
If you like the information provided, you can read more articles grassroots and coaching by going to the top navigation bar or click here
If you like this article and would like to keep updated on Futsal news, developments, etc then please submit your email below in the Newsletter section or by clicking on the Subscribe to Futsal Focus option on the header.
Follow Futsal Focus by clicking on Facebook, Twitter or Instagram or on the social media buttons on the right sidebar.