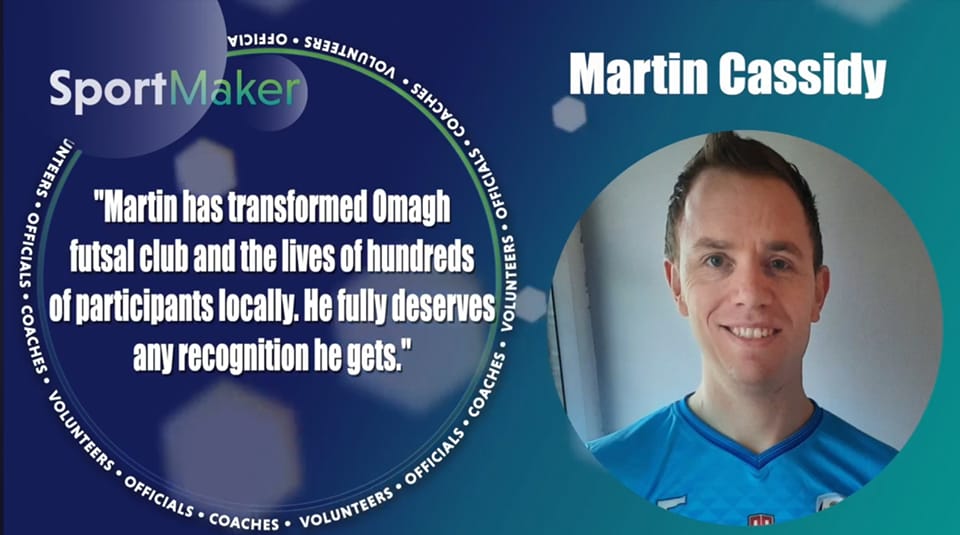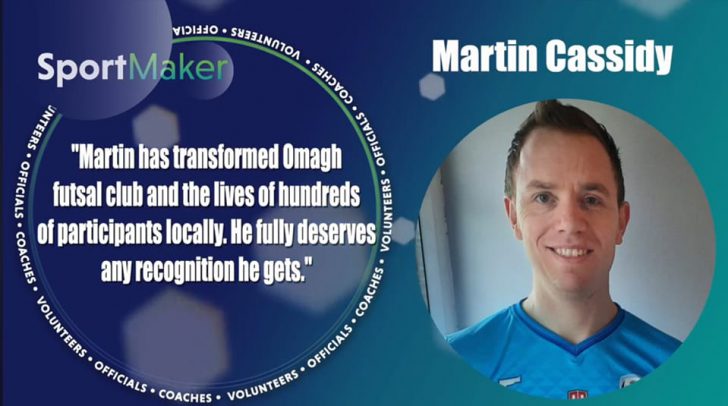 Estimated reading time:3 minutes, 22 seconds
Omagh Futsal Club has already won the Futsal Club of the Year Award at the Irish Football Association Grassroots Awards, pictured below:
So, it is not surprising to see the club's Chairman Martin Cassidy (main picture), and the club's Head Coach David Alonso (pictured below) being nominated for Sport NI Volunteer of the Year, and for the Sport NI Community Coaches at the SportMaker Awards 2022.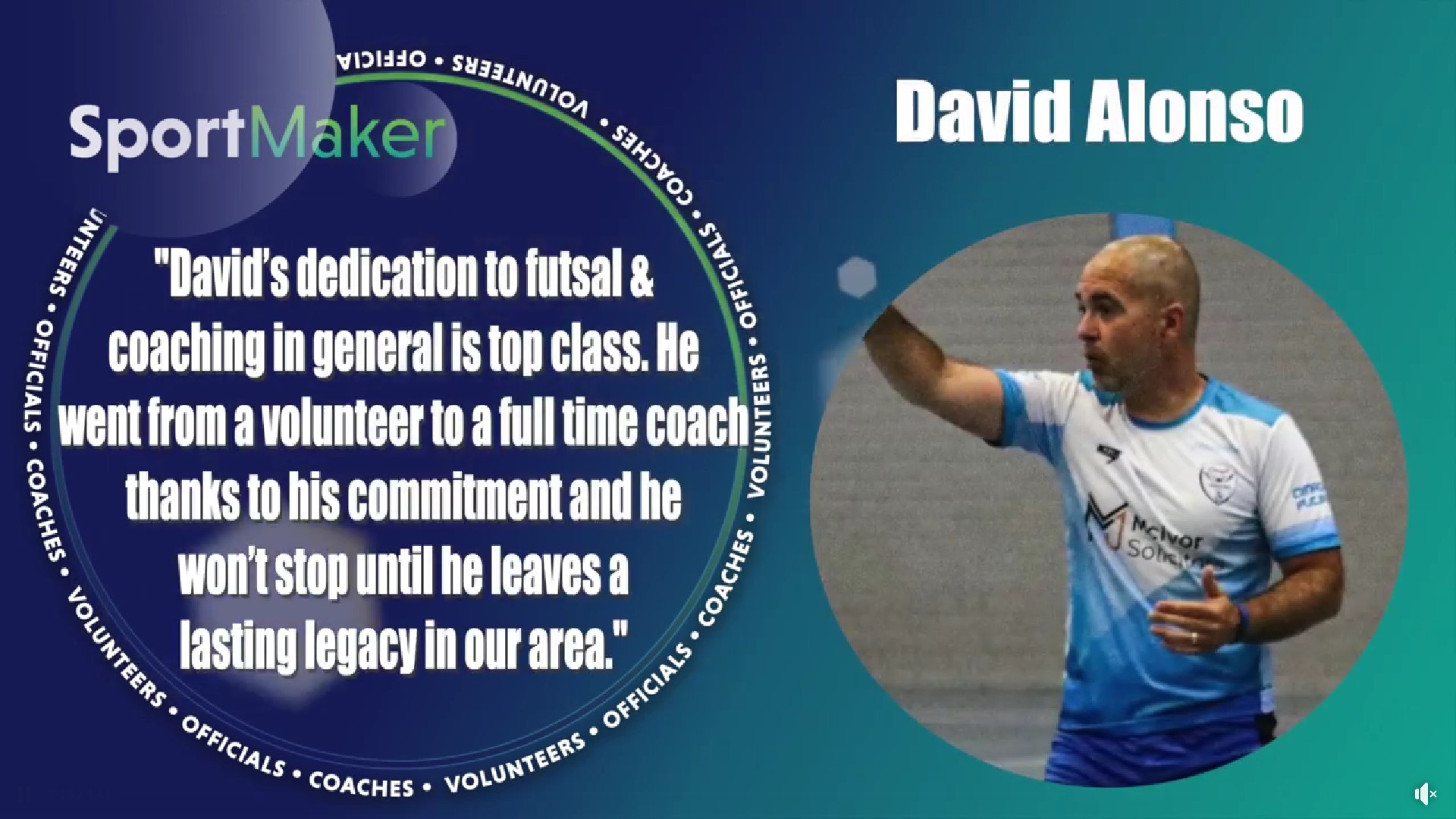 Both individuals have worked tirelessly to develop Omagh Futsal Club and to expose their community to futsal, consistently secured funding over the last two years to ensure futsal was available to their community (Boys and Girls). A recent example of many is the Nationwide Building Society Awards; a £1,000 Mutual Respect Grant the club was given. The club has given hundreds of boys and girls the opportunity to play futsal and Futsal Focus congratulates them on all their efforts, resilience, perseverance, and determination to grow the sport in the Omagh area.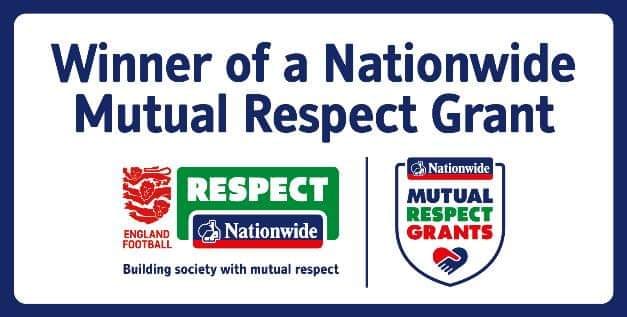 The club's hard work on the court has been promoted and recognised as well by their local media, and this season is going particularly well so far for them: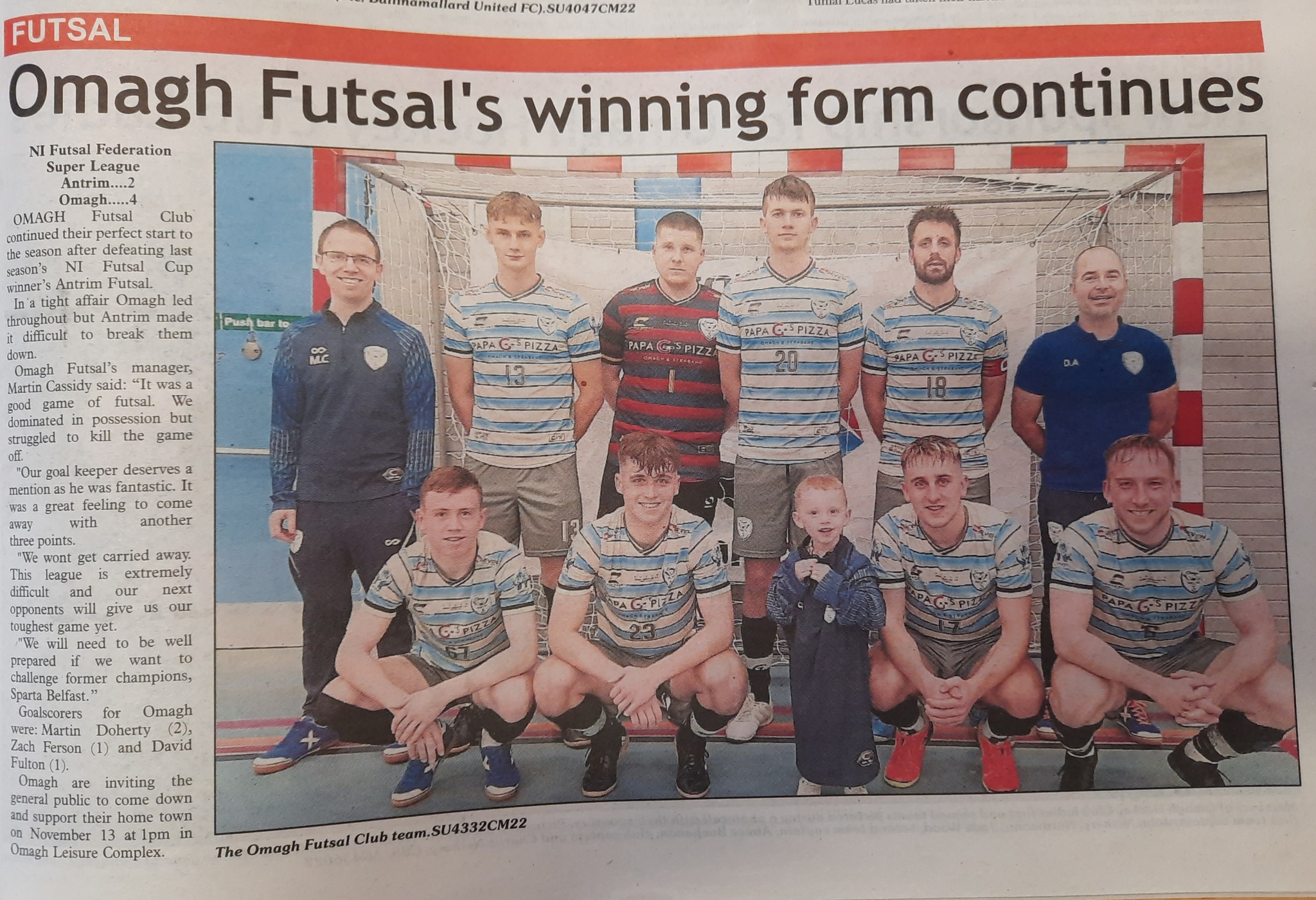 Omagh Futsal Club is an example to many clubs at a grassroots level concerning the need to be successful not just on the court, but off it as well. By engaging with your community, you are building the foundations which will not only secure your club's long-term future but create your fan base as well. This is not an easy process and takes time, consistent engagement, and relationship building to secure community support but Omagh is certainly working on all fronts to make that happen.
Northern Ireland Futsal Federation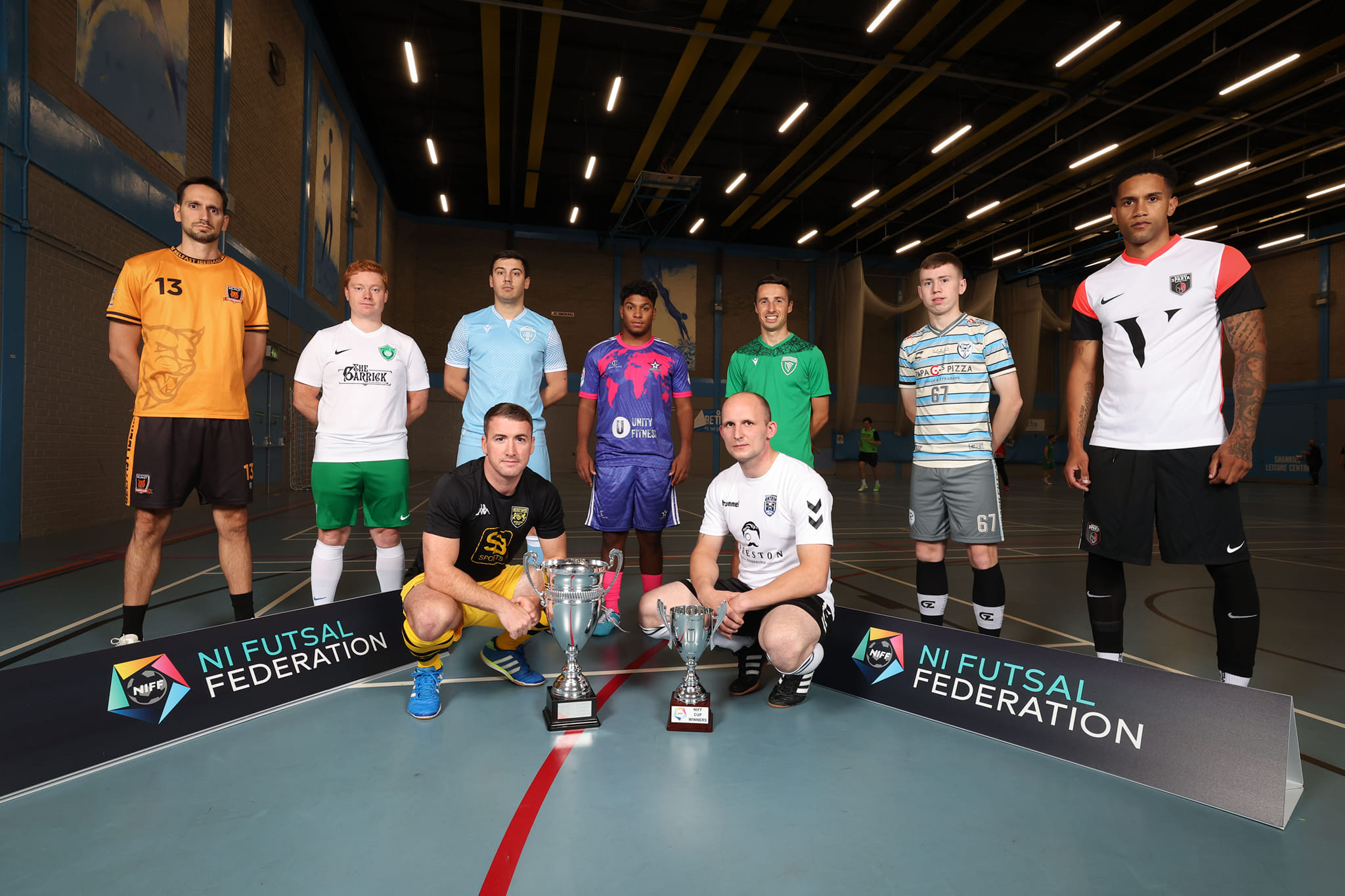 In the Northern Ireland Futsal Federation's National Futsal League, Omagh are currently in fifth place after 3 games, winning all three, their next fixtures in November are against Sparta Belfast, Foyle Futsal, and Iberians Futsal. Sparta Belfast has played an additional fixture, they sit in fourth place and currently have the league's top goal scorer Patrick Gomes with 17 goals. The team will no doubt be Omagh's toughest fixture this month, but a victory for Omagh will keep them in contention for the league title. However, this season's format will see a play-off take place for the right to represent Northern Ireland in the UEFA Futsal Champions League, it won't be the league leaders/ champions unless they win the play-off final.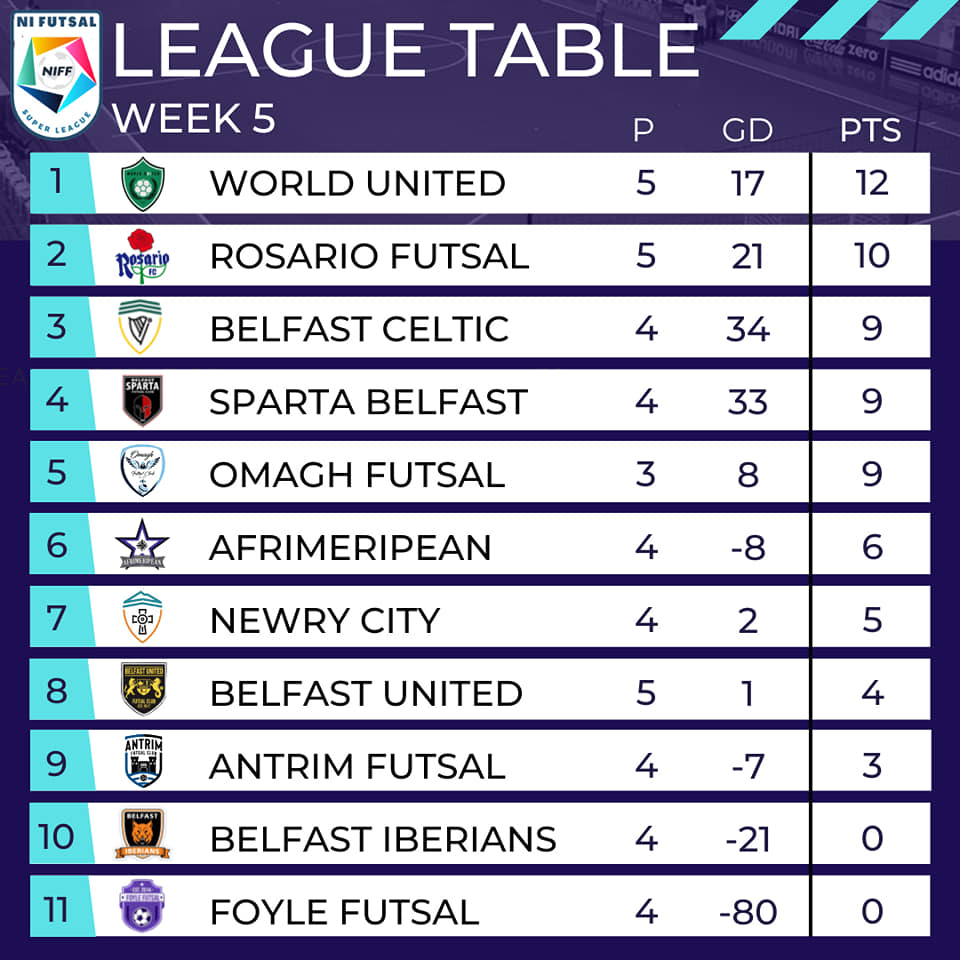 When we previously spoke with Martin and asked him what he thought of the league this year, he said,
"I feel the introduction of the Northern Ireland Futsal Federation has been a great addition to the structure of Futsal in the country. It has provided a great management setup by people who are passionate and knowledgeable about the sport. Also, it has brought much-needed promotion and marketing surrounding the futsal allowing clubs to grow their following and participation base. This in turn has made the clubs participating in the league improve their professionalism and strive to be more ambitious. The league is extremely competitive. There are 11 clubs and out of the top 9 any club can beat each other. It will come down to the last game week to see who wins this year's league, and for the sport that's a good thing!"
Futsal Focus
You can read more articles about domestic futsal by going to the top navigation bar or by clicking here
If you like this article and would like to keep updated on Futsal news, developments, etc then you can now follow Futsal Focus via Google News by following our page which will send you an alert as soon as we publish an article so please click here and follow us on Google.
You can also keep updated on Futsal news, developments, etc then please submit your email below in the Subscribe to Futsal Focus option.
Follow Futsal Focus by clicking on Facebook, Twitter, or Instagram or on the social media buttons on the website.