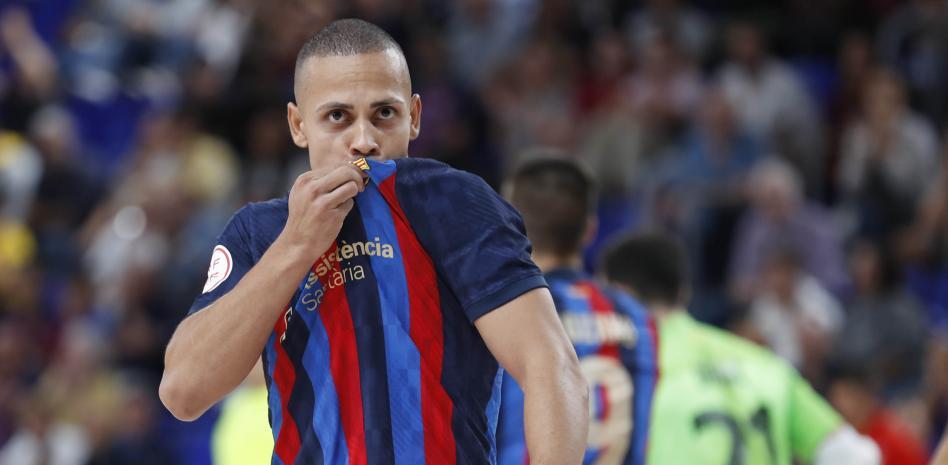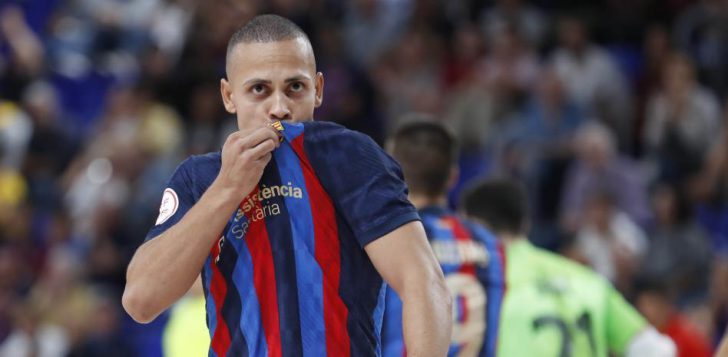 Estimated reading time:5 minutes, 42 seconds
The main round of the UEFA Futsal Champions League was made up of the 24 highest-ranked entrants, the other eight contenders came through by winning their preliminary round groups in August. Those eight were among the 16 in Path B, alongside the entering clubs ranked 13th to 16th and 21st to 25th. The four Path A groups contained the 12 highest-ranked clubs plus the teams 17th to 20th.
Both paths were played at one venue in mini-tournaments in each host nation, with 12 teams going through from Path A and four from Path B to November's elite round, which will then decide who the four contenders will be for the knockout finals in spring.
(Main picture source: Barcelona website)
Elite round
The UEFA Futsal Champions League elite round draw will take place at 14:15 CET, streamed on Thursday, and will split the 16 contenders progressing from the main round into four groups that will decide the knockout finalists.
The elite round will be played from 22 to 27 November and the four group winners will progress to the finals in April/May, with the hosts to be confirmed.
Draw procedure (full details to be confirmed)
Teams are split into three seeding tiers based on main round results: Path A winners (position 1, four teams); Path A runners-up (position 2, four teams); and Path A third place and Path B group winners (positions 3 and 4, eight teams).
No main round group winners should face the runners-up in their group.
There is no country protection.
Any other restrictions will be announced ahead of the draw.
Four clubs are selected as mini-tournament hosts and drawn separately, from Pot 1, while maintaining their seedings.
The teams in Pot 2 (positions 3 and 4) are drawn next, filling the remaining position 4 spots before filling position 3.
Pots 3 (position 2) and 4 (position 1) are then drawn, filling the remaining available slots in the groups.
Qualified clubs 
Path A group winners: Mallorca Palma Futsal (ESP), Sporting CP (POR), Barça (ESP, holders), Benfica (POR)
Path A group runners-up: Sporting Anderlecht Futsal (BEL), Novo Vrijeme Makarska (CRO), Luxol St. Andrews (MLT), Uragan lvano Frankivsk (UKR)
Path A group third place: Kairat Almaty (KAZ), Futsal Pula (CRO), Dobovec (SVN), United Galati (ROU)
Path B group winners: Loznica-Grad 2018 (SRB), Piast Gliwice (POL), Città di Eboli (ITA), Chrudim (CZE)
Mallorca Palma Futsal (Spain) finished top of their group but shared the same points across the table with Sporting Anderlecht and Kairat Almaty but Sporting Club de Paris finished with no points. Palma started the campaign with an 11-5 victory over Sporting Club de Paris (France), they draw 2-2 with Kairat Almaty and 2-2 with Sporting Anderlecht Futsal (Belgium).  Barcelona dominated Group 3 defeating Hovocubo (Holland), 6-1, Dobovec (Slovenia), 0-8, and hosts Luxol St. Andrews (Malta), 1-7.  Marcas reports that Jesús Velasco's men raised their scoring tally in the Champions League after this group to 317 goals, of which 37 were scored by Ferrao (289 in all competitions), plus 31 by Sergio Lozano. In Thursday's draw, Barca will want to avoid all three of these clubs, Sporting Anderlecht have their eyes on the final four and they have shown already in their group against top opposition that they will be a force for any club that faces them.
Sporting Clube de Portugal Futsal like Barca dominated their group, winning all three fixtures with a 5-3 victory over Pula (Croatia), followed by a 1-7 scoreline against Kazakh's club Ayat. Next up was NMK Novo Vrijeme, Croatian champions, and host of the group, however, Nuno Dias' Lions would not take their foot off the accelerator, resulting in a clean sheet and heavy scoreline, winning 0-7. S.L Benfica conceded 1 goal in each game, a total of just 3 goals, 3-1 against Hungarians, Haladas, and 1-4 when they faced Ukrainians, Uragans. However, their hosts United Galati (Romania) didn't face a team already qualified looking to stroll through the game, Benfica didn't take the petal off and crushed their opponents, 1-8.
If you are a betting man, you may already see these four clubs, path A group winners in the final stage of the competition. However, Sporting Anderlecht, in their first season, in their new colours, having previously been known as  Halle-Gooik, have recruited with significant investment over the summer. Experienced players such as Maximiliano Rescia, Argentinean international, and Brazilian international, Rafael Nogueira da Silva, better known in the futsal world as Fits among others have signed to help secure the ambitions of the Belgian side. The club believes their success in this competition can help to advance Belgian futsal by attracting additional football clubs with budgets that are capable of advancing futsal's development in their own country and challenging on the international club stage. Kairat Almaty will also want to advance despite finishing third in their group, and many clubs will want to avoid them.
Related article: RCS Anderlecht Futsal aims to be among the top four clubs in the UEFA Futsal Champions League
History makers 
Luxol St Andrews became the first Maltese team to reach the Elite Round of the UEFA Futsal Champions League, they drew their opening match 1-1 against Dobovec but brushed aside Dutch side Hovocubo 5-1 in their second match of the mini-tournament.
As the scoreline shows, the Malta champions were a class above their Dutch opponents as they dominated the match from start to finish to secure the three points that lifted them to second place in the group on four points and assure themselves of a top-three finish. Though they lost their final game against Barca suffering a heavy defeat, Dobovec's victory over Hovocubo meant the Maltese side finished in second place.
Città di Eboli (Italy) produced dominant performances in their debut European campaign in the Champions League, overcoming all three rivals in Lithuania. On Wednesday, they came back to overcome Kampuksen, then on Thursday they demolished Petro-w, and to put the icing on the cake, they continued their form against hosts Kauno Zalgiris, winning 2-7. It will be interesting to see how this club performs in the elite round.
Futsal Focus
You can read more articles about domestic futsal by going to the top navigation bar or by clicking here
If you like this article and would like to keep updated on Futsal news, developments, etc then you can now follow Futsal Focus via Google News by following our page which will send you an alert as soon as we publish an article so please click here and follow us on Google.
You can also keep updated on Futsal news, developments, etc then please submit your email below in the Subscribe to Futsal Focus option.
Follow Futsal Focus by clicking on Facebook, Twitter, or Instagram or on the social media buttons on the website.