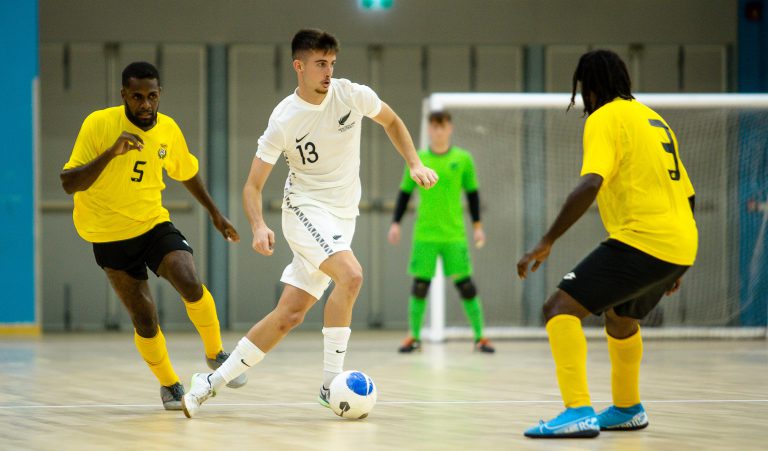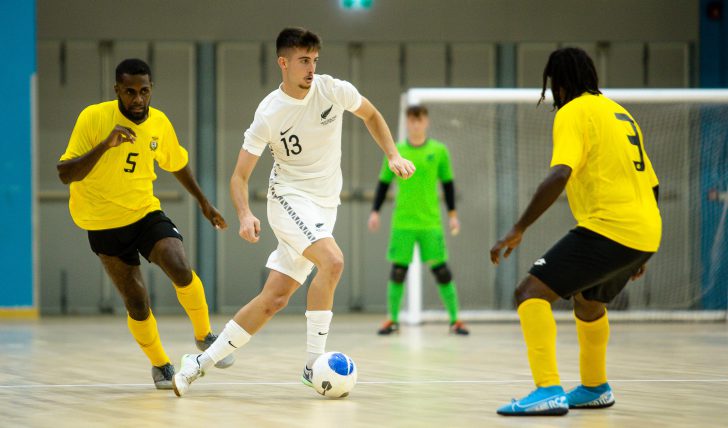 Estimated reading time:9 minutes, 44 seconds
In August, Hamish Grey became New Zealand's first full-time professional futsal player signing a professional contract with Italian Serie B futsal side Isola5 in Isola, a small town and commune in the Italian province of Vicenza in the Veneto region, Northern Italy.
The 20-year-old former Selwyn College student has been a member of the extended Futsal Whites training squad and recently represented New Zealand at the World University Futsal Championships in Portugal.
The former Auckland City futsal player has played for clubs in Australia and Spain on his way to joining Isola5.
Announcing his signing, Isola5 shared an interview with Grey on social media in which he says he was attracted to the Italian side because of its focus on young players and ambitions for promotion after losing at last season's play-offs stage.
"I'm expecting a difficult season in Serie B, a competitive league with some great teams, and talented players," Grey said.
"However, I am very excited and can't wait to show my skills, learn, and hopefully win with the team. From what I know, we have a young team, but I am sure we will be ready to compete for promotion to A2."
"It has always been my goal since I was young. I think having a professional futsal player from New Zealand will be very important for this sport. We have so much talent and passion. I hope my being here will inspire and encourage other players from my country."
Hamish returned to Oceania when he was called up to play for his country, New Zealand, in the Oceania Football Confederation (OFC) Futsal Cup which was hosted in Fiji in September.
The Solomon Islands futsal team (Kurukuru) have dominated the competition since Australia moved to the Asian Football Confederation (AFC). The Kurukuru has competed in 9 editions, winning 6. New Zealand has participated in 11, and their Futsal community has worked hard with the support of New Zealand Football to progress, develop and challenge their neighbours. The New Zealand Whites (national team name) came close in 2019, and after the final, the Solomon Islands acknowledged the growing threat of the Kiwi national team to their title. The Kurukuru entered this year's edition knowing it would be their biggest challenge yet to retain the trophy.
The New Zealand Whites produced great performances throughout and entered the final against a Solomon Islands team putting everything on the court, but after a three-year wait, the Kiwis produced a historic performance on the international stage and won their first-ever, OFC Futsal Cup.
Returning to Italy, Futsal Focus got in touch with Hamish to learn more about his experiences in New Zealand, Australia, Spain, and Italy and to find out what it was like to represent his country and be a part of the squad that made history for Kiwi futsal.
Hamish, it is great to speak with you, thank you for agreeing to share your story with Futsal Focus readers.
FF: Can you tell us about your introduction to futsal and why you decided to continue with the sport in New Zealand?
HG: My first introduction to futsal was quite early on – I think I was about 10 years old and some of the other kids I was playing football with were doing futsal training and the coach was Bakr Al-Saudi, a futsal legend in New Zealand. They invited me to come along to try it out and I loved it. I continued doing both football and futsal, but there were always more opportunities to play football. The futsal highlight of the year would always be playing for Auckland in the NZ Youth Futsal Championships, which is still going on these days. In 2017, at 15 years old, the Auckland men's coach at the time, Marvin Eakins (current Futsal Whites coach) gave me the opportunity to make my men's debut in the NZ Futsal Super League. Since then, I never looked back and decided to commit myself to trying to become a professional futsal player.
FF: What took you to Australia and Spain, who did you train with, and can you tell us what these experiences were like for your development?
HG: After finishing high school in 2019, my plan was to head to Spain to study and play futsal over there, so I wanted to get some experience playing and living overseas before making the move to Europe. I played and trained with Pascoe Vale FC in Futsal Oz for a few months before the pandemic hit. The opportunity in Spain came about in early 2021 – I had some contacts involved in futsal there who helped me get over to trial and train with a bunch of clubs in Barcelona. I ended up getting a student visa for a year to learn Spanish, which also allowed me to play for A.E. Xarxa Horta in the Spanish Third Division. This experience in Spain was tough. I was alone, on the other side of the world, and playing at a level I had never been exposed to. However, it was also very rewarding – I learned so much and it played an important part in my development not only as a player but as a person.
FF: How did the opportunity to move to Italy come about and what was your initial reaction to this opportunity, were you nervous or considering not to go?
HG: Towards the end of my year in Spain and with my visa ending soon, I was looking for my next step and I saw an opportunity advertised to train and trial at clubs in Italy through Eleven Sport Academy. I decided to take it and I'm very happy I did. They also became my agency and I received an offer with ASD Isola 5. The initial reaction was excitement more than anything and to be honest, probably a bit of relief. Of course, the nerves settle in, but more so about moving to a new country with a different culture and language. I don't think I ever considered not going – I knew that this is what I've worked for and I was excited by the opportunity with Isola 5.
FF: Since arriving in Italy, how have the club and your teammates helped you to settle in?
HG: The club has been great and so have my teammates – it's difficult joining a team not being able to speak much of the language, but they've all made it much easier. I'm well looked after here and I hope I can give something back to the club and the fans for that.
FF: What has it been like signing for a professional team, has the adjustment to professionalism and the Italian futsal Serie B performance standard been difficult?  I see your team currently sits second from the bottom.
HG: For sure. It's a step up in level, standards and responsibility. Individually, I'm having to transition into a new style of futsal in Italy, with a completely new team and coach. It can take time to build chemistry and understand how my teammates play. This season there are 9 new players and we are a very young team, but it's early days in a long season and as long as we keep improving, the results will come with time. I haven't been able to make my debut yet due to my visa, but I'm buzzing to get on the court with the team and hopefully make a positive impact.
FF: Before leaving for Italy, you mentioned your hopes from this chapter in your futsal career, but since arriving, has anything changed in relation to what you hope to achieve from this experience there?
HG: For me, I don't think anything has changed. I know it's just the beginning and I haven't done much yet – there is so much for me to learn, improve on, and hopefully achieve. Therefore, I've made sure to keep my head down and work hard, and hopefully, that will pay off with time. If anything, since arriving it's given me more motivation and desire.
FF: You have returned from Fiji an OFC Futsal Cup winner, what was the experience like competing and winning such a prestigious competition?
HG: To be part of the winning Futsal Whites team at The OFC Futsal Cup was pretty special. Personally, making my debut and winning was a dream come true – a lot of kids dream of playing for their national team, so it was something very special for myself and my family. It was a great opportunity for us to get some long-awaited national team activity, especially for our preparation for the World Cup Qualifiers next year. Even though we're pleased with the result and how we played, we still feel that there's plenty more to come from this squad. Everything we learned in Fiji will be really important for our goal to qualify for the 2024 World Cup.
FF: On the international stage, what have you learned that you believe can aid your own development in Italy?
HG: Playing for New Zealand made me realise how much of a step up international futsal is from what we're used to. The responsibility is much higher, in terms of how you play and the results you get, as there is a nation backing you that wants to see you achieve. As a result, the pressure on you when you play is that much more intense. To have experienced a bit of that in Fiji will hopefully help me deal with those similar moments in Italy.
FF: What positive impacts has this historic achievement had on futsal development and the futsal community in New Zealand?
HG: It's huge for the New Zealand futsal community – we've made a statement winning the competition for the first time. There's excitement about the potential of this team and we hope that the word gets spread around, to get more backing and support. Regarding futsal development, our success will mean more resources and in turn more opportunities for futsal players in New Zealand, which is a huge motivation for all of us. The long-term goal to qualify for the World Cup would be massive for everyone involved in the sport in New Zealand.
You can read more articles about global futsal by going to the top navigation bar or by clicking here
If you like this article and would like to keep updated on Futsal news, developments, etc then you can now follow Futsal Focus via Google News by following our page which will send you an alert as soon as we publish an article so please click here and follow us on Google.
You can also keep updated on Futsal news, developments, etc then please submit your email below in the Subscribe to Futsal Focus option.
Follow Futsal Focus by clicking on Facebook, Twitter, or Instagram or on the social media buttons on the website.