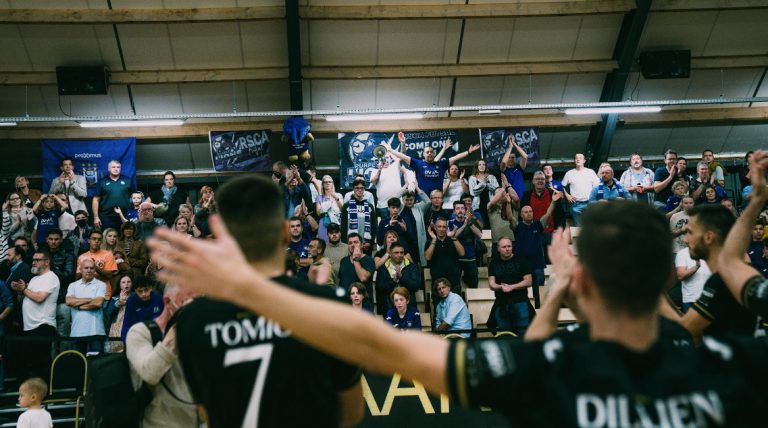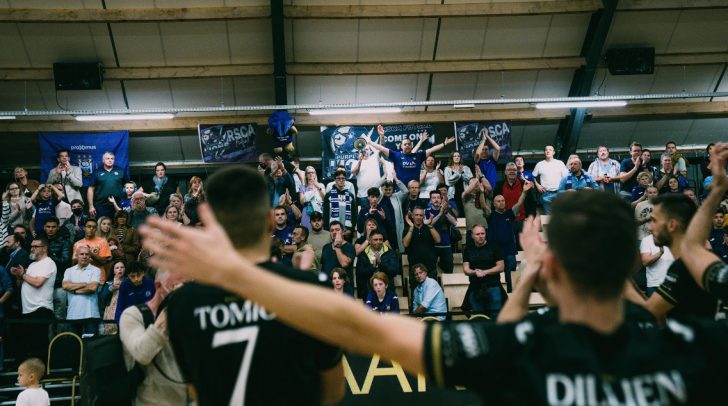 Estimated reading time:8 minutes, 28 seconds
The UEFA Futsal Champions League elite round draw took place on Thursday, and the clubs found out who they will face for a place in the Final Four of the competition.  The elite round will be played from 22 to 27 November and the four group winners will progress to the finals on 4/5 and 6/7 May, with the hosts to be confirmed.
Main picture source: Sporting Anderlecht Futsal
The groups for the elite round are:
Group A: Sporting CP (POR), Uragan lvano-Frankivsk (UKR), Loznica-Grad 2018 (SRB), Città di Eboli (ITA, hosts)
Group B: Mallorca Palma Futsal (ESP, hosts), Novo Vrijeme Makarska (CRO), Dobovec (SVN), Piast Gliwice (POL)
Group C: Benfica (POR), Luxol St. Andrews (MLT), Chrudim (CZE), Kairat Almaty (KAZ, hosts)
Group D: Barça (ESP, holders), Sporting Anderlecht Futsal (BEL), United Galati (ROU), Futsal Pula (CRO, hosts)

Before the draw was made, there were rumours that Sporting, Palma, Benfica, and Barcelona would host each group, but as you can see this is not completely the case. Except for Group C being hosted by a former two-time champion, Kairat Almaty, the other groups are hosted by a debutant and Palma falls into this group.
For this article, we decided to focus on two clubs making history in this year's competition for different reasons, Luxol St. Andrews and Sporting Anderlecht Futsal. Luxol St. Andrews have never reached this stage in the competition before but made history in front of their home fans in the main round with a victory over Dutch champions, Hovocubo. Sporting Anderlecht Futsal were formerly known as Halle-Gooik, Belgium's most successful futsal club. This is their first season in the Champions League since merging with R.S.C. Anderlecht under their new name and at their new venue where they hosted the main round and qualified for this stage undefeated but lost out on winning their main round group when Palma equalised to draw, 2-2, and won the group.
After the draw took place, we reached out to Joseph Aquilina, Chairman of Luxol St. Andrews, and Lieven Baert, Sporting Anderlecht Futsal's General Manager to get their reactions to their groups (C & D) and this stage of the competition. And, for our readers to see the different realities within this sport for both clubs. Joseph Aquilina informed us that,
"We believe it is a very strong and difficult group given two of the teams have held the title of European champions and bring with them a wealth of knowledge and experience with lineups of excellent players. The Czech team is also a strong and tough contender.  Our reaction to the group is one of concern given the ballot result means Luxol St Andrews Futsal will be travelling to Kazakhstan,  this fact will put the club in a difficult position. Passing to the elite round means the club will only receive 10k from UEFA. The team travelling to a country so far, with the bare minimum number of  21 people, means that we are an additional 12k out of pocket at the onset; given each ticket is around 1200 euros. This excludes costs of any additional medical staff and additional costs per night which we are likely to incur given flights out of the island to connecting countries are not daily. Furthermore travelling for nearly 17 hours before a competition is far from favourable."
"Playing at an elite stage is something that brings joy and pride at both club and national levels. It is the first time a Maltese team has ever reached this level. It is an affirmation that despite its size a Maltese team can also offer competition. The beauty of playing at such a high level is also weighed with concern given the hefty burden imposed on such a small club. One needs to keep in mind the sustainability of the club past the UEFA Futsal Champions League competition and that we need to adhere to all financial commitments in the season ahead. Playing at this stage should follow football funding. It would be beneficial if small futsal teams like ours could benefit from financial support at either the European or national level. Futsal should not be considered any less than football, especially when competing in such prestigious, high-level international club competition."
"Given the strength of the three opposing teams, we need to keep in mind that no matter what happens competing at this level will be a memorable experience, that will result in a positive learning curve. All members of the team would still be happy and proud to have shared such unforgettable moments with the elite teams in Europe."
Speaking with Lieven, he tells us that,
"I think this group has the only team nobody wanted, Barcelona. Don't get me wrong, it is great to play against a side like Barcelona, but this is a team at the moment that seems impossible to beat. Of course, we will do our best to qualify and it still is our goal but we also need to be realistic."
"Our focus after we finalised the merger with Anderlecht was to take our first steps towards reaching the final four of the UEFA Futsal Champions League. Achieving this has been the origin of this club, every year it is about doing better than the last year. Our goal is to take our place between these amazing teams. This team was not built to only win leagues and cups in Belgium, it was created to join the top European teams and bring the name of RSC Anderlecht where it belongs among the best clubs in the futsal industry.  I couldn't wait to host the main round and to show everyone how serious Anderlecht is to challenge on the bigger stage but as much as I say we need to be realistic in the elite round, it is still a cup competition, history can be made, but even if this year we don't progress to the final four, we will learn from the experience and challenge again next year."
"If we don't qualify, it's only acceptable if we did everything in our power to qualify. Last year, we were eliminated at this stage by Barcelona, and we lost to SK Interobal Plzeň, finishing third in the group. I am sure the Barca match in this group will be very close again this year, and we can't underestimate Pula and Galati but these games should finish with 6 points for our team. We will prepare and arrive at the elite stage in the best possible condition for these games."
Listening to both club leaders, it is interesting to see what dominates their different perspectives at this stage in the competition, and the points they both make which developing clubs have to consider.
Luxol are proud of their historic achievement and excited to reach the elite stage, but finances are always a concern for clubs in developing futsal nations. And, competing in this round has brought with it additional concerns. The UEFA Futsal Champions League is a fantastic competition for the sport, providing it with increased credibility, and a platform to market and promote futsal in Europe and around the world. But, the financial support has to be enough to allow clubs to compete and not face financial difficulties to be able to do so.
UEFA could increase the rewards for each stage progression, but some may argue that clubs, eager to compete, may also mismanage that money, and will still insist that they are not getting enough. So, financial controls may have to be looked at by UEFA  and if they or a club's association or their league should manage the finances to make sure that travel costs and all needed expenses to compete at this stage or any stage, are used exactly for that. We say this because we know of many clubs at the amateur stages that are paying players when they shouldn't be. When you add the costs of competing in the UEFA Futsal Champions League on top of domestic costs, they may end up leaving their league due to insufficient finances in order to compete in Europe and domestically which only damages the sport's development.
Now that Halle-Gooik has merged with Anderlecht, finances to travel are not their concern, this club's concerns are 'how can we bridge the gap between us and the clubs consistently reaching the final four?' How can Anderlecht get to a position when they don't have to worry about who they may face and may wish to avoid so they can potentially compete for a final four place. Because even if Anderlecht had avoided Barca they would have drawn Sporting Clube de Portugal and that too would still be a difficult and possibly impossible match to secure a victory in. You could argue that Anderlecht could easily increase the budget of their futsal section, but don't forget this is a business and Anderlecht wants their futsal club to be able to cover their own costs. For Belgian futsal, the question is how do we get the other clubs to develop more and improve? The playing standard also has to improve, wages will have to increase, fanbases, tv interest, and better facilities, there is a lot of work to be done to improve the league as a whole if Belgian futsal wants to compete with their Spanish and Portuguese neighbours consistently.
Futsal Focus
You can read more articles about domestic futsal by going to the top navigation bar or by clicking here
If you like this article and would like to keep updated on Futsal news, developments, etc then you can now follow Futsal Focus via Google News by following our page which will send you an alert as soon as we publish an article so please click here and follow us on Google.
You can also keep updated on Futsal news, developments, etc then please submit your email below in the Subscribe to Futsal Focus option.
Follow Futsal Focus by clicking on Facebook, Twitter, or Instagram or on the social media buttons on the website.