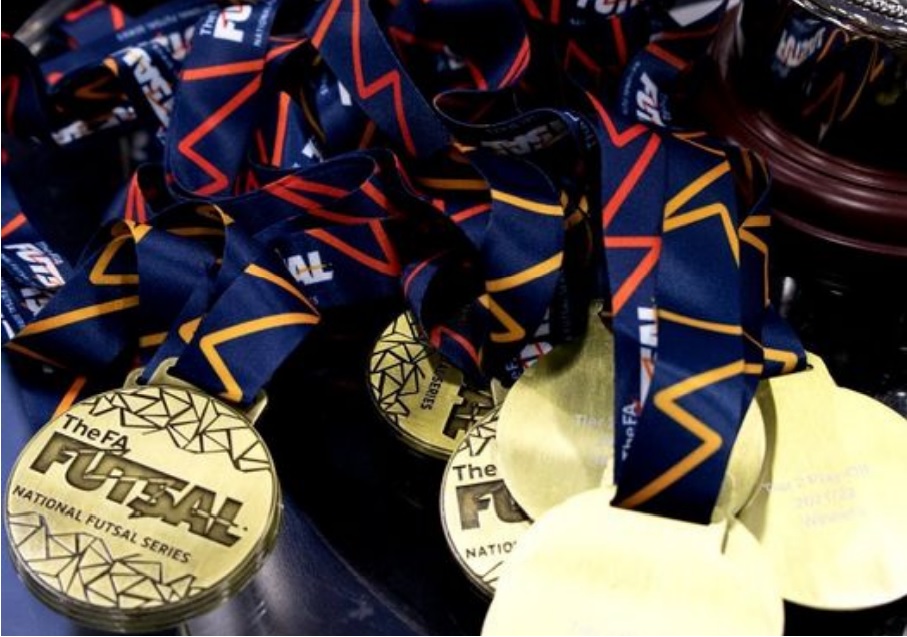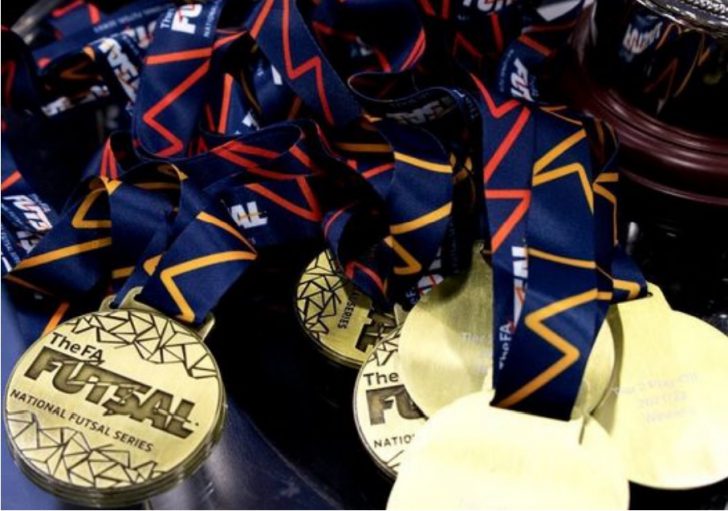 Estimated reading time:7 minutes, 6 seconds
The Princess Royal Sports Complex in Wellington is the venue for the second round of matches in the FA National Futsal Series this season, with games being played across both the men's and women's Tier 1 competitions. We take a look at and preview the seven fixtures in store for this weekend.
Saturday's fixtures – Women's Tier 1
With shock news on social media this week that Manchester have withdrawn from the competition, Birmingham WLV's opening day victory has been wiped from the records. It also means that Bloomsbury, who were set to face Manchester this week, will have to sit out of this particular round.
Cheshire vs Southampton Aztecs – 10:15
The weekend's curtain raiser will see two teams, who found themselves on the wrong side of their respective scorelines in week one, go head-to-head.
Richie Jones' Cheshire side are looking for their first three points since promotion, and pivot Kirstie Kural is always an integral part of how they set up to play. She scored 18 goals in the eight Tier 2 matches she played last season, but will she be able to replicate that level of goal scoring form against much stronger opposition?
Meanwhile, Southampton retained their Tier 1 status through the relegation play-offs, and will be optimistic about avoiding such an end to the season this time around. The notable addition of Alicia Povey could prove valuable in their efforts to do so, having joined from Reading Royals in the summer.
Birmingham WLV vs Hartpury – 12:20
Last season's women's Tier 1 champions, Birmingham WLV, thought they'd made the perfect start to their title defence, only to learn of news that the win won't now count towards the league standings. However, that doesn't detract from the quality of performance we saw from them against Manchester, who were given a pretty damning farewell before deciding to withdraw.
The removal of Birmingham's gameweek one result hasn't been the only setback they've suffered though. Impressive new signing Hadaa Ghaddar has been ruled out after suffering an anterior cruciate ligament injury, meaning last season's league top scorer, Alisha Miller, will likely once again be the player Birmingham turn to for goals.
On the other hand, opponents Hartpury may feel they've been somewhat dealt the short straw with the fixture list, having been put up against both of last season's finalists in the first two weeks of the season. The adoption of a half-court defence strategy worked relatively well for them in the first half against Helvecia, but the capitulation that followed will have left a stinging feeling over the past fortnight.
Bolton vs London Helvecia – 16:30
This fixture has the potential to be an excellent encounter, given that both teams started the season in fantastic fashion with goals galore – both recording impressive wins.
Bolton's new girl Lily Robinson made a great start, scoring four of Bolton's eight against Cheshire on matchday one.
Larissa Vieira made the switch to Helvecia from Bloomsbury in the summer and has fitted seamlessly into the side, bagging an impressive hat-trick in their 9-1 demolition of Hartpury last time out.
Helvecia will be favourites, but this promises to be a great contest with so much goalscoring talent on display.
Sunday's fixtures – Men's Tier 1
As was the case for the women's fixtures that preceded, it was a superb sight to see Men's Tier 1 English futsal action back on our screens, after an extended summer break. Week one brought us 37 goals across four games in total, and there's a full round of fixtures to follow this Sunday!
Loughborough vs Bloomsbury – 10:00
This should, on paper, be a well-matched contest to open the day's action. Both sides won in week one, but who will come out on top with maximum points this time around?
Loughborough got the job done convincingly two weeks ago, beating Wessex 11-3. There has been an overhaul of the group in Loughborough's first team squad though, so the task for the new group of players is to replicate the success that preceded, when Joao Almeida was in charge. Between them, young English talents Luke Abdy and Ethan Finney scored five of the goals in the week one victory.
Likewise, Bloomsbury will be satisfied after an opening day three points. Despite having lost captain Denerson Moreira to rivals Helvecia in the summer, their squad still looks extremely strong, and another win here would lay down an early marker to the rest of the league's competition.
York vs Manchester – 12:05
York made the perfect start to life in the top tier with a 6-3 win over Bolton – a result which was undoubtedly the biggest shock of gameweek one. At just 17 years of age, Jed Devine was not only a standout performer for York, but also one of the league's strongest with a hat-trick on the opening day. A follow-up win in gameweek two would seriously make the rest of the league sit up and take notice.
Last year's finalists, Manchester, will have other ideas though, with the importance of this fixture only heightened by their week one defeat to Bloomsbury. With the champions to play in their next league fixture, is this a must-win game for Manchester – even so early in the season? If they are to pick up three points, they'll have to do so without Raul Radelescu, who is suspended after his dismissal a fortnight ago.
Bolton vs Hartpury – 14:10
Bolton and Hartpury both lost their opening day matches, so although it was not the start that either side wanted to make, this is a chance for reprieve on both sides of the dressing room. Arguably the tightest match-up of the entire weekend, this one is extremely difficult to call.
There's no denying that Bolton have an excellent squad of players, and it's certainly a group full of youthful talents. However, the players would be the first to admit that inconsistencies were their downfall last season. It's imperative that they bounce back from the defeat against York, but with the coaching staff having recently been out of the country, one wonders whether preparations have been at all hampered.
For Hartpury, their off-court business in the summer seemed promising, but their start to the season hasn't gone to plan. An opening day 6-2 defeat to Helvecia was followed with another loss against Reading Royals in the NFS Super Cup. Much early-season spotlight has been on summer signing Rico Zulkarnain, and Hartpury will need him to start firing if they are to make amends for their poor start to the season.
Wessex vs London Helvecia – 16:15
Hosts London Helvecia will round off the weekend's action, with what they'll hope to be a showcase performance against a newly promoted side.
It was a tough start to life in Tier 1 for Wessex as they slumped at the feet of Loughborough, and the task in hand is huge for them to bounce back in gameweek two. Former Kent United captain Aaron Reid was a bright spark for them though, bagging a consolation brace on his debut.
Had things played out differently, London Helvecia would be competing in the main round of the UEFA Futsal Champions League this weekend, but instead they'll have to settle for another domestic fixture. It's a game that the English champions are overwhelmingly expected to win, and with that comes pressure, but Enrique Guillen's side hardly ever falter on the big stage.
Author
Isaac Barrington is a journalist for Futsal Focus and Football Match Commentator. He is also a futsal player in the FA National Futsal Series for Birmingham WLV Futsal and was the BBC's Young Commentator Of The Year in 2017!
You can read more articles about Englsh futsal in the domestic section by going to the top navigation bar or by clicking here
If you like this article and would like to keep updated on Futsal news, developments, etc then you can now follow Futsal Focus via Google News by following our page which will send you an alert as soon as we publish an article so please click here and follow us on Google.
You can also keep updated on Futsal news, developments, etc then please submit your email below in the Subscribe to Futsal Focus option.
Follow Futsal Focus by clicking on Facebook, Twitter, or Instagram or on the social media buttons on the website.