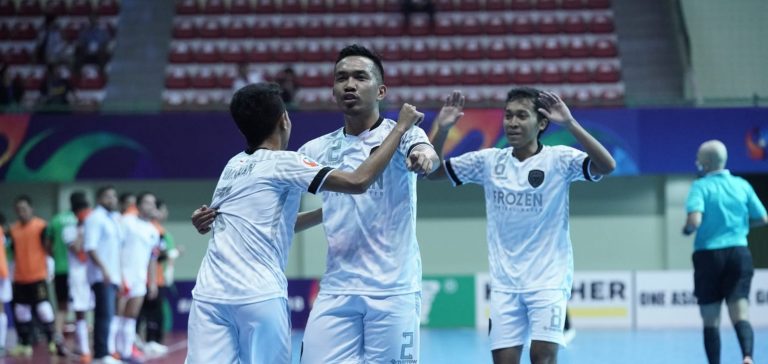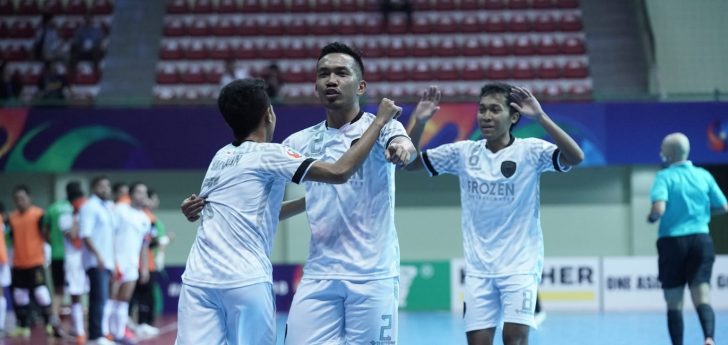 Estimated reading time:3 minutes, 8 seconds
Asia's top 16 futsal clubs identified their group rivals at the AFC Futsal Club Championship Thailand 2019 Official Draw in Kuala Lumpur and on the 7th August, the competition will kick-off.
Last year's runners-up, Vietnamese champions Thai Son Nam FC will be making their sixth appearance in the annual tournament and were drawn in Group B with Iraq's Naft Al Wasat, who finished fourth in Yogyakarta, Al Rayyan of Qatar and Uzbekistan's AGMK FC. To aid in their training camp, the team will take part in friendly matches against strong opponents in Al Dhafrah Club on July 30 and Thammasat Club on August 3.  The National champions have set a goal of advancing to the competition's final round.
In Group A, it will be interesting to see how South Korea's representative club Stars FC will perform in the AFC Futsal Club Championship. The club lost to Cumbrio Cumbre Futsal Club who traveled to South Korea from Western Australia for a tour. The team was made up of a mix of experience and youth players from Western Australia (WA) Junior State Futsal League and SFL who went to South Korea looking to gain experience at an international level.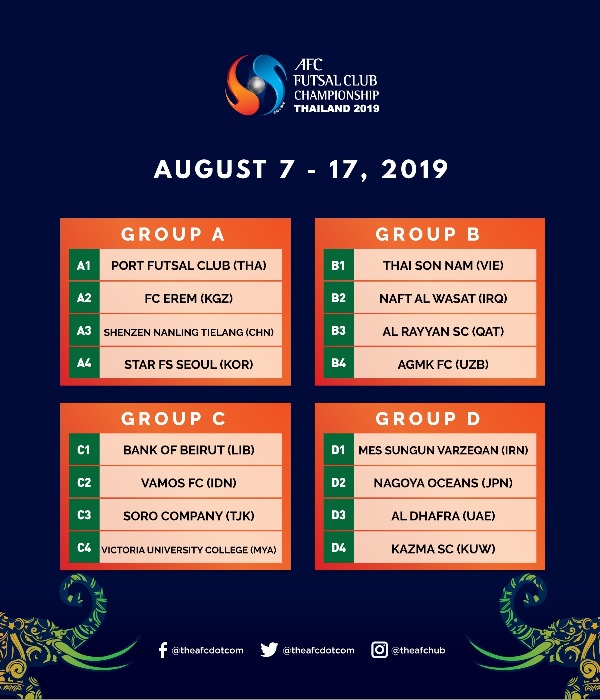 Group C will also be keenly contested as Lebanon's Bank of Beirut, who finished third last year, Indonesia's Vamos FC, debutants Soro Company of Tajikistan and Myanmar's Victoria University College FC (VUC) complete the line-up.
"The Lebanese club is a talented team in our group. We will try to play well against them but, we are hoping to win our matches against Vamos and Soro Co. Our players have a lot of experiences in the AFC Championship and know how to compete at AFC Level," said U Naing Thaung Htike, head of the VUC team. Victoria University College will play a friendly against Thai futsal club Kasem Bundit before AFC Futsal Club Championship on the 5th.
Vamos made their debut in 2017 and reached the quarter-finals of the Continental club competition for the first time last year before bowing out to Iraq's Nafit Al Wasat in a 7-4 thriller at GOR UNY in Yogyakarta. Having learned from their 2018 experience, confidence is running high in the team and 25-year-old Al Fajri, who made his national team debut in 2016, believes the Mataram-based club can improve on their quarter-final finish.
"Our target is to reach the final four in Thailand because last year we reached the quarter-finals. And for me there is no reason we can't make the semi-finals as we almost defeated our opponents (Nafit Al Wasat) from Iraq," said Al Fajri.
"The challenge isn't about not qualifying for the knockout rounds, but how to finish top of the group and move on from there."
Group D promises to be a sizzler with titleholders Mes Sungun Varzaghan, who became the fourth Iranian club to win the tournament in 2018, were pitted against three-time champions Nagoya Oceans of Japan, United Arab Emirates' Al-Dhafra Sports & Cultural Club and first-timers Kazma SC of Kuwait.
The tournament – to be held on August 7-17 – with 32 matches to be played, will be held in Bangkok. If you are interested in watching the draw as it happened you can watch via the video below:
Images from the AFC website.
If you like the information provided, you can read more articles about global futsal by going to the top bar navigation or click here
If you like this article and would like to keep updated on Futsal news, developments, etc then please submit your email below in the Newsletter section or by clicking on the Subscribe to Futsal Focus option on the header.
Follow Futsal Focus by clicking on Facebook, Twitter or Instagram or on the social media buttons on the right sidebar.