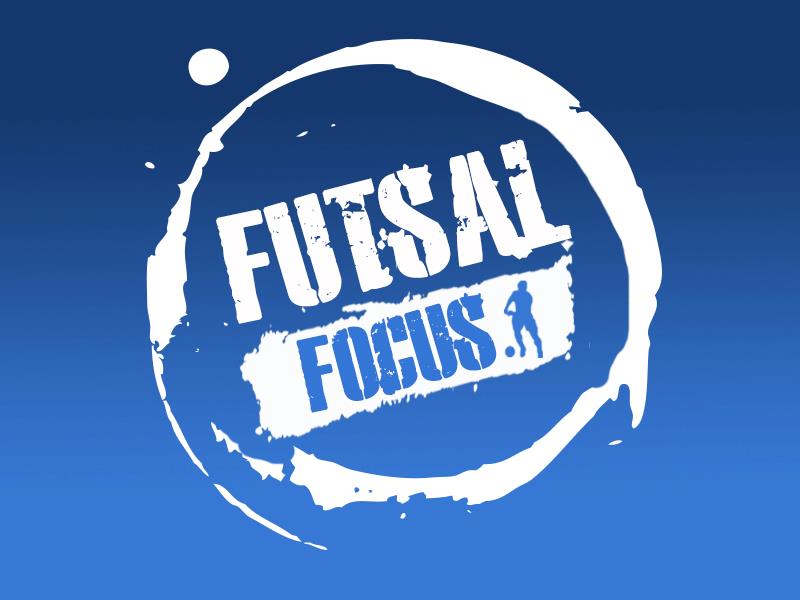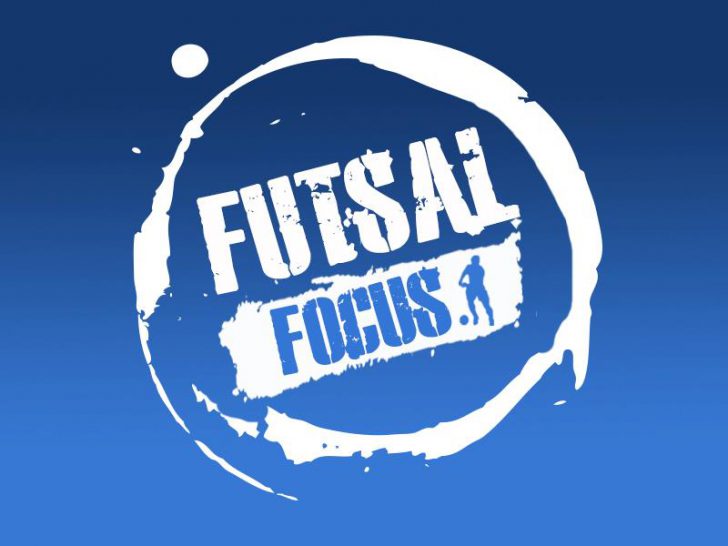 Estimated reading time:5 minutes, 10 seconds
Futsal Focus' following grew by over 25,000 followers organically across the 10 days!!
For 10 days, Futsal Focus celebrated its 10-year anniversary by posting the thoughts of people from across the industry about our platform. We, unfortunately, were not able to post all of the quotes, but we thank everyone who agreed to take part.
During this period, we were curious to know how many people would engage with all the content we shared as we continued with business as usual, posting articles about global futsal alongside the quotes.
After 10 days, we were delighted to see that the Futsal Focus following had grown to over 190,000 global social media followers across our social media channels due to over 25,000 new followers, liking and following our pages on Facebook, Instagram, Twitter, LinkedIn, and YouTube. The website reached its highest-ever position on Google under the key search word, Futsal, featuring for 7 days on page 1 and in the fourth position.
All of the above was achieved without any assistance, no pay-per-boost, no paid-for advertising, just futsal enthusiasts eager to learn more about our brand, and platform, and about Futsal.
Futsal Focus, thanks all of our followers for showing us amazing support these past 10 years, and we welcome our new followers with open arms and appreciation as well. We hope you find the information on our website useful and insightful as many others have. Here is a quote from two leaders at the grassroots level, Tony Toral, founder and Head Coach at New York Ecuador, USA, and Martin Cassidy, founder and President of Omagh Futsal Club, Northern Ireland:
Tony Toral is a respected futsal coach, bringing his club to compete in competitions across the United States and abroad. The club's most recent trip was to Brazil, his women's team took part in the Copa Mundo do Futsal representing America. The Championship was organized by Mundo do Futsal with the support of the Campo Grande City Hall and the government of Mato Grosso do Sul. The tournament also featured teams from Brazil, Argentina, Colombia, and Russia: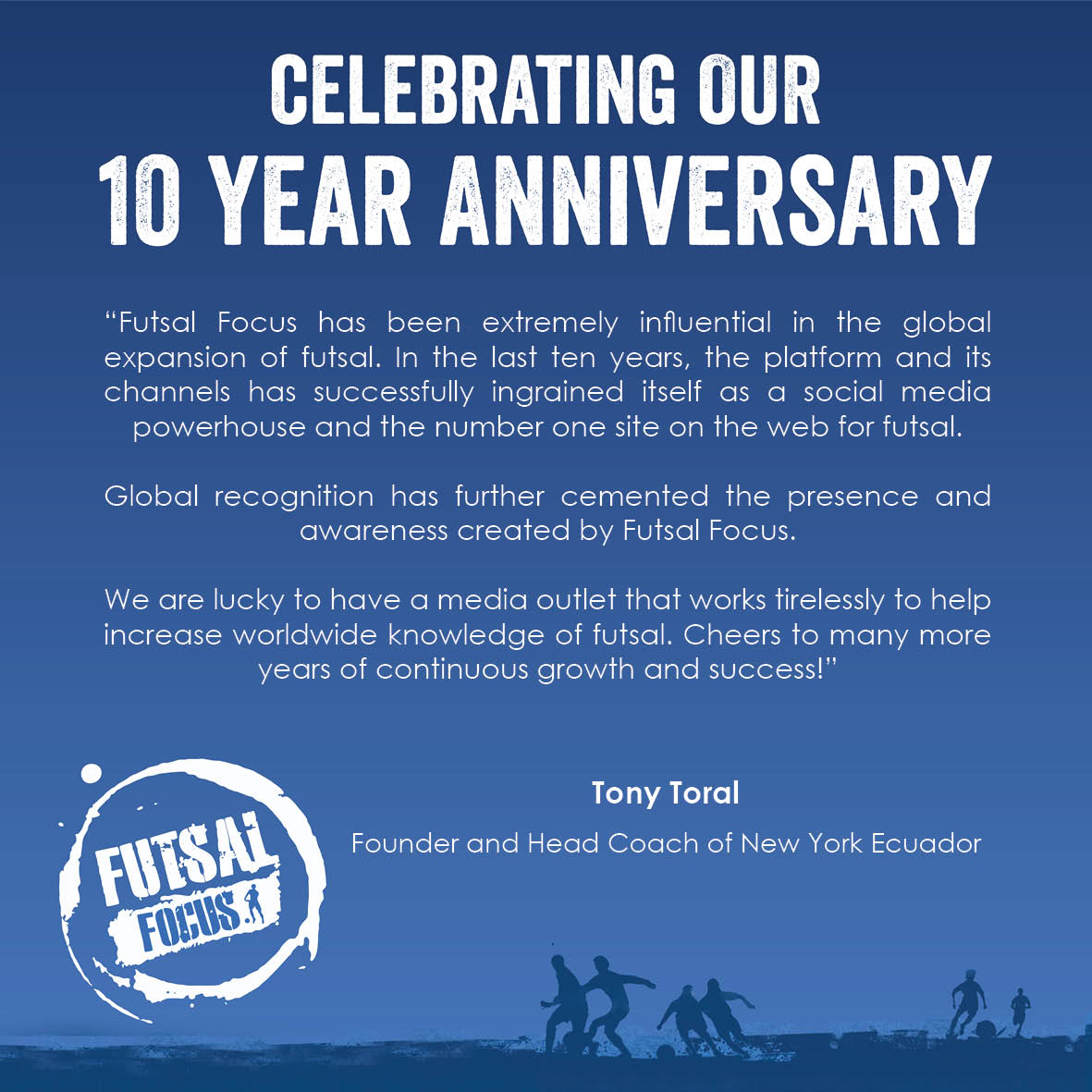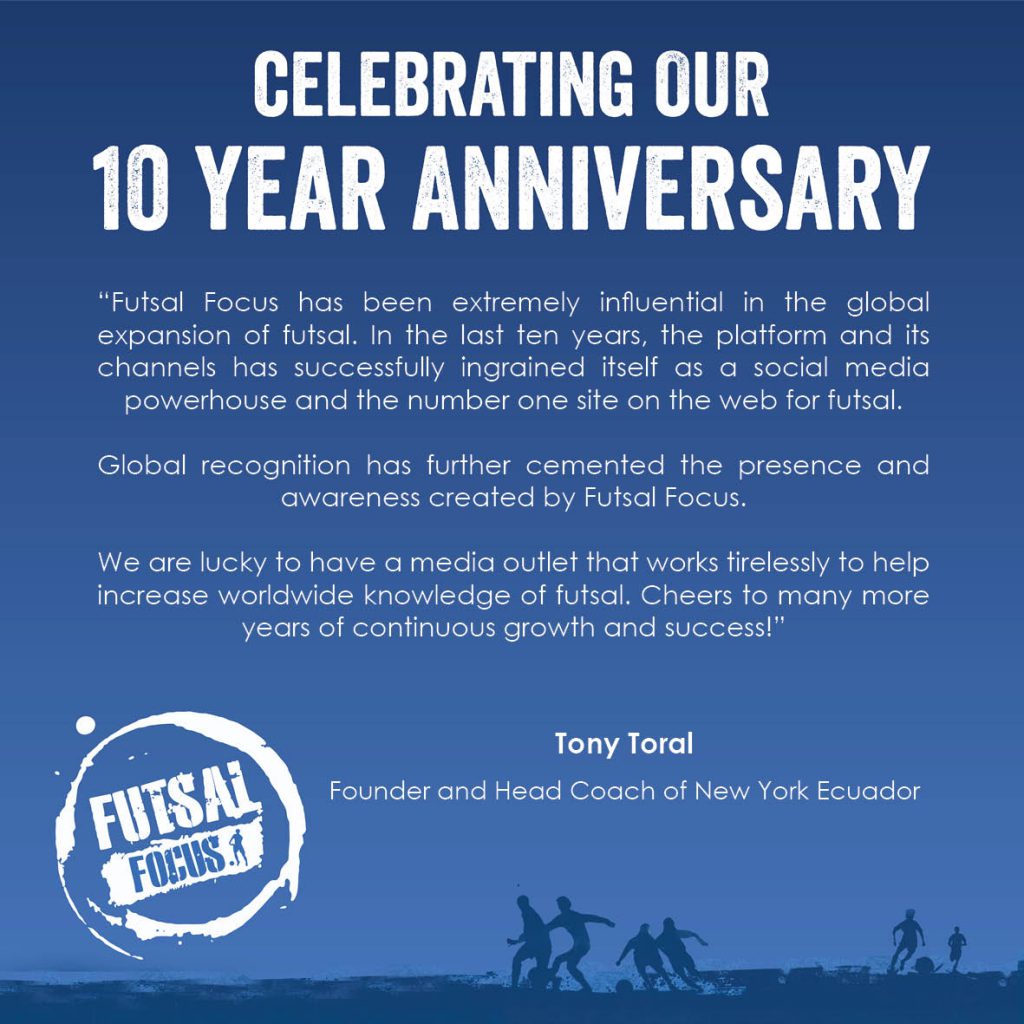 Martin Cassidy has worked hard to increase awareness of futsal, and his actions have attracted the attention of the futsal and football industry. His club was voted the best grassroots futsal club by the Irish Football Association. He is also a nominee for the Volunteer of the Year by the Sports Council for Northern Ireland. Martin has secured a lot of funding even during the height of COVID in order to provide opportunities for adults, teenagers, kids, and players with disabilities to experience and enjoy futsal in Omagh. Due to this success, he has been invited by the Irish Football Association to discuss sponsorship and raising money in an online seminar for grassroots football and futsal: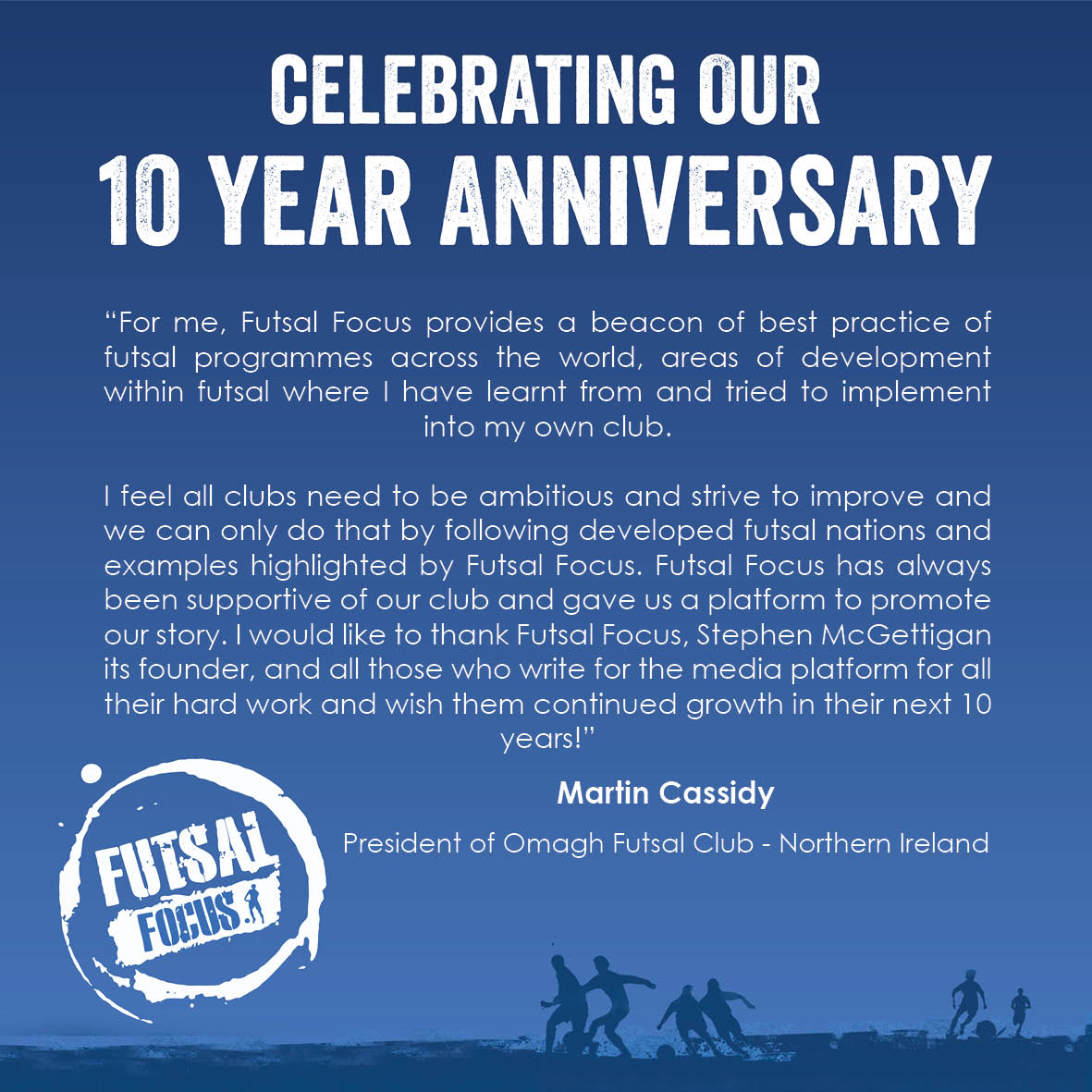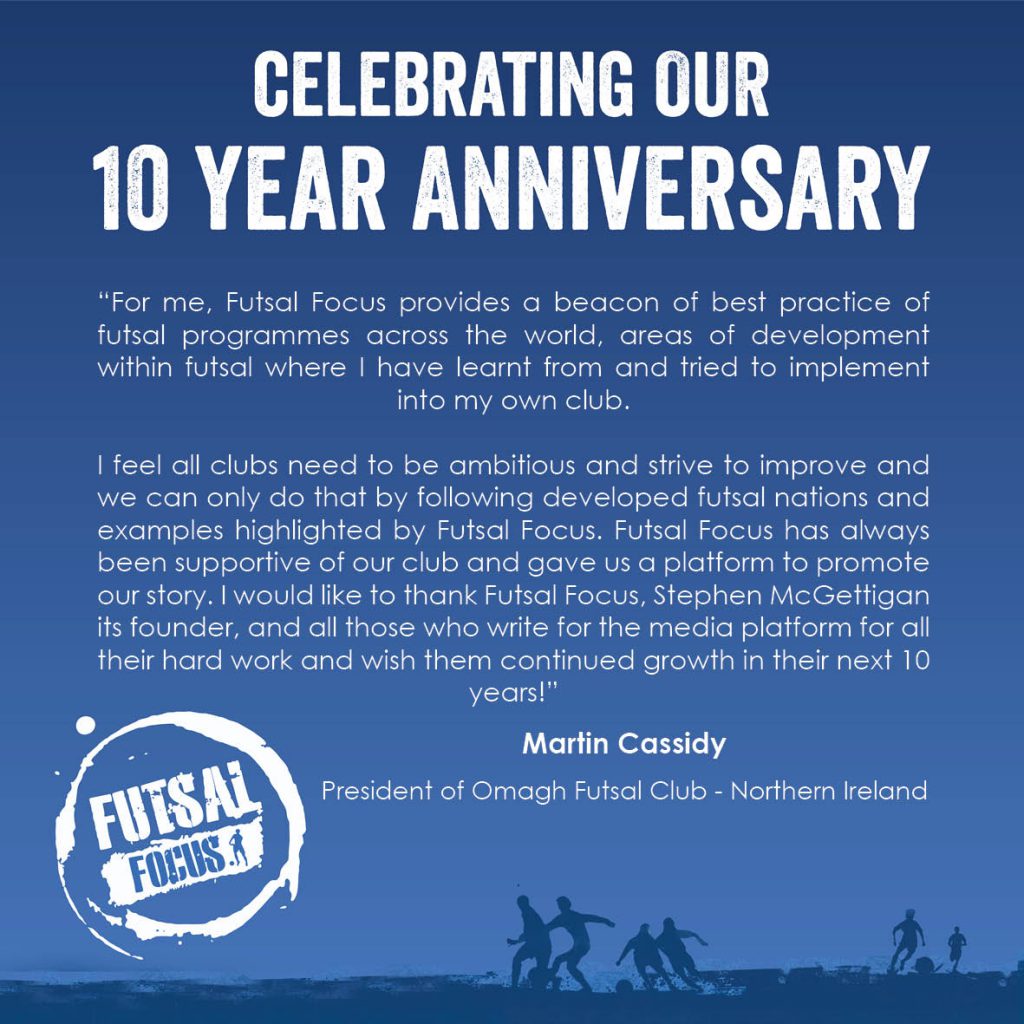 Both quotes show exactly what we have been trying to do for futsal development, to help the sport grow around the world, and to be a beacon of best practices for different the sport and business areas of futsal's development. Vicente Claudio de Luise, a FIFA, and Conmebol Futsal Instructor also highlighted these areas and how Futsal Focus has strived to support and provide information that is insightful and attracts people into our sport: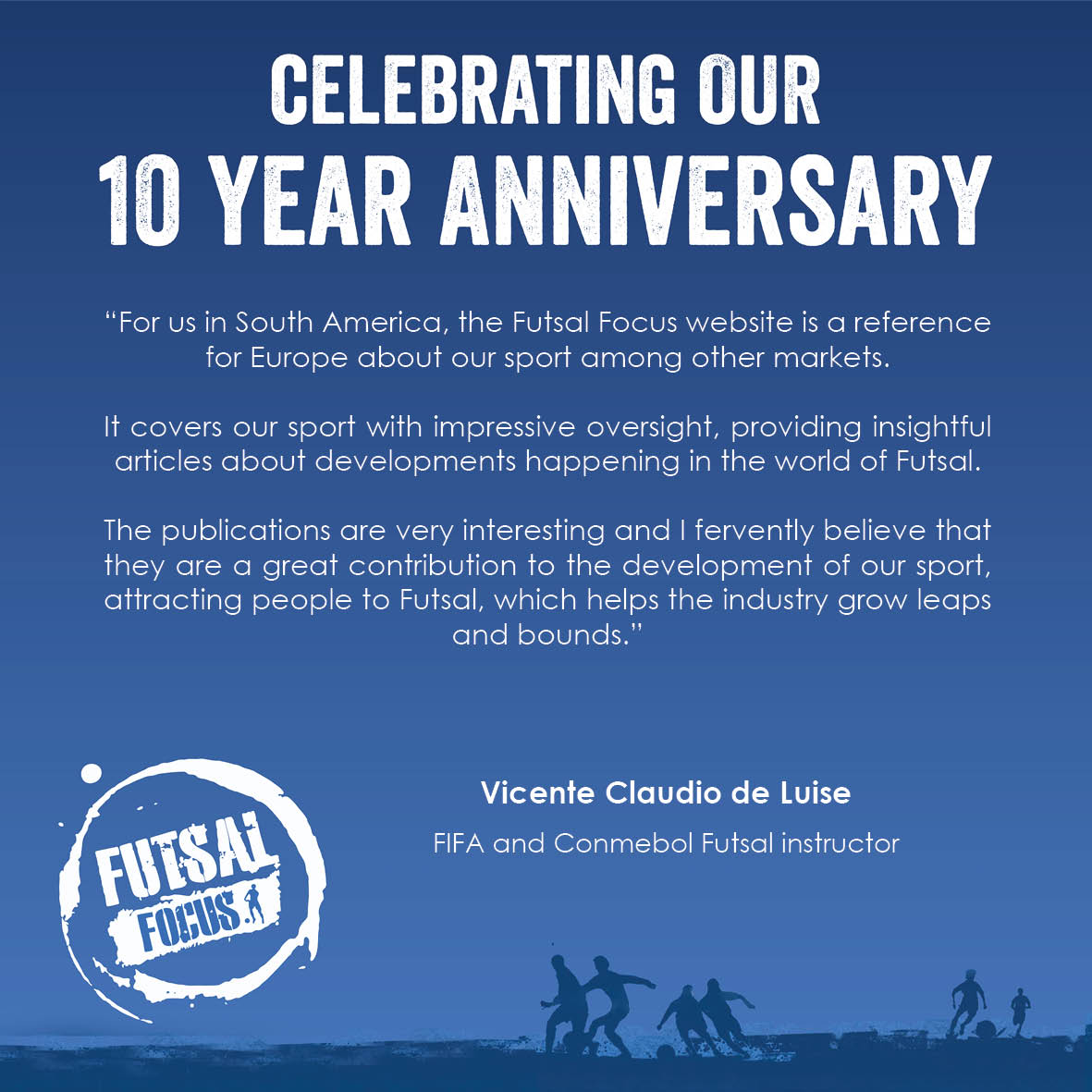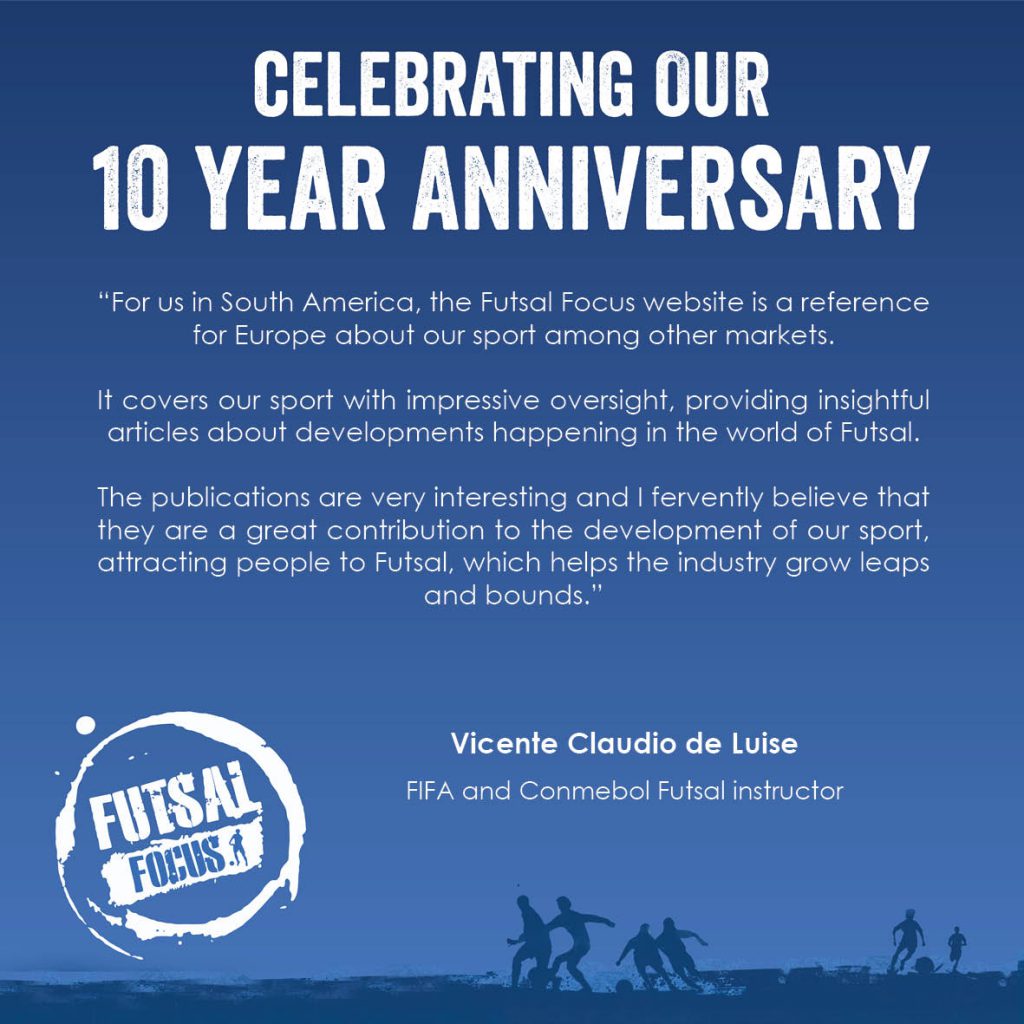 Vicente Claudio De Luise has been involved in futsal for more than 50 years. He started as a goalkeeper and later made the leap to be a coach, and currently combines his role on the bench with working for FIFA and CONMEBOL.  De Luise has taken his knowledge of futsal to half the world. From South America to Central America, also through Asia and Europe. He managed the Argentinian National Team in the first two World Cups (The Netherlands 1989 and Hong Kong 1992), he was also in Thailand helping his national team take the final leap toward the elite of Asian futsal, and he led the Chilean national team in the Copa América in Paraguay.
The English-speaking world's awareness of futsal and the benefits of the sport is growing. It is our goal to continue improving the content we create to further educate and increase awareness alongside events that engage, and entertain as Futsal Coach Damon Shaw (based in Sweden with Skoftebyn Futsal Club) described in his quote: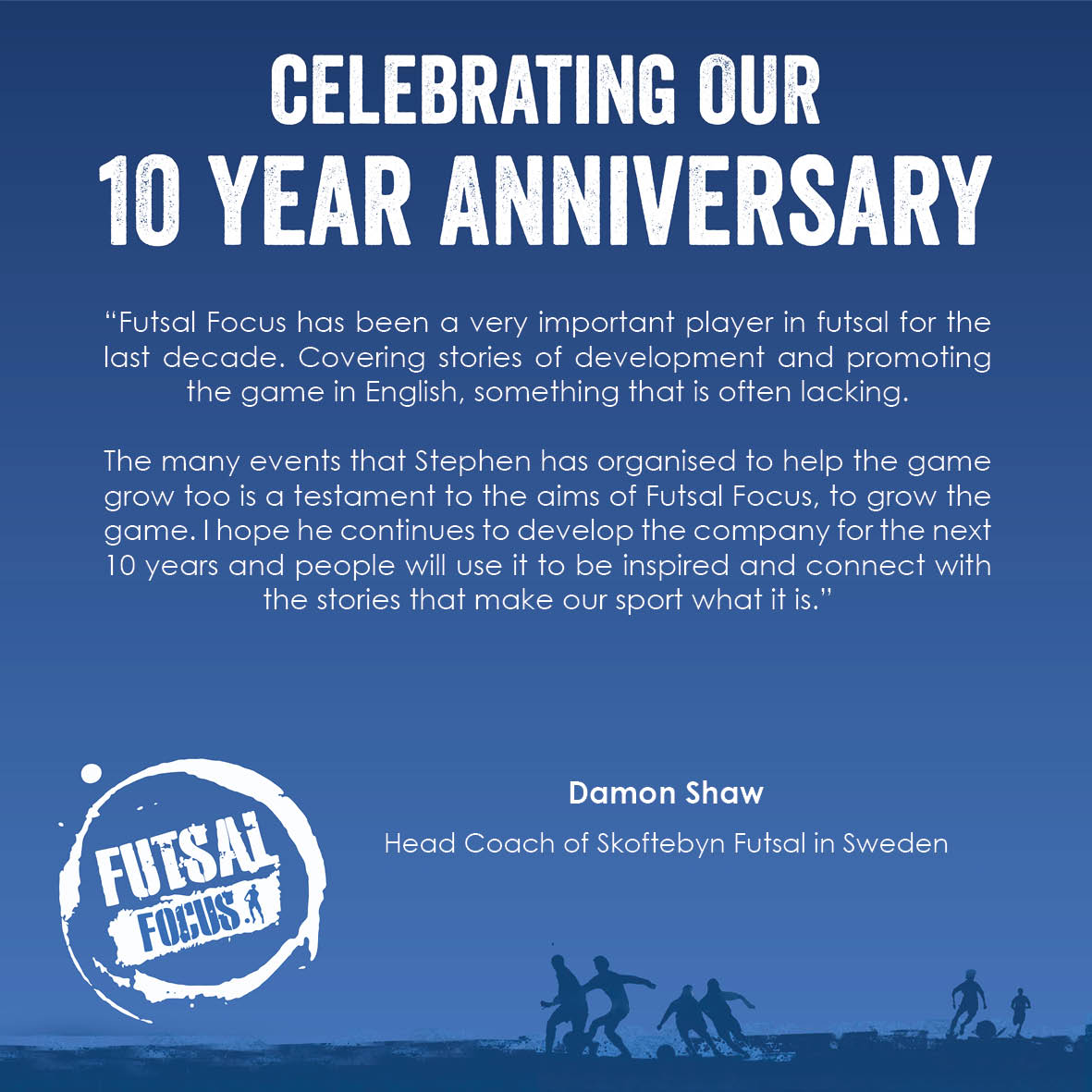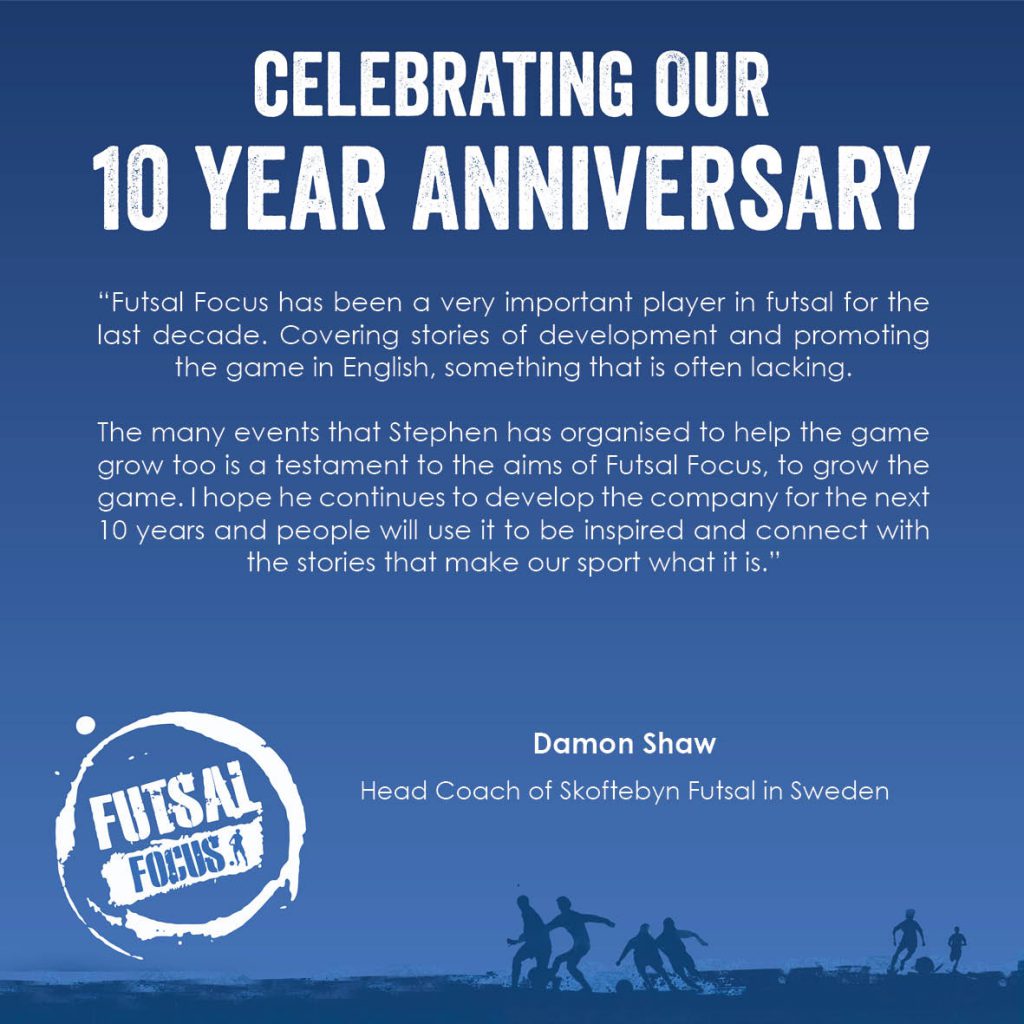 A key part of our success has always been celebrating the success of others through the years and not just our own as influential Australian futsal provider  and pioneer Peter Pathimos highlights: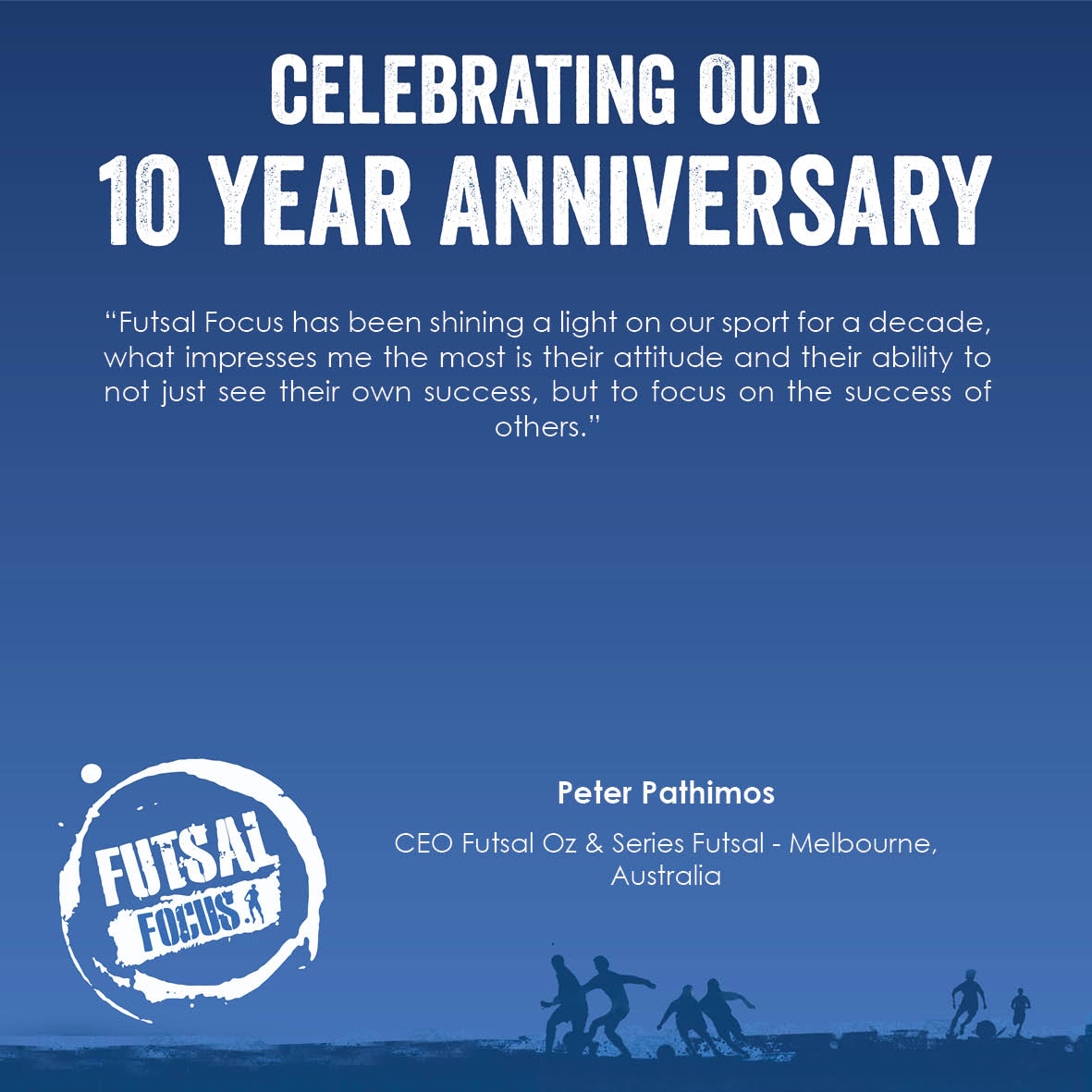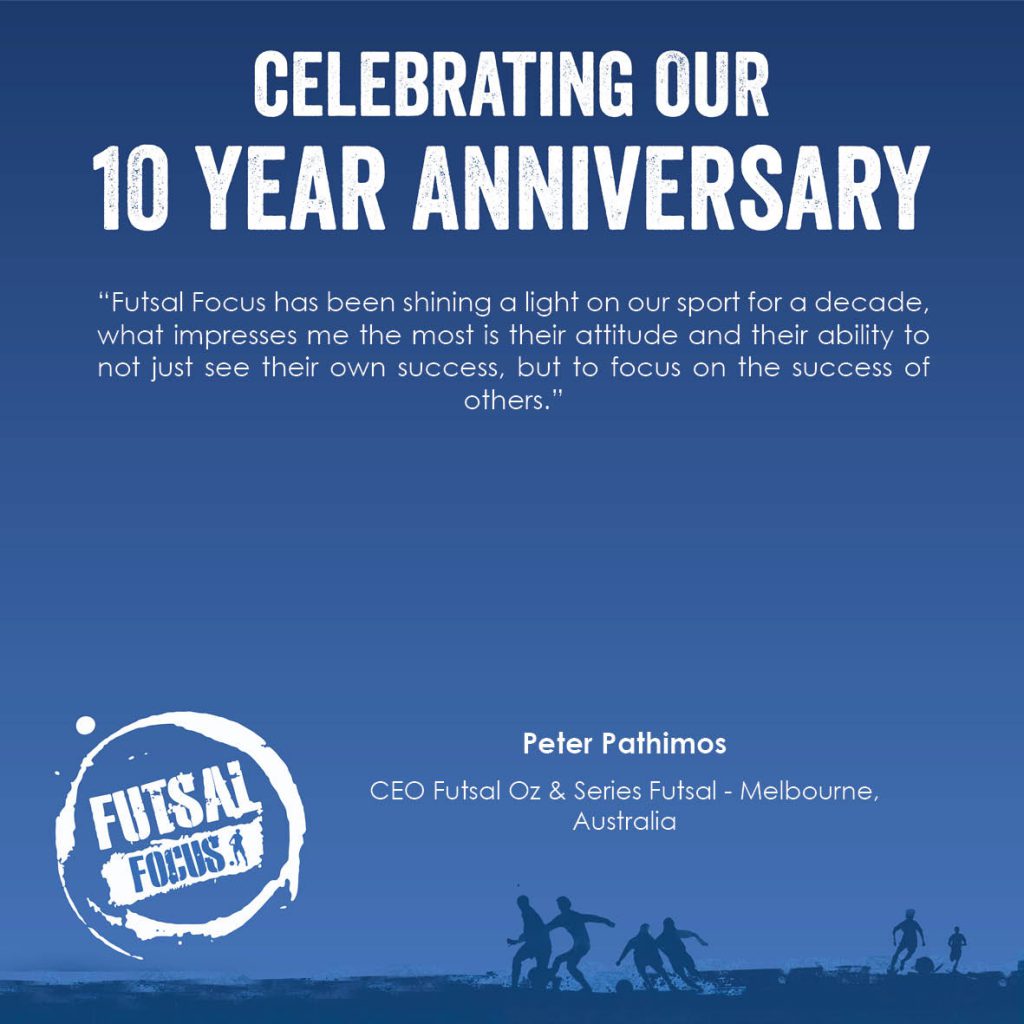 Along the way, we have also helped players in their careers to get their stories out to the world: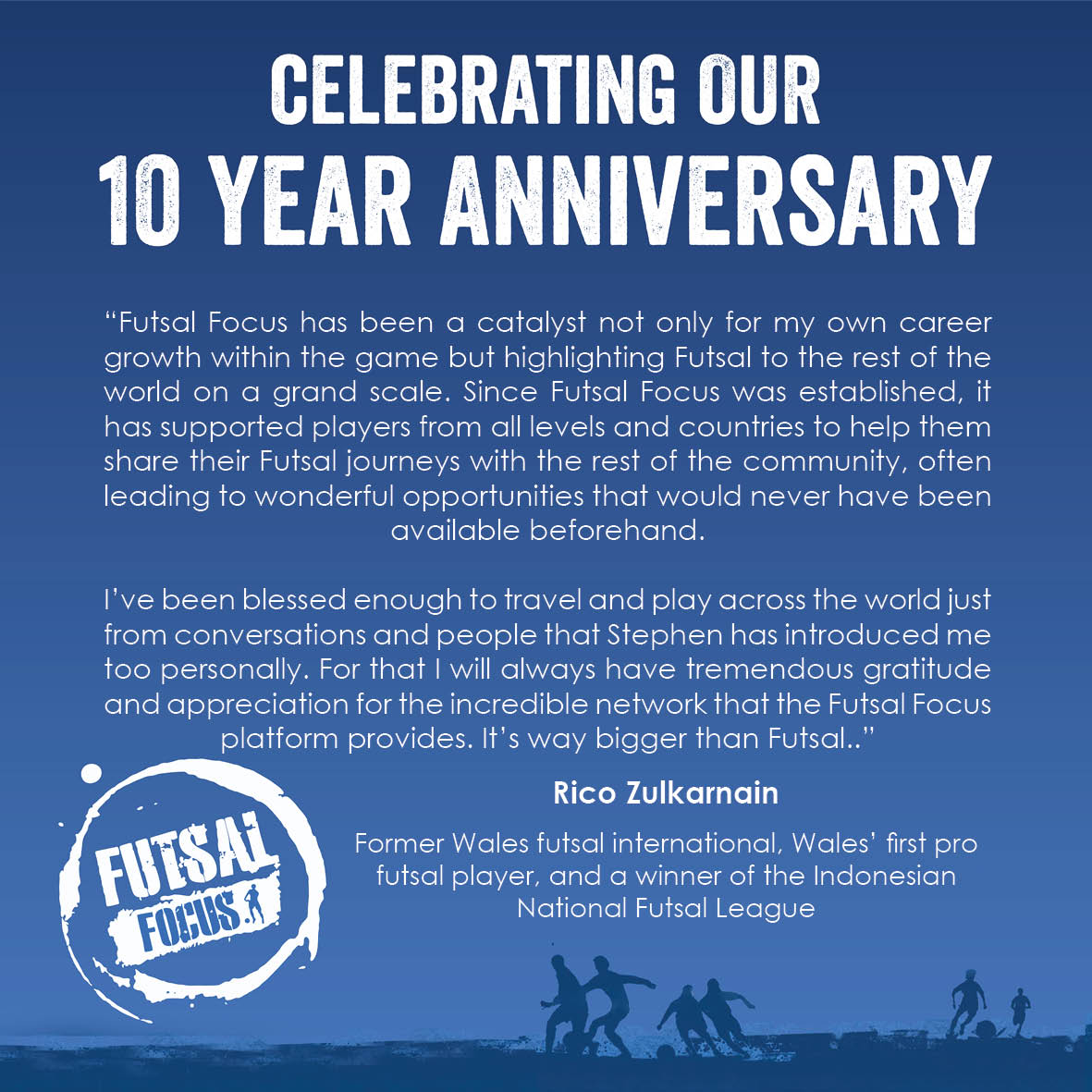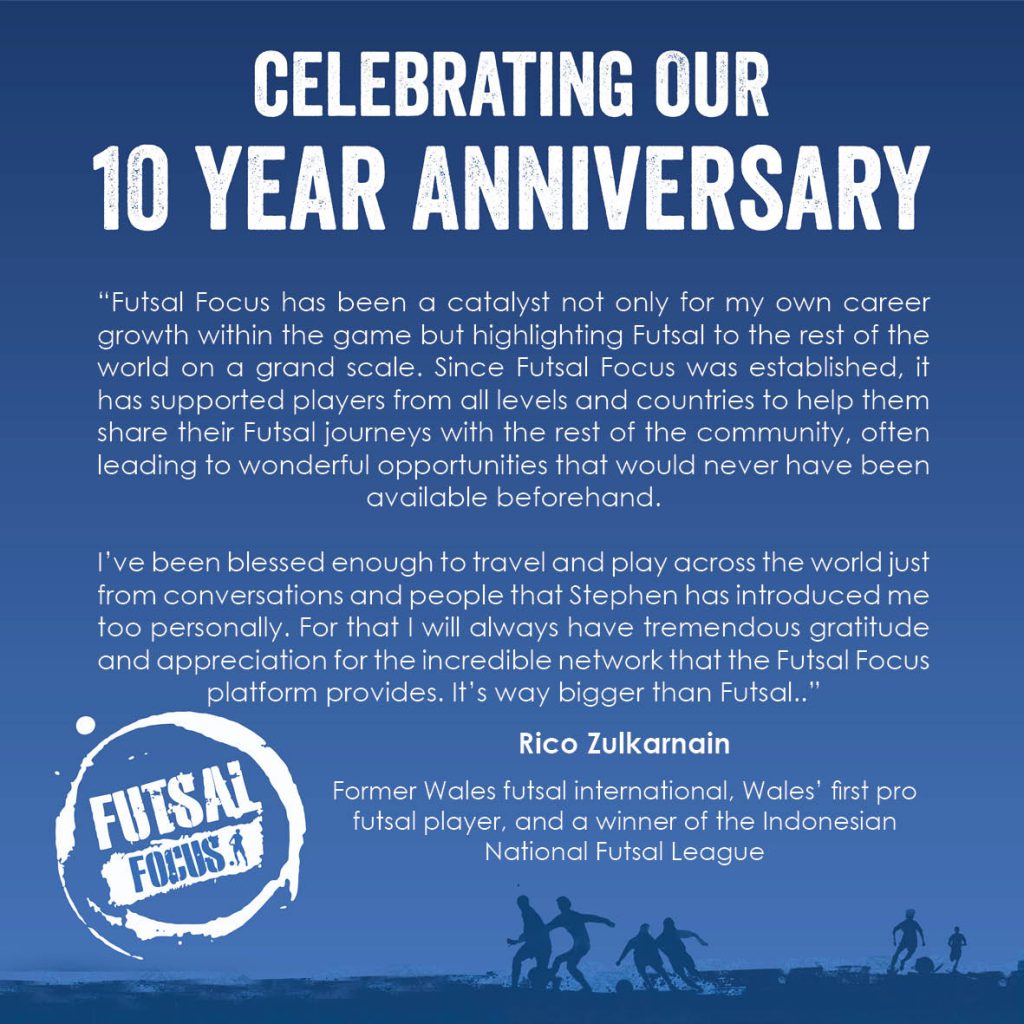 Rico Zulkarnain is a former Wales Futsal International, pro-futsal player and the first foreign player to win the Indonesian professional Futsal League.
Futsal Focus was established to increase awareness and show the novice world the sport, its beauty, its history, its benefits, the opportunities, and its potential which former CEO of Copa90, James Kirkham explains: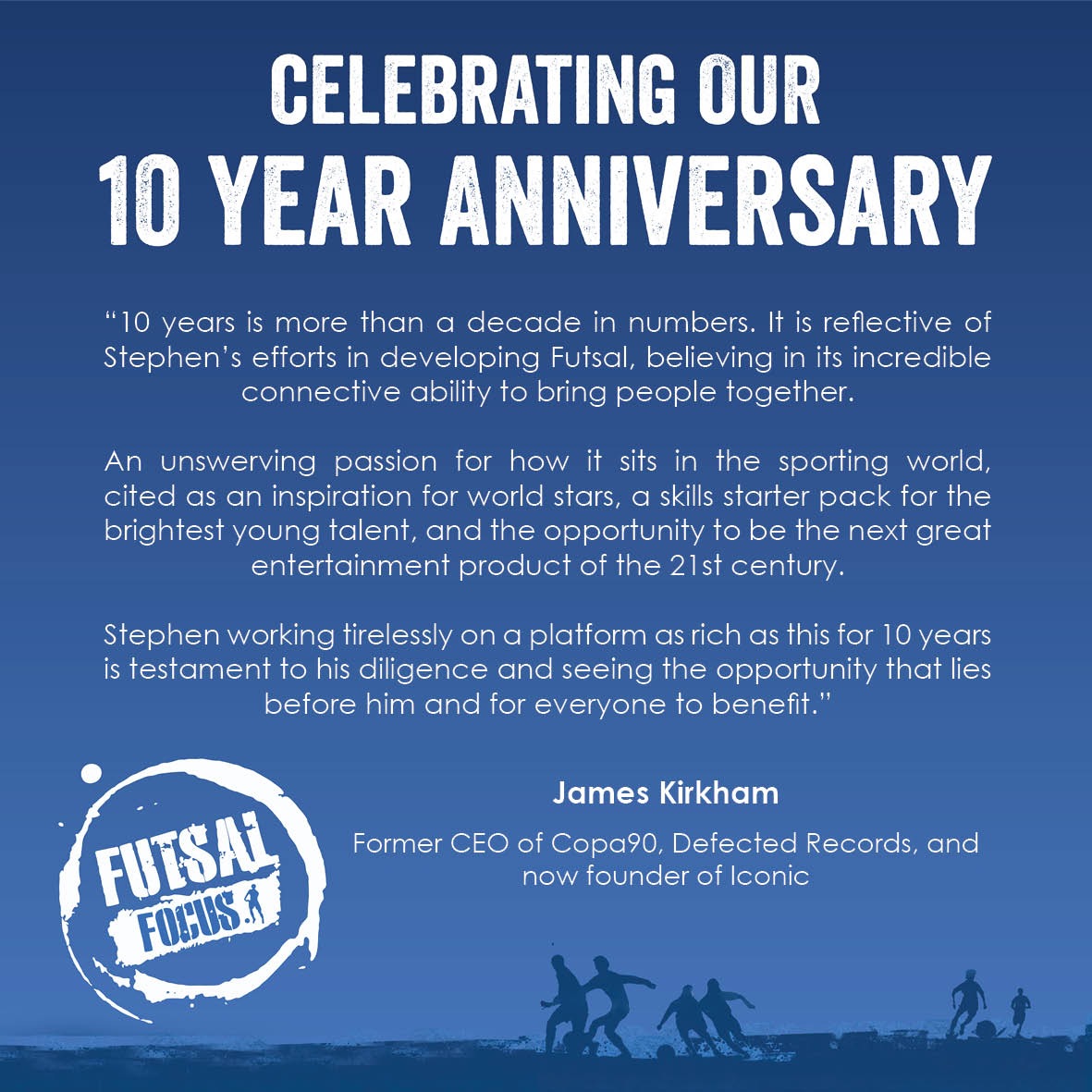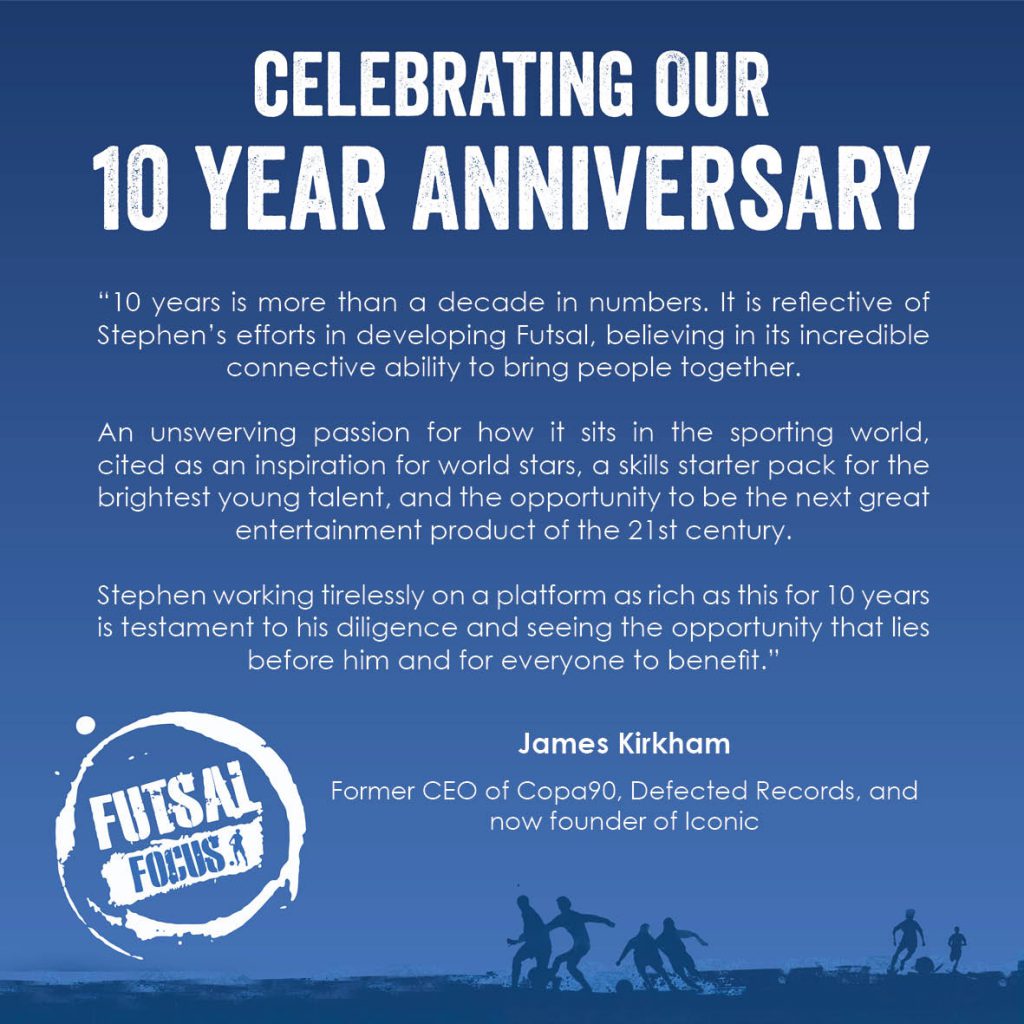 Going forward, we will look to develop further and improve, provide a platform that is more diverse in content, interactive, and with different channels of engagement, and most of all continuously strive to improve the professionalism and presentation of our work.  By the turn of the new year, should Futsal Focus continue with the same growth rate, we will reach over 200,000 global social media followers. We are very excited about 2023, and onwards. We will continue to work on our plans and we look forward to making some announcements in due course.
If you are interested to learn more about Futsal Focus' activities over the past 10 years, you can read the related article:
Related article: Futsal Focus celebrates 10 year anniversary 
Futsal Focus
You can read more articles about global futsal by going to the top navigation bar or by clicking here
If you like this article and would like to keep updated on Futsal news, developments, etc then you can now follow Futsal Focus via Google News by following our page which will send you an alert as soon as we publish an article so please click here and follow us on Google.
You can also keep updated on Futsal news, developments, etc then please submit your email below in the Subscribe to Futsal Focus option.
Follow Futsal Focus by clicking on Facebook, Twitter, or Instagram or on the social media buttons on the website.