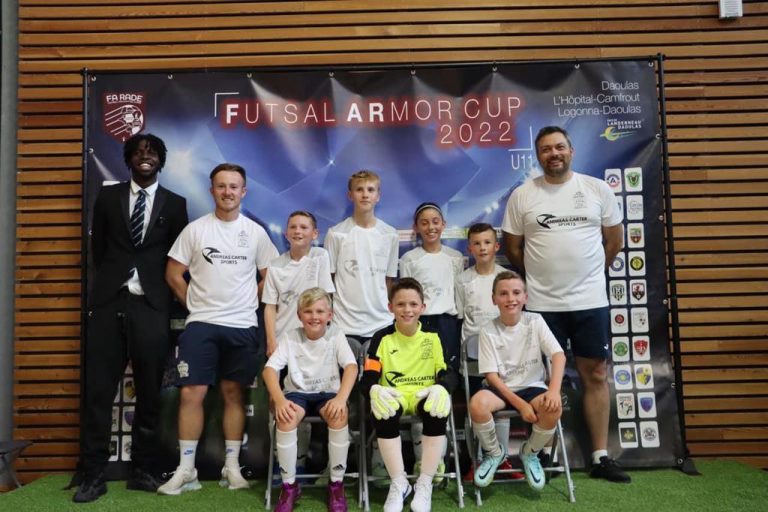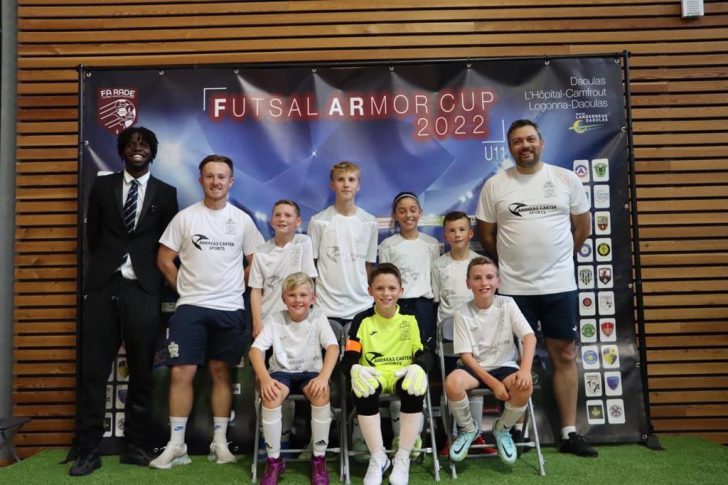 Estimated reading time:4 minutes, 8 seconds
BRAINTREE Futsal's under-11 team became internet stars after competing in the Armor Cup
The team travelled to France to compete in the Futsal Armor Cup 4 edition, and as a special surprise, their coach Jack Harrod arranged for football YouTube influencer Eman (who has over 2 million YouTube followers on his channel, SV2),  to take over the management of the team, which was also filmed for his channel. The video was released over the weekend… and has already had more than 700,000 views, but depending on when you read this article, the viewers could be even more!
Braintree futsal entered the competition with 19 other teams, broken up into 4 groups of 5 clubs, and the top 3 teams from each group progressed to day two. The team finished second in their group and moved into day two which was broken down into 3 new groups. Unfortunately, only the group winner could progress to the final stages, and Braintree lost out on a place. However, they did draw with Sénart-Moissy, the eventual winners of the competition, and were the only team to take points from the winners, who went unbeaten in the competition. Not the final result they were looking for as former winners of the competition in 2019 but still a performance they can be proud of as Braintree is an amateur club, competing with professional academies such as Sénart-Moissy. You can watch the video below:
You may be wondering how Braintree Futsal gets involved in international tournaments, in 2018, the club flew to Barcelona when they paid to compete in United Futsal's World Futsal Cup in Barcelona, where they reached the final of the Silver Cup, but lost to a professional football team from Brazil, Rio de Janeiro. Due to their performance, they caught the attention of the organisers of the Futsal Armor Cup who invited them to take part in the second edition of their competition in 2019. Entering the competition, they qualified for the final stages, defeating professional club academy' teams all the way to the final, and lifted the trophy. In the Quarters, they defeated FC Nantes 2-3 on penalties after a draw in normal time. The semi-final was against FC Lorient which finished 2-0, and in the final, they secured their victory with a 1-0 win over Orleans Lorient Football Club.
In relation to Sv2 Eman, his relationship with Braintree started a few years ago, when he contacted the club asking for a friendly match with his football team. He had some knowledge of futsal due to his friendship with LDN Movements YouTube influencer Jamie Shawyer who is a futsal player, but he hadn't engaged much with the sport. After competing with Braintree Futsal, though losing the match, the technic and confidence he saw in the kids ignited his interest in the sport and his relationship with the club built from there. An opportunity presented itself in 2020 to compete in United Futsal's Top 12s tournament in Barcelona, eager to be involved, Eman joined the team as their manager, and the whole experience was filmed for his YouTube channel. The video is now his second highest-watched video ever on his channel with over 12 million people viewing his journey with the team. An incredible number, and an experience that has increased his love even more for the sport.
If you are curious to know who Eman is and why he got involved in YouTube promotional marketing, Eman was born and raised in England. He started YouTube as a GTA YouTuber but later switched over to the Fifa community and has been featured in an Adidas advert alongside FIFAManny. His confident personality makes him enjoyable to watch. He is known to be a talented football/soccer player, as shown in most of his videos, and has been scouted for 5 professional teams in the past including Swansea, Ipswich, and QPR.  In high school, he posted his first video on YouTube and it got nearly 2 million viewers, with this experience, among others, he developed his channel which is now extremely popular, and as you read, it now has over 2 million followers, a fantastic achievement.
Futsal Focus
You can read more articles about grassroots futsal by going to the top navigation bar or by clicking here
If you like this article and would like to keep updated on Futsal news, developments, etc then you can now follow Futsal Focus via Google News by following our page which will send you an alert as soon as we publish an article so please click here and follow us on Google.
You can also keep updated on Futsal news, developments, etc then please submit your email below in the Subscribe to Futsal Focus option.
Follow Futsal Focus by clicking on Facebook, Twitter, or Instagram or on the social media buttons on the website.