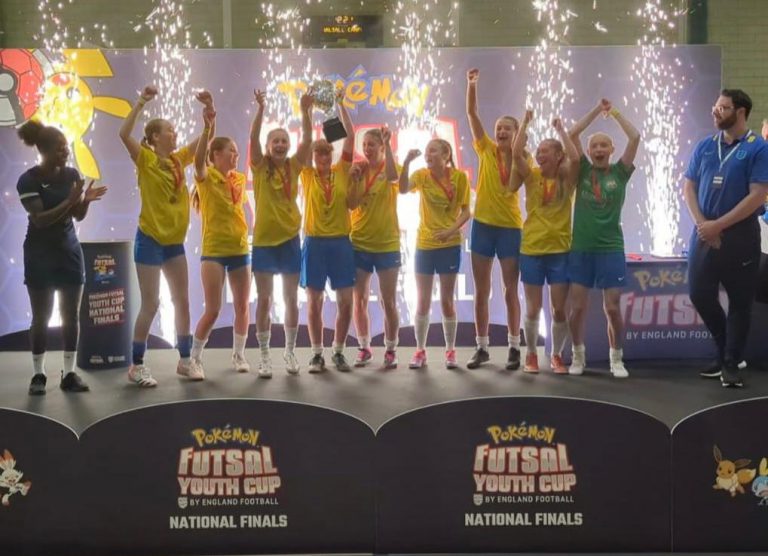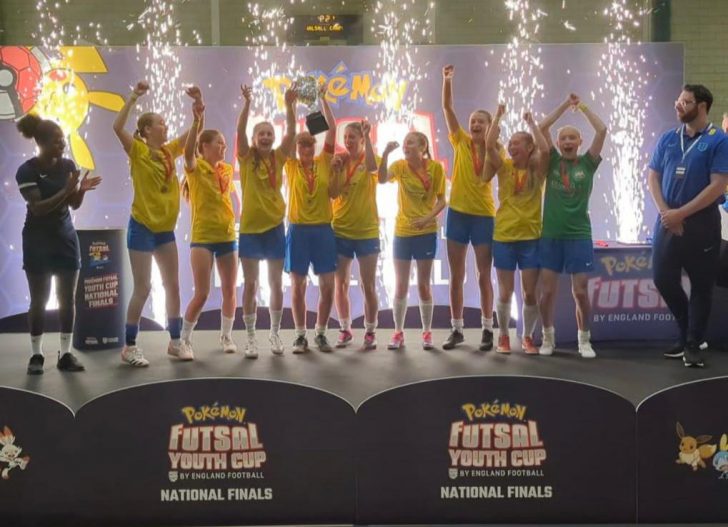 Estimated reading time:4 minutes, 16 seconds
The winners of the Pokémon Futsal Youth Cup have been announced!!
The winners of the Pokémon Futsal Youth Cup were announced by England Football. Following a season that saw over a thousand teams from 32 counties participate in the competition.
Following four fiercely contested Regional Finals across weekends in May and June. In addition to County Final competitions earlier this year, the 2023 edition of the competition came to a close on the 8th and 9th of July. 32 teams representing their counties from across England competed for futsal glory at this year's finals at the University of Wolverhampton.
The following teams were crowned champions of their respective age groups following a weekend filled with competition and displays of scintillating skill:
Girls U10: Atalanta Sports (Hampshire FA)
Boys U10: Norwich City (Norfolk FA)
Girls U12: Fareham Town Youth (Hampshire FA)
Boys U12: Chelsea Academy (Surrey FA)
Girls U14: Haringey Girls (Middlesex FA)
Boys U14: Chelsea Academy (Surrey FA)
Girls U16: Sala Soccer School (Cheshire FA)
Boys U16: Durham County (Durham FA)
The Pokémon Futsal Youth Cup, in partnership with England Football, gives young players across the country the chance to get involved in this energy-packed game, compete against other teams and go all the way to the national finals.
Peter Murphy, Senior Director of Marketing at the Pokémon Company International, commented: "The Pokémon Futsal Youth Cup Finals concludes what has been a highly exciting and successful 2023 competition. This season has once again been thrilling from start to finish, with England's top age-group futsal players battling it out for silverware in the final weekend of the tournament."
"Congratulations to this year's winners and thank you to all teams who participated this season."
Louise Gear, Head of Development at The FA added: "As expected, this year's Pokémon Futsal Youth Cup finals did not disappoint, with all teams displaying fantastic skill and passion across the past weekend in Wolverhampton."
"Thank you to all the players and coaches who took part in this year's competition and congratulations to the winners of the respective age groups."
Pokémon is the title partner of England Football's Youth Futsal Programme which aims to work with boys and girls aged eight–sixteen.
Alongside the Pokémon Futsal initiative in schools, youth football clubs across the country took part in this season's Pokémon Futsal Youth Cup by England Football, with the competition beginning in November 2022 and culminating at the national finals in July 2023.
One of the clubs that took part is Sala Futsal Club under 16s girls who train at Wright Robinson College Gorton and were crowned Champions in the FA Youth futsal cup national finals. The team of girls claimed the title after winning local and regional finals to reach the national finals
On the finals day, the top 4 teams from England's 4 regions battled it out to become national champions.
Sala Futsal Club were representing Manchester FA, first had to win their semi-final against Haringey girls from London. They won the semi-final 5-1 to tee up a grand final against Merseyside school girls.
After an end-to-end game, the scores were equal at 2-2 With 3 penalties each, Sala Futsal managed to win 3-2 to take the crown as national champions
Sala's 16s boys who were national champions in 2022 also made it to the final where they played Durham Schools At full time the score was 3-3. Durham went on to win on penalties but the Sala 16s are the first team to compete in two successive finals.
Sala Head Coach Neil Lucas commented on the u16s girls' win:
" It's an amazing achievement for these girls who are mostly under 15s to win. I've been coaching some of these girls for the past 3 or 4 years and to see them improve over the years is amazing "
Sala Futsal Club had one other success story in the same competition this weekend at different age groups with the under 12s girls claiming third place which is an amazing achievement.
(Main picture source: Sala Futsal Club)
Organ Donation
Futsal Focus is a supporter of Dáithí Mac Gabhann and his family's campaign to raise awareness of Organ Donation. We encourage our readers to learn more about Organ Donation: https://www.organdonation.nhs.uk/
Futsal Focus
You can read more articles about grassroots futsal by going to the top navigation bar or by clicking here
If you like this article and would like to keep updated on Futsal news, developments, etc then you can now follow Futsal Focus via Google News by following our page which will send you an alert as soon as we publish an article so please click here and follow us on Google.
You can also keep updated on Futsal news, developments, etc then please submit your email below in the Subscribe to Futsal Focus option.
Follow Futsal Focus by clicking on Facebook, Twitter, or Instagram or on the social media buttons on the website.