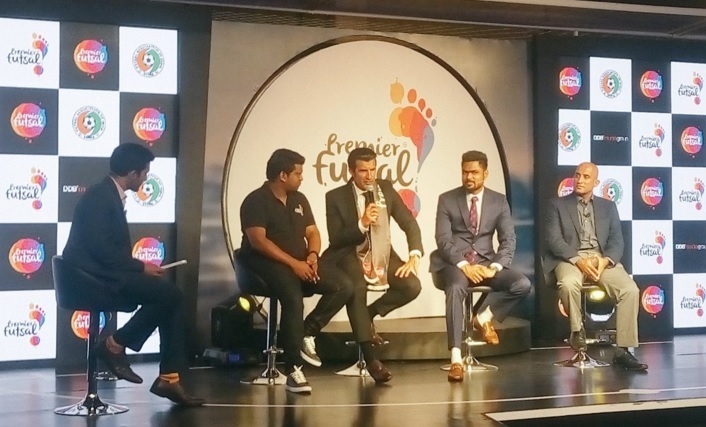 Estimated reading time:2 minutes, 45 seconds
Premier Futsal organisers on Monday said that it does not need the sanction or authorization of All India Football Federation (AIFF) to start a tournament and it will go ahead with the event on July 15 as scheduled.
The AIFF had said that the unsanctioned Premier Futsal will create unnecessary issues while also expressing serious doubts about the survival of the tournament. It has refused to recognised Premier Futsal, saying that it is the sole governing of the body of football and futsal in the country.
The Premier Futsal organisers responded by saying that it has nothing to do with the AIFF and conducting the tournament is legally permissible. "Premier Futsal is a semi-professional, private league and is in collaboration with Futsal Association of India (FAI), which falls under The Asociacion Mundial de Futsal (AMF). Premier Futsal is obtaining technical support from AMF which has been the world governing body for Futsal since 1971," Premier Futsal said in a release.
"Globally, AMF and FIFA co-exist. FAI, a recognized sports body, is the only entity that has been working towards the development of Futsal in India — and for 8 years," it said.
"We, the Premier Futsal organisers do not need sanction or authorization of AIFF and does not intend to poach players — there are anyway no registered futsallers there. Conducting a semiprofessional league is fully permissible legally in our democracy and has been validated by our legal experts." Premier Futsal said the tournament was on track and it will announce the details of team owners and fixtures tomorrow in Chennai ahead of the kick-off on July 15.
"We have just completed 'Launchpad' — our talent hunt programme to scout for young Indian futsal players who could play alongside top international futsallers and football legends in the inaugural edition starting July 15," it said.
It also sought to clear the air about former Portugal international Deco's pulling out of the tournament, saying it was not due to non-payment of his signing amount. "Just to set the record straight, Deco is unable to participate in the inaugural season of Premier Futsal due to an injury," it said.
Premier Futsal, a franchise-based international futsal (a form of football being played indoors on a smaller field with five players in a side for 40-minute duration) tournament and promoted by an entity formed by Indian entrepreneurs, has attracted some of the world's best players but has struggled to convince domestic players to jump on its bandwagon.
It has Portuguese football legend Luis Figo as president and Indian cricketer Virat Kohli as ambassador. The tournament will be governed by Futsal Association of India (FAI), a body affiliated to the world body Asociacion Mundial de Futsal (AMF). With FIFA, the world governing body for football, and AIFF refusing to recognise Premier Futsal, domestic players risk suspensions if they join the tournament.
If you like the information provided, you can read more articles about global futsal by going to the top bar navigation or click here
If you like this article and would like to keep updated on Futsal news, developments, etc then please submit your email below in the Newsletter section or by clicking on the Subscribe to Futsal Focus option on the header.
Follow Futsal Focus by clicking on Facebook, Twitter or Instagram or on the social media buttons on the right sidebar.