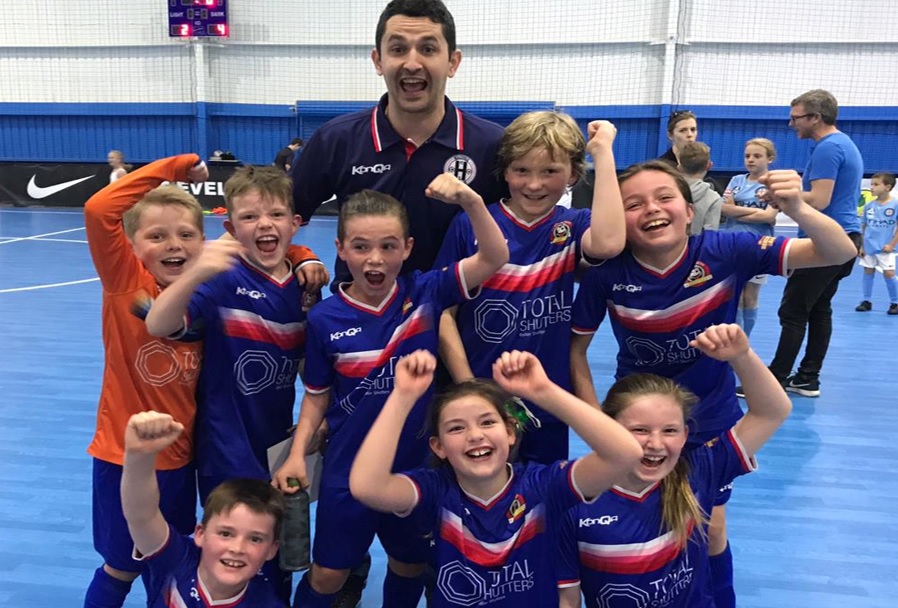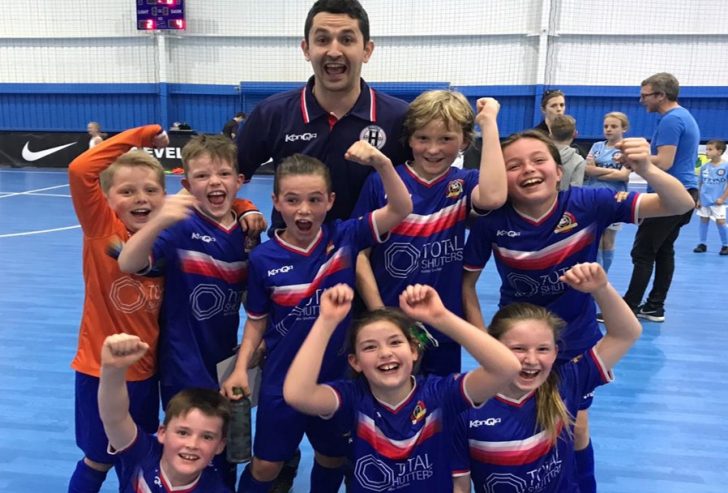 Estimated reading time:7 minutes, 30 seconds
Pro Futsal is recognized as a leader in Futsal development in Australia. The company began operating in 2014 when they opened up their first Futsal Centre, originally named as the WA State Futsal Centre.  They were the first Indoor Sports facility dedicated solely to Futsal in Western Australia, and quickly became known as the home of Futsal in Perth, providing not only leagues to play in but pathways and development for all players of any level. In 2018, they made the decision to officially re-brand and became Pro Futsal with the goal to develop beyond just Western Australia.
Since 2006, one of its founders, and CEO El Abrahams, prior to opening the centre and all his spare time, he ran Social leagues and also started the WA State Futsal League. The growth of the sport with the support of so many has been the real inspiration and is what drives their team at Pro Futsal to keep going and to constantly provide opportunities for as many people as possible.
"The key for the sport to grow and gain credibility is for the players and the clubs to take themselves more seriously and focus on growing themselves and the role of Pro Futsal is to facilitate them in doing so.The clubs need to be sustainable and be able to provide pathways for their players with opportunities for all their members. The exciting news is that all the years we have put into growing and developing the sport we want to be able to share that with the clubs and work with them to have their own facility to grow the sport their way whilst sharing the vision of also competing at the highest level", said EL Abrahams.
Pro Futsal have signed Licensed agreements with 2 Futsal Clubs who have partnered up to have their own home to grow the sport of Futsal. The Fremantle Wolves were the first club to partner up in the current facility in Bibra Lake and the next was Rockingham Cambio Cumbre who signed on for a purpose-built venue in their community of Rockingham. Each venue will be a Pro Futsal venue but will become home to these clubs for trainings and league games for all the age groups they have of the teams competing in the WA State Futsal Leagues. Partners take on the equity percentage they are comfortable with and they take on more equity and responsibility as they progress their own development. Now in Melbourne, Australia, Pro Futsal has a new partner which will see a Pro Futsal centre open at Mt. Evelyn, Victoria and as you can see from the image below, this is the start of their expansion plan. The person leading this new development in partnership with Pro Futsal is called Steven Campbell. We reached out to Steven to learn more about this new chapter in his futsal journey.

Steven, thank you for agreeing to this interview, and congratulations on becoming a part of Pro Futsal.
To start the interview, can you tell Futsal Focus followers about yourself and how you became involved in Futsal?
SC: To be honest, I never heard of the game before coming to Australia. I grew up playing outdoor soccer and other sports in Northern Ireland. It wasn't until I was looking for some programs for my son (2 at the time) to introduce him to the game that I started looking for options. There was nothing much in Healesville where I was living, so I opened a small clinic in the local school hall, I invited kids to come try it, they would learn some basic skills, stopping the ball and dribbling etc. Before I knew it, we had 30/40 participants and Little Strikers was born.
After about two years my oldest of the Little Strikers were ready for games, I had started playing socially at the Mt Evelyn center and met guys who absolutely loved the game, Andre Caro was a positive influence in cultivating my interest, he was running the leagues at that time. He (Andre) told me about the youth leagues, so I decided to start a club, Little Strikers Academy.
From there we added more teams, I met club leaders like Terv Atansov (Melbourne Futsal Academy) and we kept building. More players came to the club and the popularity of the game went like wildfire in our community in Healesville, Victoria. Healesville Futsal Club was formed in 2018.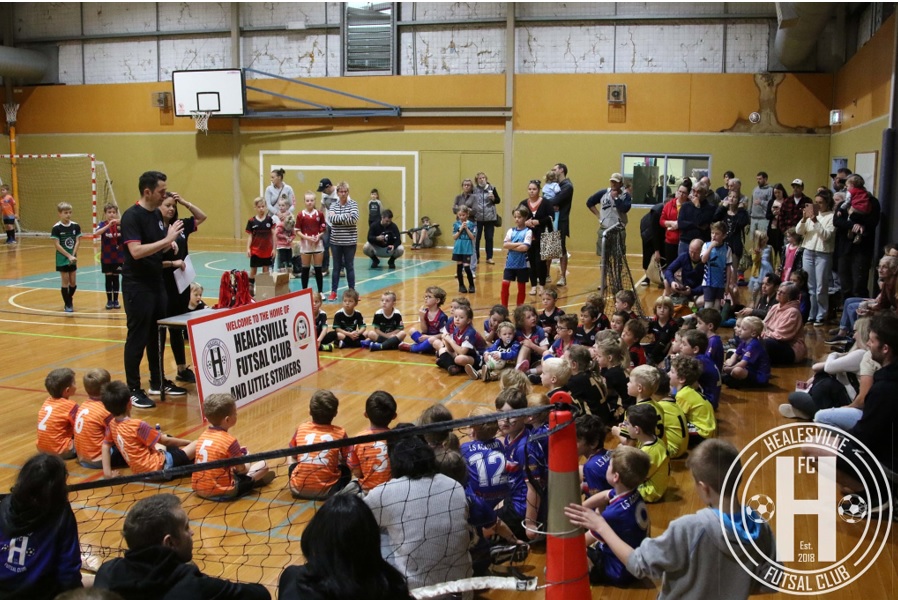 What is it about futsal that appealed to you that started you off on this journey?
SC: There are so many things to love about the game, for me it was the pace, the high scoring, the physicality, and the excitement. Also, the Futsal community is a great bunch, I have met a lot of great people from different clubs and centers over the last 3 or 4 years who have played a role in my journey.
From a coach's perspective, the players learn skills rapidly, more touches on the ball, quick decision making and improved motor skills. What's not to love.
Why did you choose to join the Pro Futsal vision for the sport in Australia, and not open your own independent facility?
SC: I had been on a few trips with Pro Futsal on the Top 12 Experience to Barcelona, Nomes Langham 'threw me under the bus' in a great way lol, when an American coach couldn't make it and I fell into the coaching staff. This gave me a great opportunity to develop my knowledge of the game as well as get to know El and the Pro Futsal team. It was a really positive experience. We have very similar views on the growth of the game.
I am big on player pathways and club growth. We want Mt Evelyn to be the home for the clubs in the area. We will be encouraging a strong club culture by providing support and assistance for the clubs so they can develop their own players and become sustainable. Whether someone wants to start a club or join us with their club, Pro Futsal Mt Evelyn is on board.
I really enjoy the Grassroots level, I love bringing new players to the game, but we need somewhere to move them to for coaching to help them evolve as players and grow the game in Australia.
I believe Pro Futsal can be a driver for this.
Pro Futsal has their brand vision, but what freedom do you have to develop your own ideas?
SC: We are going to run the center in a way that fits our community in the East of Melbourne. After Covid a lot of players really missed playing the game, our first step is to welcome them all back, playing some futsal and reigniting the fire.
Terv Atansov, my wife Courtney and I are determined to provide a positive experience for anyone that walks through the door.
We are constantly bouncing ideas off Pro Futsal, and El and the PF team are behind us all the way.
For others considering the Pro Futsal vision, what would you say to encourage them to do so?
SC: Get on board, Pro Futsal offer us a strong brand and a great support structure. They (Pro Futsal) are extremely experienced and have exciting plans for the future. We all need to row in the same direction if we want the game to grow, Futsal is ready to explode here.
Football Victoria has made Anthony Grima the Head of Futsal, how can you work with the State governing body to be a part of a collective effort to develop the game in your area?
SC: Anthony has done a mountain of work in a short period of time, he has really put the spotlight on Futsal in Victoria. It has been fantastic. We just had a very successful State Nationals tournament, I feel it is just the start of a bright future.
I have spoken with Anthony a lot lately, he knows we are behind him, all our players will be  registered with Futsal Victoria, we will offer our center as a base for FV programs in the area.
We are keen to work with the schools to introduce strong programs and welcome players from different backgrounds into the game.
You can read more articles about global futsal by going to the top navigation bar or click here
If you like this article and would like to keep updated on Futsal news, developments, etc then you can now follow Futsal Focus via Google News by following our page which will send you an alert as soon as we publish an article so please click here and follow us on Google.
You can also keep updated on Futsal news, developments, etc then please submit your email below in the Subscribe to Futsal Focus option.
Follow Futsal Focus by clicking on Facebook, Twitter, or Instagram or on the social media buttons on the website.