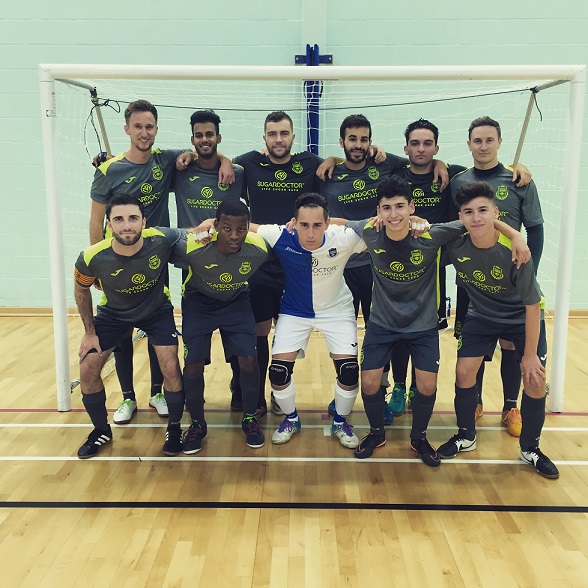 Estimated reading time:2 minutes, 37 seconds
Tomorrow, ProFutsal London take on Chiswick Futsal Club in their first ever home game in the FA National Futsal League. The ProFutsal first team was established during the summer of 2016 and has since then put together a strong squad of players by holding a number of open trials as well as promoting 5 youth players from their successful academy programme. The team has been working hard in training over the past few months with weekly sessions being held on Wednesday nights as well as a pre-season weekend away to Loughborough to both train and play against FS Derby at St.George's Park. The club's strong preseason continued as ProFutsal played a close game against Genesis before beating another Super League outfit in Reading Escolla 5-1, a couple of weeks ago.
ProFutsal is hoping to create a real Futsal community at all their home games this season through holding academy fixtures before the first team. This Sundays sees our U15s take on Baku's U15 at 4 pm, with the first team game v Chiswick kicking off straight after. The aim is to attract a large audience of family, friends, and fans to the academy and first team game in order to generate an exciting and intense atmosphere within the sports hall. Aldenham School Sports Hall is the home venue for ProFutsal this season and as well as having an excellent court with full, international size width and length, it also has a large viewing gallery as well as courtside benches and seating. To take the atmosphere to the next level, the club has invested in inflatable clappers, air horns, vuvuzelas which will be given out for free to all in attendance. The Hertfordshire FA have helped the club in terms of promoting the match within the local area and hopefully, there will be a few new faces who will be able to see their first ever live Futsal match on Sunday afternoon. In order to promote the club and the game of Futsal further, the match will be live streamed via periscope and will be available for all to view via a link which will be posted on our official Facebook page and twitter feed.
Hopefully, the game will be a great advert for Futsal as it was when the two clubs met for the first time in the Leyton Futsal League before summer. ProFutsal ran out 2-1 winners in a very physical encounter with current squad member Charlie Hyman scoring both the goals. We expect this one to be even better than the last so please do take advantage of the free entry and come along on Sunday to support us!
If you like the information provided, you can read more articles about domestic futsal by going to the top bar navigation or click here
If you like this article and would like to keep updated on Futsal news, developments, etc then please submit your email below in the Newsletter section or by clicking on the Subscribe to Futsal Focus option on the header.
Follow Futsal Focus by clicking on Facebook, Twitter or Instagram or on the social media buttons on the right sidebar.