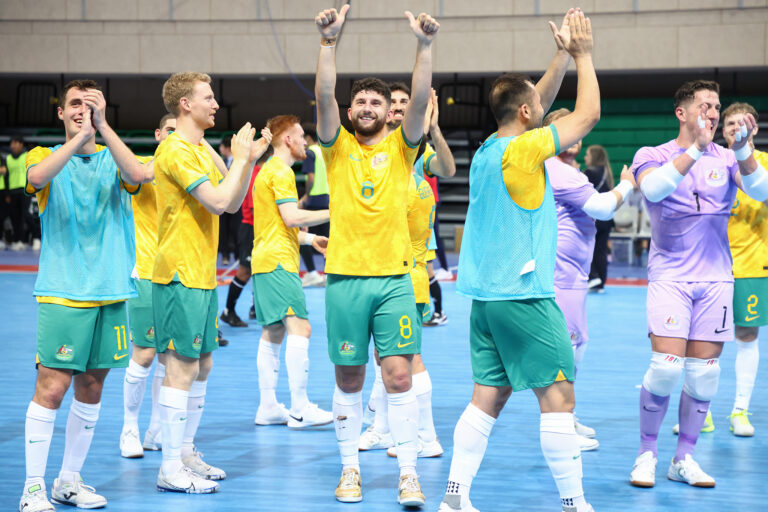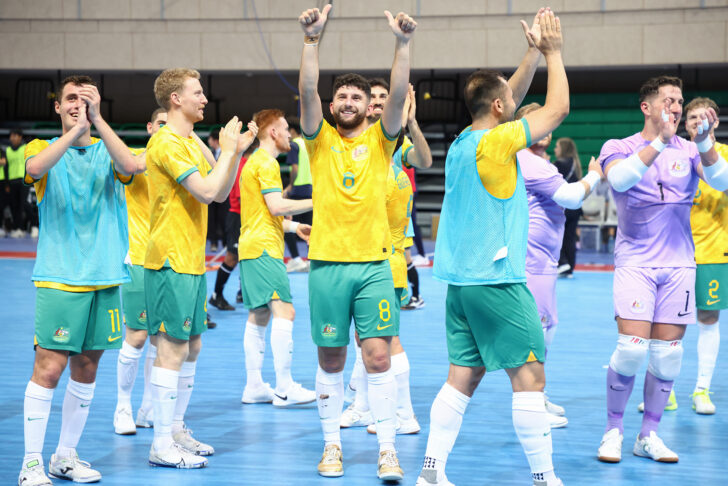 Estimated reading time:6 minutes, 34 seconds
Triumphant Return and Challenges Ahead: Australia's Futsal Journey to AFC Futsal Asian Cup 2024
In an exciting turn of events, the Futsalroos have secured a spot in the AFC Futsal Asian Cup 2024™ after an eight-year hiatus. The dream hung in the balance during a thrilling match against Chinese Taipei (Taiwan), a must-win game for the Futsalroos. Despite initially falling behind 2-1, the Futsalroos mounted a comeback to level the match. Then, in the closing seconds of the game, the experienced Shervin Adeli delivered the winning goal, sealing their qualification.
(Main picture source: AFA website)
This victory was a triumphant return to the international stage for Australian futsal. However, it wasn't without suspense, as the Futsalroos had to rely on Japan defeating Chinese Taipei in their match to secure their qualification. Fortunately, the reigning Futsal Asian Champions did just that, granting Australia a ticket to Thailand in April 2024.
Amidst this thrilling journey to qualification, the Futsalroos encountered a remarkable display of fan support. All 1,500 tickets for the match against Chinese Taipei were sold out, and the stadium was filled with cheering fans from both sides. The atmosphere was electric, with fans eagerly anticipating the outcome of this crucial 2024 AFC Futsal Asian Cup qualification match. The fervent support of the crowd added an extra layer of intensity to the already high-stakes showdown.
This achievement marks a turning point for Australian Futsal, following challenges posed by the COVID pandemic and due to the national team's previous suspension. The program's head coach, Miles Downie, expressed his pride in the squad and the legacy they are creating on the Australian Football Association (AFA) website. Downie said, "Futsal in Australia has faced its share of challenges over the years, but within our changing room, we knew what we were capable of. Only the players and those in that room had the chance to influence the future of Australian futsal."
He emphasized the significance of this qualification, legitimizing existing competitions and building enthusiasm within the futsal community. With the National Futsal Championships approaching in January, this achievement adds importance to performances in that tournament for those eager to impress and convince the Australian Team that they are worthy of an opportunity to compete for a place in the squad.
In the wake of this exhilarating victory, Australia's captain Adeli expressed his heartfelt gratitude, stating, "I want to thank the fans for their unwavering support and to Chinese Taipei FA for providing such a fantastic environment. That goal was pure instinct in front of the goal, and I also want to express my gratitude to my teammates for their trust in passing me the ball and for executing the tactics set by the coach before the match."
Highlights of the match are available below:
After the match, Chinese Taipei's head coach, Jose Adil Amarante, shared his thoughts, saying, "The players should take pride in their performance. They gave their all on the court, and it's no easy feat in such a high-level game. We acknowledge that there are still areas we need to work on."
Chinese Taipei's Huang Baijun, wearing the number 8, also reflected on the match, saying, "We fully understood the importance of this game, and we left everything on the court. Despite the result not aligning with our expectations, we are committed to continuing to work hard and improve." These sentiments capture the dedication and sportsmanship displayed by both teams throughout this thrilling contest.
The AFC Futsal Asian Cup Thailand 2024™ is scheduled to take place from April 17 to 28, promising more thrilling futsal action for fans and players alike. New Zealand has already qualified for the World Cup after defeating Tahiti but in preparation for the competition, the Kiwis competed against the Republic of China winning 5-0 and 6-2. Of course, there is a difference in pressure and expectation between a friendly and a competition qualifier. However, it would be interesting to see how these two nations would compete against each other. Hopefully, as part of their preparations for their separate challenges at this time, we will see Australia and New Zealand organize an international friendly.
The outcome of the match between Chinese Taipei and Australia raises pertinent questions about the state of Australia's international futsal setup and the extent to which the suspension of the Australian team by the AFA has affected their participation at this level. While their neighbouring counterparts in Oceania and Asia have consistently invested in and have made progress.
Currently, clinching a World Cup qualification berth via the AFC Futsal Asian Cup final tournament poses a formidable challenge for the Australian team, and presently it seems like it is possibly beyond their reach. However, if they did qualify, that would be a remarkable achievement and I would delighted for the Australian Futsal Community.
The draw for the competition takes place on December 14th, and Australia are in pot 4 which means they will be drawn with any nation in pot 1: Thailand (tournament hosts), Japan, and Iran, (Uzbekistan were in this group but now qualify automatically as hosts of the 2024 FIFA Futsal World Cup) all of whom would be formidable opponents for any nation in Asia. In pot 2 is Tajikistan, Vietnam, Kuwait, and Saudi Arabia. Out of this pot, the Australian team might prefer facing Saudi Arabia, though they should be cautious as the Saudi team recently overcame Indonesia, led by Brazilian futsal coach and former World Cup winner, Marcos Sorato. The Saudi team is also under the guidance of former Barcelona Head Coach Andreu Plaza. This remarkable achievement is a testament to a nation that has made significant investments in futsal in recent years. On the other hand, it's a disappointing outcome for Indonesia, which has also poured substantial resources into domestic futsal development.
In Pot 3, Australia could potentially face Iraq, Bahrain, South Korea, or Myanmar. Among these options, South Korea is likely the preferred opponent for Australia. An ideal group scenario for the Australians would involve being drawn alongside Thailand, Saudi Arabia, and South Korea, while a more challenging group, often referred to as a "group of death," might include the defending champions Japan or Iran, Vietnam, and Iraq. Regardless of the draw's outcome, it's important to note that the top four teams will secure World Cup qualification.
Australia possesses significant potential in the realm of futsal, with participation rates reportedly surpassing those of rugby within the nation. What the futsal community truly requires is a substantial increase in support from the AFA. While World Cup qualification would undoubtedly contribute to this goal, it may appear somewhat elusive. Therefore, the hope is that advancing from their group and displaying competitiveness will serve as a catalyst for the AFA to invest more significantly and wholeheartedly in the sport. However, the devoted Australian futsal community is tirelessly striving to promote and develop the sport despite the lack of substantial support from their association.
Author of the Interview 
Stephen McGettigan was born in the Republic of Ireland but grew up in Belfast. He is the founder of Futsal Focus and a Football Industries MBA graduate from the University of Liverpool Management School. Stephen has worked in the Football and Futsal industries for 15 years.
Organ Donation
Futsal Focus is a supporter of Dáithí Mac Gabhann and his family's campaign to raise awareness of Organ Donation. We encourage our readers to learn more about Organ Donation: https://www.organdonation.nhs.uk/
Futsal Focus
You can read more articles about international futsal by going to the top navigation bar or by clicking here
If you like this article and would like to keep updated on Futsal news. You can now follow Futsal Focus via Google News. Follow our page which will send you an alert as soon as we publish an article. Please click here and follow us on Google.
You can also keep updated on Futsal news by submitting your email below in the Subscribe to Futsal Focus option