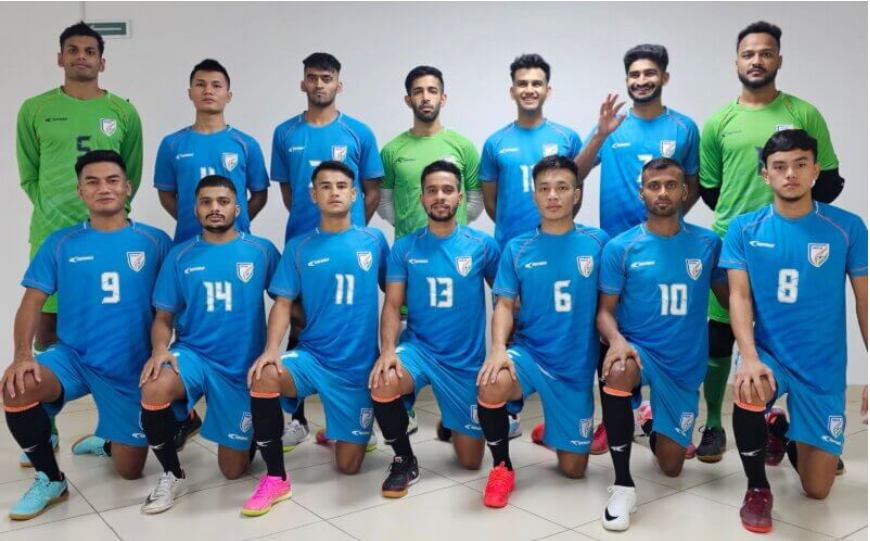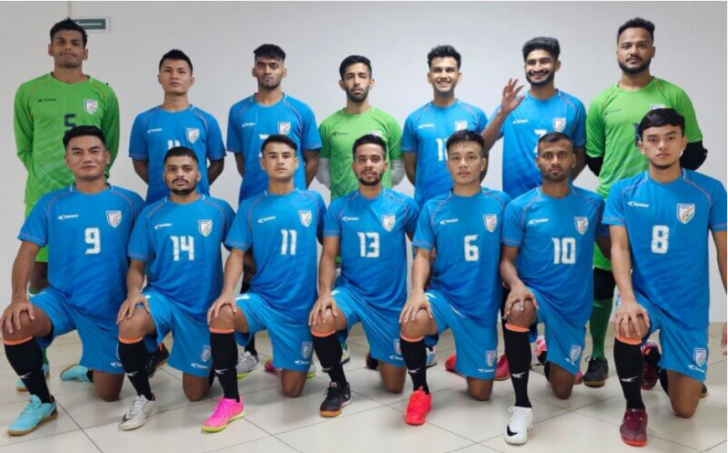 Estimated reading time:3 minutes, 10 seconds
AIFF Leadership Commends Pioneering Step and Determined Performance in Qualifiers Against Tajikistan
In a monumental stride for Indian futsal, history was made on the 7th of October, 2023, as the Indian National Futsal team stepped onto the AFC Futsal Asian Cup 2024 Qualifiers stage. At 7.30 pm, amidst the vibrant backdrop of Dushanbe, they collided with the host nation Tajikistan, marking India's inaugural competitive futsal match.
The AIFF leadership, headed by President Kalyan Chaubey, hailed this significant development. He expressed immense excitement, stating, "India's participation in the AFC Futsal Asian Cup Qualifiers is an extraordinary occasion, underscoring AIFF's commitment to holistic growth. We are rapidly advancing in Asian football, and we aim for futsal to be the next frontier, establishing our dominance."
Dr. Shaji Prabhakaran, the AIFF Secretary General, echoed this sentiment, emphasizing the global rise in futsal's popularity. He highlighted AIFF's dedication to nurturing futsal and beach football, aiming to enhance their competitiveness within India. He stressed that the decision to field a national futsal team in the Asian Cup Qualifiers held profound significance, extending beyond the tournament itself.
Both the President and the Secretary-General extended their best wishes to the Indian team for their inaugural participation in the Asian Cup and hoped for success in their opening match against Tajikistan.
Placed in Group E alongside Tajikistan, Myanmar, and Palestine, India stands among 31 teams competing for glory. The tournament unfolds in a dynamic structure, featuring eight groups, seven comprising four teams each, and one with three teams.
In their journey towards the finals, the Indian National Team, under the guidance of Coach Joshuah Stan Vaz, invested significant effort in preparation. Coach Vaz spoke about their rigorous training and analyzed their opponents, gearing up for the challenge. Tajikistan emerged as a formidable adversary, having reached the Quarter-Finals in the previous AFC Futsal Asian Cup, and Myanmar showcased their progress, reaching the semi-finals of the 2022 AFF Futsal Championship.
In a friendly match series against Bahrain, India gained crucial experience despite the losses. The clash against hosts Tajikistan in the AFC Futsal Asian Cup Qualifiers was highly anticipated and was streamed live, allowing fans to witness this historic event.
The AFC Futsal Asian Cup Qualifiers commenced, and India's debut performance was nothing short of remarkable. Although they faced a 3-6 defeat against Tajikistan, they exhibited remarkable resilience and determination, impressing with their fast and clever moves. A standout player was David Laltlansanga, whose hat trick etched his name in Indian futsal history.
While Tajikistan showcased their international experience and secured the win, India left the Dushanbe Indoor Hall with their heads held high, ready to face Myanmar in their next match on October 9, 2023. The journey has just begun, and the Indian futsal team is eager to continue making strides in this competitive arena.
Author of the Interview 
Stephen McGettigan was born in the Republic of Ireland but grew up in Belfast. He is the founder of Futsal Focus and a Football Industries MBA graduate from the University of Liverpool Management School. Stephen has worked in the Football and Futsal industries for 15 years.
Organ Donation
Futsal Focus is a supporter of Dáithí Mac Gabhann and his family's campaign to raise awareness of Organ Donation. We encourage our readers to learn more about Organ Donation: https://www.organdonation.nhs.uk/
Futsal Focus
You can read more articles about international futsal by going to the top navigation bar or by clicking here
If you like this article and would like to keep updated on Futsal news. You can now follow Futsal Focus via Google News. Follow our page which will send you an alert as soon as we publish an article. Please click here and follow us on Google.
You can also keep updated on Futsal news by submitting your email below in the Subscribe to Futsal Focus option