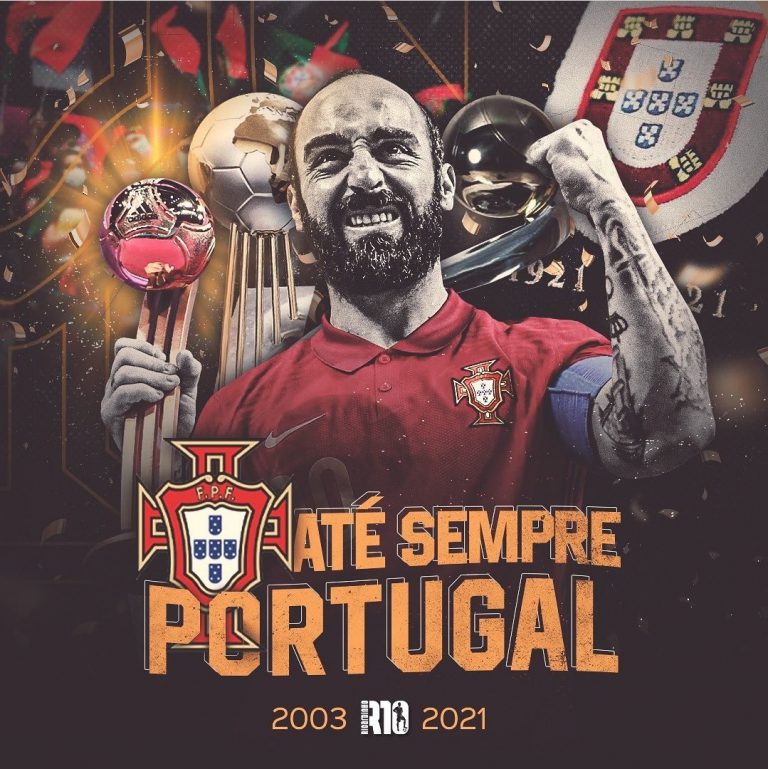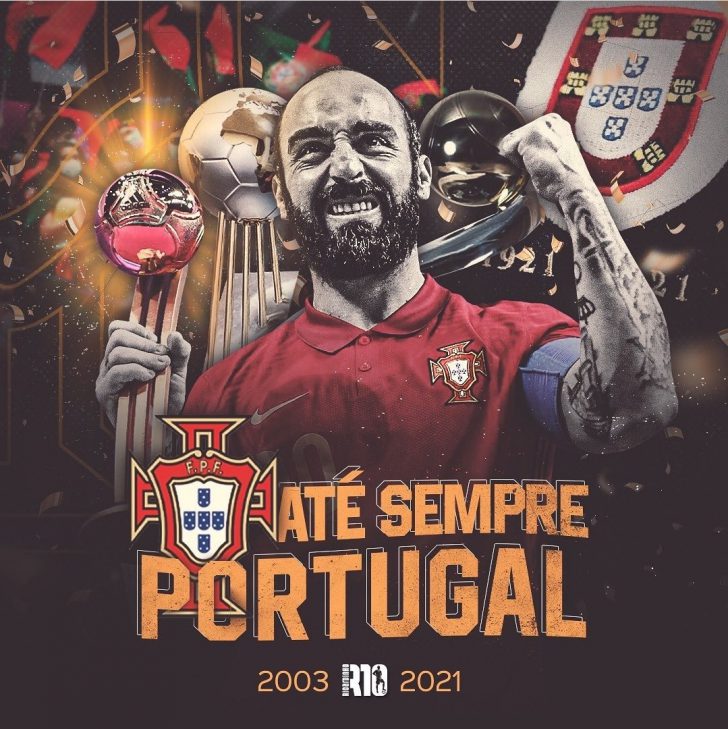 Estimated reading time:3 minutes, 22 seconds
A month after winning the FIFA World Cup and winning the Ballon d'Or for best player in the competition, 36-year-old ace says goodbye to the Portuguese team
Ricardo Filipe da Silva Braga, known as Ricardinho, one of the greatest futsal players in the world, announced on Tuesday that he will no longer play for Portugal, stating:
"Today, I announce the end of my international career. It was without a doubt an incredible and unforgettable journey", I started at 16 years old, in Rio Maior, knowing that I would be among the best in the national team, but I didn't know it would be so perfect – said Ricardinho, the 36-year-old, nicknamed 'The Magician', was six times voted the best futsal player in the world.
"This is the most difficult decision of my career," said Ricardinho, but what a way to say goodbye, winning their first ever UEFA Futsal EURO in 2018, and their first ever FIFA Futsal World Cup (Making history for his country), and being named the best player of the competition.
The Portuguese Football Federation (FPF) in a statement, recalling his 18 years in the national team, and as their captain who scored 141 goals in 187 game, thanked Ricardinho for his commitment and service to his country stating that he will be their "Magician forever."
Born in Porto, he joined Benfica at the age of 18, where he played for seven years, then moved to Japanese Nagoya Oceans, Russian CSKA and Spaniard Inter Movistar.  However, the Portuguese futsal player known for his spectacular style of play, has not walked away from club futsal and signed a three-year contract at the beginning of the year with Accs Asnières-Villeneuve, champions of France last season. Though, he may play the role of ambassador for the Portuguese national team in the future. Who knows maybe one day this dream will come true:
View this post on Instagram
At the World Cup in Lithuania, as soon as the final ended, many discussed whether this would be the last time we would see Ricardinho in a Portugal jersey, and although it is sad to see him go, and it will be a long time before we see another player with his talent, you have to admire and applaud how he has decided to step aside from the international stage, in style. What achieved at the end of his international career is remarkable when 6 months prior to the world he was in a hospital bed with a serious injury that needed surgery. An icon of the sport, he will never be forgotten, and for decades to come, people will look back at his magnificent career. Below is his press conference, unfortunately, there are no English subtitles, however, if you understand Portuguese, we recommend you to watch:
Futsal Focus supports the Donate4Dáithí campaign
To follow the Donate4Dáithí campaign, you can visit their website here: www.donate4daithi.org  or on Facebook at: https://www.facebook.com/Donate4Daithi you can also donate money to their campaign at: https://www.justgiving.com/crowdfunding/donate4daithi
You can learn more about the Donate4Dáithí campaign by going to our article
here
You can read more articles about international futsal by going to the top navigation bar or click here
If you like this article and would like to keep updated on Futsal news, developments, etc then you can now follow Futsal Focus via Google News by following our page which will send you an alert as soon as we publish an article so please click here and follow us on Google.
You can also keep updated on Futsal news, developments, etc then please submit your email below in the Subscribe to Futsal Focus option.
Follow Futsal Focus by clicking on Facebook, Twitter, or Instagram or on the social media buttons on the website.