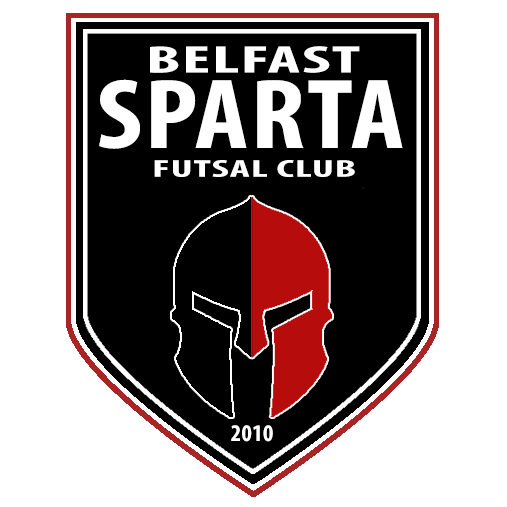 Estimated reading time:8 minutes, 36 seconds
Today, we are speaking with Darius Dielininkaitis, head coach of Northern Ireland's Futsal champions, Futsal Club Sparta Belfast.
Sparta Belfast made Northern Irish Futsal history when they won not only the National League but the Cup as well and now they will travel to Austria to compete in the UEFA Futsal Champions League for the first time.
The club will face their hosts FC Allstars Wiener Neustadt, Racing Futsal Luxembourg and TSV Weilimdorf from Germany who are their first fixture on the 28th August.  The matches will take place at Arena Nova venue with a capacity for 5,000 people.
Before Sparta Belfast took off for the preliminary rounds, Futsal Focus spoke with Darius about Futsal in Northern Ireland, his club, what his hopes are for the Champions League and the future of Futsal in Northern Ireland.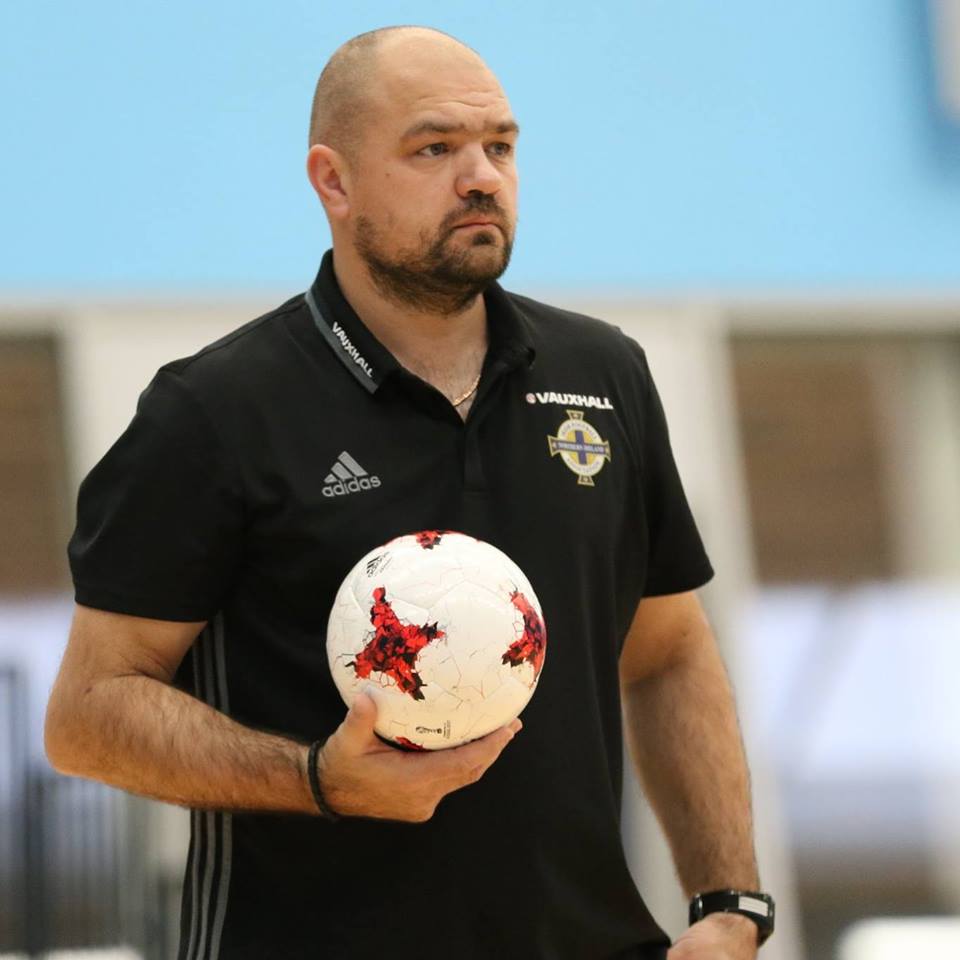 Darius before we start the interview, can you please tell the readers who are reading about you for the first time your sporting background and how you got involved in Futsal?
Hello to Futsal Focus followers and the Futsal community in general. I am honored to discuss Sparta Belfast and Futsal with you as I have been a follower of Futsal Focus for many years and I appreciate the great work you do to promote Futsal around the world.
When it comes to talking about myself I will keep it brief. I was born in Lithuania where winters are cold and long, at least it used to be when I was a child, and kids would have to move to a sports hall for most sports. I guess this is how my journey with Futsal started. However, before I committed to Futsal, my first love was basketball and I was a Basketball coach but I would play Football as well. I got back into Futsal when a Futsal League was established in Portadown, and it was interesting for me because as much as Futsal is compared to Football, the only similarities are that they are kicking a ball. Futsal is a lot more like Basketball than Football hence the easy transition for me. At that point, my paths crossed with Jonathan Michael, Head Coach and Futsal Manager for the Irish Football Association in Northern Ireland. He invited me to join their newly formed national team as their goalkeeper coach. At the same time, together with Loughgal Football club, we founded a Futsal team, which participated in the first Northern Ireland National League. The season after, I was invited to be the head coach of Sparta Belfast Futsal club.
Since getting involved in Futsal, what coach education have you taken and how have you tried to gain more experience in the sport on the international stage as well?
Since my interest in Futsal started again, I have worked hard to deepen my knowledge of the sport. I have finished the Irish Football Association level 1 Futsal Coaching course and I am waiting for the UEFA B Futsal license course to start. In the meantime, I spend a lot of my time studying, analyzing this fantastic sport, communicating with coaches from other clubs. I want to stress that Futsal coaches are very friendly and they are always open and willing to support one another, share experiences and knowledge.
I want to use this opportunity to thank coaches such as  Jonathan Michael, Dusan Matic, Tony Elliot, Andy Reading, Miguel Andres Moreno, Mico Martic, Yevgen Ryvkin, Kiril Krasij, Garth Smith and Paco Sedano. All these amazing people have helped and motivated me to achieve better results. I also should thank my biggest supporters which is my two wonderful daughters and my wife.
When it comes to the international stage, at the moment, I am working with the Northern Irish and Lithuanian national teams as their goalkeeper coach.  The biggest challenge awaits us in 2020 when Lithuania hosts the FIFA Futsal World Cup. With Northern Ireland, we have started preparing for the Home Nations Tournament which will be held in December in England, as well as for the European championship in January.
Since setting up Sparta Belfast, what are your thoughts on Futsal in Northern Ireland and what has your experience been like so far in the national league?
This year is the fourth season in Northern Ireland that I have been coaching Futsal. As I mentioned, I started with the Laughgal team, it was my first challenge as a Futsal coach. However, taking over at Sparta Belfast has resulted in an intensive workload as we try to develop our club and the players. Since then, many things changed, personal life included hence why I wanted to thank my family for their support as I start to live with Futsal each day. During the 2017-2018 of the national season, we were third with Sparta, although we won Northern Ireland's Futsal cup. The results of this season with Sparta saw us become Northern Ireland's Futsal champions and Cup winners. The players enjoyed a great season, and I thank them for their efforts and the administration for their hard work as well in order for us to achieve the best results on and off the court as we try to benefit futsal development in the country. When it comes to the league, we have to remember that it is still in its infancy, everyone is still learning, the coaches, referees, administrators etc. Improvements will come in time; we have to support each other. I am looking forward to the challenge of the new season, clubs like Belfast Celtic have announced their intentions to go semi-professional and have recruited an experienced coach from Uruguay, Martin Perciavalle. It will be interesting to see what clubs test and challenge us this season it is good for the players and for the sport's development.
When it comes to Futsal in Northern Ireland, interest is growing but slowly. Children are keen to get involved and futsal programmes are being run in schools they will soon reach the age when they will enter clubs having more experience of playing Futsal than the regular players currently taking part in the league who only started playing futsal in their 20s or later years. However, where we are at, it is great to see that the older players are improving. We are also seeing progress in regards to the increase of clubs and academies that are being established.
You have many players from across Europe but how has your experience been trying to engage with and recruit players from Northern Ireland?
Yes, Sparta Belfast is a very multi-cultured/ international team of players from various countries that bring their experience of futsal into practice. We also have local players from Northern Ireland and we would like to encourage more to get involved but this will take time and gradually increase for every club as awareness and more opportunities increase. Futsal was a new experience for the local players we have, however, with hard work and collaboration with the experienced players around them, they have gradually integrated into the team. Now, they are a big aid to us when it comes to achieving our goals.
Looking ahead to the UEFA Futsal Champions Leagues, you must be eager for this experience to begin and for your players to test themselves.  What are your goals for the preliminary rounds and how do you feel such competitions can help clubs like your own?
When it comes to UEFA Futsal Champions League, I am nervous as are the whole backroom staff and players but this is a good thing, it means we will all work as hard as we can preparing for the games. I am aware that no game will come easy, but that's why only the best teams get to be a part of this event. We see the Champions League as the perfect pre-season challenge by giving the management team and the players' the opportunity to see where we are weakest and how we can improve as a collective and as individuals. You cannot take part in such a tournament and not benefit from the experience. I believe that after this tournament, we will have improved as a whole and ready to take what we have learned into the new season to defend our titles. Hopefully, we will be back in the Champions League again next season.
When you return to Northern Ireland for the new season, what are your thoughts looking ahead for the sport?
We will continue our intensive training schedule and several new players are joining our club, tactics will be changed, mistakes fixed and our game will be even more polished after reflecting on what we have learned from the tournament. We will aim to achieve only the best results, the same way we have been doing until now. We will also try to repeat last season's results and raise the level of Futsal in the league.
What are your own career goals in Futsal?
I would really like to keep improving as a coach and pursue higher qualifications. I would like to aid the growth and awareness of Futsal in Northern Ireland and beyond. However, though Futsal is developing all over the world what we need to see is the business end of the sport improving. Participation and awareness is skyrocketing but this sport will not develop in the direction we need it to until there is a significant increase of interest from the business sectors in Futsal.
I would really like to thank you for this interview and wish Futsal Focus further success. And, to everyone who involved in futsal, I wish you all never-ending improvement and good results and like my good friend Mico Martic would say, Futsal is here!!!!
Sparta Belfast Facebook page: http://bit.ly/2Z3L3EA
If you like the information provided, you can read more articles about domestic futsal by going to the top bar navigation or click here
If you like this article and would like to keep updated on Futsal news, developments, etc then please submit your email below in the Newsletter section or by clicking on the Subscribe to Futsal Focus option on the header.
Follow Futsal Focus by clicking on Facebook, Twitter or Instagram or on the social media buttons on the right sidebar.