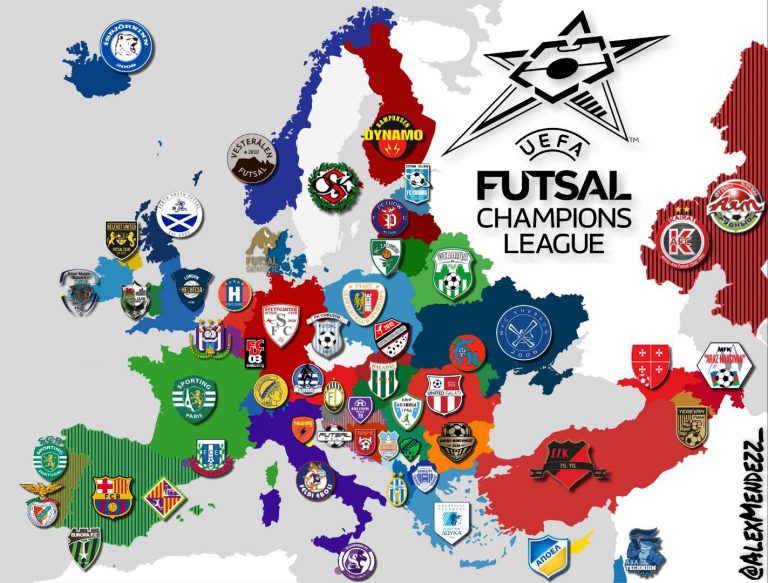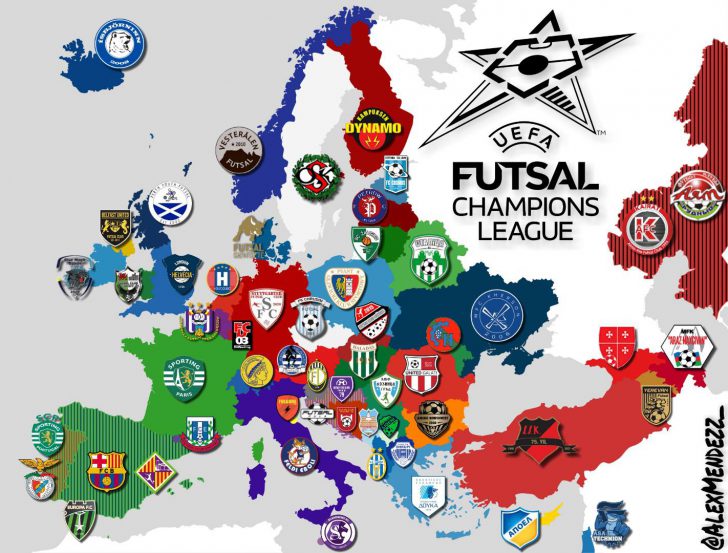 Estimated reading time:5 minutes, 47 seconds
The UEFA Futsal Champions League preliminary and main round draws were made today. The competition stages will kick off on 23–28 August, and the next stage on 25–30 October
There are 56 entrants from 52 associations in the competition, who will be involved in one or either round. Spain, Portugal, Kazakhstan and Croatia enter two clubs and those countries' eight representatives including holders Barça are among the 24 sides with the highest coefficients who receive byes to the main round.
32 teams will start the preliminary round,  which leads to the main round then the elite round in November, which will decide the four contenders for the knockout finals in spring. It is great to see so many debutants entering the competitions, it will be exciting to see how many of them progress beyond the stage they entered at: Amigo Northwest, Cardiff, Città di Eboli, Folgore, Fortuna Wiener Neustadt, Ísbjörninn, Istanbul Şişli, Nistru Chişinău, Palma, Piast Gliwice, Pula, Nistru Chişinău, Stuttgart, Technion Haifa, Vesteralen, Yerevan.
From the United Kingdom and Ireland, the clubs representing each nation are:
Scotland: PYF Saltires – Group B
England: London Helvecia –  Group C
Northern Ireland: Belfast United – Group G
Wales: Futsal Club Cardiff – Group H
Republic of Ireland: Blue Magic FC Dublin –  Group H
Each club except for Futsal Club Cardiff  have been in this competition before, but all will be looking forward to the challenge. PYF Saltires will make their way to Austria, London Helvecia will travel to Armenia, Belfast United will journey to Albania, and Futsal Club Cardiff and Blue Magic FC Dublin will go to Estonia.
PYF Saltires secured their first 3 points in the 2019-20 competition, defeating Gibraltar club Lynx 5-1 in their last game, finishing third in their group. They will face JB Futsal Gentofte from Denmark, who finished second in their group last year which included Sparta Belfast from Northern Ireland. Debutants Fortuna Wiener Neustadt from Wiener Neustadt, a statutory city of almost 50,000 inhabitants and is considered the Austrian capital of futsal due to the success of both futsal clubs in the city which includes Murexin Allstars. Amigo Northwest from Bulgaria are entering the competition as debutants as well.
London Helvecia will make their ninth attempt to qualify for the main round of the competition. The English club will face Latvian club FC Petrow who defeated FC Raba (Last years champions) 3-1 in the final of the Optibet Futsal Premier League, becoming the champions for the second time in their history. Europa FC from Gibraltar finished bottom of group F last year, and were defeated by FC Raba, so this won't be their first experience facing a Latvian team at this level. Yerevan Futsal Club from Armenia enter the competition as debutants but Armenian futsal is of a high level for a preliminary round club. Though, their national team finished bottom on the last qualifying group stage for the UEFA Futsal EURO 2022 final tournament, they did secure a 4-4 draw with France.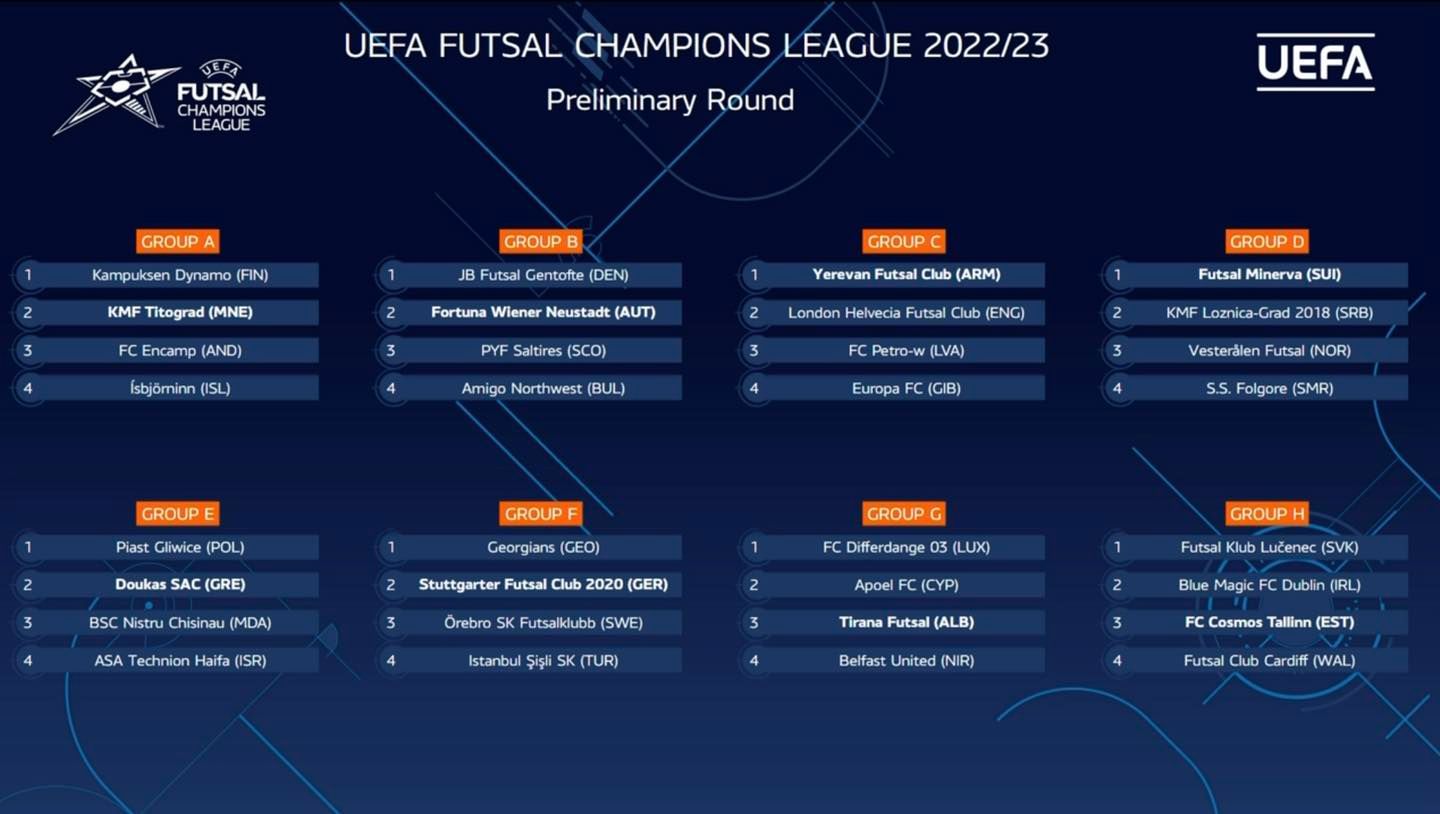 Northern Ireland's Belfast United are back in the competition, but have been drawn in a tough group with FC Differdange 03 from Luxembourg, a team with a lot of Portuguese players and experience. They finished second in their group last year and will face their hosts Tirana Futsal for the second year in a row, against whom they lost 2-4. Apoel FC from Cyprus also took part last year and finished bottom of their preliminary group but were very competitive performances throughout, losing by a single goal to the eventual group winners, Diamant Linz, 7-6. Tirana Futsal Club are the most successful futsal club in Albania, this is their 10th appearance in the UEFA Futsal Champions League but they have yet to qualify for the main round, the last time they finished second at a preliminary group stage was in the 2009-10 season.
Blue Magic Futsal Dublin has represented Ireland in this competition every year since the 2019-20 season, and although they have dominated Irish futsal they have yet to progress to the main round. They find themselves drawn in a tough group, Futsal Klub Lučenec last season went straight into the main round stage as hosts facing S.L Benfica,  Sinara Yekaterinburg from Russia and Halle-Gooik now known as RSC Anderlecht, and finished last in their group. Cosmos are a pioneering club in Estonia for futsal going back to 2014, and qualified for this competition for the first time in 2016-17 season. The club secured their first 3 points and finished third in their group in 2018-19, and are now back in the competition having not qualified since. Futsal Club Cardiff enter as debutants and is a team with a mix of experience as some of their players were a part of the suspended Wales national futsal team.
Looking at the various group, it is a very exciting opportunity for all. Could this year be the year a team from the UK and Ireland  progress to the main round which hasn't happened for many years.. The last time it was achieved was by London Baku United in 2013-14 season, but they did so as a professional club, but they are now back to being an amateur set-up. However, the first club from the British/ Irish Isles to qualify for the main round of the UEFA Futsal Champions League was Sporting Fingal in the 2010-11 season.
The main round draw:
Path A
Top three teams in each group progress to elite round
Group 1: Mallorca Palma Futsal (ESP), Kairat Almaty (KAZ), Sporting Anderlecht Futsal (BEL, hosts), Sporting Club de Paris (FRA)
Group 2: Sporting CP (POR), Ayat (KAZ), Novo Vrijeme Makarska (CRO, hosts), Futsal Pula (CRO)
Group 3: Barça (ESP, holders), Dobovec (SVN), Hovocubo (NED), Luxol St. Andrews (MLT, hosts)
Group 4: Benfica (POR), Kherson (UKR), Haladás (HUN), United Galati (ROU, hosts)
Path B
Group winners progress to elite round
Group 5: Mostar SG (BIH, hosts), Araz Naxçivan (AZE), Preliminary round Group D winners, Preliminary round Group F winners
Group 6: Stalitsa Minsk (BLR), Liqeni (KOS, hosts), Preliminary round Group B winners, Preliminary round Group E winners
Group 7: Kauno Žalgiris (LTU, hosts), Città di Eboli (ITA), Preliminary round Group C winners, Preliminary round Group A winners
Group 8: Chrudim (CZE), Shkupi 1927 (MKD, hosts), Preliminary round Group G winners, Preliminary round Group H winners
You can read more articles about international futsal by going to the top navigation bar or click here
If you like this article and would like to keep updated on Futsal news, developments, etc then you can now follow Futsal Focus via Google News by following our page which will send you an alert as soon as we publish an article so please click here and follow us on Google.
You can also keep updated on Futsal news, developments, etc then please submit your email below in the Subscribe to Futsal Focus option.
Follow Futsal Focus by clicking on Facebook, Twitter, or Instagram or on the social media buttons on the website.