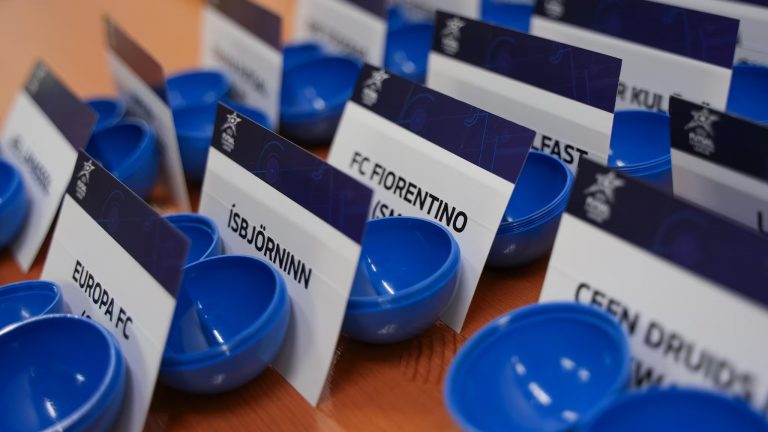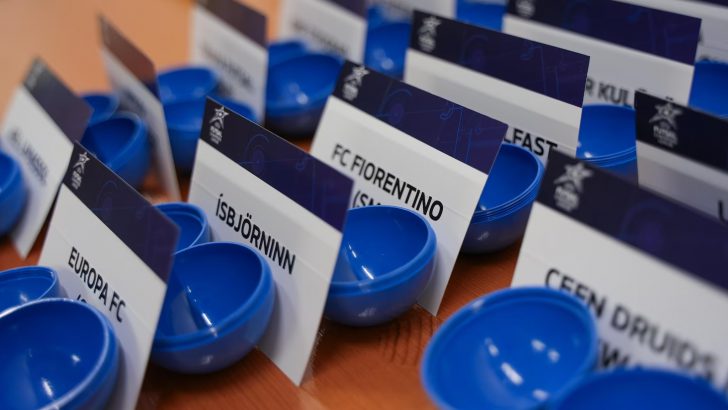 Estimated reading time:5 minutes, 53 seconds
The highly anticipated draw for the UEFA Futsal Champions League 2023-24 has taken place, setting the stage for an exhilarating competition filled with intense matches and surprising outcomes. With the preliminary stage scheduled to kick off from 22 to 27 August, this stage of the competition presents a unique challenge for the participating clubs due to the limited amount of information available about their opponents. Teams will have to rely on their adaptability, strategic acumen, and collective spirit to navigate through the unknown. Making it a challenging and thrilling prospect for both seasoned contenders and debutants:
Group A: Araz Naxçivan (Azerbaijan) Riga Futsal Club (Latvia), SSV Jahn Regensburg (Germany), and  Istanbul Şişli SK (Turkey)
Group B: Örebro SK Futsalklubb (Sweden), FC Diamant Linz (Austria), Amigo Northwest (Bulgaria), and ASA Tel-Aviv Owls (Israel)
Group C: FC Eindhoven (The Netherlands) will lock horns with KMF Titograd (Montenegro), NV Georgians (Georgia), and Europa FC (Gibraltar)
Group D: Lubawa (Poland), FC Prishtina 01 (Kosovo), Utleira Idrettslag (Norway), and Ísbjörninn (Iceland)
Group E: Futsal Klub Lučenec (Slovakia), FC Cosmos Tallinn (Estonia), FC Encamp (Andorra), and PFY Saltires (Scotland)
Group F: Doukas SAC (Greece – group host) Blue Magic FC Dublin (Republic of Ireland), BSC Nistru Chişinău (Moldova), and Bloomsbury Futsal (England)
Group G: Futsal Minerva (Switzerland), Yerevan Futsal Club (Armenia), AEL Limassol (Cyprus and group hosts), and FC Fiorentino (San Marino)
Group H: KMF Radnik Bijeljina (Bosnia & Herzegovina), Tirana Futsal (Albania and group hosts), Cefn Druids (Wales), and Sparta Belfast (Northern Ireland).
Excitement grows for several clubs making their debut in the UEFA Futsal Champions League. AEL Limassol, Bloomsbury, Etoile Lavalloise, FC HIT Kyiv, Futsal Dinamo, Lubawa, Prishtina 01, and Radnik Bijeljina will enter the competition for the first time. These fresh faces will undoubtedly add an element of unpredictability and inject new energy into the tournament, aiming to make a memorable impression. Araz, on the other hand, will make their 18th appearance, further solidifying their status as a respected and regular participant. FC Encamp will also marking their 17th appearance in the tournament. We will follow the progress of SSV Jahn Regensburg with interest, the club last entered the competition in 2017, winning their group and progressing to the main round where they finished second in their group, they will be hoping that path B will present them with an opportunity to reach the elite round for the first time.
The British and Irish clubs find themselves drawn together. In Group F, the "Battle of Britain and Ireland" takes center stage as Bloomsbury Futsal (England) and Blue Magic FC Dublin (Republic of Ireland) lock horns. This encounter between neighbouring nations promises a fiercely contested showdown, fueling the age-old rivalry between the two countries. The clubs will relish the chance to gauge their skills against opponents of a comparable standard, elevating the intensity of the competition and providing a platform for players to showcase their abilities.
Group H also brings forth a captivating British clash between Cefn Druids (Wales) and Sparta Belfast (Northern Ireland). These two clubs will go head-to-head, eager to prove their superiority and claim bragging rights for their respective regions as both sides aim to make their mark in the tournament. Waiting for them in the path B groups are:
Group 5: Futsal Dinamo (Croatia and group hosts), Preliminary round Group C winners, Preliminary round Group B winners, Preliminary round best runners-up
Group 6: SK Plzeň (Czech Republic and group hosts), JB Futsal Gentofte (Denmark), Preliminary round Group H winners, Preliminary round Group A winners
Group 7: Kauno Žalgiris (Lithuania and group hosts), Kampuksen Dynamo (Finland), Preliminary round Group G, winners, Preliminary round Group D winners
Group 8: Città di Eboli (Italy and group hosts), FC Stalitsa Minsk (Belarus), Preliminary round Group E winners, Preliminary round Group F winners
In the main round, notably, Kairat Almaty has achieved a significant milestone, becoming the first club to participate in 20 seasons of UEFA futsal competition. Their experience and dedication will be tested when they face current champions Real Mallorca Palma Futsal in Group 3. Group 2 presents an interesting mix. In the elite round, Royal Sporting Club Anderlecht Futsal ejected Barca from the competition last year, should Anderlecht succeed again, this could be the making of an exciting rivalry. Anderlecht has already been preparing for this season, with departures and many new arrivals hoping to replicate the successful season they have just had domestically and in Europe. In Group 4, Etoile Lavalloise has been attracting the attention of the futsal commentators due to playing attractive futsal, winning their national league, and doing so in front of packed audiences. It will be interesting to see how many of their fans travel to support them. However, they will all be eager for the club to advance to the elite round and make their mark on the European stage for French Futsal.
Looking back, it is worth noting that only one French club, ACCS Futsal Club Paris VA 92, has reached the Final Four. However, their participation was due to an invitation following the exclusion of the Russian club Tyumen due to the invasion of Ukraine.
The Main round Groups are:
Group 1: Sporting Clube de Portugal (Portugal), MNK Olmissum (Croatia and group hosts), MFC Ayat (Kazahkstan), and FC HIT Kyiv (Ukraine)
Group 2: Barça (Spain), Sporting Anderlecht Futsal (Belgium), Luxol St. Andrews Futsal (Malta), KMF Loznica-Grad 2018 (Serbia)
Group 3: AE Mallorca Palma Futsal (Spain, current holders, and group hosts), Kairat Almaty (Kazakhstan), Haladás VSE (Hungary), and FC Differdange 03 (Luxembourg)
Group 4: SL Benfica (Portugal), Futsal Klub Dobovec (Slovenia and group hosts), United Galati (Romania), and Etoile Lavalloise (France)
With debutants, enthralling rivalries, and significant milestones in the mix, the UEFA Futsal Champions League 2023-24 promises a captivating and unpredictable journey. Fans and enthusiasts eagerly await the battles that lie ahead as these clubs compete for glory and etch their names in futsal history.
(Main picture source: UEFA)
Author of interview
Stephen McGettigan was born in the Republic of Ireland but grew up in Belfast. He is the founder of Futsal Focus, a Football Industries MBA graduate from the University of Liverpool Management School, and he has worked in the Football and Futsal industries for 15 years.
Organ Donation
Futsal Focus is a supporter of Dáithí Mac Gabhann and his family's campaign to raise awareness of Organ Donation. We encourage our readers to learn more about Organ Donation: https://www.organdonation.nhs.uk/
Futsal Focus
You can read more articles about domestic futsal by going to the top navigation bar or by clicking here
If you like this article and would like to keep updated on Futsal news, developments, etc then you can now follow Futsal Focus via Google News by following our page which will send you an alert as soon as we publish an article so please click here and follow us on Google.
You can also keep updated on Futsal news, developments, etc then please submit your email below in the Subscribe to Futsal Focus option.
Follow Futsal Focus by clicking on Facebook, Twitter, or Instagram or on the social media buttons on the website.