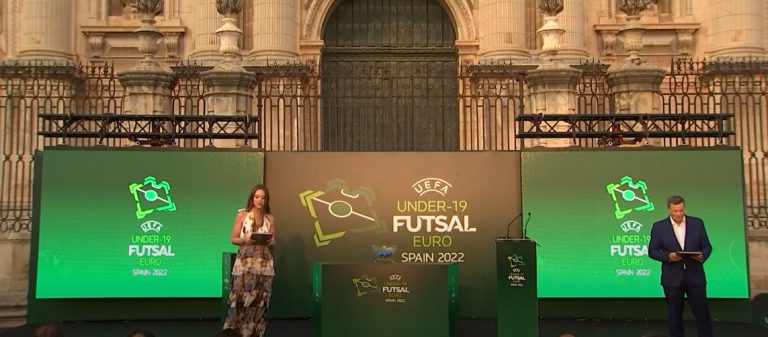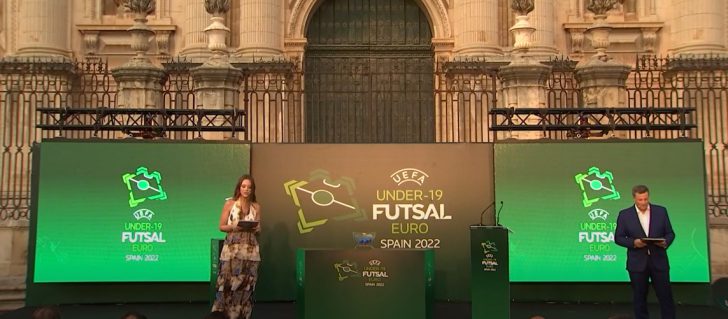 Estimated reading time:3 minutes, 8 seconds
Hosts and holders Spain are in Group A for the European competition that will be played at the Olivo Arena from September 4 to 10
Spain wants to win the U19 European Championship again and already knows the path it will have to travel in Andalusia. Based in Jaén, they seek to repeat the feat of 2019. In Group A together with the Spanish will be Ukraine, Croatia, and Romania. Leaving Group B made up of Poland, France, Italy and Portugal. These selections have been announced in the draw held in the Plaza de la Catedral in Jaén, headquarters of the European Championship.
Andalusian institutions; UEFA members; Luis Amado, former player of the Spanish Futsal team, and Pablo Burillo, President of the National Futsal Committee; attended the draw. The Spanish goalkeeper was in charge of drawing out the balls which decided the path of the next European Championship that kicks off on September 4 at the Olivo Arena.
Ukraine arrives after being champions of main round group 6 with three victories against Andorra, Belgium and Moldova. Andriy Brytan is their top scorer. In 2019, they failed to get past the group stage, so they come to this final phase wanting to surprise. Croatia qualified as champions of main round group 7, beating Azerbaijan and Latvia. In 2019, they had a great competition, falling in the final against Spain (1-6). Group 5 champions, Romania, managed to win their two matches against Georgia and Slovakia. In September they will play their first European final phase.
The Spanish national team arrive as defenders of their title. In 2019, at the group stage they won 3-0 against Croatia, 7-1 against Ukraine and 5-0 against the Netherlands. In the semi-finals they defeated Poland (3-1) and in the final they beat Croatia (6-1).
An appointment in which a man from Jaén shone and, until this year, in the ranks of Jaén Paraíso Interior: Antonio Pérez.
The mayor of Jaén, Julio Millán, explained to Ideal that "this year our city has been able to enjoy the final phases of the Spanish Cup and the Copa del Rey futsal. We will host the best under 19 futsal players in the world. An opportunity for them to enjoy its gastronomy, its streets and its people. Jaén is once again the capital of futsal, not only in Spain, but now in Europe as well. For his part, Ángel Vera, deputy for Culture and Sports, added that "from the Provincial Council we have been working for many years in favour of sport in general and futsal in particular. We sponsored Jaén Paraíso Interior FS and in 2022 we have become the epicentre of futsal. The tournament will highlight young figures who will soon play in the best clubs in Europe. And, to the best futsal fans in Spain. It will be a window to this magnificent city and its province."
Lastly, Luis Amado wished that the players "enjoy this tournament, when you do, things go well for you. I would like Spain to win."
You can read more articles about international futsal by going to the top navigation bar or click here
If you like this article and would like to keep updated on Futsal news, developments, etc then you can now follow Futsal Focus via Google News by following our page which will send you an alert as soon as we publish an article so please click here and follow us on Google.
You can also keep updated on Futsal news, developments, etc then please submit your email below in the Subscribe to Futsal Focus option.
Follow Futsal Focus by clicking on Facebook, Twitter, or Instagram or on the social media buttons on the website.