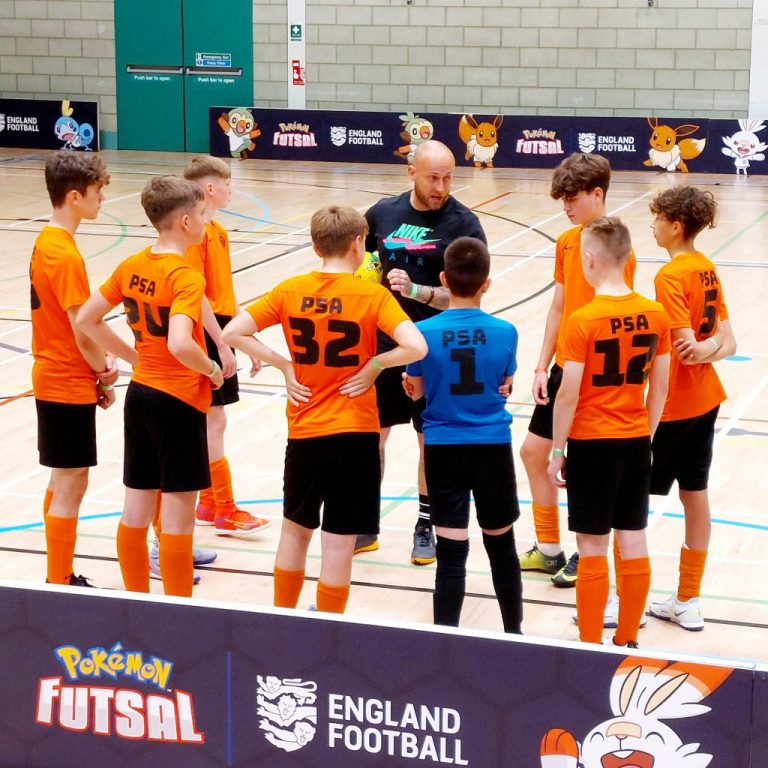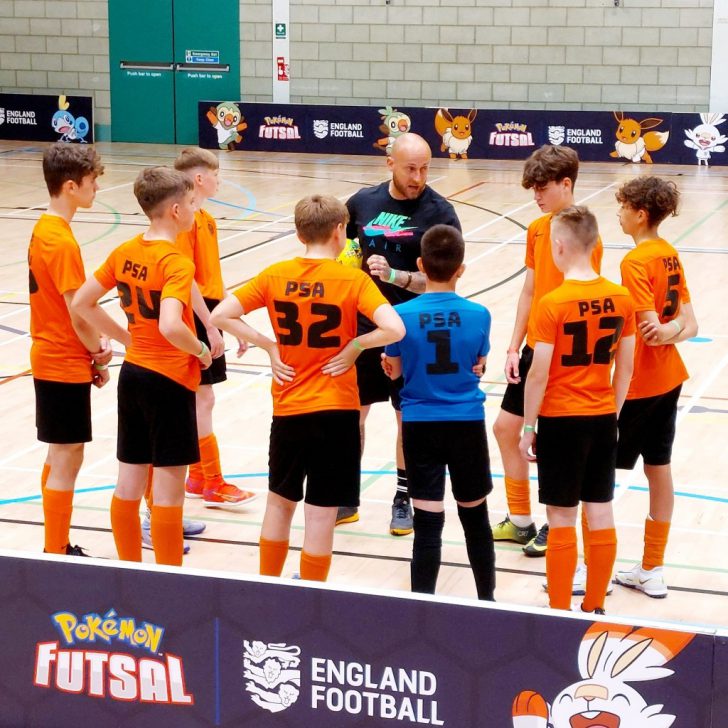 Estimated reading time:11 minutes, 3 seconds
Recently, in England, Derby Futsal Club (who compete in the National Futsal Series which has selected matches broadcast on BT Sport) announced a partnership with PSA Futsal Club. Stating that
"PSA are one of the leading futsal development programmes in the country and will become the club's preferred partner for all Youth Futsal activity up to and including U16 from 22/23."
"The partnership will see both clubs working together to provide playing, coaching and refereeing opportunities from grassroots, through to the National Futsal Series beginning immediately with a number of PSA players looking to graduate to the club's senior sides for the new season."
Derby's statement caught our attention, and we wanted to know more about PSA and who the person is leading this club. We had never heard of PSA before, yet they are considered by Derby as a leading futsal development programme in England, therefore, we reached out to the club's founder and coach Joe Tinker to find out more.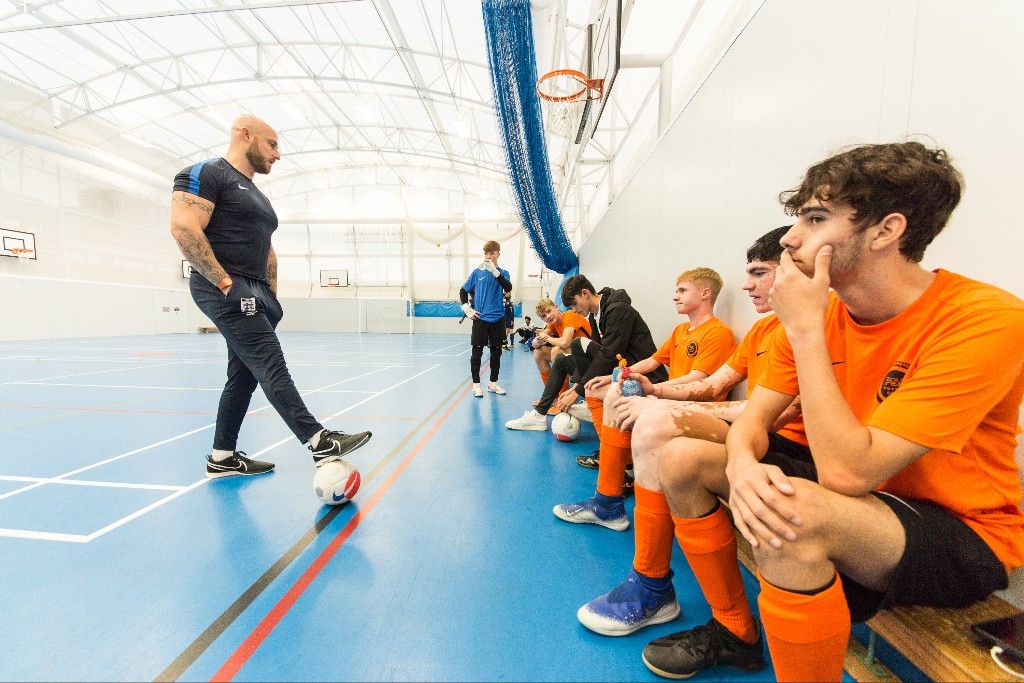 Joe has a long history of coaching in football working for organisations such as Leicester City, Manchester United, The Football Association, Derby County, Burton Albion, Notts County, Northampton County FA, Corby Town FC, Bedford Town FC, Coalville Town, and the University of Leicester. Now he is focused on Futsal, and works full-time on PSA Futsal Club.
Thank you for agreeing to this interview Joe, and congratulations on your partnership with Derby Futsal Club. Before we discuss your new partnership with Derby Futsal Club, we would like to learn more about you, your career, and coaching philosophy, how you were introduced to futsal among other topics.
FF: Please tell us about your coach education, and career in coaching up to being involved in futsal?
JT: In 2003, I took my FA Level 1 & Level 2 Certificates in Coaching Football, aged 17, so I would be able to work in football alongside my studies at the University of Derby, where I studied Sports Science.  Whilst at the University of Derby, I worked part-time at Derby County delivering football sessions to young players on a Saturday morning.  Alongside this, I played in the representative sides at University, and I was a player-manager in 2 of the 3 years.  During this time, I worked for Manchester United during summer breaks, and I tried to get as much practical experience under my belt in order to gain employment in the football sector once I graduated.
Upon graduation, I got a role at the FA as a Skills Coach based in Leicestershire, where I stayed for 8 years.  While I was at the FA, I was fortunate enough to be part of a pilot group for the new Youth Awards pathway so I managed to be one of the first people to complete the FA Youth Award.  I am now qualified to UEFA B, Advanced Youth Award, Psychology Level 5, BSc Sports Science.
In my role at the FA, we delivered session to 5–11-year-olds and while there were some indoor sessions, with futsal techniques incorporated, it wasn't futsal in its purest form.  The more I learnt about futsal, the more I wanted to know, and to get involved in coaching it.
Fast forward to 2015, where I decided to leave the FA and pursue running my own football and futsal coaching business which you know as PSA or Progressive Skills Academy.  Initially our focus was more heavily around football, and this was supplemented with coaching in the Academy at Leicester City. We delivered additional training, with some matches to aid development.  Eventually, our football venue closed, and the only other futsal provision in the County, IFA – Loughborough University, ceased their youth sessions and so it opened the door for us to focus solely on futsal.  In 2018, we started our first futsal teams and eventually reformed our name as PSA Futsal Club.
FF: When were you first introduced to futsal and what level of futsal coaching have you achieved?
JT:  My first introduction to futsal was during my time with The FA.  As staff we engaged in courses, including The Beginners Guide to Futsal, and I worked heavily alongside Pete Sturgess who was the England National Futsal Coach at the time.  I found the more I played a part in these coaching sessions and wen I delivered the sessions themselves, the more I knew this is where I wanted to focus my time and efforts, eventually moving away from football.
I have the UEFA B in Futsal, and my next ambitions are to travel to Europe to upskill myself, observing different sessions and matches in order to become a better coach, and to be able to provide the players at PSA with an even better experience.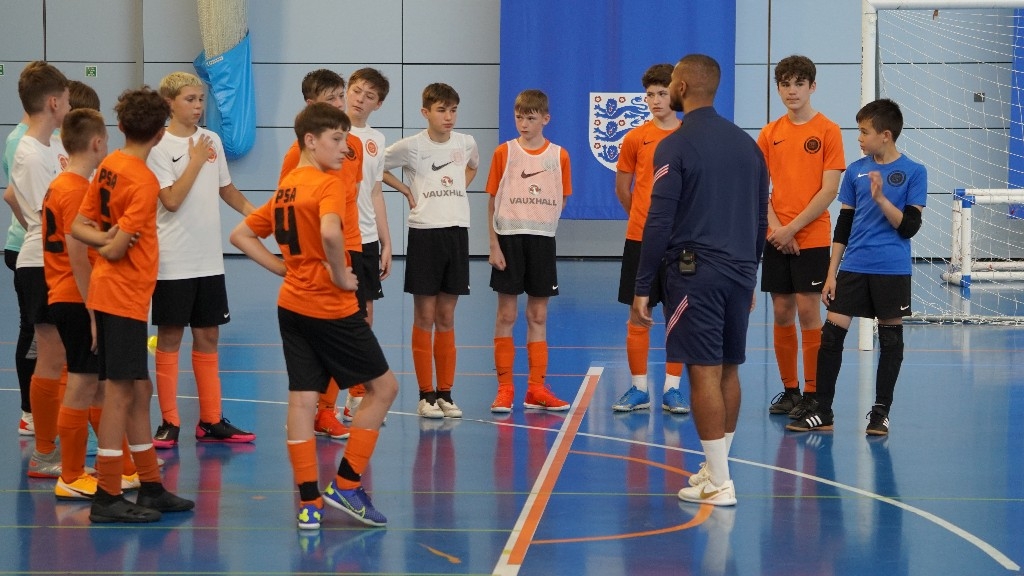 FF: When and why did you start to be involved in and use futsal as part of your coaching?
JT: Initially this was something that we had to do as part of the FA Skills Programme.  When I started my coaching journey, I had ambitions of working in senior professional football. But after being involved in senior football at the National League North level, I quickly realised that my expertise was in working with young players. I felt I had more of an impact on their development incorporating football, and futsal alongside each other.  I'm really grateful that the FA introduced me to so many courses, although I would have taken up these opportunities anyway. It enabled me to work alongside so many coaches with a deep background in futsal, and that grew my passion for the game very quickly.
FF: What inspired you to set up PSA Futsal Club?
JT: Progressive Skills Academy was formed in order for me to leave the FA and develop myself working within professional football academy settings.  PSA grew very quickly and within a year we had over 200 children attending our weekly sessions.  The feedback from the parents has always been that they would like the children who come to these development sessions to form teams and futsal was the perfect answer for this.  The Leicestershire Youth Futsal League is one of the most comprehensive competitions in the County, with over 120 teams registered, and games are played on a Saturday – with local football being played on a Sunday.  This enabled us to set up competitive teams for our players without a conflict of interest with local football clubs and the loyalties of their players.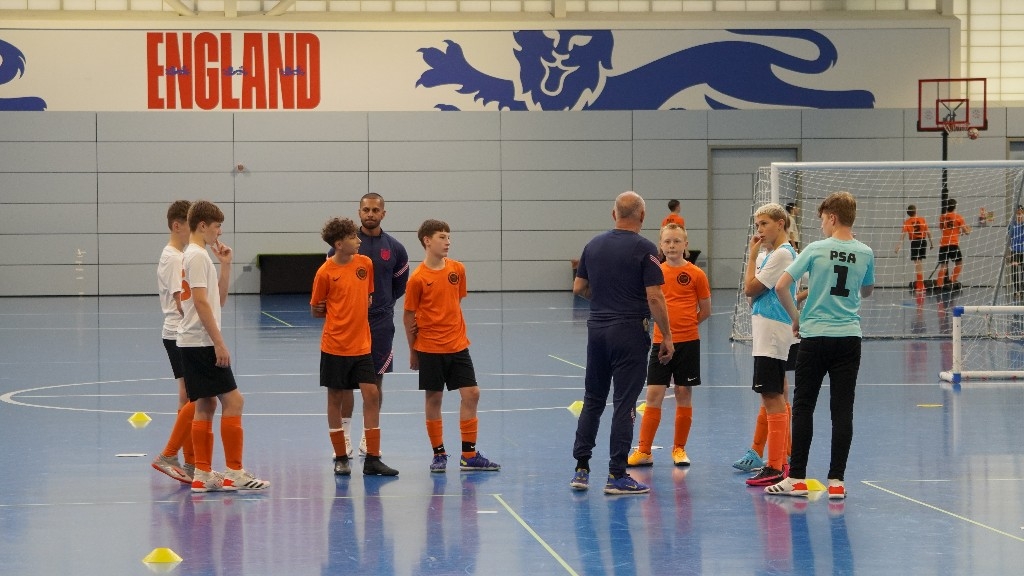 FF: What is your coaching philosophy, and what success have you achieved so far with PSA Futsal Club?
JT:  The whole ethos of PSA is to be player centred.  Our focus is on learning the technical and tactical aspects of the game, having fun, and ensuring all players get treated fairly and equally. We have teams from U8-U18 and in each team the players get equal game time as well as being given the opportunity to share captaincy on a match day.  The players are informed of their captaincy on the Monday, ready for Saturday's fixtures, and their job is to plan the structure of the team, subs, playing formation, tactical and strategical information so that on a match day our job is just to guide them and assess their learning based on what we are working on in training and what has come before.
We understand and accept that this will cause us to lose games and we are really comfortable with that because our focus is on the long-term development of these children, not only as players but as people and potential future coaches.
Our teams play at their own age group locally and also in the year above them to ensure that they get extra exposure to games, as well as the challenge of players older to enhance their learning.  We know that this will cause the players to face problems they may not be able to solve yet and this is a great opportunity for us to highlight our stance on development over results with the players and parents.
In the short space of time since we formed as a Futsal Club we have had a great deal of success in the FA Pokemon National Cup where we achieved 7 Regional Final placements, 2 National Semi Finals, and 2 National Finals.  This is all in the space of just 3 seasons!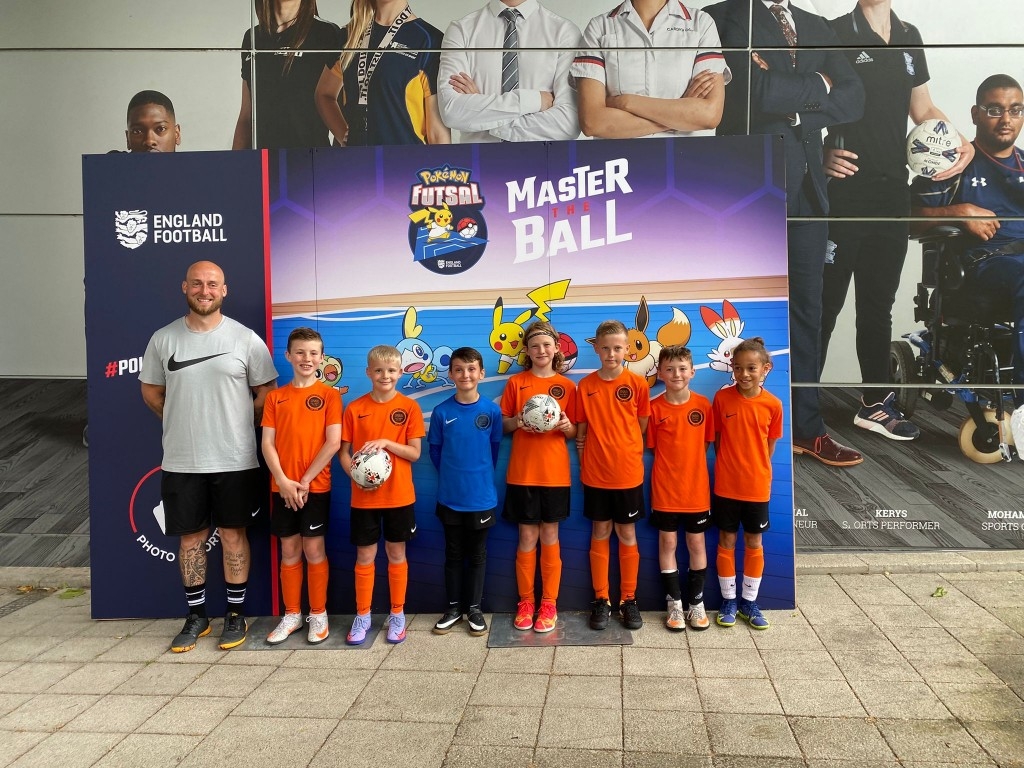 In addition to our success on the court we have also been fortunate enough to develop over 30 boys and girls to gain contracts at professional football clubs such as Leicester City, Birmingham City, Nottingham Forest, Derby County, WBA, Burton Albion, Coventry City, Lincoln City, Rotherham United, Doncaster Rovers, Mansfield Town, Northampton Town and Notts County.  This includes players gaining professional contracts and also playing for England in their youth age groups.
FF: How has futsal coaching influenced your outlook on the sport, player development and the future for both futsal and football?
JT: Ever since I got involved in coaching futsal, I fell in love with it! I knew what a fantastic game it was, but I also understood that most children, and their parents, want to progress down the football route.  I feel that the biggest selling point for those parents and players is that futsal is one of the best tools they could access to accelerate their development in football.  I have seen the players in our care skyrocket in ability and confidence just from playing the game.
At PSA we don't always recruit Division 1 players, we don't advertise for that, and we understand more about people than to put that stipulation on entry requirements to our club.  What we do request is that the children in our care want to be there, want to work hard, develop their game and be good people.  If we can get these people on board, or develop this within people, we are able to create some real magic.  We are really fortunate to have helped players who have fallen out of love with grassroots football to find their passion again through playing futsal.  Hopefully, the sport will continue to grow but it also needs increased awareness, education and support to ensure that futsal is being played and not just indoor football!
FF: Derby Futsal Club recently announced a partnership with your club, we understand how this partnership will benefit them and your players but how will it benefit you?
JT: When Derby Futsal Club approached us we knew this was a fantastic opportunity for the players in our club.  Our dilemma was always the exit route for our players once they progressed out of the U18 age bracket and into the senior game.  We knew we didn't have the infrastructure to give the players the level of competition they are capable of playing at with immediate effect so the partnership will be mutually beneficial for both clubs.
In terms of what this partnership will bring for me personally, I am able to be closer to futsal being played at Tier 2, with the ambition to move to Tier 1 in the near future. Opportunities to observe and be involved with those teams at a senior level and the contacts it will bring for opportunities to take our teams to clubs around the country, looking at what they do, and playing youth fixtures against them.  Matt Hardy and his team at Derby Futsal Club have such extensive experience in the game at the highest level which was an opportunity too good to miss for all involved, and we are really excited to see what the future brings for us all.
FF: What are your future goals for PSA Futsal Club? Will your focus continue to be on youth development?
JT: Our player pathway is now complete so we will continue to remain focussed on the youth section, developing our players to a standard that help them play at the level needed to be a part of the first team at Derby Futsal Club.  Our next focus will be on developing the same pathway for female players, opening a youth section where girls can play in designated girls' teams and not just mixed teams, expanding our coaching team, and the area we cover with our sessions.  We are currently focussed on Leicestershire, but we hope to expand to surrounding areas shortly. Also, maybe one day, there will be scope for us to trial running a hybrid programme where we have a team that trains 3 times a week with a combination of football and futsal whilst playing fixtures competitively in both sports!
England Football Learning – When To Challenge For The Ball | Futsal Coaching Session From Ian Bateman
PSA took part in this video with England football learning:
Futsal Focus
You can read more articles about grassroots futsal by going to the top navigation bar or click here
If you like this article and would like to keep updated on Futsal news, developments, etc then you can now follow Futsal Focus via Google News by following our page which will send you an alert as soon as we publish an article so please click here and follow us on Google.
You can also keep updated on Futsal news, developments, etc then please submit your email below in the Subscribe to Futsal Focus option.
Follow Futsal Focus by clicking on Facebook, Twitter, or Instagram or on the social media buttons on the website