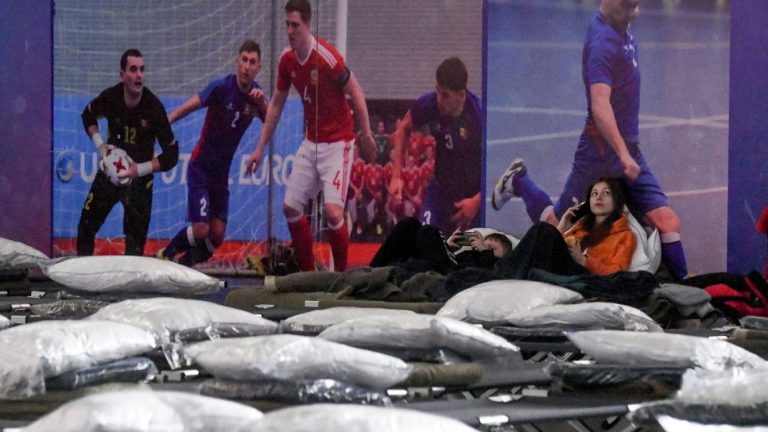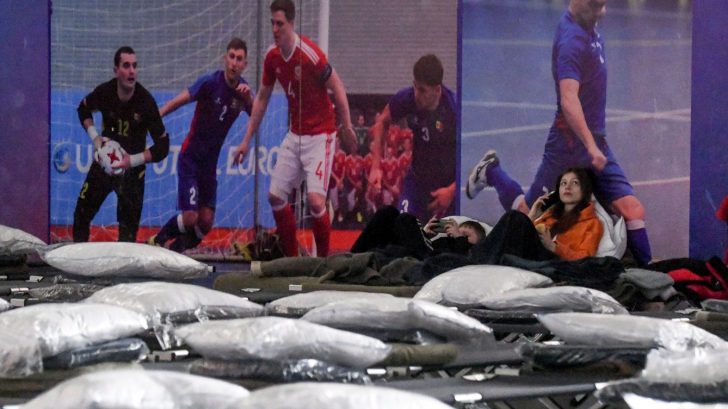 Estimated reading time:10 minutes, 57 seconds
On Friday, February 4, 2022, Ukraine and Russia met in the semi-finals of the EURO Netherlands 2022. That match captured the attention of half the world due to the political tensions between both countries. The game passed with great normality, except for the absence of greetings between the players at the beginning and end of the game and some chants launched from the stands. But, at that time, no matter how tense it was, no one imagined what would happen just twenty days later. On February 24, the Russian invasion of Ukraine began, which is still active today. As in any conflict, the consequences have been devastating, and futsal is also suffering.
(Main picture. Ukrainian refugees in Futsal Arena of Ciorescu, Moldova. Source: El Confidencial)
Many players had to leave Ukraine. Many Ukrainians who escaped Russia's invasion have taken refuge in Spain, as is the case of Snizhana Volovenko, who has joined Futsi Atlético Navalcarnero, leader of the Spanish women's first division from Budstar, the champions of Ukraine. "She's a very good player and a very good person. But, we weren't thinking of signing new players. The president of her club asked me, as a personal favour. They've been through so much that we couldn't do anything else," said José Manuel Igea, president of the Madrid club to the sports newspaper, Marca.
Another image from the Russian invasion was the heart breaking press conference in Spain with Anna Shulha and Vika Kyslova Ukrainian players for MSC Torreblanca FS and Rafa Torreblanca, the club's President. Between tears and sighs, they talked about the situation they and their families found themselves in, and wanted to thank the club and its president for the help and support they are receiving.
Futsal Focus wanted to delve into this conflict and learn about its consequences for futsal. Talking with our contacts in Ukraine, we have been able to speak with Serhiy Vladyko, President of the Futsal Association of Ukraine and their Head of International Affairs, Maryna Kyryliuk. We also spoke with Juanje Marín, from the board of directors at Zambú CFS Pinatar, a futsal team from the Region of Murcia (Spain) who has welcomed Ukrainian children to play at the club for free.
Serhiy Vladyko, President of the Futsal Association of Ukraine, witnessed first-hand the Netherlands EURO semi-final match between Ukraine and Russia. "The moments leading up to the match were under great pressure, but above all else there was the EURO 2022 semi-final. What our players wanted was to play, and sporting aspects always prevail over politics," says Serhiy. He goes on to say that futsal has completely stopped in the country: "All professional sporting events are prohibited in Ukraine. And of course, the same goes for futsal, therefore there is currently no championship. Although it is true that in places where the conflict is not happening players continue to carry out different physical activities so they don't lose shape during this break.The president of the Futsal Association of Ukraine also confirmed that "there are many players and people in the field of futsal who are currently defending Ukraine with weapons in their hands."
Regarding the new strategy that the association must adopt, he comments that "obviously our strategy for the development of futsal will change. First of all we are waiting for the end of the war and martial law. From there, we will meet with all members of the Ukrainian futsal family and create a new plan for the restoration and development of futsal."
Maryna Kyryliuk, Head of International Affairs for the Futsal Association of Ukraine was also present at the semi-finals between Russia and Ukraine and comments that "it was a match that attracted a lot of attention, from many points of view, the politician, the fans, the media, but we are professionals, and we only think about the sporting part. Our players gave their best, but in the end the result was not entirely positive for us."
Ukraine should have played two competitions last March, the Women's EURO Final Four in Gondomar (Portugal) and the Men's EURO Jaén 2022 U19 qualifier, but both have been postponed to July due to the war. Regarding the women's Final Four, she affirms that preparations have been complicated: "Right now we cannot train or prepare for this tournament in Ukraine, but UEFA has helped us so have the other federations, San Marino, France, Portugal and Italy. Furthermore, we have a new challenge, and that is the ability to bring all the players together in one place for a camp, since most of them have left Ukraine to different parts of Europe, and it has been difficult to bring them all together again to prepare for this tournament. We have started preparations in San Marino, later we will go to Bologna (Italy), in the third week we will spend time in France, and finally we will go to Portugal. On behalf of the Ukrainian futsal community and the Futsal Association of Ukraine, I would like to thank the federations of San Marino, France, Portugal and Italy for all the assistance they provided." Regarding the U-19 team, she says that "it has been more complicated, since we were the host and now, together with UEFA and the other three federations who make up group 6, we have had to agree on a new date and a place to play the qualifier, which will finally be from July 7 to 10 in Moldova. We have already started preparations in the Zakarpats'ka region, one of the relatively safer parts of Ukraine, then we will head to Croatia and finally to Moldova in the week before the qualifier."
The Futsal Association of Ukraine has carried out different initiatives due to the consequences of this conflict in Ukrainian futsal. "We have coordinated the departure of many players who are now playing in different European countries. We have received help from many countries such as Portugal, Spain, Romania, Poland, Hungary or Italy. In addition, we have organized an initiative through which you can donate money that will go to those people who are part of the futsal family whose sources of income have been paralyzed due to the war and the absence of competitions in Ukraine", says Maryna. (More information about this initiative at the end of the article).
If there is something positive that can be extracted from wars, it is the expressions of support and solidarity which has come from all over the world. An example of solidarity being carried out is by Zambú CFS Pinatar, a futsal club from the town of San Pedro del Pinatar, on the shores of the Mar Menor in the Region of Murcia (Spain). This team has offered Ukrainian children who have come to the area to play for free at their club. To learn more about this initiative, Futsal Focus spoke with Juanje Marín, one of the club's directors.
Juanje comments that the initiative "emerged as a decision of the board in view of the situation they are experiencing in their country. The board of directors made the decision that all the refugee children who arrive in San Pedro del Pinatar and its surrounding area could play for free as a form of help from our club." The reception by the rest of the club's children, he explains, "has been very good because the kids have been able to put into practice the values that have been instilled in them by the club since they started playing here." Juanje continues that "the process and adjustment for the Ukrainian children has also been very good. Yes, it is true that we have language barriers, but as I say, with any gesture, shouting for the ball to be passed to you or even with the help of English, we can communicate with them to facilitate this transition."
"Our goal is to help these kids using futsal as a tool for entertainment and integration to their new community so that they can forget about what they have experienced in their country. And it also allows us to continue instilling the values of respect, education, and solidarity in all the children of our club" concludes Juanje
What now for futsal in Ukraine going forward
When we asked Maryna Kyryliuk, what now for futsal in Ukarine, she said, "The war has been going on in our country for almost 3 months now. All futsal competitions, the ambitious plans we had have been suspended, and in some places ruined."
"As of today, we can say that not all futsal clubs (including representatives of Parimatch Extra-League) have survived the war or will be able to survive. As a result of the suspension or loss of their own businesses, most clubs and teams have stopped paying their salaries, making life much more difficult for the families of Ukrainian futsal players, coaches and club staff. In addition, there are also several futsal facilities destroyed by the Russian attacks, so part of the money we raise will go to rebuilding these places, such as the Ice Palace in Severodonetsk (image below), which used to host matches of the Extra-League and the Women's Major League."
"Significant numbers of players with their families are now displaced, their personal lives are ruined, and they often lack basic necessities. Among them, unfortunately, this includes our national teams players."
After qualifying for the semi-final of the UEFA Futsal EURO 2022, we strive to win bright victories at the level of women's and youth teams. Of course, this is very difficult to do without the proper functions of futsal in place within our country. We are very grateful for the help of our European partners, but their efforts are not enough in difficult times of war. Accordingly, this requires additional financial income.
"The Futsal Association of Ukraine doesn't have additional income since the war started. Even our sponsors can't help us because to be able to get money from them we have to produce a product which is of interest to them. Unfortunately, this is impossible as all championships are cancelled, and many of our national players are living without jobs, and in difficult circumstances. At the same time, we are trying to stay in the frame of UEFA competitions, we plan to play in the final four of the Women's EUROs, we also plan to take part in the main round qualifications for the U19 EUROs. We are currently not able to organize training camps. We need money to travel to some places, as stated already associations have been willing to help with some financial support but there are still expenses that we will have to cover which is difficult. So, we need to raise money to be able to do this."
"Most of the money we raise, however, will go to financially support our players, clubs and employees, this is the new social priority in the activities of the Futsal Association of Ukraine at this stage. It is extremely important for us to develop the achievements and accomplishments of our futsal, to help all members of our futsal family who find themselves in difficult situations to preserve the Ukrainian futsal dream. To do this, we created a charity fund, an initiative to encourage all our followers and the futsal family around the world to help the Ukrainian futsal community by donating through the following QR code."
"Scan the QR code, follow the link or visit the website https://donate.futsal.com.ua and make your contribution. This will help support our history, survive all the hardships of war and achieve a new futsal dream!"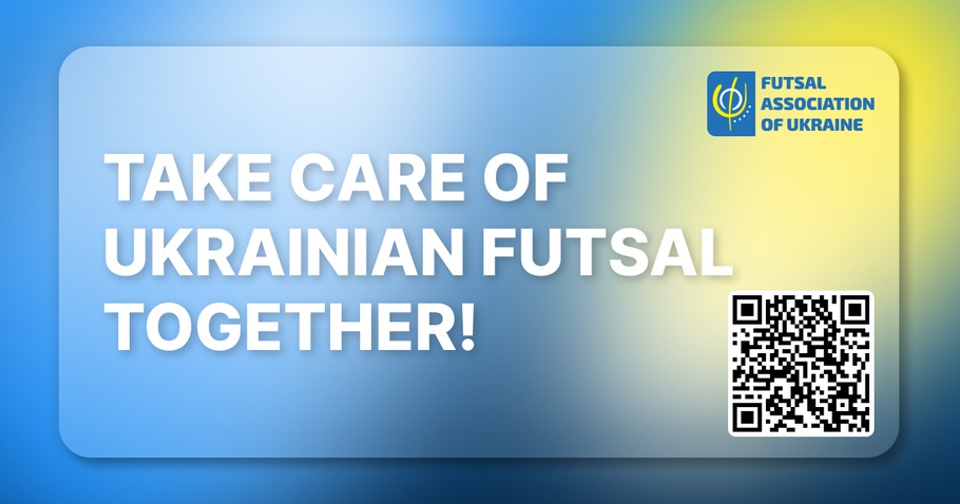 "Thank you! Everything will be futsal! ⚽️ Glory to Ukraine!"
Interviewer: 
My name is Alejandro Méndez and I was born in Cartagena. I discovered futsal in 2017 and it fascinated me. Since then, I immersed myself in this amazing and beautiful sport. I support Jimbee Cartagena, I write and talk about futsal for Efesista.es in Spain, and now for Futsal Focus as well.
You can read more articles about international futsal by going to the top navigation bar or click here
If you like this article and would like to keep updated on Futsal news, developments, etc then you can now follow Futsal Focus via Google News by following our page which will send you an alert as soon as we publish an article so please click here and follow us on Google.
You can also keep updated on Futsal news, developments, etc then please submit your email below in the Subscribe to Futsal Focus option.
Follow Futsal Focus by clicking on Facebook, Twitter, or Instagram or on the social media buttons on the website.