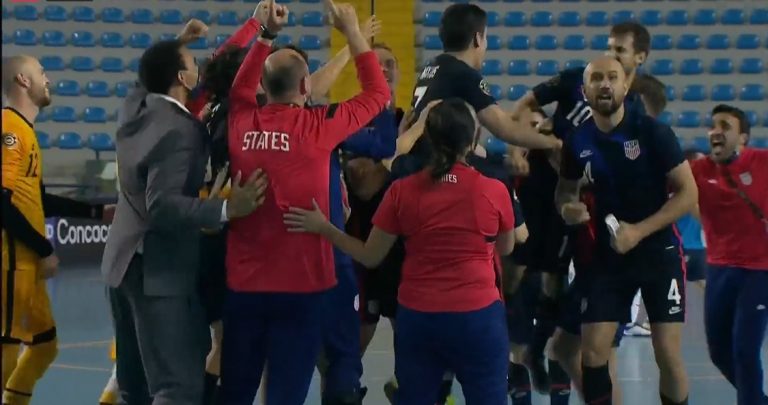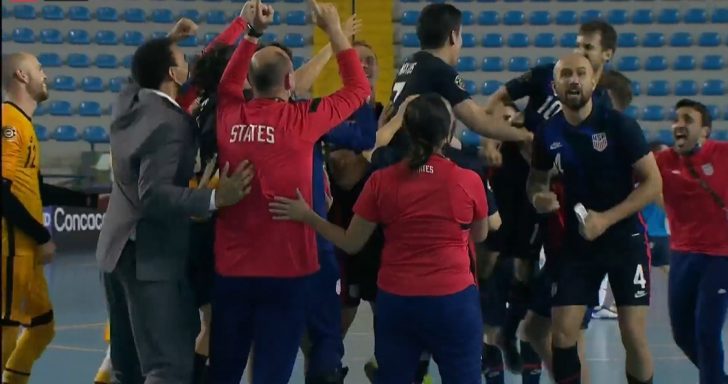 Estimated reading time:3 minutes, 1 second
America has defied the odds, and secured their place in the 2021 CONCACAF Futsal Championships final by defeating Guatemala on penalties!!!!
No one, would ever have agreed with you before this tournament that the U.S.A would make it to the 2021 CONCACAF Futsal Championships final, in fact, no one would have bet on them winning their group. However, these players have proved everyone wrong and fought their way to the final, with a never say die attitude, just incredible. The American national team are in a final for the first time since 2004, 17 years waiting, and tomorrow they will face the regions powerhouse, Costa Rica.
A quick look at their semi-final performance would be described as a team that fights to the end, and you can tell they are a close group of players which has contributed to their success.  The Americans will have to have full concentration from beginning to end if they hope to challenge Costa Rica.
It has been 17 years sine they reached the CONCACAF Futsal Championship final.  Congratulations to Dusan, his staff and players on this historic achievement for the United States of America. What they have achieved is incredible and it will be interesting to see how they fair against their Costa Rican opponents.
We spoke to their Head Coach Dusan Jakica before the game and he said,
"We will need to find energy. We have had 4 hard games in 5 days… Currently, we are working only on recovering and analysis Guatemala's previous match footage. Ahead of this competition, without preparation and only one friendly match before Guatemala, what we have achieved as a team is unbelievable. This team played their first game together here in Guatemala vs EL Salvador which we drew and continued to build on. I couldn't be prouder of the squad. They have fought for each other, did you see how they are all like one? I insist on that!!!! If we want to compete, we must come together and fight from the beginning to the end and they have done that."
No doubt, Dusan will be feeling that now, celebrating with his players and staff ahead of tomorrow's final. We also had a chance to speak to his assistant coach Otto Orf who said,
"I am so proud of these players, they have  jelled quickly, listened to their management team and with strengthen and positivity they have believed in themselves, rose to the occasion, gone on to the court and fought to the end."
Futsal Focus supports the Donate4Dáithí campaign
To follow the Donate4Dáithí campaign, you can visit their website here: www.donate4daithi.org  or on Facebook at: https://www.facebook.com/Donate4Daithi you can also donate money to their campaign at: https://www.justgiving.com/crowdfunding/donate4daithi
To learn more about organ donation or to sign up, you can visit https://www.organdonation.nhs.uk/ and to sign up: https://www.organdonation.nhs.uk/register-your-decision/donate/
You can read more articles about international futsal by going to the top navigation bar or click here
If you like this article and would like to keep updated on Futsal news, developments, etc then you can now follow Futsal Focus via Google News by following our page which will send you an alert as soon as we publish an article so please click here and follow us on Google.
You can also keep updated on Futsal news, developments, etc then please submit your email below in the Subscribe to Futsal Focus option.
Follow Futsal Focus by clicking on Facebook, Twitter, or Instagram or on the social media buttons on the website.