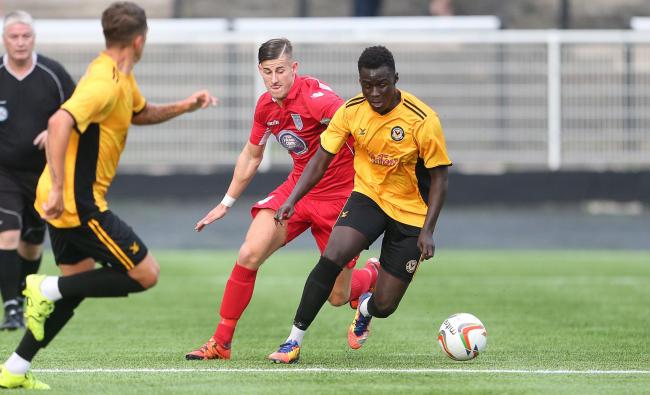 Estimated reading time:8 minutes, 25 seconds
Wales Futsal International Rico Zulkarnain's fame continues to grow and inspire. One fan, in particular, is Newport County professional football player, Momodou Touray. Futsal Focus takes a look at Rico's career so far and spoke with Momodou to find out why Rico has inspired him.
Rico is Welsh and Indonesian and he began his futsal career in Wales with the University of Cardiff Futsal Club and for the Wales National Futsal team. Rico was introduced to futsal in his 20s and in a short time he has turned is futsal development and natural talent into a career and growing global stardom. The Instagram post below is from Rico's recent trip to Indonesia where a meet a greet with fans had been organized.
If you don't know Rico Zulkarnain, he is a professional and a Wales futsal international player, creative designer, musician and entrepreneur. Born in the multicultural city of Newport, raised by a Welsh mother and Indonesian father, Rico grew up with an appreciation for rich food, travel and deep culture. Keeping fit, fashion and wellness are now some of Rico's strongest passions.
Having only discovered the sport of futsal at the age of 23, Rico is now the top goal scorer for the Wales National futsal team and has managed to win titles and major awards in Wales, Indonesia, Australia, Dubai, Brunei, and America. In May 2015, Rico became the first Welsh professional futsal player in history by signing and playing for Indonesia's most successful club, IPC Pelindo. At the end of the season, Rico was able to win and lift the National Super League trophy, scoring two goals in the grand final in front of 7,000 supporters, a game that was also broadcasted live on national TV.
Rico would soon find himself involved in Premier Futsal in Dubai with marquee player and ex-Manchester United legend Ryan Giggs for team Mumbai Warriors. The Warriors managed to beat Delhi Dragons in the Grand Final who were captained by none other than one of the best players of all time, Ronaldinho Gaucho. The other marquee players who were amongst the worlds best futsal players included Paul Scholes, Deco, Hernan Crespo, and Michael Salgado. Premier Futsal is described as the, '20 x 20' of football bringing together a mixture of the world's best futsal players and ex legends of the football world.
Previous to playing futsal, Rico had a career in music, media, and design, as well as making a living both in and out of professional and semi-professional football clubs. Rico is also a passionate charity and community worker during his spare time and has worked alongside many of the UK's leading charities, even traveling as far as Brazil to help coach football clinics in the favelas during the 2014 World Cup.
Known as 'RZ9' in the futsal world, Zulkarnain is fast becoming known for his incredible skills, competitive gameplay and his ability to score amazing goals. Rico is an innovative strategist, introducing new techniques and skills to dribble and take on opponents in futsal. Rico made international headlines when he scored a miracle goal at the national Series Futsal Cup in Australia, a competition that saw him pick up both the Golden Boot and Most Valuable Player awards. Rico's groundbreaking approach to his signature goal that he calls the 'RZ9' has never been seen before in the sport of futsal. In 2016 alone, 5 of Rico's goals went viral on the Internet and have amassed over 200+ million views worldwide and counting plus his new content continues to get global attention.
Since the start of Zulkarnain's career in 2013, he has managed to play in a number of elite futsal competitions, including the prestigious NAS Sports Dubai tournament in the UAE featuring many of the world's best players. After this competition, Rico was then booked to compete at the Futsal Oz Live showcase alongside former 3 x World Player of the Year Falcao, and Bayern Munich and Brazilian International football player Douglas Costa.
Rico then capped off 2016 by being selected as 1 of only 10 PFL Next players worldwide to either play with Team Falcao or Team Ricardinho to make history in the first ever PFL All Stars showcase in America during the month of August. A live 'Draft' event was held at Disney's Epcot Centre, which saw Rico being the number 1 selected draft pick to play with Team Ricardinho alongside Fernando Cardinal, Vampeta, Pula, Taina Santos, and Issy Hitman. The match was held at the ESPN Wide World of Sports Complex at Walt Disney World Resort in Orlando, Florida in front of a record-breaking crowd for American Futsal.
His career has continued to take him abroad to Malaysia where he won a national title in Brunei as the Malaysian club was competing in their competition due to not having their own national league yet, France and most recently to America to the MASL for the Orlando Seawolves. Currently, he is on a world tour which has brought him to Australia, Malaysia, Indonesia and next to Brazil. Rico is an example of what can be achieved in Futsal if you are willing to put yourself out there, to promote yourself, build your image and put the time in to build your profile as a player online. Futsal as a sport doesn't currently get the media attention it deserves and that other sports receive. For Futsal players to get themselves and the sport to another level of global awareness, the use of social media is an important channel to educate and inspire.
Professional football player Momodou Touray who signed for Newport County Football Club discussed with Futsal Focus about the impact Rico had on him and the path that led to where he is today:
"I didn't know much about futsal, to be honest, After year 11, I got my grades and left school but I still wanted to be involved with football. There was a trial game/ promotion at County in the Community for their education courses and I just thought I'd go because I got invited to it and all of my friends were going. I also thought I had nothing to lose but go and show them what I am about."
"Interestingly, before I went to the County in the Community event, one of my mates is related to Rico Zulkarnain so he is always sharing videos of him playing and I was amazed at what I was seeing. Rico's ability, movement, strength, vision and that he was a Wales Futsal International and playing futsal professionally. When I found out that the Newport County Community Education course involved futsal I thought yes that's something I would be interested in because it's different. I also had the opportunity to watch the Wales National Futsal team play England and I had never experienced something so good before."
"What caught my eye about Rico is that he has had to work hard for what he's got now and that he's from Newport. There are not many opportunities here but he has made a life and a career with his natural ability and work ethic so that made me a fan straight away. He is a pioneer, the first Welsh futsal professional, globally renowned but despite everything he has achieved he never forgets where he came from. He's humble and a very hardworking guy which is one trait you can never take away from him, he deserves his success."
"My experience on the course was very good, although it's futsal and football and you get to enjoy the beautiful game and education at the same time which was very important to me. It was tough but I had to work hard on my education and finish work early which gave me more time to go out and work on my weaknesses. Futsal has added so much to how I think about the way I play and helped me in 11 a-side matches, keeping the ball close to your feet, being able to hold a player off and also movement is crucial. You can't switch off for a second otherwise the opponents will get the better of you."
"During the course, a couple of us would get asked to train with the scholars, I used the skills I know from training and my experience with futsal to my advantage and it caught the eye of the academy manager. I was then offered a scholarship and since then I've just worked hard for everything and I'm still humbled to be where I am now. If I hadn't got a contract, I would've continued to play futsal and football but my dream has always been to be a professional footballer so to achieve that is just a relief due to the time and hard work I've put in."
"Futsal role models are very important, I encourage all futsal and football players to do what Rico does if they are not. I always watch Rico's videos, he uploads very regularly so I always have his post notifications on because I continue to learn skills from him."
If you like this videos and the information provided, you can read more articles about Futsal by going to the top bar navigation or click here
If you like this article and would like to keep updated on Futsal news, developments etc then please submit your email below in the Newsletter section or by clicking on the Subscribe to Futsal Focus option on the header.
Follow Futsal Focus by clicking on Facebook, Twitter or Instagram or on the social media buttons on the right sidebar.