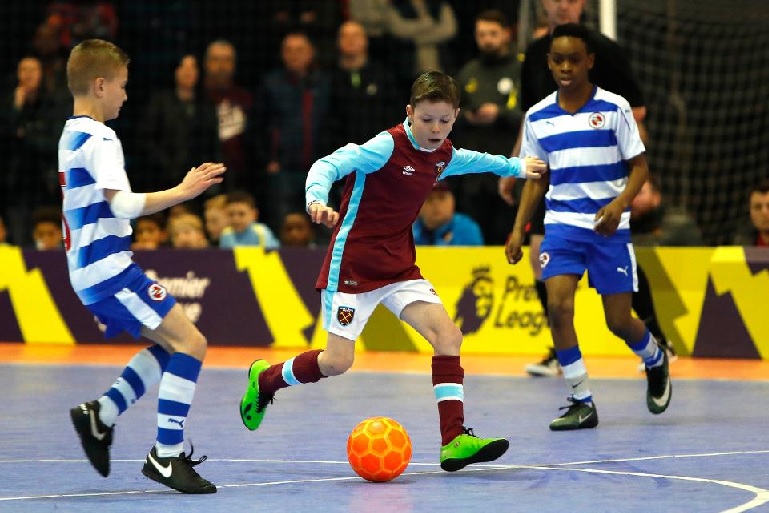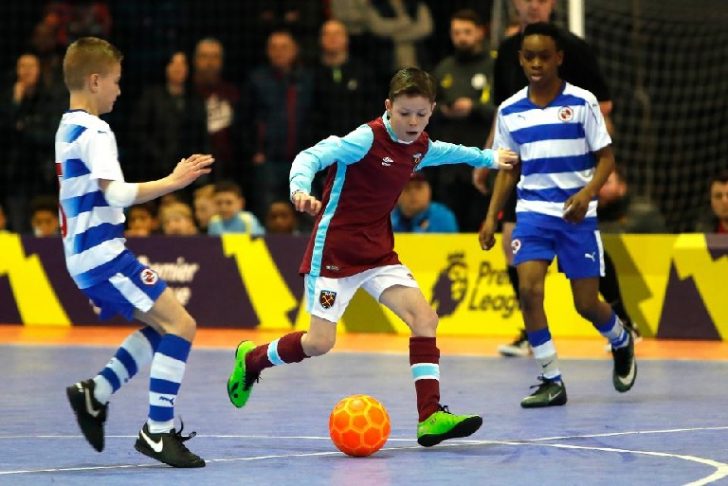 Estimated reading time:5 minutes, 51 seconds
The Futsal community has always been divided on how Futsal should be promoted, what image of the sport we present, many still struggle with Futsal being promoted as a development tool for Football. However, for Futsal Focus at this stage in the growth of the sport what matters most is people enjoying their experience playing Futsal no matter what age or how they decide to use Futsal, and the skills they learn to benefit themselves is their choice – Football or the Futsal pathway which is the way in Brazil and in many countries around the world.
Below is a story published last year by the Premier League concerning a young player at the West Ham United Academy called Harrison McMahon who enjoys playing Futsal and the benefits the sport brings to his development.
For Harrison McMahon, 11, one of the most challenging tests in his six years at West Ham United Academy came away from the football field.
"I got asked to do a presentation in front of the academy manager, the assistant academy manager, and my mentor," Harrison says. "I had to work on it for about four weeks.
"I included my weekly schedule, my development plan for this year, my targets for this year, about the food I eat and my training schedule. My academy manager's reaction was it was the best one he'd seen in 10 years."
As part of his presentation to Terry Westley and his team, Harrison also identified futsal as a pivotal part of his football development at the West Ham United Academy and targeted winning a tournament with West Ham.
He achieved that goal at the Premier League Under-11 Futsal Finals, scoring twice as the Hammers came from 2-1 down against Reading to lift the trophy.
The following week, the slight but skillful playmaker was back at the Birmingham PlayFootball Arena, this time playing up an age group with West Ham's Under-12s in a thrilling tournament that highlighted why futsal has become an important part of the Premier League's Youth Development programme since the Elite Player Performance Plan (EPPP) was introduced in 2012.
Played with a heavy ball on a small pitch, futsal relies on great technique, swift movement and decision-making, as well as explosive finishing power.
Harrison, from South Ockendon, Essex, joined West Ham United Academy at the age of five and trains at the club's academy on Tuesday and Wednesday nights, all day Thursday and on Saturday mornings before weekly matches on Sundays. In addition, he elects to do his own futsal training on Saturday afternoons.
In many ways, futsal is aligned to the traditional passing game enshrined in West Ham's heritage, from Bobby Moore and the 1966 World Cup winners through to Sir Trevor Brooking, Joe Cole, Michael Carrick, and Mark Noble.
Now Harrison is benefiting from the skills futsal hones in his game. He has also been developing his leadership skills over the two years since he took up the five-a-side game.
His mother, Kellie, went to Birmingham to support her son. She has noticed the development to which futsal has contributed, both technically and socially.
"It's made him much faster with the ball; passing, moving it around, different skills he's learnt as well," says Kellie.
"He travels a lot with the club and we've done a few tournaments with futsal as well in Madrid and Italy. We're going back to Madrid this Easter holidays. He loves it. It fits in with his commitments with football as well, which means he can do both."
Harrison has enjoyed futsal and does not want to stop playing it.
"I've learnt all the different rules of futsal: how to defend, how to attack, and the difference from football," he says. "I want to keep on doing it, to make me a better player and keep committing myself to the club."
It is his long-term ambition, of course, to become a Premier League player and he believes he is at the ideal club to pursue this dream.
"I enjoy it because it's fun and they help me get better so I can hopefully be a professional player," he adds.
The West Ham Academy players fared well at the tournament despite fielding a majority of smaller, technical players.
The clubs competing take contrasting approaches but, as in the traditional format of the sport, this only adds to the appeal of a competition staged annually by the Premier League over four weekends, with four age groups.
"The tournament helps the players technically and tactically but for us there's more of the social and psychological benefits," says David Johnson, the West Ham United Academy  U12s coach.
"Being away from their families at such a young age, travelling to different places, different environments, playing in front of big crowds and [a gradual awareness of] the winning side."
Johnson, a former Arsenal and Southend United academy coach, has been impressed by Harrison's approach.
"Every player from the age of nine to 23 in the West Ham academy has an individual plan and they're all allocated a mentor," he says.
"Harrison's really embraced his programme. He and his mentor have sat down and devised a very clear plan of where Harrison wants to get to.
"Obviously, every young player's dream is to be a Premier League footballer but at such a young age it's very unusual for a player like Harrison to know exactly what's required and exactly what he's got to do.
"So a tournament like this was in his plan. He knew he had something to work towards.
"One of his short-term goals was to win a futsal tournament. He achieved his goal and he's also come back to this tournament as an U11 player in an U12 tournament.
"Harrison's got a unique way of breaking his plan down into small segments, so he knows that at the end of the U11s programme he needs to be at [a certain] point.
"For an U11 player to present in front of experienced members of our academy management his pathway and his plan was a real plus for him."
Source: Premierleague.com
If you like the information provided, you can read more articles about grassroots and coaching by going to the top bar navigation or click here
If you like this article and would like to keep updated on Futsal news, developments etc then please submit your email below in the Newsletter section or by clicking on the Subscribe to Futsal Focus option on the header.
Follow Futsal Focus by clicking on Facebook, Twitter or Instagram or on the social media buttons on the right sidebar.