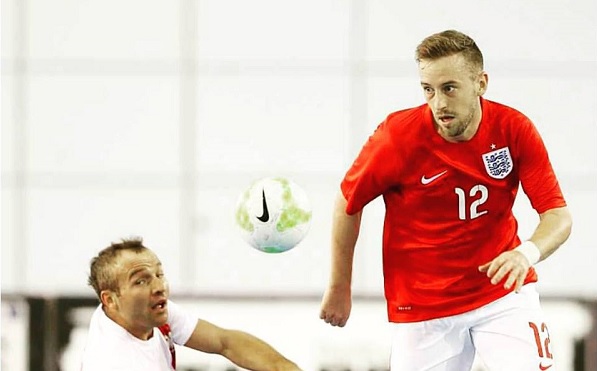 Estimated reading time:5 minutes, 59 seconds
"I would say England are 5 years into futsal development, it may take another 35 years to see the true benefits but the longer we fight it the longer the wait will be and the further behind we will fall."
On Friday last week in Spain the English National Football team lost 2-0, it was a defeat that compelled the BBC's Chief Football Writer Phil McNulty to describe the player's performance as, "England's effort can be described as "plucky" – rather in the manner of an inferior FA Cup minnow hanging on and hoping for the best against a superior opponent until resistance is eventually broken."
The English hadn't been defeated since their match against Uruguay in the world cup when they lost 2-1. However since then they have not lost a match, either winning or drawing against opposition such as Costa Rica, Norway, Switzerland, San Marino, Estonia, Slovenia, Scotland, Lithuania, Republic of Ireland (draw) but they drew with Italy and were defeat by Spain. Besides their match with Italy, England had not challenged a nation capable of winning a major competition until they faced Italy, their weaknesses were exposed then and were exposed even further against Spain. The gulf in talent between both nations was clear for all to see, more and more questions every year are being asked of the English FA and the Premier League/ Football League's development policies and coaching programmes, the question for the British media is always, what is missing? But the answer is right in front of them, Futsal.
England's result and their performance against Spain alluded to Pete's comments before the match. After this match the England National Futsal team had their own important match against Poland however these two fixtures were friendly international matches organized to help the squads development before their first FIFA Futsal World Cup Main Round journey. The squad qualified for their first time from the Preliminary rounds of the competition and will now travel to Hungary where they will face their hosts, Belgium and Ukraine, dreaming of securing a play-off place for the world cup taking place in Columbia. After England's match against Poland Futsal Focus spoke with England Futsal International Stuart Cook to hear his thoughts on the topic of player development and the impact that futsal has, here are his thoughts:
"Having watched England vs Spain last week, there is a clear gulf between the two teams and it is apparent when we as a nation play the higher ranked teams we invariably struggle. We don't struggle physically and I don't think we struggle mentally, we struggle technically. I don't just mean technique with the ball, it is more around positioning, timing and decision making, those techniques which are learnt and picked up at an early age of development from an innate understanding of the game. I believe we are still too hung up on the basics of the game, often you will hear English coaches talk about being fitter than the opposition. I don't remember the last time I heard Guardiola talk about fitness. It is a big factor in sport but if you can't keep the ball it doesn't matter how fit you are."
"If we want to improve as nation at some point in the future we have to address our willingness to give the ball away. Surely it is a much bigger benefit to use your fitness in an attacking sense with the ball than constantly chasing the shadows of your opposition."
"I think you can see the benefit in some of the top nations that futsal has had on them, they are comfortable in all areas of the pitch in possession and they also have an unbelievable understanding of where to be to help their teammate out and open up passing lines for them, constantly providing options to assist them. This is fundamental in futsal and as we experienced last weekend for England Futsal, being an option for a teammate becomes harder the better the opposition are. Poland are an experienced main round nation and we felt that step up from the preliminary teams. Individually we have what it takes to beat teams like Denmark, Israel and Wales amongst others, we now have to take the next step and work on ourselves as a collective and a unit. Individually England has some great talent and always has done, but as a collective we don't have the ability to control games against better nations because our background has never been about the collective."
"Sergio Busquets is arguably the best central defensive midfield play in the world. He reads the game better than 99% of world football and is in my eyes one of the best 1 and 2 touch footballers in recent time. However, he is a slug (slow runner), isn't great in the air, doesn't particularly like tackling. Would he get a game in England? My answer would be no, not if he was an unknown coming through at 17/18 years of age, and there is the problem. At the age of nearly 30 I am still left out of certain games because of my physical size in football. I'm 6ft and 13 stone, it beggars belief that this still happens in today's game at any level."
"How do we change that? Over a long period of time educating players and coaches of the future, and we need to advance our efforts in doing so today, not tomorrow or next year, now!"
"I often hear that the gulf wasn't as big 20years ago between us and other nations and they were still playing futsal then etc. my answer would be that 20 years ago, nations like Spain and Italy had been doing futsal for 20 years, and hadn't yet got to the level of understanding the game requires, what you saw from the 2008 World Cup onwards was the emergence of the first real generation of Spanish players who were all brought up with Futsal in their DNA."
"I would say England are 5 years into futsal, it may take another 35 years to see the true benefits but the longer we fight it the longer the wait will be and the further behind we will fall."
"I wasn't brought up on futsal but have felt the benefits first hand from playing it and carrying it into my football. It works we just have to believe in it, we have to be open to change, we talk so much about being leaders within the football industry, we are so proud of our past but let's not be left behind in our past."
By Stephen McGettigan and Stuart Cook
If you like the information provided, you can read more articles about International Futsal by going to the top bar navigation or click here
If you like this article and would like to keep updated on Futsal news, developments etc then please submit your email below in the Newsletter section or by clicking on the Subscribe to Futsal Focus option on the header.
Follow Futsal Focus by clicking on Facebook, Twitter or Instagram or on the social media buttons on the right sidebar.